i was beginning to worry about my health last week when i felt very ill as the day turned to evening. over the course of a few days, i would arrive home with an imagined weight on my head and my temperature pushing the mercury. the condition was mostly temporary, as i would wake up the following day unwilling to call in sick, though my disposition was generally not at its best. so i wasn't sure whether i would be able to join the christmas climb to mount daguldol in san juan, batangas. the last time i was there was in 2010, during
2KX's first training climb
. i have no clear recollection of the trail. i just remember that we had a detour just before we reached the summit area, on the guise of stretching the trek to suit the training requirements. i also remember the experience to be very muddy, as our shoes sank into a path that had been battered by boots and hooves. we shared the climb with the loyola mountaineers who were also on a TC, and one of its members posted a photo online to which some members of UPM had very bad things to say. one of the more memorable comments was that you could see our campsite on the moon. obviously, the person who made the comment knows little about outer space.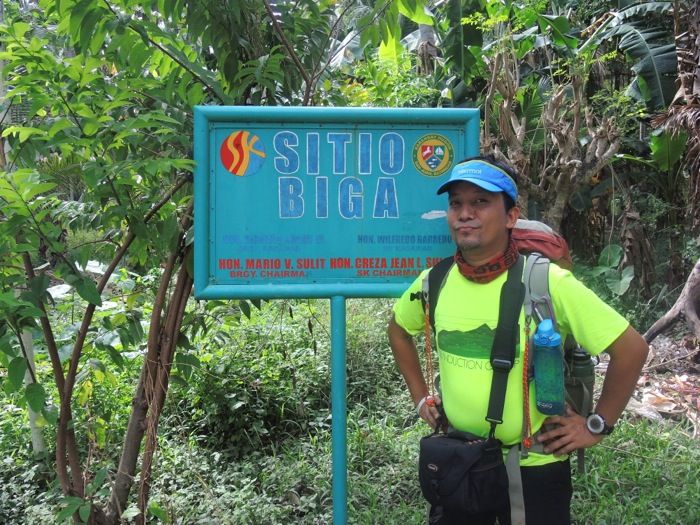 but when thursday came, i felt well enough to do a short run (actually, only half of the way was spent shuffling my feet), and i felt ready to embark on another outdoor adventure -- the first since i did that epic tri-province induction climb with 2K13. early saturday morning, kristian picked me up and before long we were cruising towards san juan. the way there might be marred by a number of gridlocks, for although san juan is a huge tourist draw, it has been neglected in the grand scheme of highways. one must either take a longer route via ibaan, or suffer the traffic by passing through lipa. it suddenly dawned on me that we were fortunate to have taken a minimum of 8 private vehicles to laiya. most climbers -- and there were a few others there with us during that weekend -- have to make a minimum of two transfers to reach the jump-off in bgy. hugom, not to mention a long trek along the beach. the road from the mouth of laiya towards sitio biga is still under construction: a mountainside is being reshaped to provide access to the many resorts that dot the shore.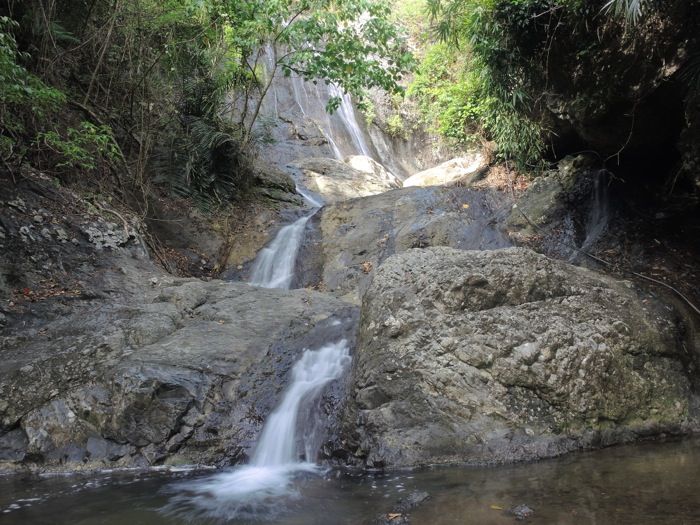 for this christmas climb -- and
i have been to at least one of them
-- we were going to bring a lechon to the summit. it's not an unusual feat for AMCI, although it did attract a lot of attention from other climbers and also these dirty little dogs along the trail. in order to escape the inevitable task of sharing the load, i sprinted the first half hour until we came upon the detour to the falls. i found it to be less impressive than in 2010, with only a column of water cascading from the top, and not the wide curtain of beads that defined it the last time. after this visit, i suddenly found myself gasping for air and somehow feeling weak. it was strange since we stopped for lunch although i didn't have the appetite to finish my cup of rice. ever since my nightly illness, my appetite has tanked. so i was not at my best at the time, and it did not help that there was absolutely no wind at the time. so although the sun was absent, it was still an extremely steamy affair.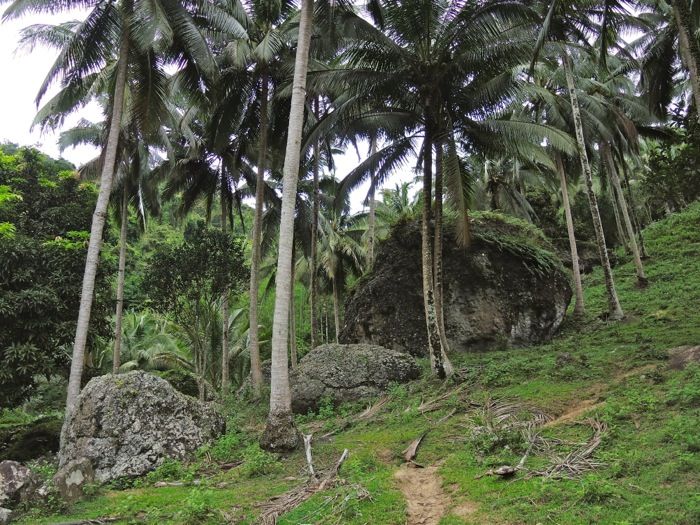 finally, i reached the summit area, but discovered that our campsite was still further afield. i passed the other group -- one of them said i should drop by later that evening, but when i realized how much i still had to trek to reach our campsite (the same one we filled with 130 people 3 years ago), i decided to just stay where we were. i put up my solo tent near the rock, helped put up the kitchen parawing, and started on socials while carols played on an iPod and dinner was being orchestrated by people more industrious than me.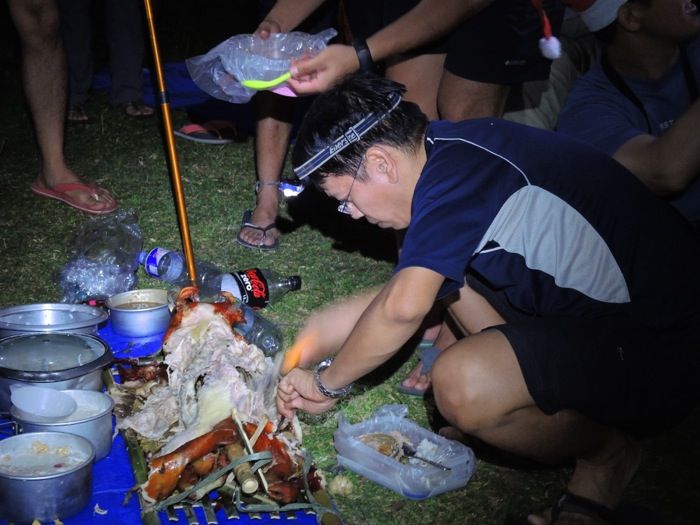 finally we were called to feast, and the spread was as impressive as it was delightful: two kinds of salads, a botched tuna embotido, ham, the proverbial lechon, rice, and dessert. i also was unable to finish my plate, but it truly was a great way to spend a christmas dinner on a campsite, 650 meters above sea level. of course it being a christmas climb, some of us brough along gifts to exchange. i didn't read any of the updates on facebook so i just purchased snacks from a 7-11. afterwards, we continued with this awful habit of drinking ourselves half blind. i have to admit i was a casualty of the socials, and would rather delude myself into believing it was just a bad dream, but at least, even in my drunken state, i remain consistent.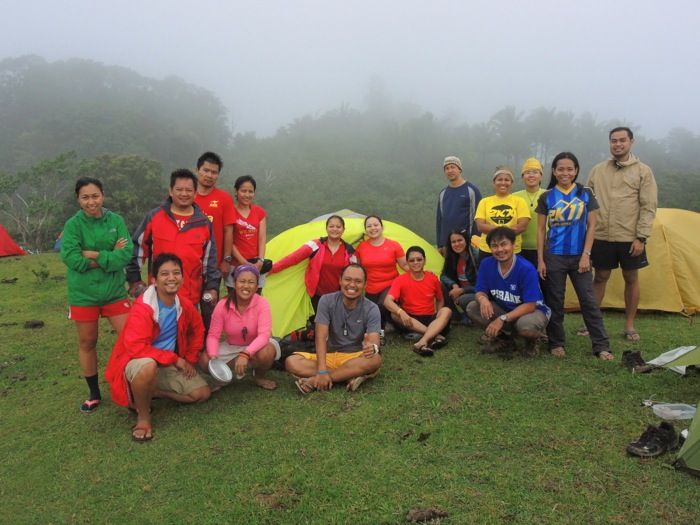 when i finally got out of my tent i found out that the water source had dried out -- it is the same water source which suspiciously had shrimp in it, so we didn't have coffee and were unable to steam rice. i snacked on some cocktail hotdogs and danggit, brushed my teeth, folded my tent, and got ready to descend. although i've been through worse, i noticed that the ankle i fractured complained a little and i worried whether my injury was going to recur. on our way down, there were a lot of day trippers on their way up. it amazed me that some of them carried nothing. not even a bottle of water.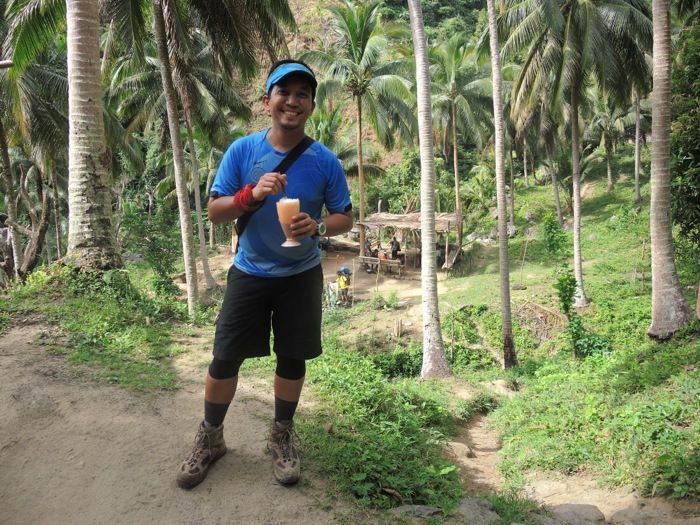 on our way down, we took a long stop at the halo-halo hut. although i didn't have any, i was happy to watch my companions enjoy a cold glass of shaved ice and a confused mixture of beans and sweet fruits, a dessert anthony bourdain says makes no sense. on my way down, i noticed that a new chapel had been built in the area. there were in fact a number of homes there, still about an hour from the beach and about 400 masl. a woman was carrying a baby wrapped in plush white cloth, and i wondered whether there was an easier trail somewhere. in fact, i wondered whether there was another campsite somewhere because i found out that several groups were already on the beach, and some of them i never encountered along the trail.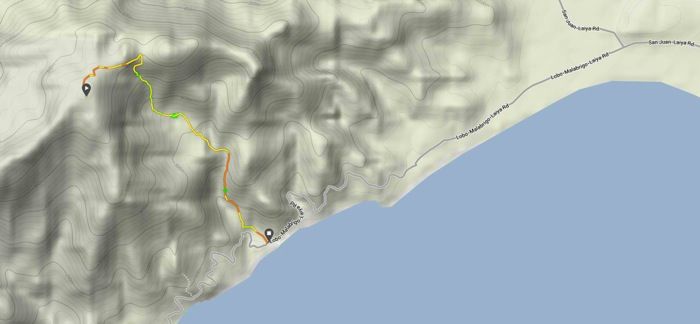 finally we were back at the jump-off. i took a quick dip in the cool waters of san juan, had lunch, and got ready to return to manila. there was still the matter of the last working day of 2013 for me to worry about, but before that we stopped by nuvali to look at factory outlets where i bought nothing. christmas is an important time for many filipinos, and i've been trying my best not to be the usual scrooge that i've been during many christmases past. i'm glad i'm able to share the season's cheer with a select number of friends who share my crazy idea of fun. also, being away on a mountain gives us an excuse to gorge on those sinful noche buenas on the pretext we burned calories while laboring uphill. but who are we kidding?