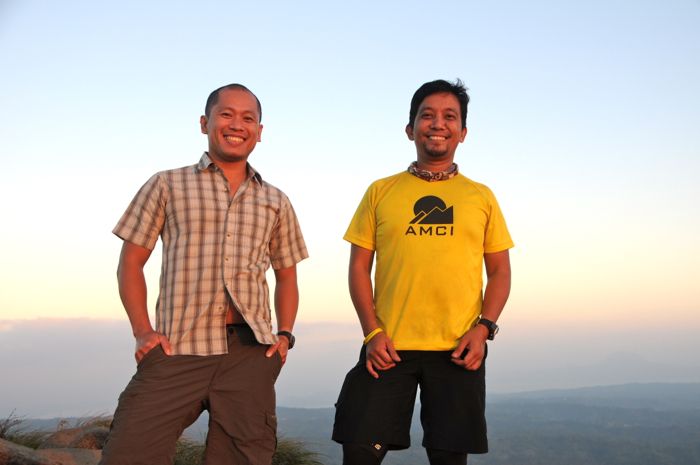 by the time new year's eve had approached, there were only 3 of us left. i told iton, my singapore-based friend, that it would be too expensive to push through with a climb to pulag, although if i had known earlier that virtually everyone would back-out, that i could have asked if we could hitch a ride with other groups just to get to ambangeg from baguio and back. but alas it was too late. the bus tickets hadn't been bought and an appropriate meal plan hadn't been made. but iton was adamant about climbing a mountain during his holiday. he didn't bring all his gear from the lion city back to the motherland for nothing, so i suggested something else. "why not batulao?" i asked, and it was perfect, because the mountain is accessible, he has never been there, and i've long had this plan to camp on the summit of this mountain that hovers over wedding guests and newlyweds at the caleruega.
i told iton i would take care of everything: food, equipment, alcohol. he just needed to show up at the bus station. our only pre-climb meeting took place in a bar where we downed glasses of henessy and coke, although iton was more concerned about showing off his tribal dance moves to complete strangers. on friday morning, i waited for iton at a mcdonald's, found out at that moment that it would just be the two of us, spent my last money on a bottle of smirnoff vodka and later realized i left my ATM card at home. we boarded a bus, but worried too much about our bags which we just left in the aisle. i said there were at least two things worth taking from my backpack's side pockets, and they were both nalgene bottles.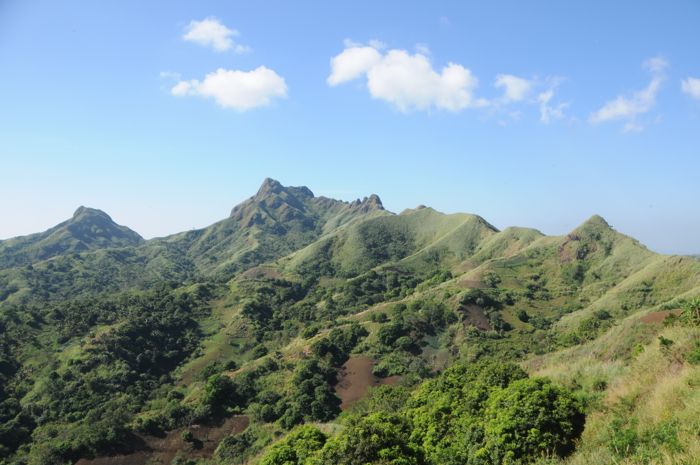 we got off at the evercrest gate and ordered lunch from the store. this old lady served her uninspired meals on these dipping saucers. the portions were so small we had to order extra. already, another group was getting ready to leave: the ladies had small bags, long-sleeved shirts, and scarves over their heads. i was more concerned about their footwear, because no one, it seemed, wore anything with traction. the two guys carried most of the weight: one had a hulking backpack, while another hugged a bag that contained a tent.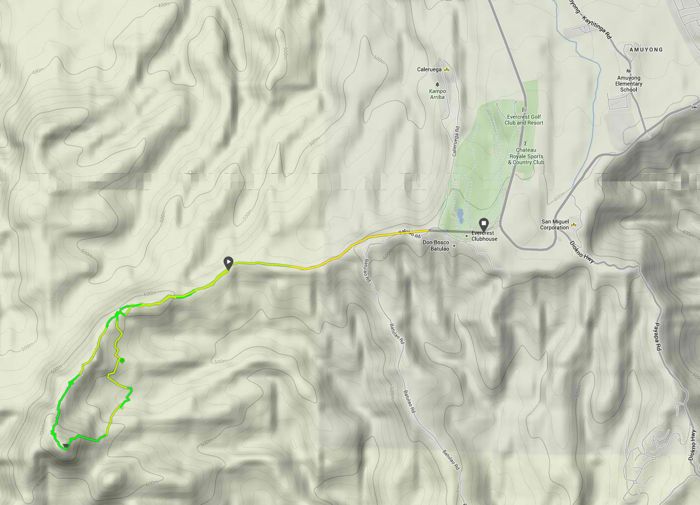 they left more than an hour before we finally decided to start, although iton had no qualms about hiring a tricycle to take us as far as it could.
in the last two times that i visited batulao
,
i always preferred to walk the 2.5 km road to the start of the trail
. not that i could not afford it. i just prefered to get more exercise. if one were to walk starting at the evercrest gate, take the new trail going up and the old trail going down, the total distance would only be a meager 11.7 km. since we took out 5 kilometers from our trek because we took tricycles both ways,
the distance we trekked was no more than 6.71 km
. the highest point in batulao is at 785 masl, but at the evercrest gate, it's already more than 600 masl.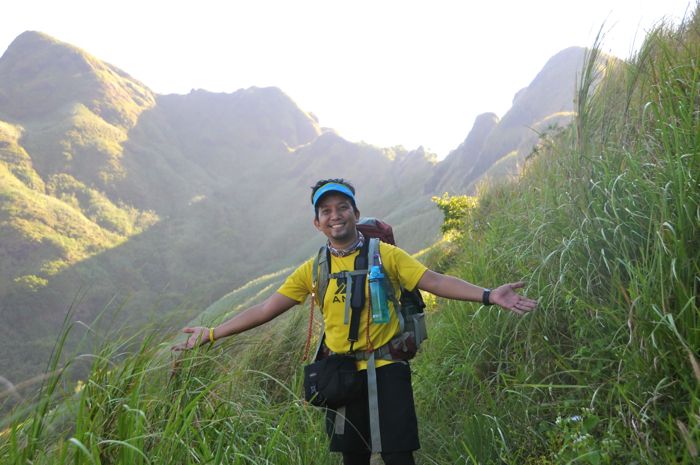 so batulao really is just a beginner's mountain in terms of the actual distance that one needs to trek, but many other factors make it challenging, which means that it ought not to be underestimated. first, there isn't a single tree along the trail, and all climbers are exposed to hours of unrelenting sun. also, there are parts of batulao that are steep and the soil is prone to erosion, which means that you could slip and fall if you're wearing the wrong pair of shoes. also, batulao's geology is unique in that it resembles rocky mounds that form a total of 12 peaks, each one surrounded by sheer drops that might prove dangerous to the uninitiated. and in fact,
it proved fatal to a first-time female climber last year
, who fell from peak 8 and died immediately. i asked people how it happened. the old lady at the eatery was less sympathetic, saying it was the result of "kalandian" and jump shots. the old man at the campsite below peak 8, and who claimed to have retrieved the lifeless body from the steep slope, merely opined that she lacked experience.
getting to this campsite took iton and i an hour. when we left the last house and started on the trail, the early afternoon sun poured all its might on our heads. the heat was immense, and we took frequent stops to cower under shade. at the campsite on the new trail, we found that many other hikers were already there, one of whom was a friend of mine. he asked if he was dressed appropriately and i looked at his shoes, which were fine, but i said i would not have worn white in batulao: on dry days like that friday, the trail could get really dusty, which when mixed with sweat, could create soot. but he was surprisingly immaculate, although i could not say the same about his companions.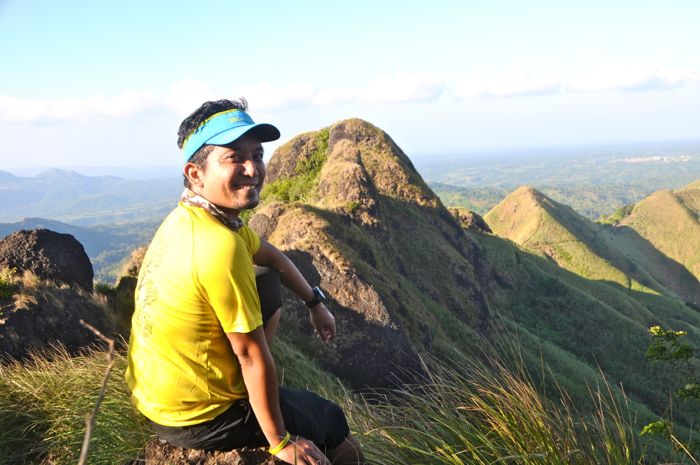 the new campsite sits on a scoop between peaks 7 and 8, where areas had been flattened to accommodate tents. from a distance, it looks as if it had been terraced. the store sells anything from soda to sky flakes, and also collects toll from passers-by: P30 for us overnighters. another P20 will be collected at camp 1 on the old trail, and although we protested about the collection, they said we were passing through private property on two different towns: camp 1 was already in balayan, the new trail in nasugbu. i had my misgivings about the truthfulness of these claims, and find the collections illegal and inappropriate, considering the trails aren't maintained at all -- during the rainy season, it could get really muddy.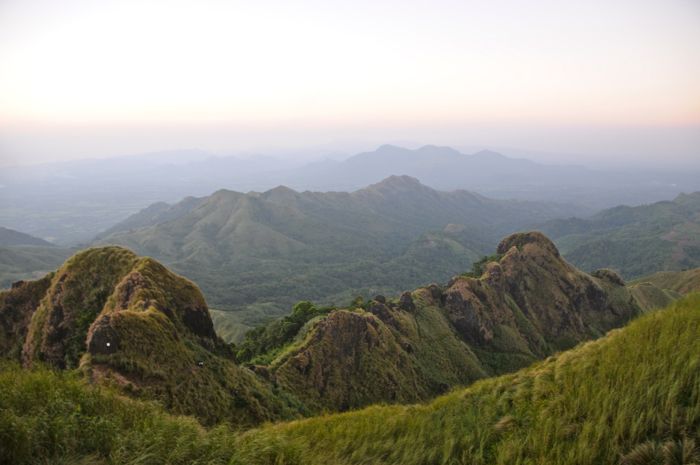 iton and i pushed towards the summit where we planned to camp. i never realized getting there was quick, although standing on the edge of camp 3 it seemed so far. it took us only 2 hours and 37 minutes to reach the top, including our many rest stops, and the half-hour snooze below peak 8. when we resumed the trek, i immediately noticed that the remaining trail was almost entirely in shade, and the wind was surprisingly cool. the sun seemed to be less intense on the summit and it smothered us in a warm, amber color as it began to set. when i spotted 3 climbers making their way to the summit, i told iton that we should pitch my MSR hoop 2 so we could stake our spot on the summit, which was a slender piece of real estate that could accommodate maybe a maximum of 5 tents.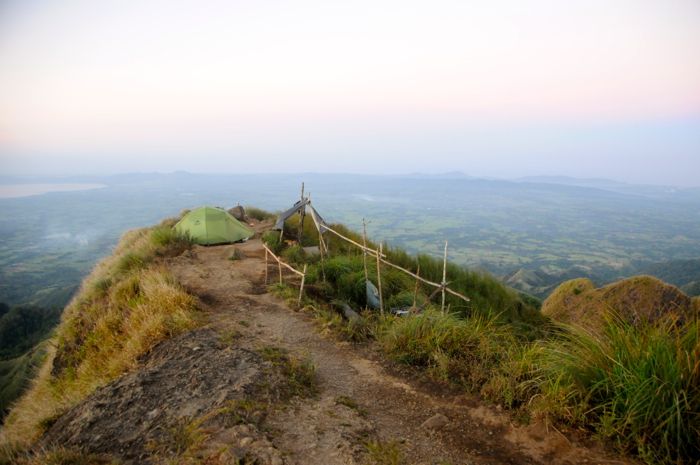 i greeted the new arrivals a good afternoon, and one of them later asked me a question about the BMC. it didn't surprise me at the time because i was wearing an AMCI shirt, but when he asked if my name was "arman, right?", i was only a little taken aback. alman, i replied, trying to look neither surprised nor suspicious, as though i were used to people knowing my name or recognizing me in the strangest of places. are you still the president, he shot back, and i said no, that was in 2011. by then i had to ask if he participated in our training because he seemed to know things about me more than a complete stranger should, and he said no, his schedule could not handle it, although he knows someone who got inducted that year. later, he offered us a taste of chili ice cream, although the frozen dessert didn't survive the trek and what i had was a warm pink soup that scraped my throat with hot fingernails.
after the sun finally set which revealed that we were so close to the sea and these bright artificial lights, we started on dinner, and i may have overplanned since it seemed i could have fed all of us on the summit. the 3 strangers decided to take their meals to us to share, and also to exchange stories and identify constellations. i offered the smirnoff to the trio but they declined, so i had more than anyone else, and kept imbibing shots even when they bade us goodnight at exactly 10PM. we were surrounded by a necklace of bright lights glowing yellow and white, and above us was an overturned bowl of stars. in my past excursions to batulao, i've always wondered how it must feel like to be up here, to have so little room to move around, to be surrounded by nothing but views and danger. not a lot of people give it the recognition it deserves, thinking it only a destination for day hikes, or worse, brisk trail runs, but the exhiliration one gets from camping on a barren peak of a land mass that resembles a stegasaurus is incomparable. i know i've seen more stars before, and that i've been in more perilous places than this, but to have something so near providing me with the things i seek, the things i need, and at the beginning of a new year, no less, is special.
i can't say i slept soundly though, having underestimated the cold and not bringing enough warm clothing. i finally got out of the tent as the sunrise was painting the horizon in various hues. we began heating our leftovers from dinner while it was still dark, knowing that it could get really hot really quickly. while we were getting ready, some folks from camp 1 appeared, marveling at the view. down there is nothing but convenience. after a while, the 3 other mountaineers left, and so did we shortly after. at one point, i felt my confidence abandon me when i had to rappel down a vertical wall. i feared my soles didn't have enough traction and i would injure myself. but in 20 minutes, we were already there, signing the logbook, paying the P20 toll with hesitation. we passed a few people on their way up, some of whom were ill-equipped and seemed to struggle with the trail. they crawled in parts where we leaped. it wasn't 9 yet, but the heat had become unbearable, and i was slowing down significantly. we took a long rest at the trail junction and had a pair of coconuts halved.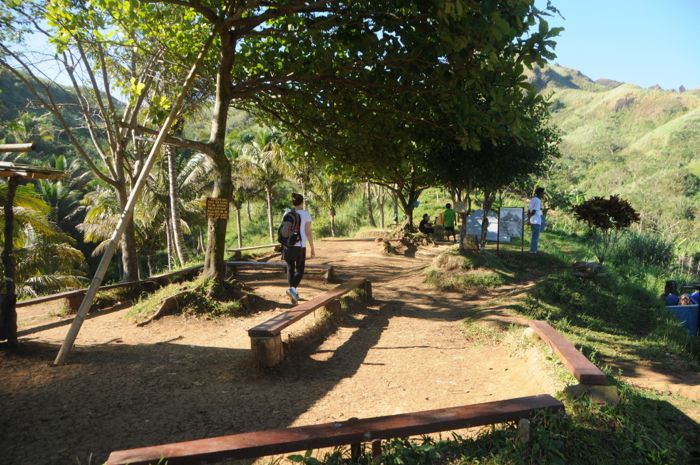 by a little before 11, we were already outside evercrest, lining up for our baths, and thinking about where to eat. since we considered this adventure to be special, we figured lunch ought to also be special, so i suggested pushing it a little by trying out breakfast at antonio's. at first we were unsure they'd let us in. how many scruffy-looking mountaineers who've just come down a dusty mountain have they served anyway? when we arrived, we were fourth on the queue, and in no time at all, they were serving us half a roasted chicken, the tenderest back ribs, a pair of milkshakes, and a cheesecake. we laughed about the irony of our situation when we stepped out, stood on the sidewalk, and flagged a bus. by half past 3PM, we were already in manila, taking individual cabs to get back home.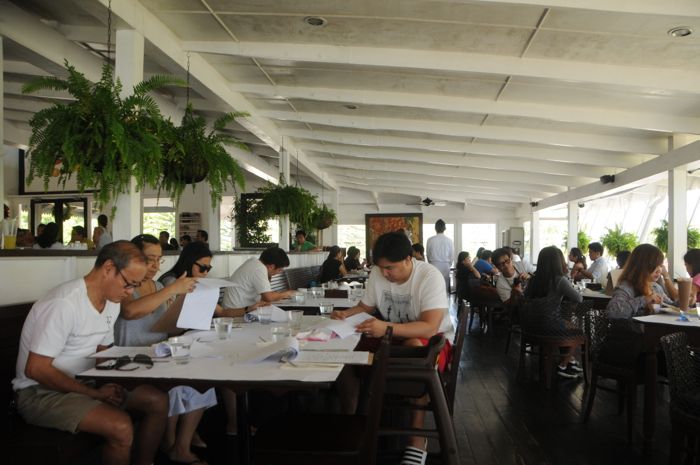 i'm still reeling from an injury which sidelined me for half a year and denied me the things i usually enjoy. while i have yet to have closure with my orthopedic doctor, and my injury's impact on my overall well-being has long expired, i feel nevertheless that i have given up so much the previous year. i'm glad that
i ended my 2013
with two climbs
during its last two weekends
, and that i started 2014 with another. regardless of the scale of the adventure, no matter the lack of the usual difficulties i willingly submit myself to, i dare say that i'm off to a good start.