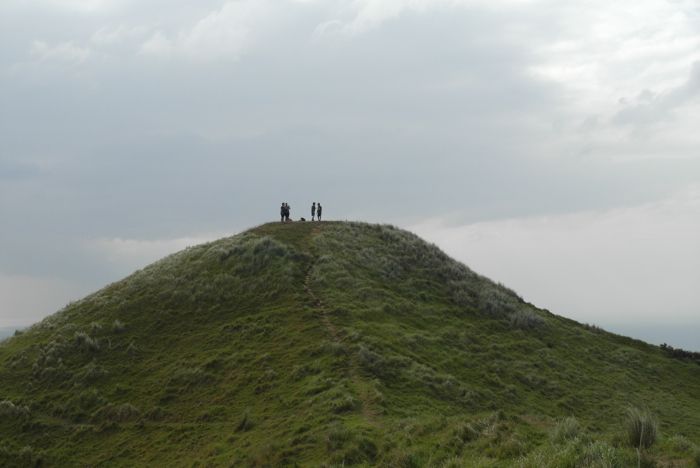 if the far-fetched plans of mayor nilo villanueva of mabini, batangas are realized, then by april this year, it would be possible to drive a car up to the summit area of mount gulugod baboy, which he envisions to become mabini's answer to tagaytay. although access to the mountain has usually been through anilao, particularly the inclined concrete road across of philpan resort, there has always been another way from laurel, just past the poblacion. now, the road that's seen disappearing into the distance when you're standing on the highest point of the mountain has reached beyond the community of just over 10 houses that live just a hundred meters from where most people camp: the saddle that sits between the two peaks, one nodding towards balayan bay, and the other looking away at batangas bay.

construction status as of 11 january 2014
in the small village near the peaks of gulugod baboy, which is still part of barangay ligaya, construction has been steadily ongoing, although it finally broke the summit area last november. some parts are being fortified with riprap, although the resident did proudly proclaim that a van had made it all the way up to them not recently. i immediately noticed the radical change when i accompanied two friends to a day hike in gulugod.
i was last here in june of last year
, hoping to shake off some climbing jitters following
my injury
, getting ready as it were for the BMC. this time around, i was getting my non-mountaineer friends prepped for the trails of kathmandu.

i was rather surprised when i arrived at the summit area, to find that a part of the saddle area was being excavated for what clearly looks like a road. i couldn't see at first from the peak if in fact it was going to be passage for vehicles, as they very well might have been clearing it for something else, but when a bunch of high school kids in their PE uniforms walked away from the summit, and appeared not 10 minutes later on the dirt road girding the northeastern side of the mountain, i confirmed my fear: that yes, that road which you see emerging from the distant hills is in fact connected to the one at the saddle. even a visit to googlemaps confirms this: that there is a different road apart from the one going up from philpan resort, and this one has breached the camp grounds.
once mayor villanueva's ambitious ideas are finally achieved, gulugod will welcome people unwilling to suffer the 2-hour assault, but desiring the magnificent view and cool weather the mountain's topography offers. there will be cars among the cows, and a deck on the summit where visitors will have to ask friends not to press the shutters of their cameras as they fix their hair that's been blown by the sometimes unforgiving wind. mount gulugod-baboy is frequented by beginners: it's an easy enough trek to do, and anilao is accessible, if one is willing to make a few transfers along the way. but once the road has been completed, it would seem completely unnecessary to punish one's self through the trail, when any jeepney could make it up there. also, it might not seem very wise to camp overnight, when at any given time, visitors might come to enjoy the view of distant lights from up there.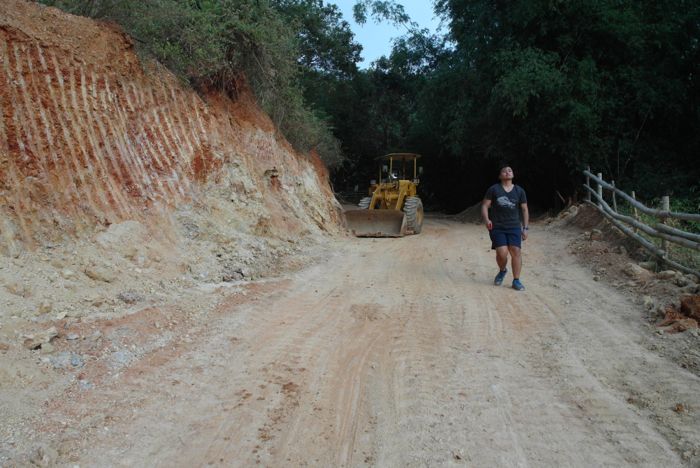 it is not possible to confirm idle talk among the locals about the mayor purchasing 3 hectares of land on the summit where he's built a tourist road, but residents of bgy. laurel seem to be singing to the same tune. they're all excited about the project as i'm sure they've realized the potential economic impact it will make: more tourist pesos. the people over at anilao have cashed in on this, asking climbers for a P30 registration fee when little trail maintenance has been done, charging P25 to P30 for a bath, P100 to park overnight, P350 to guide, among many other schemes aimed at milking mountaineers of some spare change.

i am not aware of the extent of mayor villanueva's plans for gulugod baboy, and there will honestly be no love lost between me and this mountain, regardless of the fact that i've been here over 10 times, including my first training climb with pilipinas sierra, but i pity the beginning mountaineer, eager to break out a sweat, coaxed by well-meaning friends to join a hike up a modestly-high mountain, only to find, after all that effort, that it would have been possible to get there and take in all that view while inside a vehicle. while this mountain doesn't qualify, at least for me, as a place worth keeping pure, the road to the summit illustrates that grating conflict between progress and preservation. at the very least, i can now suggest a new biking trail. that would certainly make for a good photo, with the bays of batangas and balayan, the islands of sombrero and maricaban, in the background.