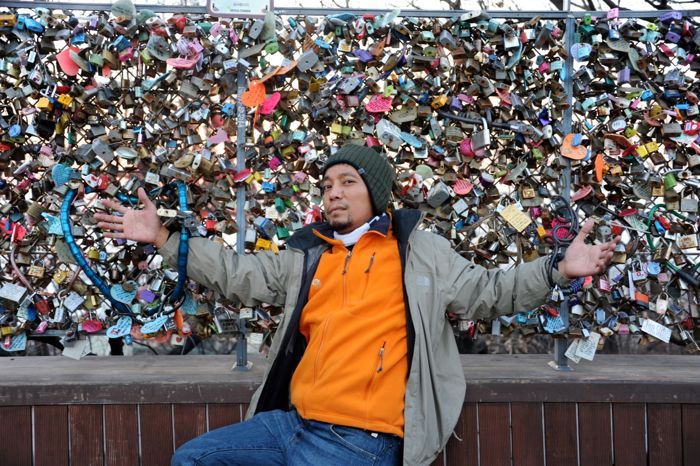 to paraphrase the poet robert frost, the world will end either in ice or in fire, and while i can't say i know much about desire, and although parts of the world are now literally frozen, i agree that the world will more likely end in flames. this much i know after experiencing seoul, south korea, both in ice and fire, or more appropriately, winter and summer. in 2010, i came to korea at the end of november, at a time when it was experiencing an early winter, its first taste of snow that year, and temperatures pushing below zero. three years later, in august to be specific, i went to our east asian neighbor again against what turns out to be rather sound warning from a friend that the korean summer is so hot, he wanted nothing but to go home. having lived all my life in a tropical country with year-round sunshine, and being my stubborn self, i booked my ticket anyway during a long weekend, and never realized how pleasant the heat in manila's saucy summers could be.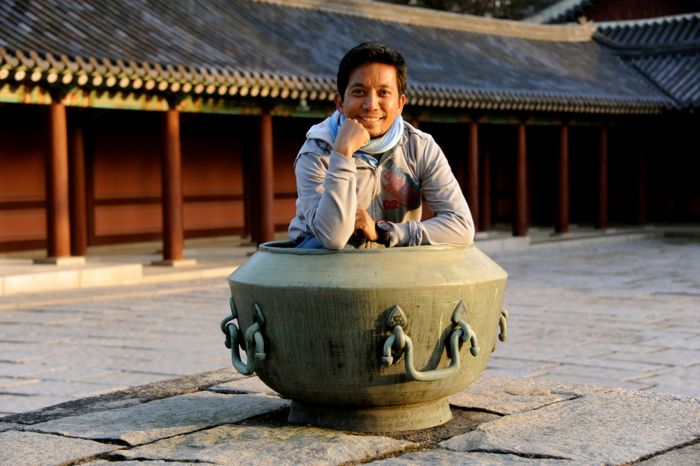 apparently, when we complain about manila's humidity, it's only because we're inclined be unhappy with whatever is given us or are ignorant and have not been to places where people have to deal with an intolerable summer. the heat was so terribly oppressive in seoul last august that i could not imagine enjoying summer in that country, not even if i were in my board shorts on a beach. to start with, seoul's summer looks strangely gloomy. the sun isn't even shining over the sky that's soaked in this bland gray hue, unlike the blue skies i'm used to in my tropical motherland. also, there is a peculiar absence of any wind, as though everything were completely still. but that's just it: i may keep completely still myself and still be stewing in my own sweat.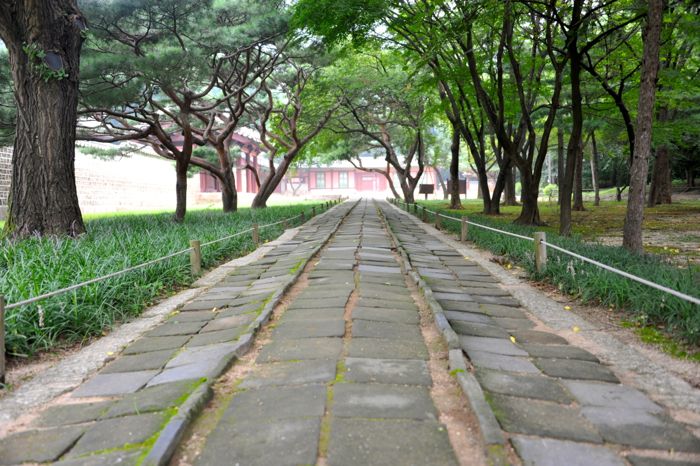 as i took a leisurely stroll with a bunch of college kids around world heritage site jongmyo temple, i could not help but wonder how the english-speaking guide survived the heat in her traditional garb, which seemed to involve several layers of cloths. she fanned herself as she explained the spirit paths (which she warned we should not step on), and there were only faint traces of sweat beading from her forehead. i was (supposedly) comparatively at an advantage since i was wearing a cotton shirt, shorts, but still felt terribly distracted and uncomfortable. it was so terribly hot and humid that if i weren't a tourist in seoul, i would just have stayed absolutely indoors. the evenings were equally unforgiving, as if the heat wasn't coming from the sun. it seemed like it was radiating from the ground, as though all of seoul were a skillet sitting on a fire.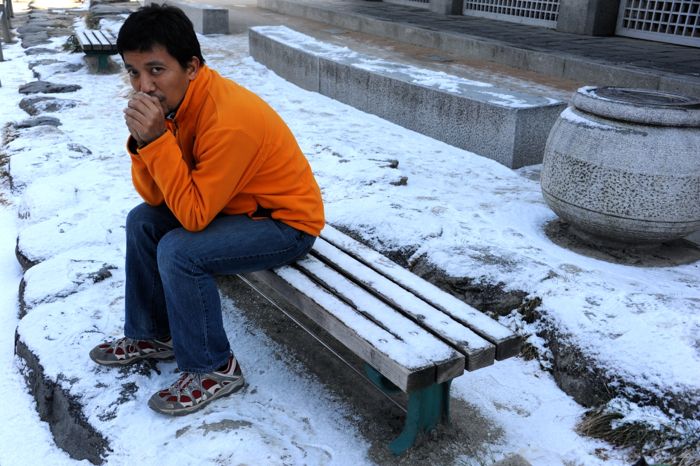 what a stark contrast to my first encounter with snow. a little over 3 years ago, i also visited seoul as it embraced a particularly early arrival of winter. the moment i stepped out of the impressive incheon international airport to take our limousine bus to seoul backpackers, i immediately felt a sharp chill. no, i wasn't scared about getting caught in the crossfire of another korean war. south korea was on heightened red alert since on the morning of my flight, north korea fired artillery shells on yeonpyeong island, killing 2 south korean marines. the skirmish intensified the already tense relations between the two nations that my companions asked if we should push through. i replied that both countries basically have missiles pointed at each other and merely hold on to a fragile ceasefire, so unless cebu pacific cancels the flight, i was going anyway. so what gave me shivers, really , was the weather; i was blowing into the hollows of my fists because it was terribly cold. when i finished checking in, i immediately ran to namdaemun market to get longjohns.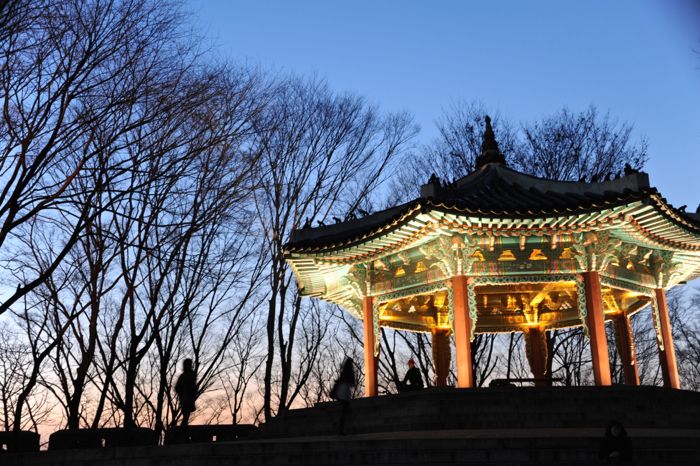 a casualty of the military action on yeonpyeong island was the first thing on our itinerary: a visit to the DMZ. which is why when i had the chance to come to korea again, my first inquiry at the banana backpackers was how much it would cost to visit what is dubbed to be "the strangest place on earth". at so early an hour, i was picked up by a van, which had to meander around many alleys to gather other tourists before finally converging at a place near hongik university. i took a bus along with an odd mix of people also curious about the DMZ. it was some distance from seoul, but other than a few mandatory stops at some intersections, there was absolutely no traffic on the way there. korean infrastructure is so damn amazing, and there are these elevated highways so far away from anything it makes you wonder why they've decided not to make everything at-grade.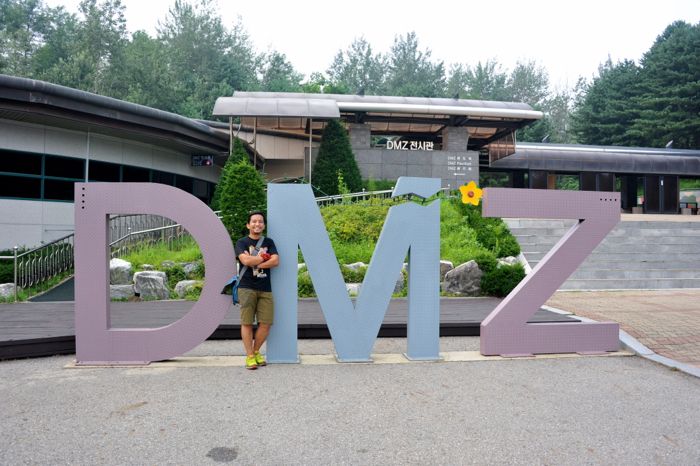 because of the literature i read about the DMZ, i expected to be completely weirded out. i must have signed up for the diluted version of the tour because i didn't find the whole experience to be particularly strange. besides, we had these bus stops at some unnecessary places where they sold "unique" things, like the only chocolate to come from the DMZ, or the world's best ginseng, all at disgustingly high tourist prices. a note to anyone joining any of these tours is to stock up on snacks from seoul, so you don't have to unnecessarily spend your wons on precious bottles of water.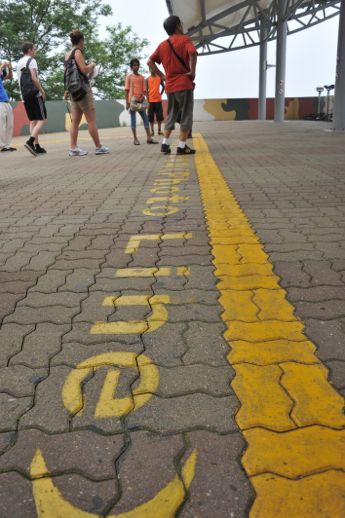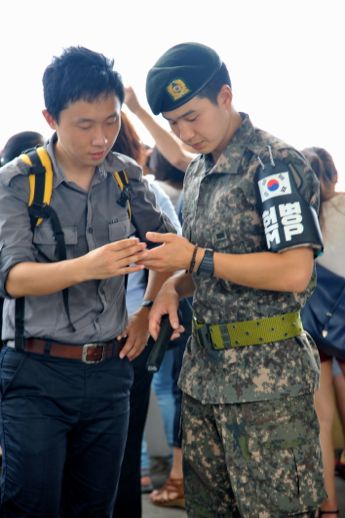 what makes the tour special is the fact that it isn't so easy to get to the DMZ. there are a lot of checkpoints, and some places are so strategic that they could very well be among the first targets if ever the two koreas go to war. one of the highlights of the visit is the trek through the tunnels. the north was apparently secretly drilling these tunnels to its southern neighbor for a variety of reasons: espionage, smuggling, a subterranean attack, but also escape. one of the engineers defected and opened the lid on pyongyang's plans, so the south intercepted and sealed off the tunnels (many others would be discovered later). one of these tunnels has been opened for tourists. there's even a ride that takes you down there. no pictures are allowed inside (although many chinese tourists liberally snapped cellphone shots -- i left all of my cameras in the lockers upstairs) where it's brutally cold, it honestly felt like a walk-in freezer, and they subtly warn you about the slightly over a kilometer's walk. they really should just emphasize that parts of the tunnel are no higher than 170 centimeters, and tall caucasians could hit their heads on really hard rock.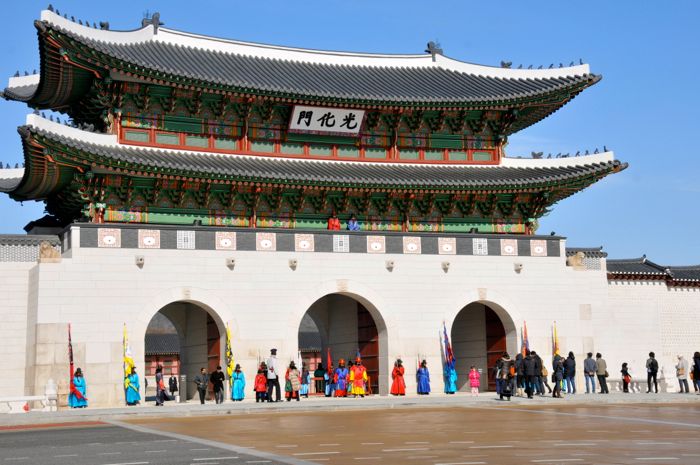 i'm of average height where i come from, so i wonder if the average height in north korea is shorter than me. i walked down the inclined path, and ducked my way through the crudely drilled hole whose end had been sealed by meter-thick concrete. but there's a metal door there if my memory serves me right, a hollow space, and then another concrete wall in case the north decides to blow things up. the north's excuse was that they were mining, and some parts of the tunnel were smeared with minerals to sort of beef up the claim.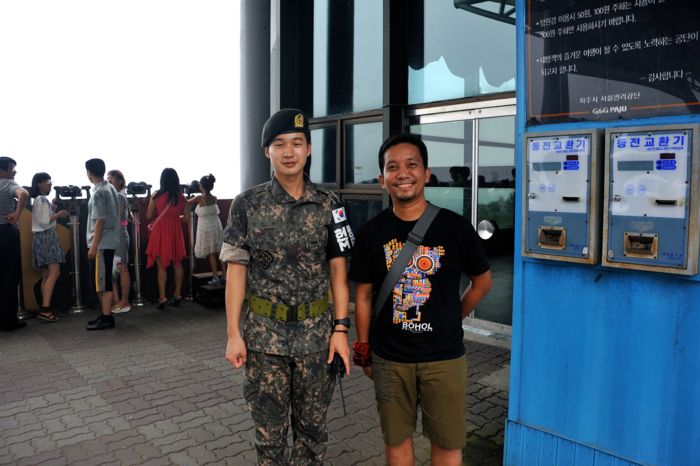 the other highlight is the lookout that's perched on a hill. here, it's actually possible to see parts of north korea, although not much. they don't really have a lot of infrastructure near any of the borders, apart perhaps from the unification village (which isn't part of the organized tour), and you only get to stand on a platform and look at barren wilderness. the instructional videos make it sound a little more interesting. there was a young korean man on military service barking instructions in four languages: english, korean, japanese, and chinese. he was basically on repeat: that we could only take pictures behind the yellow line, although really, nothing that might compromise the military secrets of either korea can be captured there, even if you had a giant zoom lens. i boldly asked him for a photo, and he hesitated but eventually obliged, and many others followed suit, although he had to decline some people in order to reprimand chinese tourists and ask them to delete the photos they took of the border. i really felt that my apparently very high expectations weren't necessarily met (the whole organized group tour was too structured and unimaginative), but at least, i got to catch a glimpse of north korea.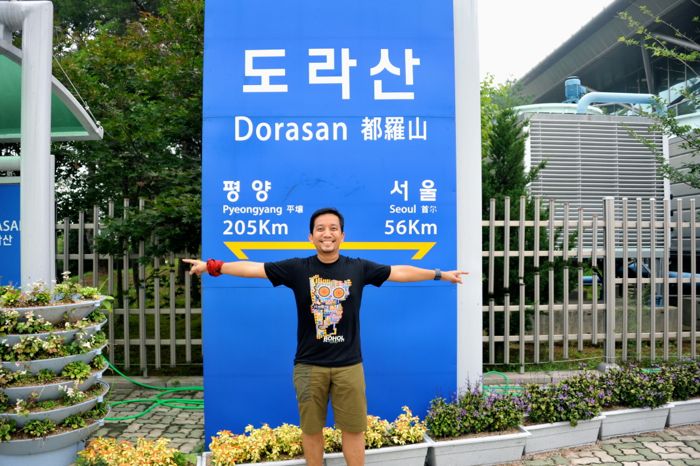 the last stop before we were deposited near city hall is probably the world's most modern abandoned train station. maybe south korea was thinking that relations would improve so they built this as a link between pyeongyang and seoul, but there weren't that many actual trips made between the two capitals (i can't remember if the north actually built their part of the tracks), although the place is spanking and very well-maintained for a facility that's really not being used. it really is just a display of the south's willingness to embrace unification considering that they spent millions of dollars to build something that doesn't get any actual passengers making the trip from across the border. tourists are allowed to go down the tracks and even get stamps as souvenirs (just as long as you don't ask them to put it on your passport, as you'll probably get into some trouble). when we left the station, it became eerily empty, save for the girl at the information counter, and the two teenage boys in military attire.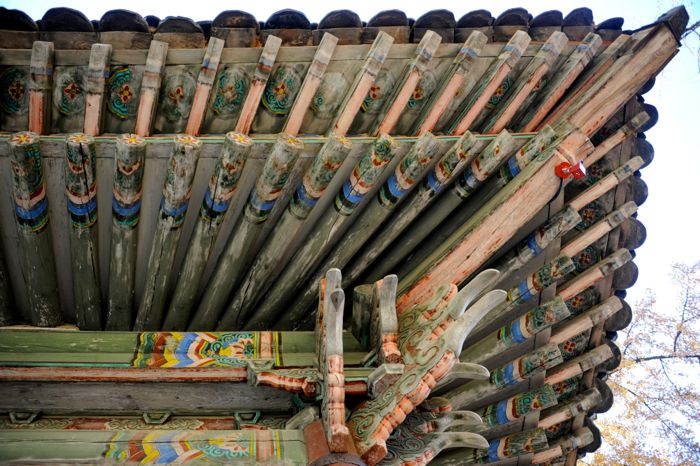 apart from the DMZ, mandatory among the places to see in korea are the palaces. they're mostly in seoul, and some within kilometers of each other it's actually possible to just walk. understand that these palaces were built, burned by the japanese, built again, then fell victim to the end of a dynasty and also a protracted war between the two koreas. so many of the ceilings with their painted round beams are actually just modern attempts at recreating ancient architecture and construction techniques: to give visitors a feel of how the old kingdoms built their elaborate and beautifully-appointed palaces. inside, the palace grounds are perfectly-manicured with gardens and ponds and trees that bloom in spring. several re-enactments of the changing of the guards are scheduled throughout the day, and these actors in their strange-looking top hats, colorful vestments, waving flags, and pasted beards will march around while a giant drum sounds out a cadence, and a public address system explains what's happening.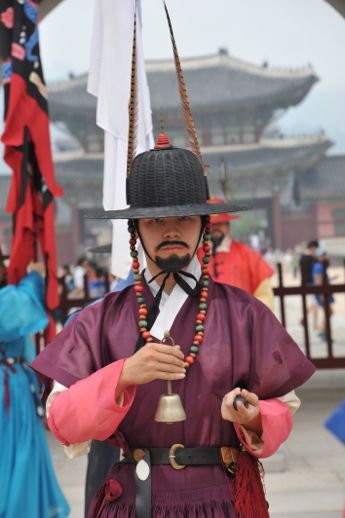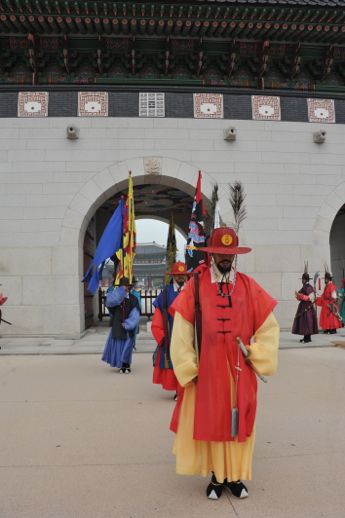 i made the innocent mistake of wanting to see all of them during my first visit. and given the pleasant, cold weather and the fact that we were just transitioning from fall to winter allowed me to witness as trees stood proudly on mounds covered by the beautiful colors of its leaves. it was a "mistake" because to some degree, the style of the palaces resemble each other that it's easy to confuse one from the other. so last year, i limited myself to just one palace, the grandest of them all: deoksugung. besides, the heat just sapped me of the energy to want to see the others (which include gyeongbokgung and the sprawling changdeokgung). besides, you have to pay to get in some of these palaces.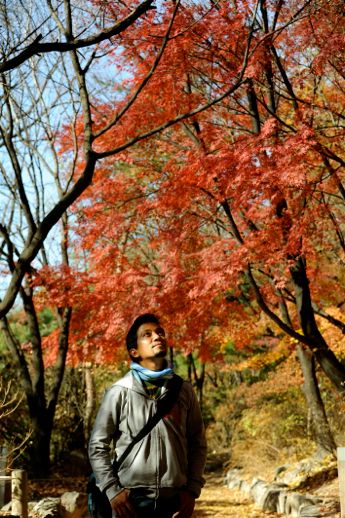 more authentic representations of the ancient royal architecture may be found just outside of seoul, and i did get to see the hwaseong fortress, after a longer-than-usual train ride, and a bus commute that left me guessing where we had to alight. hwaseong is another of south korea's world heritage sites, and also where some scenes from the popular korean soap opera "jewel in the palace" was shot. there are still some modern recreations of old and ancient structures, but you get to have a more real feel of how it must have been like when the joseon dynasty ruled the korean peninsula. also, the tourists here number less than they do in any of the palaces in seoul.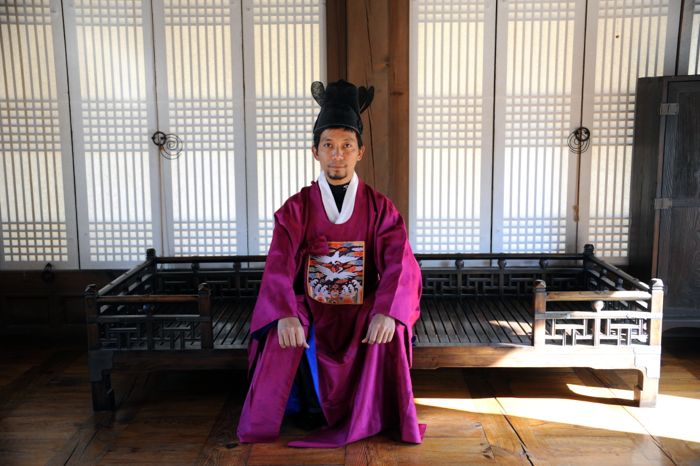 there are other curious places in seoul that preserve accurate representations of its storied past, such as the namsangol hanok village. we went there to see traditional houses, but was also treated to a fresh sheet of snow that fell just the previous day. apart from playing these now seemingly-foolish games, i also got to have a photo shoot wearing the traditional hanbok, which an old lady with curly hair helped me get into.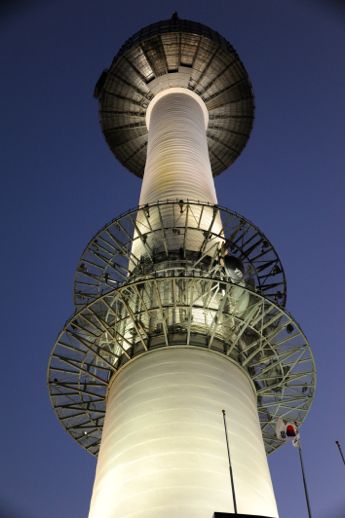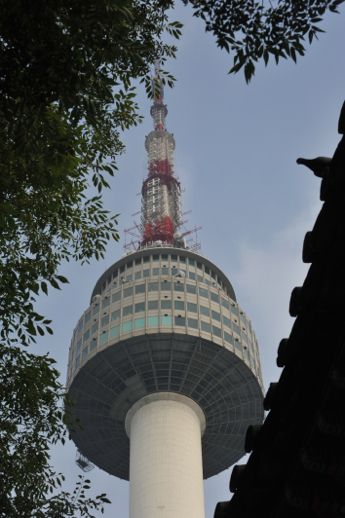 seoul is a modern city filled with gleaming buildings, although unlike kuala lumpur or taipei, no one single structure stands out no matter where you are, and this i confirmed from 250 meters above sea level. seoul isn't as flat as manila: the lower slopes of surrounding mountains are still part of the city's territory, and the seoul N tower was built on a hill right smack in the middle. it is almost expected that tourists will make their way up namsan mountain, and there are at least two ways to get up there: by bus or by cable car, which i did. there are some attractions on the park atop namsan, including the deck filled with locks where lovestruck couples proclaim their unfaltering devotion to each other by writing down promises and then throwing away the key. whether the couples are required to go back up and remove the locks in case those promises aren't kept is uncertain, but you can tell from the rust encrusting some of them that many locks have been there a while.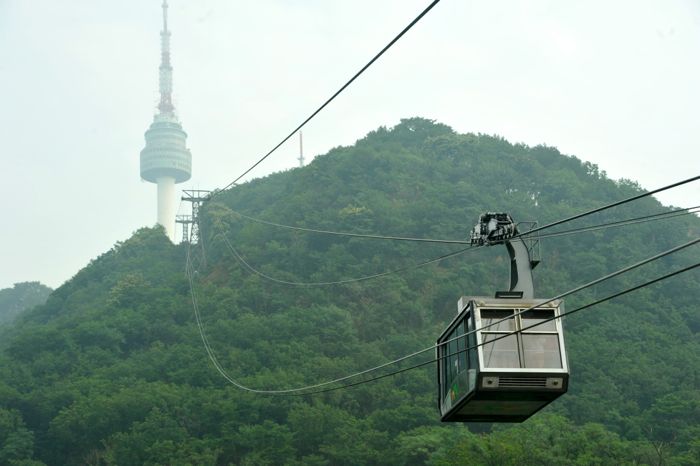 the main draw of the namsan park is the stellar view that's offered by the tower, although anyone wanting to see the sprawling modern city will have to pay a premium. from the viewdeck with the locks, it's only possible to see one part of city, so anyone wanting an unimpeded vista of the skyline should take the lift up the tower: there's a restaurant up there, and below the tower are shops, fastfood places, and a museum. it might be good to go up namsan at sunset, or to do a training run along the path that winds up through the forest when the weather is more forgiving.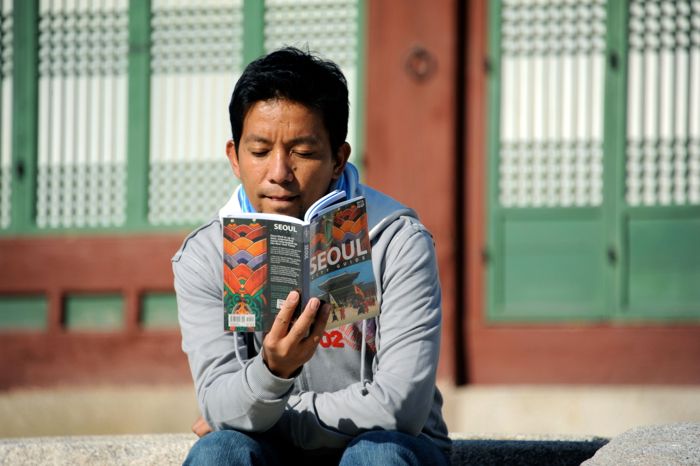 any respectable guide book will suggest a walking tour for you, although these are also offered by travel agencies and most hostels. but even the most detailed instructions which give very precise directions (take exit 2 and walk 100 meters to the first intersection) can still be a tad confusing since seoul has a strange, almost organic design to it that challenges my manila-bred spatial logic that i'm almost always consulting maps, such that when we decided to do the bukchon hanok village walking tour, we were frequently but delightfully getting lost, walking into alleys lined with hipster cafés, or following queues of locals into seoul's best-kept secret restaurants. of course, all this walking was not possible when i returned, so i just limited myself to visiting malls.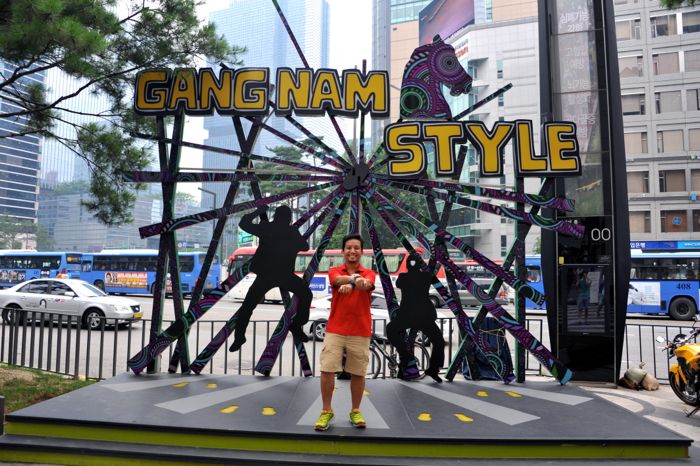 one particular area i wanted to see was the gangnam district only because psy's hit made history by being the first video to get a billion views (that's 1/7 of the world's population) on youtube. gangnam is basically seoul's new business hub, and it has spawned a high-flying lifestyle that's tacky even for some koreans. emerging from the underground train station of gangnam, i immediately witnessed streams of people walking in the pale shadow of tall, glistening buildings that house offices and countless commercial establishments, including the luxury brands that were paraded in the famous video. in the backalleys that's almost hidden from plain sight are rows of restaurants and shops that define gangnam and the prevalent korean culture that's uberly concerned with fashion, cosmetics, and all things flashy.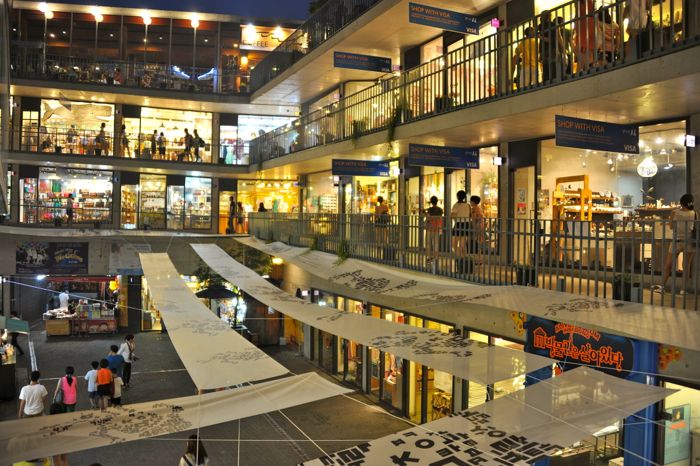 but one does not have to go south across the han river to gangnam to see the vanity that's engulfing korea. these are pretty evident everywhere, even in downtown seoul. if one were to think of specific places in the city where things converge, i would whittle it down certain neighborhoods, among them: insadong, namdaemun, and myeong-dong. what these places have in common is that they're all shopping districts, some more traditional than others, the last one being the most hip and modern. in any of these places a visitor might be barraged by an inordinate number of food establishments and souvenir stores that are probably more novel than anything else. in insadong's ssamzie for example, i toured a beautifully-designed if not (f)artsy four-story building that had the cutest things which piqued my curiosity and little else. one might leave the place buying nothing, or with bagloads of absolutely useless things.
but in all of these night markets, it is not possible to ignore a trend that's spoken in hushed voices everywhere else, but is so vocally mainstream in south korea: male cosmetics. the word androgynous seems almost always associated with members of korean boy bands, who are always dolled up and are not shy about wearing just as much mascara, face powder, and hair products as their female counterparts. one need only walk into these small boutiques and find specific sections stocked with facial wash, moisturizers, sunblocks, foundations, concealers, sticks of lip gloss, and BB creams just for men, many of them endorsed by very famous korean celebrities. i left many of these stores with free samples of lotions and face masks and a morbid fascination with the korean concept of beauty.
the popularity of psy's "gangnam style" or of the wonder girls' "nobody" speak volumes of how the world has embraced korean pop culture no matter that much of the world outside of korea does not speak korean, but understands nevertheless the language of movement. and koreans have mastered the formula in this respect, it seems, making sure that there's an easy mix of repetition, suggestion. in any of itaewon's clubs, young koreans, regardless of gender, would instantly break out into dance when a song starts to play, as though they'd attended the same zumba class, or were taught the steps by the same choreographer.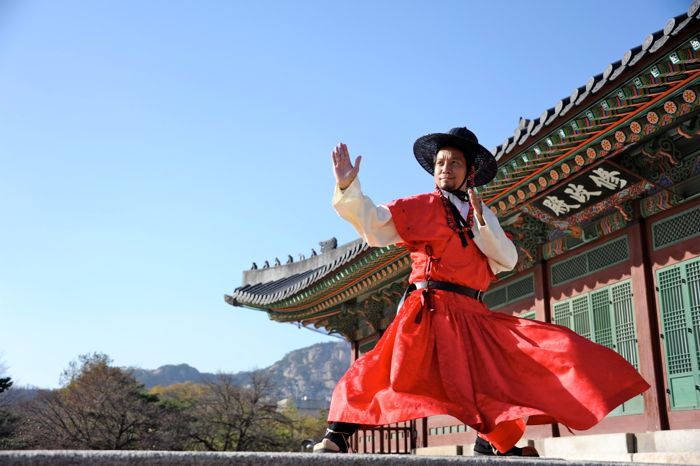 whether korea is preparing for world domination by positioning its pop music groups, soap operas, and cosmetics, i cannot yet tell, but the invasion has long been felt back home. i have often heard filipinos complain about some places being taken over by rude koreans who are here to take advantage of a more enjoyable summer or even just a tolerable winter, or to study english, or to open korean restaurants and groceries. many places outside of manila have been converted into small versions of seoul, although based on my experiences in this amazing city, the only comparison are the koreans, and nothing else. the food isn't quite there yet, although i've developed a taste for kimchi after my first visit. seoul is a thriving and eclectic mix of many things that make it an interesting place to visit. in fact, when i first went there, i very quickly concluded that i wouldn't even mind living there if i had the chance. then came that terrible august summer which convinced me that i'm happy with the heat and humidity in manila.