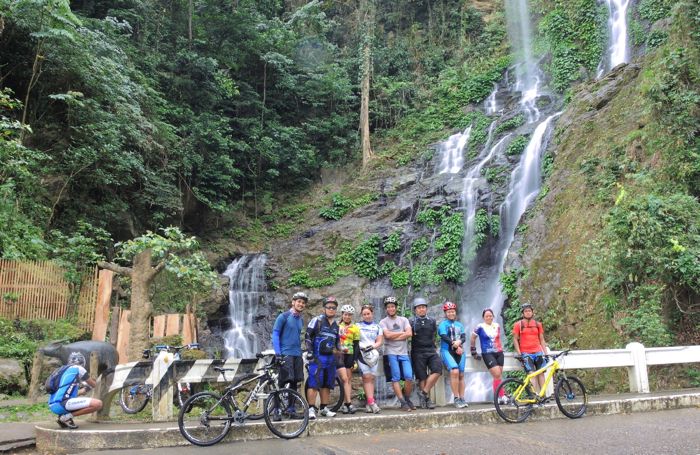 when the bike mechanic explained why he needed to replace my derailleur pulley, i cut him off and said to just go ahead with it. he insisted that he inform me of the need for a replacement, but his language was lost on me. i know little about bikes, although i did replace an inner tube at home once using a spoon. when i had my bike built, i had to drag my friend rendo to make decisions for me. i basically just decided on the budget range and the color. he chose nearly everything. eventually, when the small disc was taken out, i realized what the helpful mechanic was trying to tell me: the disc had nearly lost all its teeth, leaving little place for my chain to thread through.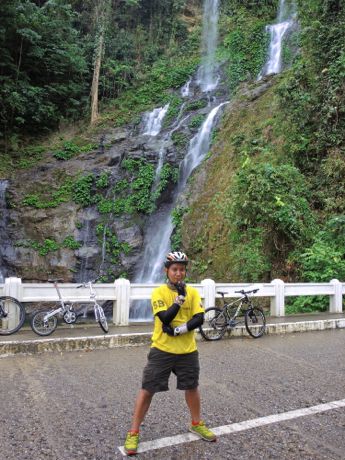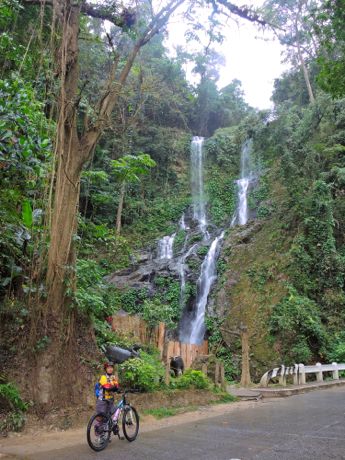 i have not attempted to understand bikes even though i've known how to ride one since i was 3 or 4, after my brothers pushed a bike bigger than my size, and i yelled and cried until i crashed into a tree. i've owned only 2 bikes in my lifetime. i was bought one when i was in elementary school as a prize for ending up 1st honor in my class. the second one is the setup i now own: a chunky mountain bike with a red frame, which i now realize is 6 years old, although it did spend a lot of time with other people, sometimes on an extended and unwelcome loan. my ignorance continues, as apart from knowing how to balance it and making it go forward, i really don't know much about bikes, particularly the logic and physics of its gears.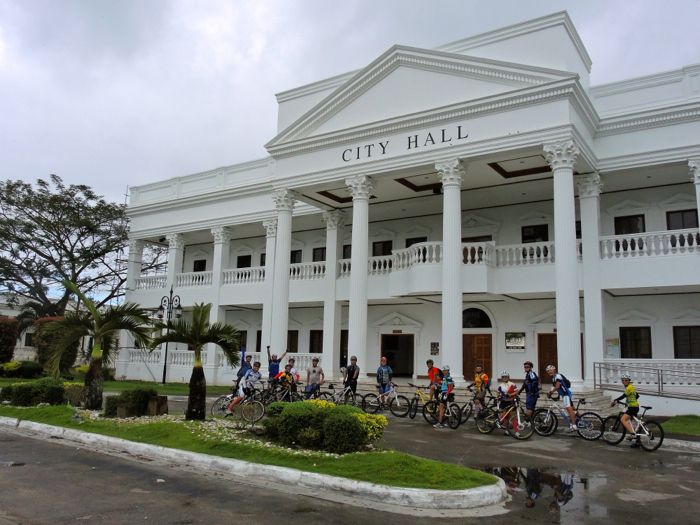 this much i confirmed when i went on my third calapan-talipanan ride:
a distance of more than 60 kilometers of completely paved roads
(well, there was about 3 meters of concrete that was in pretty bad shape). i've complained before how
i was so unprepared for it the first time
, that i was so eager to complete it when
a second chance came along
. since then, many years passed, and i realize, i have not been out on a real ride since that last epic mindoro adventure. my bike has only been to my home, the mall, the grocery, and a few other places around makati. i was more than happy to take it out again, and experience the thrill as well as the pain of a long ride.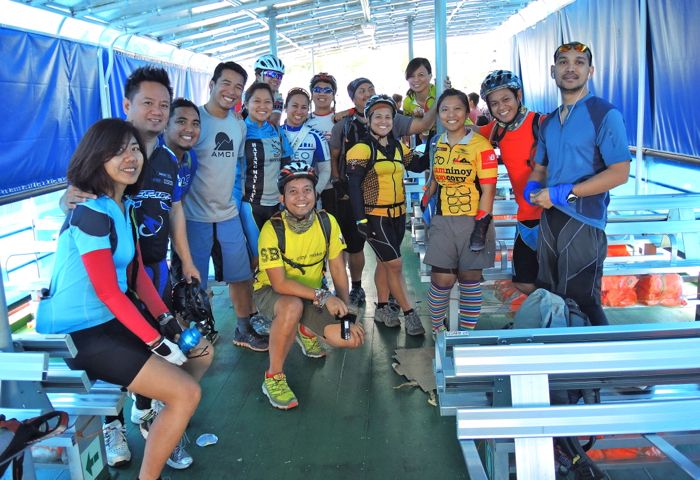 as usual, the trip began with a slow ferry ride to calapan. they now charge for bikes even though it occupies such a small space in the cargo hold of the ferry, which meant we were given little choice but to make do with the non-airconditioned deck, inappropriately called premium economy. i had no sleep since leaving the house at 1:30AM, and arrived in calapan at half past 7 failing to even get a wink of sleep. i chugged a can of bacchus, and prepared myself for the challenge that i knew would last until late in the afternoon.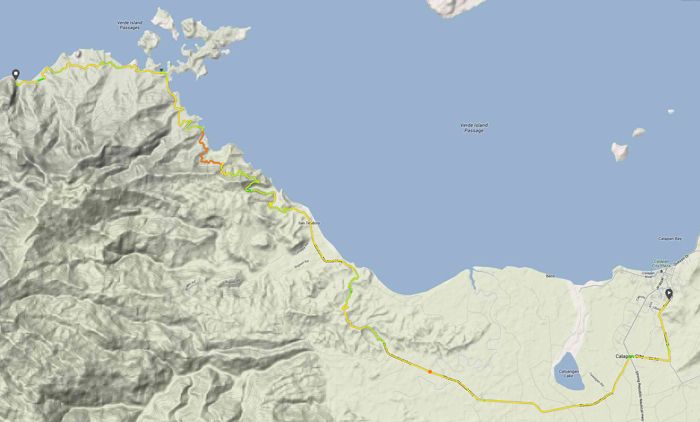 after breakfast at perhaps the dirtiest carienderia in all of mindoro, we set out for the ride, going at an easy pace of 18kph on flats, 6kph on the inclines, and as fast as 40kph on the downhill drives. i've already provided
very detailed descriptions of the trail
previously, and nothing much has changed. the scenery is a mix of urban and provincial scenes, with roads fringed by growing businesses and rice fields. halcon was rising in the distance, and there were parts where we had to maneuver around roads that were carved from mountainsides. we biked through 3 towns. it began to rain when we entered san teodoro, and when we arrived in sabang, we were the only ones dripping wet.

a very late lunch took place at the port of muelle, where we lingered for about 2 hours. long before the ride began, i was already very eager about sharing my past experiences, talking about steep climbs and false flats, and even identified the spot where i suffered cramps, dismounted, and proudly declared my decision to take a tricycle instead. there were 16 of us in this ride, and the distances between the fast bikers and the ones left behind was immense. nevertheless, all of us still arrived in talipanan alive despite mishaps along the way. tired, but very much alive, and eager to celebrate AMCI's 31st anniversary. for after all, that was the main reason we were there.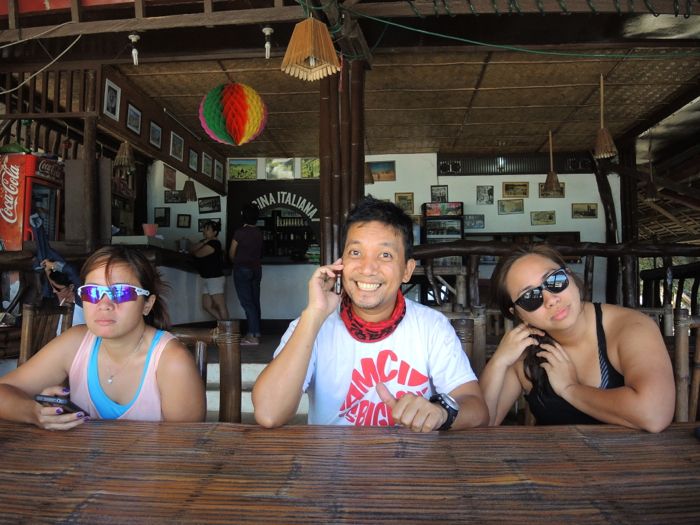 it was an intimate evening in talipanan, though no less fun. we had our libations and our list of songs, and we lasted till the small hours of the morning. i woke up the following day, surprisingly with no headache. as usual, lunch was taken at luca's, and the violent wind threatened our food with a drizzling of beach sand. our boat departed puerto galera at 4PM, and the waves were particularly huge. it took us time to disassemble our bikes and install them on the racks of our cars, but we took the opportunity to have dinner at al's goto just before the rotunda leading to the STAR tollway. all in all, it was everything i could ask for in a weekend, despite the sore legs, the dash of hangover, and the scary waves slapping against the hull of our boat.