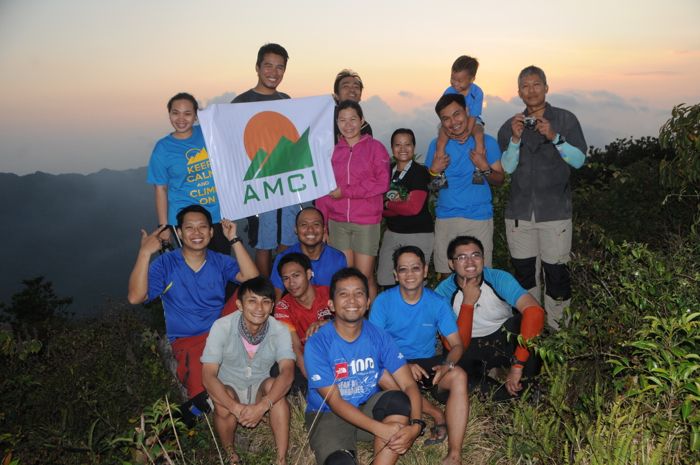 when i reached the foot of mount natib, i found jerson lying flat on the bench made from slender trunks of trees, and another man squatting in front of a small pile of smoking embers. are you the guide? i asked, and he said yes. he said his name was mhanny. even as we awaited the arrival of our companions from the steep trails of natib, we already started asking him about the detour to pasukulan falls, and he mentioned it would take another 3 and a half hours just to get there. i was terrified by the idea. i have been to natib a total of 5 times, and
it had become an annual peregrination on my part
, although i managed to skip it last year due to my now
not-recent injury
. i've heard of the falls before although i was never curious about it, thinking it was probably a small footnote to the already challenging trail that natib offered. but
i have been here a total of 5 times already
, which is a lot. natib now belongs to a small pantheon of mountain destinations that i've visited more frequently than others, and this includes
pulag
,
the mountains in kibungan
,
the mariveles ranges
, and
san cristobal
. perhaps it was time that i go see it, just to confirm that it was worth ignoring.
i could never have been more wrong.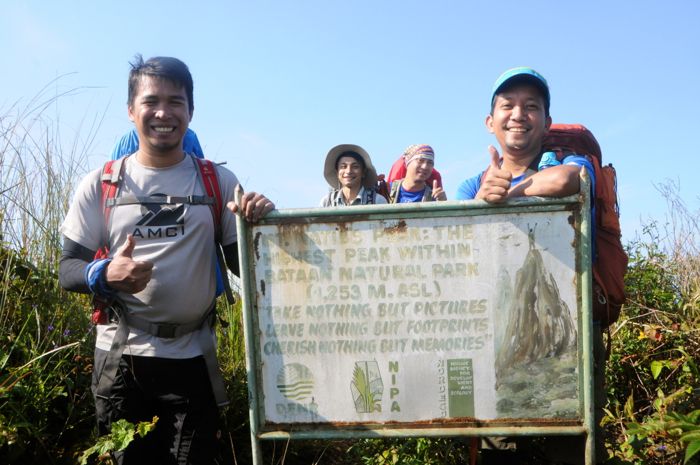 mount natib is the highest peak in the bataan natural park: a protected area of more than 23,000 hectares of tropical forests and mountains. the greens of mount natib run deep, although there is a score of paved earth that leads from the jump-off in bgy. tala in orani all the way to a flat stage which is called the battlefield, which is covered in sunburnt cogon. there used to be a road here. in the 80s, the PNOC attempted to find a source of geothermal energy in the area and excavated access all the way to the battlefield. although most of it has been covered by the invasive forest after the trucks left, it is clearly marked by the trail that mountaineers now tread on their way to the 1,200 meter summit of natib.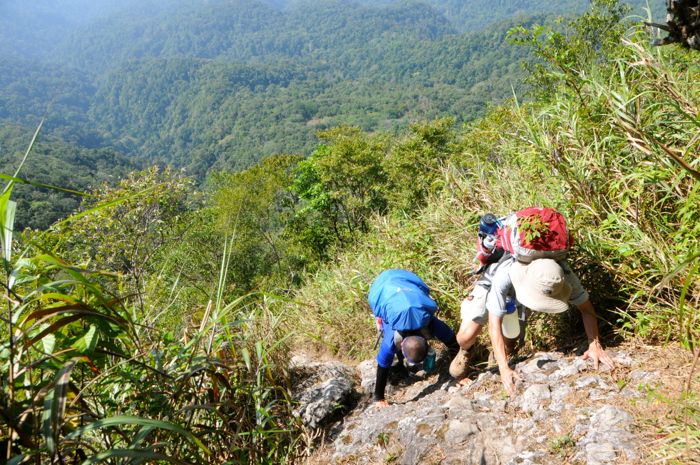 why the PNOC abandoned the project could be attributed to two things. one version says that they could not generate enough steam to make the plant profitable. which makes sense. another story says that the surveyors were more than interested in geothermal power -- their other purpose was to search for buried treasure. the geothermal plant was not pursued because they were basically told by rebels to stop its operations. the second story finds basis in the fact that members of the NPA are in fact "sighted" in the slopes of mount natib.
there used to be a military detachment near the barangay hall of tala
, and for a long time, the area was closed to mountaineers because of rumored encounters and skirmishes that end up in gun battles (this is also said to be how the battlefield earned its name). to further bolster this specious claim is the legend on how pasukulan got its name. it comes from the root word suko -- to surrender. locals shared that during the second world war, many civilian filipinos escaped to the waterfalls, but they were pursued and massacred by the japanese imperial army. hidden treasures and the invading japanese military are almost intertwined.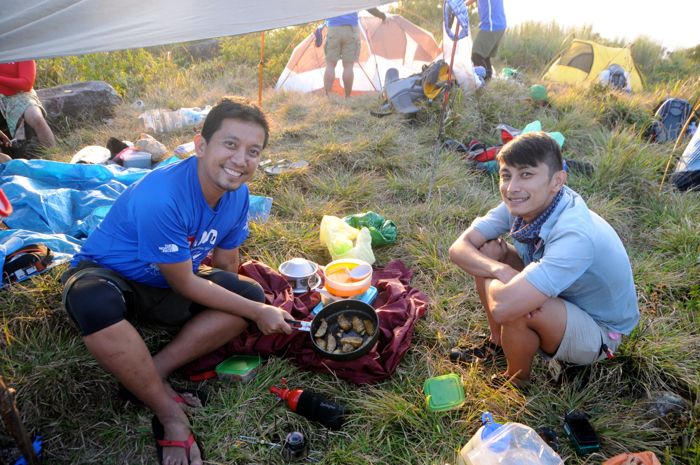 this fifth natib visit was loosely organized as a self-contained climb. instead of centrally planning the team's meals and equipment distribution, everyone was left to their own devices. the climb participants eventually brokered partnerships with others to share kitchen duties as well as distribute the load. the idea resulted in 7 different meals, each one trying to outdo the other. while original, i found the concept to be self-defeating. instead of making the climb less taxing to the team leader, it turned out to be even more cumbersome since he had to worry about 7 micro groups. in addition, since 7 sets of stoves and cooksets were taken to the mountain, our loads became heavier. an added but unnecessary burden since natib is well-known for its difficult rope sections and waterless campsite. although i have been there many times before, i often only remember the trail, but not exactly the feeling, of how it was to be suffering under intense heat and steep walls that had me on all fours. as a result, i suffered a few muscle cramps before reaching the top at a shade before 3PM. not too shabby considering we started the hike at past 10AM, paused for lunch at mang gorio's hut, and were accompanied by a toddler named isaac. how froilan managed to bring him to the summit despite the thick vegetation is a feat for me since i often find my head hitting a low-lying branch every now and then.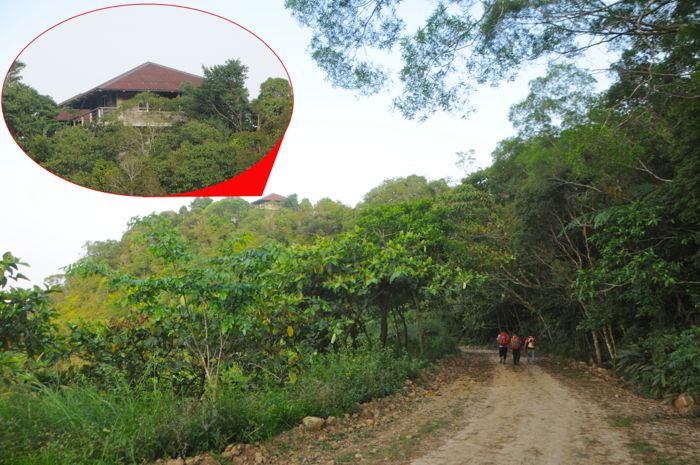 like many other mountain destinations in the country
, natib is also
undergoing some major changes
. bong pineda's sprawling if not noisy cock farm in bgy. tala is already a fixture to everyone visiting. but quite remarkably, there is a new landmark in the area. hermosa town mayor danilo malana built a house overlooking much of bong pineda's farm. the mansion is perched on a hill about 15 minutes from bgy. tala. to provide access to the sprawling property, the once narrow trail has been widened and graded, with huge stones thrown aside to make way for scooters, tricycles, and SUVs. a concrete path leads to the house which is barely visible among the trees. immediately after the turnoff to the house, the trail resumes the character it had
when i first visited
.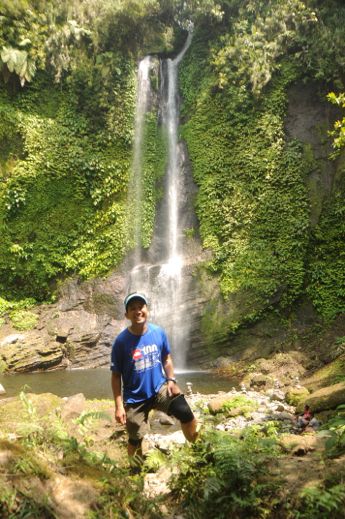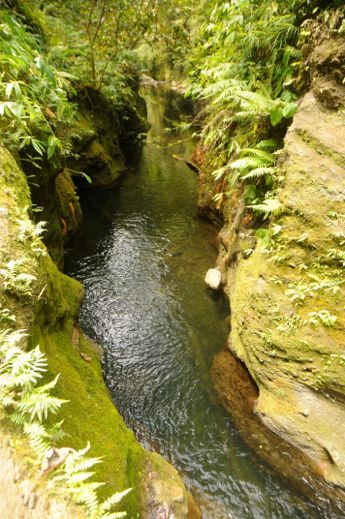 the junction to pasukulan is found between mang gorio's hut and the battlefield. the PNOC road is still palpable here, and along it runs a barbed fence. we entered the area, which mhanny says is owned by someone who tolerates visitors to the falls. how anyone can actually own a piece of a natural park is strange to me, because protected areas are inalienable, and belongs to the state. but i digress. because mhanny said it would take us long to reach pasukulan despite telling him more than a few times that we are physically fit, we decided to leave our bags near the junction and just take with us some essentials: water bottles and cameras. only 4 of us were willing to go. the other 12 were put off by the estimate, fearing that night time would fall before we return. mhanny also had a roll of nylon rope with him, which quickly inspired the others to conclude that the way was steep. i had doubts about the way our guide described the trail, and his rough estimate of the time it would take to get there. he said alone, it would take him an hour and a half to reach the falls, and i gave ourselves 2 for good measure. again i was wrong. it took us 79 minutes from the moment we detached from the rest of the team to marvel at the vertical wall of rock that hosts the column of water that is the pasukulan falls.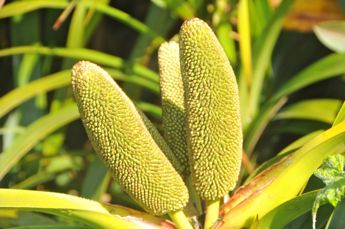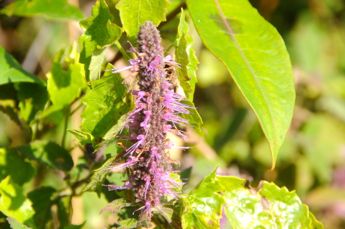 the trail to pasukulan is remarkable given the variety of the flora that surrounds it. the entire way is covered by the thick canopy of trees, although sunshine falls in patches on the ground. the trail rises and falls, gradually in most parts, and then crosses the same river about 6 times. there are many hunters' trails around, so one might easily be following a path to abucay town, instead of returning to bgy. tala. mhanny himself has not taken the trail to abucay, so he does not know how long it would take to get there, although he blames those coming from the adjacent town for the trash that's been left behind at the campsite. after the last river crossing, it's 10 minutes to the waterfalls through a ridge that narrows to 4 feet across at one part. there are handholds along the route, and the rope is tied here, just as an additional layer of safety, but not completely necessary, since the path is manageable. very suddenly, after descending what turns out to be the only steep part of the detour, i suddenly realized where i was: in the bosom of a citadel, whose walls rise more than 300 feet high, where a pool gathers on one edge, flushing out into a rushing stream on the other. and in the middle is that natural wonder producing that thundering sound: the pasukulan waterfalls.
we could not contain our surprise and wonder during the 45 minutes that we stayed there. the pool that collects at the base of pasukulan is rocky and is only about 6 feet at its deepest. plants cling on to the perfectly vertical wall, while stones of all sizes have been arranged into cairns. there was a landslide here not recently, but it does not detract from the beauty of pasukulan. because it only captures sunshine at noon, and shaded by the forest and the towering walls for the rest of the day, the pool is absolutely cold. i can stay here for an entire afternoon, or even an entire day, i thought. in fact, pasukulan is comparatively more accessible than some waterfalls i know, and a lot more breath-taking, that getting to it may be worth skipping natib's summit altogether. for while i love natib and the challenge it provides me, it has consistently disappointed with its less than dramatic sunsets, and almost always foggy sunrises.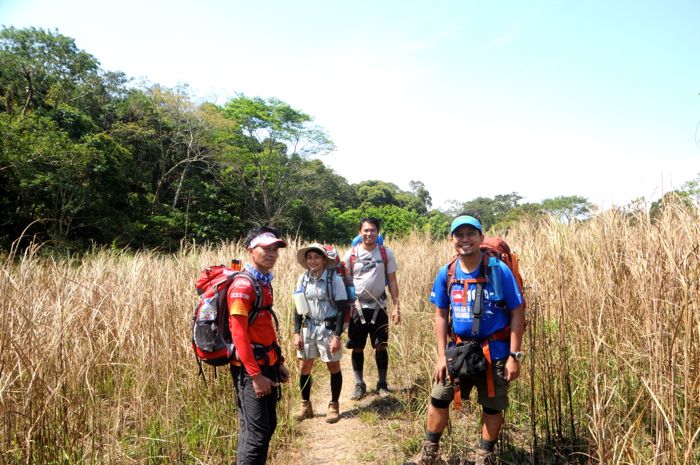 on our way back to tala, we realized that the gradual descents coming to pasukulan would translate into long, sluggish ascents. i must have exhausted most of my energy getting to the falls since i was comparatively slow during the return. i was actually already rather hungry: our meal plan didn't have rice, and we decided on a late lunch at mang gorio's. despite taking a few rest stops along the way, mhanny still said we were the strongest and fastest group he'd ever guided. the reason he gave us that overestimate was precisely because no one ever reached pasukulan in under 2 hours from the junction. after we crossed the last river, we were surprised to find another group on their way to the falls. we greeted them a good afternoon and encouraged them by saying they were almost there. behind them was a girl who had this tired, unhappy look on her face that could not be changed by our reassurance. it was as if she completely regretted and resented her decision to go.
i have never felt sorry for myself in all the times i was outdoors
. not once did i think i should have been somewhere else, doing something else regardless of how spent or enervated i felt. this is where i feel most alive, and although that fast-paced detour to pasukulan reminded me -- after a very long time -- of muscles i don't remember having, i am happy to have gone there, to have managed to surprise myself even after so many trips to this place where the locals know my name and are familiar with my face. too happy in fact that i want to go back again. very soon.