when i first went to boracay as part of my prize for winning the philippine star's travel essay contest, i met a man at the resort where i stayed who claimed that he only came to the island paradise to sleep. i pitied him at the time, because i felt that boracay had attractions to keep one awake, excited, and interested. i honestly thought he was a bored, tired, old fool who failed to see the beauty in things, even when the beautiful was already staring him in the face. that was in june, 11 years ago. now i fear that i have become that man.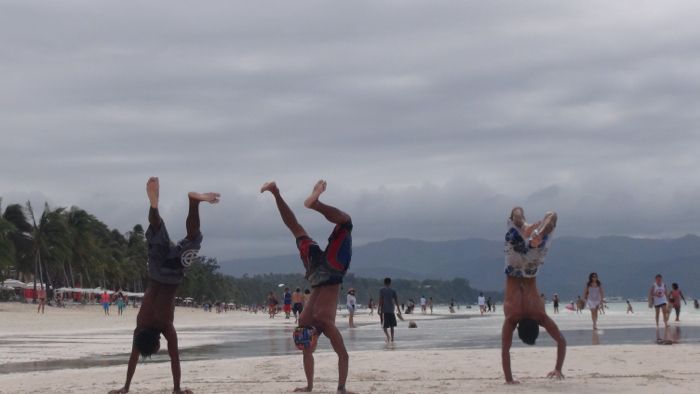 during my recent trip to boracay, i must have spent more time inside my room sleeping and watching television than getting myself acquainted with the visual delights that were on offer in the island. it was after all late in january, and there was a cool breeze over most of the archipelago, but the sun was out, pulling throngs of people onto the beach. on all the days i was there, boracay was its usual self. there were people walking on the beach, their slippers on their hands, and their bare soles caressing its famous powder-fine sand. there were shirtless men and women in bikinis. kids splashing into the waters or digging trenches around sandcastles. discs were thrown and boats zipped in the horizon. and perhaps because it all seemed usual that made me a little less enthusiastic.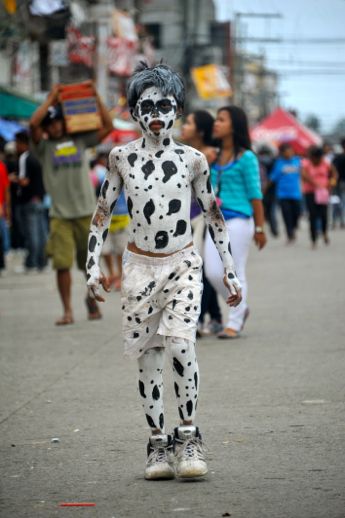 these last 4 years, i have been returning to boracay immediately after my attendance in the ati-atihan festival.
i am a fiesta man
, and
i chase festivals around the nation
because i find that it is the best time to experience local hospitality, a filipino trait that has received much deserved praise, as well as local culture, which is amplified during these festive times.
most festivals are based on some religious event
, although the way they are celebrated is more pagan than catholic. there are also festivals that are political or historical, while others are agricultural,
environmental
, or tourism-based.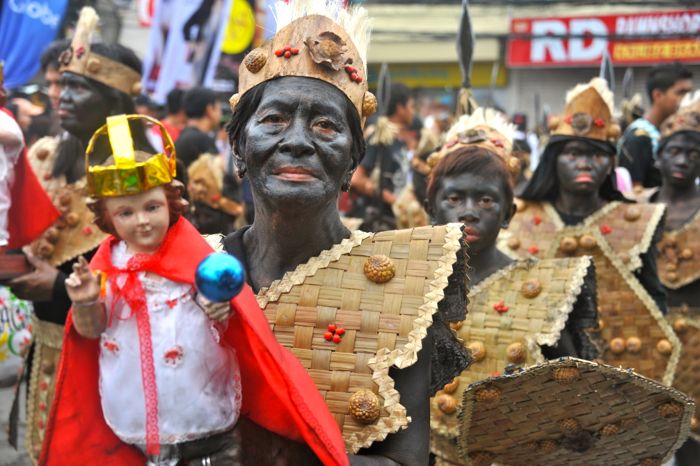 in all the festivals that i have attended -- and there are many -- i have found myself coming back to aklan for its ati-atihan: three times in kalibo and
once in ibajay
. as i have said so many times, i am drawn to the way ati-atihan is celebrated because all the visitors are no mere spectators, but are transformed into participants. passers-by have their faces smeared with soot and find their feet dancing to familiar rhythms that only xylophones and drums can produce. tribes tramp around the pastrana park in these chaotic queues that create a blisteringly fun, welcoming atmosphere, unlike more mainstream festivals that condemn visitors to the sidewalk or the bleachers.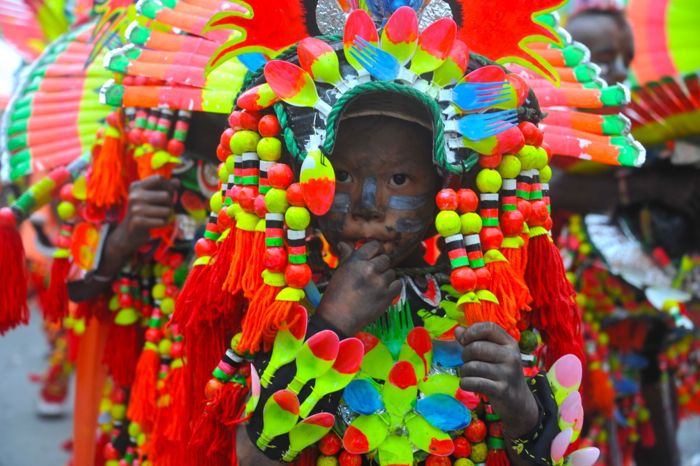 but there's a downside to that as well. because there are no organized routes, no controlled crowds, the street dancers are almost always disturbed by tourists wanting to get a photo or desiring to borrow that heavy headdress. it's pure madness out there, and it's a challenge for a photographer to get a good photo that hasn't been bombed by someone not in costume. also, i found this year's festival to be a little less intimate. it seemed to be overly crowded at times that i worried about stampedes. of course, it could just have been the paranoid schizophrenic in me, a condition that was amplified by a bout of illness. also,
my experience in ibajay's small town festival
where i spent nothing on either food or beer and ate in the dining areas of local politicians who did not know me personally has suddenly turned a very famous festival into a party that just emphasized my loneliness.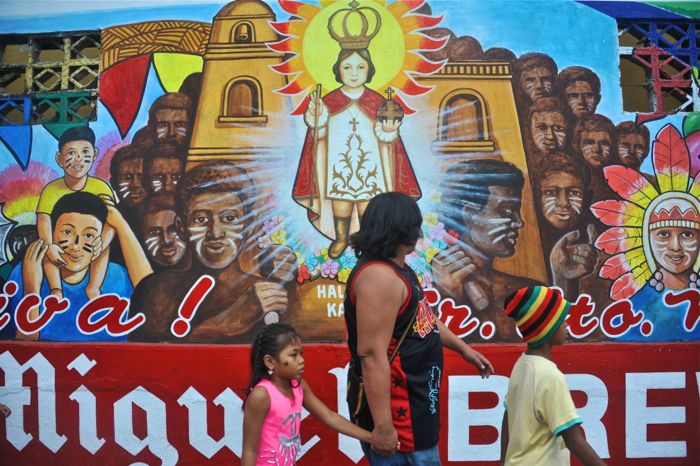 but i was far from lonely, even though i chose to go there alone. in fact, the tourism officer of aklan told me i was already well-known in kalibo. he introduced me to his friends as a famous travel blogger and i wondered where he got that, since i sincerely did not arrogate that title to myself. i don't even consider myself a blogger. i just happen to be someone who has a blog. anyway, he found me in front of the church snapping photographs of old, matronly cross-dressers carrying miniature statues of the child christ and invited me for lunch. the tourism office of the government of aklan has appropriated -- with permission, of course -- many of my photos of boracay, ibajay, kalibo, and
jawili
and posted them on its facebook page, generating a surprisingly high number of comments, likes, and shares. i was amused to find out that the photos were given that much attention, or that my own words would be used to describe this year's festival. i'm usually generous with my photos and share them as long as i'm given attribution. i know my mentors will drop my nikon D700 on my head because of this, but i am not a professional photographer, and am only too happy to share my images. i don't earn from this hobby; i take pictures because i like to document my life and what i see and i have little delusion that any of my images are approaching high art. i'm only too happy that others are able to appreciate them as much as i do.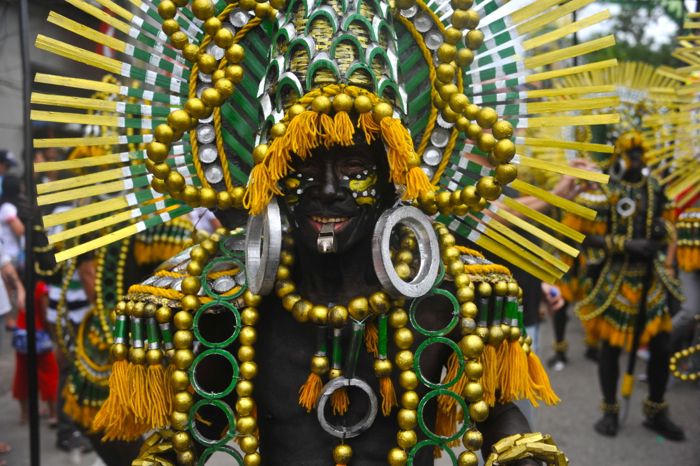 kalibo's ati-atihan festival had more of the same attractions from the previous years. there were a lot of recycled costumes and resurrected ideas. i don't particularly mind as i find these independent, home-grown, and probably home-sewn outfits a delight to see. it's proof that the festival has invaded everyone in kalibo and its nearby towns, because even without any promise of monetary rewards -- just pure appreciation from strangers -- they walk out of their households and march or dance on the streets in the craziest uniforms they could dream of. i still have to make good on that promise to visit kalibo and participate in its ati-atihan wearing my own costume.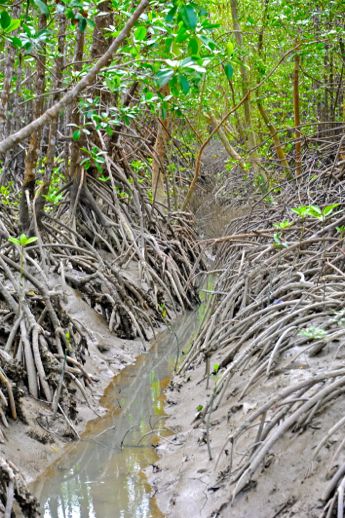 when the streets of kalibo were cleared of empty cans and bottles of alcohol, and loudspeakers turned off, i found myself visiting another one of its secret attractions, which a public sign suffering from a bad case of malapropism calls the mangroove. i hired a tricycle to take me there and walked straight into the forest on the edge of kalibo, where a black river meets a sleepy sea. a 1.5-kilometer bamboo pathway built on stilts brings visitors deep into this mangrove forest, whose importance to biodiversity and environmental safety is not as readily obvious. the forest park is maintained by the local government and a fee is collected from each visitor. the money goes into maintaining the rickety pathway, which i can imagine must be replaced often.
i'm always happy to see green, and the local government's efforts to keep this forest alive should be supported. kalibo too felt some of yolanda's wrath last year, although the destruction in this town was of a much smaller scale. also, no storm surges were experienced here. i am no expert on the subject, but i did read that a mangrove forest saved a small barangay in samar when the strongest typhoon in recorded history made landfall on that part of the philippines.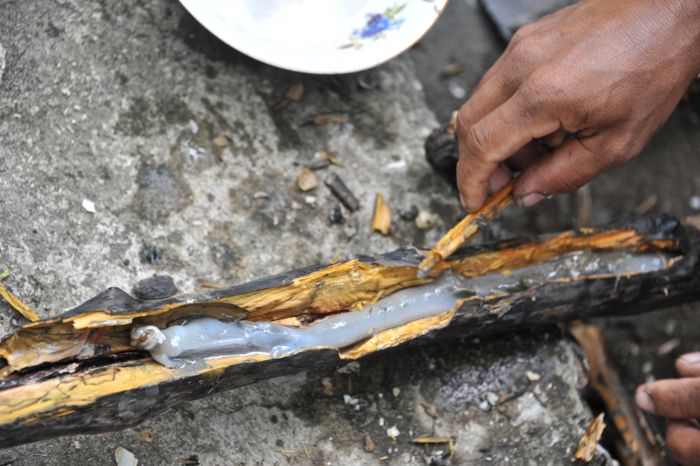 so as part of my contribution to ensuring that the mangrove forest thrives, i decided to do a DIY episode of fear factor. i had a local farmer demonstrate how they harvest tamilok from the dead branches of mangrove trees. although resembling a worm, the tamilok is actually a kind of saltwater clam. it is a type of mollusc whose shell is less perceptible and is used to burrow into dead wood.
i have had tamilok before
, in puerto princesa. i finished a plate to the utter shock of my host. so it isn't such a drastic thing for me. the challenge was to actually eat it straight from its burrowed hole. the farmer took a branch from the ground, carried a bottle of vinegar, and two bowls, one filled with water. he opened the dead branch, gently tugged on the unmoving tamilok, cleaned it by removing veins and its mouth, then rinsed it in the bowl of water. when he had collected everything, he soaked them briefly in the vinegar and handed them to me. i made so much drama about eating it but i actually kind of liked it. i repeat what i've said before. it reminded me of oysters. and no surprise. they're actually related.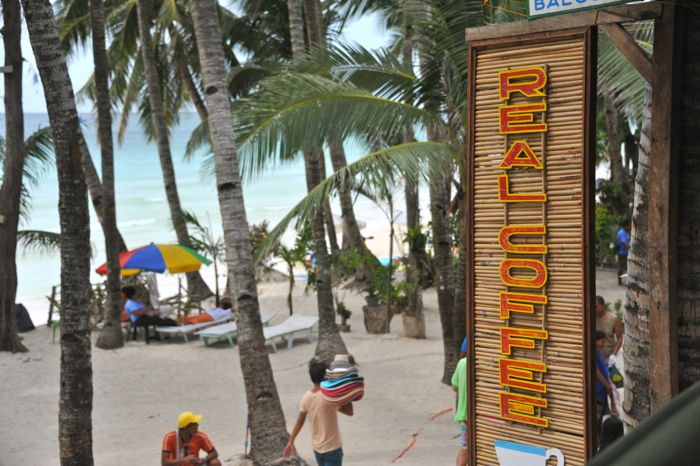 form the kalibo mangroove forest park, i went straight to boracay where i spent the next 3 days wondering why i keep coming back here when
i've done most of the things that tourists do
, and generally feel that the ugliest part about boracay are the built infrastructure and the crowds. that was probably the reason why i was niggardly about leaving my room. i must have had little sleep in kalibo that i decided to sleep as much as i could in boracay. i would go out sometimes, walk on the beach, and then return to my room to doze off while the television was on. could i have turned into that man from 11 years ago? i hope not. perhaps it isn't me. perhaps it's boracay. i really must find a more secluded beach.