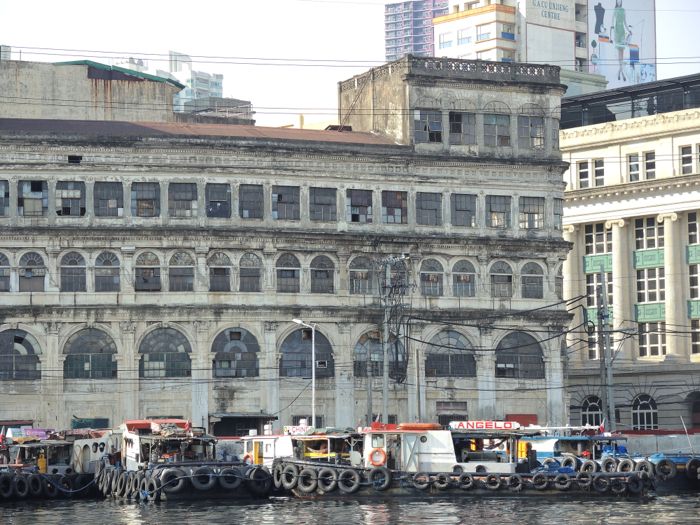 when i heard that the MMDA was going to revive the pasig river ferry service, i was thrilled. i had been on the pasig river ferry many times when it was still operating a commuter service between guadalupe and intramuros, even once bringing a group of couchsurfers along with me. the pasig river is not part of my daily route, so taking the service each time felt a little like a field trip, an excursion. i don't mind playing the part of a tourist in my own metropolis, particularly because i have not seen most of it. many of us grow up knowing only about the usual places in which our routines take us: our immediate neighborhood, our schools, our work places, our hangouts. but not many of us venture out into places that are unfamiliar, that a place could be a few kilometers from us, but it could very well be as strange as a foreign land.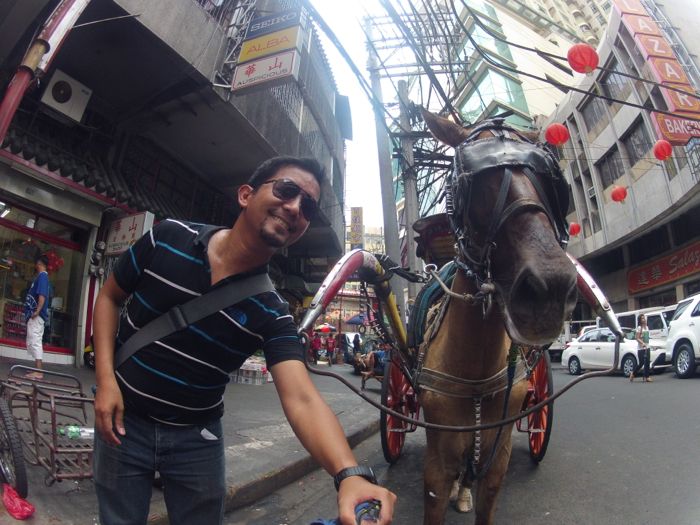 i managed to find free time one friday and decided that i would use it to go to manila -- not the amalgam of cities that make up the entire metropolis, but the city. makati and manila share a border not far from where i work and currently live, but i don't often go there, so i decided to spend the better part of the day in its old, noisy, discombobulating corners. i took the LRT to carriedo, walked around quiapo, and eventually found myself in binondo. all these i did in temperatures knocking on 40 degrees. i eventually found myself having a bento box at sincerity chicken. i used to organize these binondo food walks for my friends. while not an entirely original concept, the route i conceived was based on research and study, and it has apparently been repeated by many other people. these days, i just like going there to have a plate of hand-pulled noodles or steamed dumplings.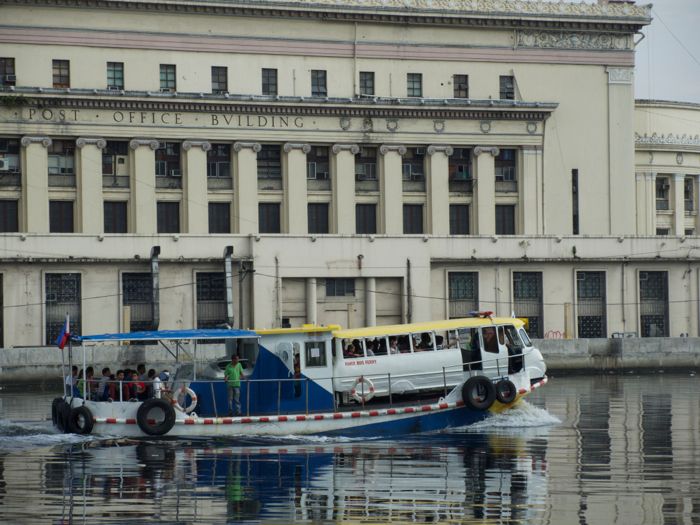 i was unsure where the MMDA's pasig river ferry service would dock, whether they'd be using the same stations that had been closed since 2011, so i tweeted MMDA. they replied surprisingly fast. i walked on over to escolta, along the banks of the pasig river, and signed up for the 4:30PM departure. the service was only on its second week at the time, and it was still offered free to commuters. i arrived 45 minutes early, so i decided to spend that time going around escolta, and found a reason to return. then, close to the time of the ferry's arrival, i was walking back to escolta station, and when i was across of the philippine postal corporation office, there it was, looking unreal: the MMDA's floating commuter experiment.
i have to quickly correct myself by saying that the MMDA's answer to the road traffic gridlocks in manila is called the pasig river bus ferry service. and appropriately so. the maritime conveyance is the discarded body of a truck whose wheels had been taken out and put on top of a boat, welded into its hull. the driver's seat is modified into a cockpit so that the steering wheel and gear shift operate the boat's engine, rudder and propeller. at the stern are more seats with a better view of the surroundings. for the duration of the ride, i stayed on the gunwale of the port side. i have to say that it looks mighty ridiculous, i truly hope it's just an experiment. particularly when you know how the previous pasig river ferry looked like: sleek white airconditioned catamarans with a comfortable seating capacity of more than a hundred. i would later find these six ferries parked somewhere past pandacan, awaiting refurbishment at some future time. i must hasten to add that the previous service was operated by a private company which folded in 2011 due to massive losses: not enough people were riding the service, and the cost of maintaining the boats and the stations was just too high.
while it was operating, the pasig river ferry service of 3 years ago welcomed passengers into bright, airy, stations that were airconditioned and equipped with turnstiles as well as a modern ticketing system. remnants of these are still present at both the escolta and guadalupe stations but none seem to be working anymore. in fact, of the 10 stations along its old route, only 6 (plaza mexico, escolta, lawton, quiapo, PUP, guadalupe) are currently operating, while the rest (santa ana, lambingan, valenzuela, and hulo) are left to rot (although the MMDA did add several more, past makati and into pasig). the lit red signs proclaiming the stations' names are missing some letters.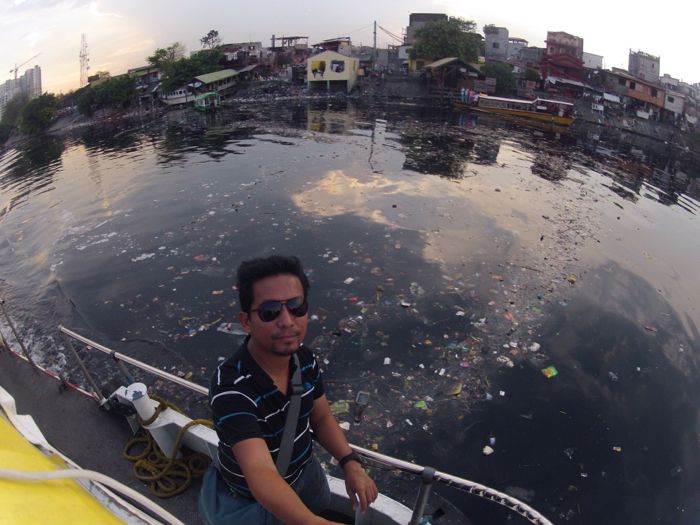 the pasig river seems to have suffered the worst of the ferry service's termination. while it has never been a clean waterway during my lifetime, it wasn't as bad as it was depicted by others during the times i took the old service. it wasn't as foul-smelling, and the carcasses of dead animals didn't float on its dark surface. i wouldn't go as far as swimming into the river, but at least it seemed, well, navigable. less than two weeks into the resumption of the commuter service and i managed to see just how bad the pasig river's condition is: trash abounds, particularly in areas where there are poor communities. at times the bus ferry had to steer away from the floating islands of plastic bags and discarded heads of dolls, for fear that something might get tangled in its propeller. surprisingly, across the length of malacañang palace (where photography is not allowed, for obvious reasons), there is not a drop of trash. the same may be said in parts of makati, between rockwell and acqua. i don't know what happened in the country's recent history that the banks of the pasig have become largely neglected, when in most other places, the same stretch of real estate would be prime location for hotels, upscale residences, and parks. here, we have oil depots, polluting factories, stalled barges, and informal settlers.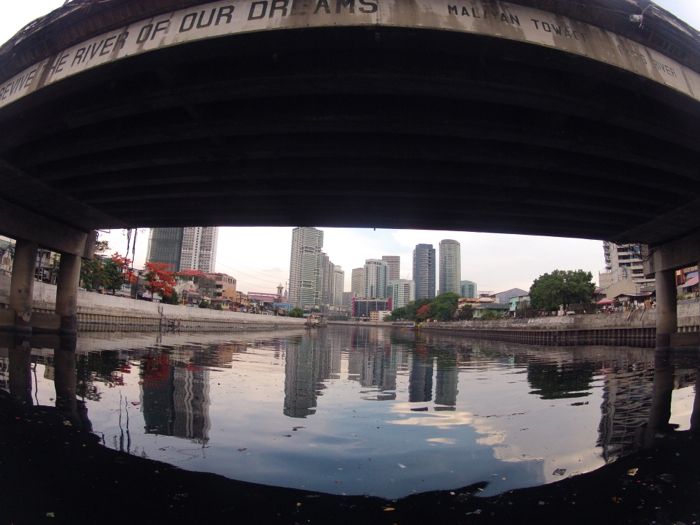 something is being done to improve the area, though on a scale less than what is ideal. in some areas, the banks are being rehabilitated. pockets gardens can be found just beside EDSA's guadalupe bridge, and stadium-like concrete bleachers are built so people can kill time along the river. the MMDA's effort to revive the ferry service, though executed poorly, is a small step in the right direction. when i told someone about my little adventure that day, i was asked if i was horrified by the experience -- apparently, someone fainted due to the stench. while i will flat out say that one cannot expect to smell roses along the river, it isn't so bad as to asphyxiate anyone to the point of passing out. that might only happen if you are too stupid or sheltered to hold your breath for too long. i don't know whether the service will continue and come close to its form when it was a private endeavor. right now i would only recommend it to intrepid filipinos and travelers. it isn't a cruise, but it's a different way of seeing. and sometimes, that's all we need to change our outlook.