last july, i willingly offered myself to the devotion that is the virgin labfest. i used to imagine that the CCP, which is a mere 6 kilometers away from where i live following the main thoroughfares, was the most inaccessible venue on a weekday after work, so i never got to see any shows apart from those that were exhibited during the weekends. but i resolved that i would be a more voracious culture vulture this year, and immerse myself in all that the small stage could offer. it was a solemn vow: to see all the new and emerging works by young and established playwrights, all within the span of a week. as luck would have it, inquirer's gibbs cadiz asked me to write down my thoughts and send it to be printed in the paper's weekend edition. of course i submitted it late, but it still managed to come out. i didn't get to read the final copy, but below is how i had written it.
Staging Autobiographies: the Virgin Labfest 10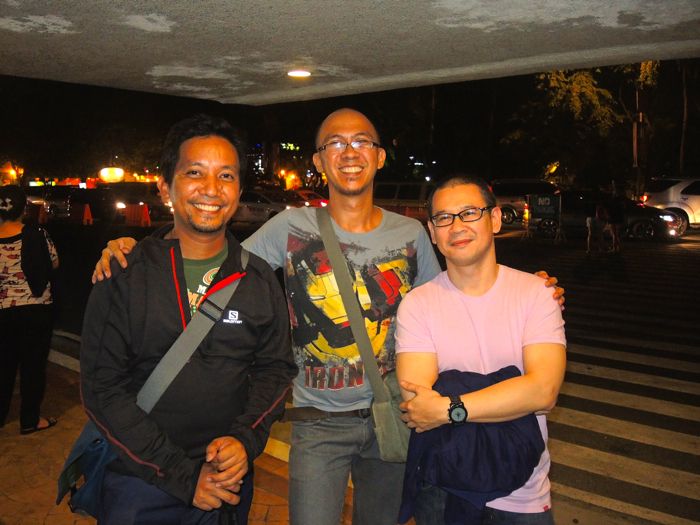 with comic book writer-turned-playwright carlo vergara and theater critic gibbs cadiz
While I sat quietly on the front row of the Cultural Center of the Philippines' Tanghalang Huseng Batute, still reeling from the mix of amusement and shock at the opening scene of Joy Ann Icayan's "Last Ten Minutes", my seatmate muttered "writer na naman" when it was revealed that Eric, the protagonist in this dissection of sadness of promiscuity set inside a motel room, was an author of romance novels. That evening's set of 3 plays opened with Kevin Tabora's "Mapagbirong Haplos", where an angry screenwriter and creative writing PhD student dreaded a confrontation with her father, a former convict and child abuser. My seatmate, whom I did not know, muttered many things that evening, but not enough to bother me or distract my attention from the plays, which was completed by Eljay Deldoc's riotous "Ang Goldfish ni Prof. Dimaandal", a comedy about a stubborn old teacher, the unresolved death of her pet, and the distractions that tend to draw us away from our original intentions.
But as I left the theater that evening, walking out into the damp pavement of Pedro Bukaneg, I realized that I was rather distracted by the statement my seatmate made. It was my first evening in this year's Virgin Labfest, and I began to wonder, as I returned to CCP the succeeding evenings hoping to complete the festival, rushing straight from work for the 8PM curtain, how much of the playwrights' personal lives, dreams, and desires were written into the plays, into the characters. I would not have arrived at a similar conclusion if I had not heard him say it. I know enough of the creative process to disagree: that writers draw their material from a variety of sources, and they aren't subtly writing even just shadows of themselves into their work.
But that statement bothered me more than I would care to admit as each time I took my seat at Huseng Batute, I began to think about the 'inspiration' of each of the playwrights: what prompted them to begin writing a script, to conceive an idea for a play, and whether personal circumstances were inserted into the story, or if details of their lives and experiences somehow landed in the dialogue. I took out my festival booklet to read dossiers about seasoned and first-time playwrights and their diverse backgrounds to test the idea. It is more apparent in some plays than in others.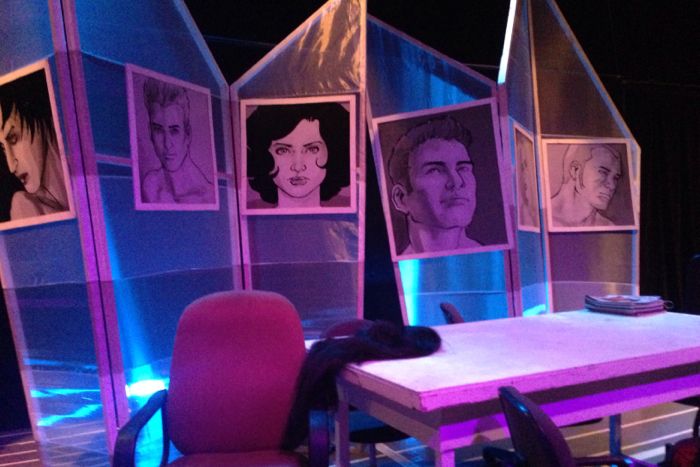 the set design for the revisited play "kung paano ako naging leading lady"
IT professional Dingdong Novenario returns to VLF this year with "Wendy Wants to Be a Housewife", where a young and brilliant IT professional shows up at her friend's/manager's office and reveals during her exit interview that she's quitting her plum position in the Fortune 100 company to pursue her dream of becoming a housewife. At 16 years old, Reya Laplana is the youngest among this year's impressive list of playwrights. And her characters in "Sa Lilim", about a reunion of two friends that takes place under the shade of an enormous tree, are the same age as her. In "Betang", veteran stage actress Sherry Lara luminously portrays an old woman's daily wait for love and death while in the company of a bottle of rum, a walking stick, and her transistor radio. The play and the main character are named after playwright J-mee Katanyag's grandmother. Herlyn Gail Alegre, who is now in Japan as a research student, tackles the travails of Filipino overseas workers slaving away in Tokyo in "Imbisibol", which is among 3 plays being re-staged this year.
My seatmate actually did not accuse the playwrights of staging their autobiographies through these short plays. He merely made an observation about characters having similar backgrounds. Certainly, it isn't possible to completely refuse the suggestion that personal experiences influence the work of writers. That would be a denial of the nature of the creative process. Even in very imaginative pieces such as comic book artist Carlo Vergara's "A Missing Peace", about a future where a world still obsessed with beauty pageants is teetering on widespread conflict, the playwright could not have been unaffected by current events: this year proved to be the Philippines' most successful campaign in the beauty pageant circuit. Even Vergara's revisited "Kung Paano Ako Naging Leading Lady" highlights the value and contribution of Filipino domestic helpers to the households they work for, which in this case is peopled by superheroes. In "Anonymous", seasoned playwright Liza Magtoto deftly dramatizes familiar and recent news of one-night-stands turning into nightmares when a woman gets blackmailed by a former lover threatening to publish a sex video online. Although Magtoto's revisited "Isang Daan" tackles a different theme from her contribution to VLF 10, the humorous one-act play about a town mayor's delusions and our poor sense of history finds even more relevance this year in light of scandals about public funds being plundered by lawmakers, our inability to appreciate the lessons of the past, and a growing national concern about threats to our sovereignty.
the story got published on the day i took an office intern for a hike to batulao. click here for the final layout.
The festival has become an annual event for faithful theater fans eager to witness fresh and emerging voices, as well as new and recent work from otherwise experienced writers with credits that could overwhelm the small stage. The allure of the VLF is that the plays are collaborations between mostly raw (sometimes first-time) playwrights and veteran stage directors, actors, and artists working behind the curtain. The format has become a wellspring of discoveries, and many VLF alumni who launched their careers at the Tanghalang Huseng Batute have gone on to even bigger stages, wider audiences.
VLF regular Layeta Bucoy introduces us to the troubled and tragic relationship between Tart and Cards in "Sa Pagitan ng Dalawang Kahong Liham", as the lovers remind each other of old and still lingering feelings by digging out and reading letters kept in boxes. Fellow VLF returnee Allan Lopez covers a period of 5 years in the lives of Meg and AJ in "Sa Isang Hindi Natatanging Umaga, at ang Ulap ay Dahan-dahang Pumaibabaw sa Nabubulok na Lungsod", creatively suggesting the passing of years and the changing of scenes by shifting lights and moving a frame on the stage. Maynard Manansala and U.Z. Eliserio team up for "Bago Ilibing", which analyzes strange Filipino customs involving the dead, and the secrets that we bury with them.
OFW Raymund Reyes presents a tragic-comic drama about siblings who cannot decide what to do with a brother languishing in a hospital's intensive care unit after suffering a stroke, as they are distracted by feelings of resentment toward each other in "Ang Naghihingalo". The play has a rough beginning and a jarring, sometimes inappropriately formal dialogue, but crescendos into a beautifully loud and suddenly quiet ending. Along with Deldoc's Goldfish and Tabora's "Mapaglarong Haplos", VLF's returning fans will be reacquainted with "Ang Naghihingalo" next year, which means that there is still an opportunity to smooth the edges of what is an otherwise good material from a promising first-time playwright.
This is the gamble of each year's VLF: to bring to the stage untested and untried works from playwrights of various persuasions. The result is not always as stellar as the cast of actors and directors, but it is never dull, and certainly gives fans reasons to celebrate the present that is Filipino theater. After completing this year's festival – something I've always hoped to do – I realized that it is unimportant whether playwrights borrow liberally from their personal lives, because as an audience member, I also read much of myself into their plays.