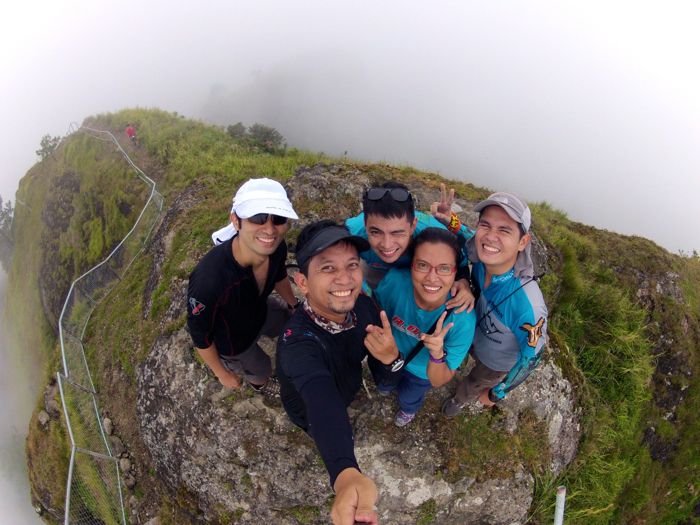 when the climb coordinators of this year's BMC approached me a few months ago about taking on the role of trail master for a training climb in bakun, benguet, i kept silent for a moment as i plotted the route in my mind.
i had been to bakun in january
, a fact that is already widely known, in no small part because i did it solo, and also because i did it unlike most people visiting this new destination would: self-contained, with a full-sized backpack, camping at elevations higher than the basecamp at central poblacion, and with not a drop of alcohol. within a minute that the proposal was made, i was ready to discuss my ideas, and immediately, the reaction i received was one of surprise, particularly when i said that we would not be camping at the summits. i explained the curious geology of bakun's mountainous landscape, and how the modest hills are actually footnotes compared to the vast mountains that define the cordilleras. again, i heard that suggestion: baduy. the reason that bakun has been outside the radar of AMCI is that few of us are given to peakbagging, a concept that has not caught on to folks used to the pains of hauling upwards of 30-pounds on 12-hour hikes. but i countered that we would compensate for the non-summits with challenging long walks.
during my solo at the beginning of the year
, i had already spotted some ideal campsites at the foot of the prominent peaks, and based on my interviews with local guides at the time, my ideas were actually plausible.
bakun lies on the northwestern edge of benguet, where the cordilleras rise to heights of more than 2,200 meters above sea level, then taper into the plains of ilocos sur. it shares some geophysical similarities with kibungan, which lies on its southern border. a road that connects the twain is currently closed, as construction and landslides have made access difficult, if not impossible. entry to bakun starts in brgy. sinipsip (a place which is both part of buguias and of bakun) along halsema highway, but our quarry was still further afield: poblacion and sinacbat are so far removed from everything else that the once-a-day bus trips have become less and less reliable. besides, mountains are being re-shaped and earth is moved around to make trips smoother and quicker. presently, the trip from baguio lasts at least 5 hours on roads that seem impassable during the monsoon.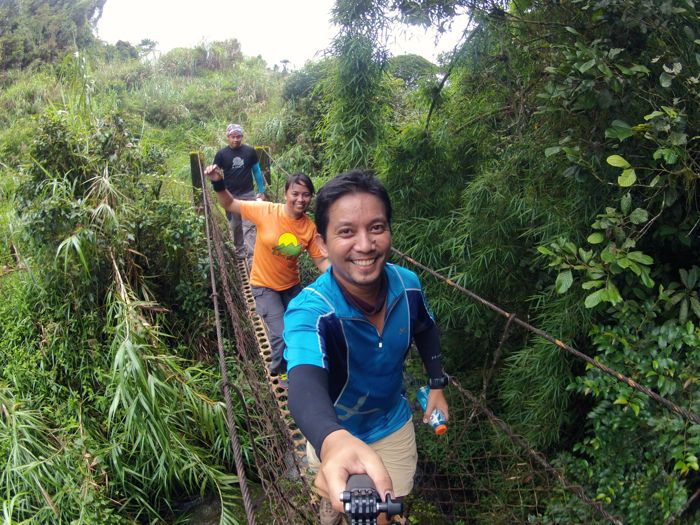 when i took on the role of trail master, i clarified that i would do it only during the reconnaissance climb. i am not inclined as some people are to rush the trek for the sole reason of arriving at the campsite first. while that is a great bonus for anyone and allows for longer rest periods, i do not agree that its achievement should be at the risk of running past details and nuances that are often ignored by anyone in a hurry. the reason i remember trails, more than my claim of having superior spatial intelligence, is that i take time to notice what's around me: the bends on the route, the major landmarks, the little things that define the way. this was confirmed at the beginning of the month when a last-minute addition to the recon team resulted in a divided team, with the guide accompanying the tail, and i leading the pack, retracing in reverse the same path where my guide took me some months ago. as TM, i also wanted to have an honest itinerary, not one that allowed anyone to relax because of the incredible bloat, or one that was based solely on guesswork or the estimate of someone other than the recon participants. this climb could have been completed in a variety of ways, but from the onset, i planned it in a way that we surrendered nothing to chance, and even less to poor planning. i have been to many recon climbs in the past, two
(leyte
and
mantalingahan)
involved deciding on a mountain trail that would induct new members into the club, and never in those instances did i give in to the temptation to cut short my own exploration because it was convenient or because i lacked time. it would be a disservice to the club and to the trainees to do it any other way.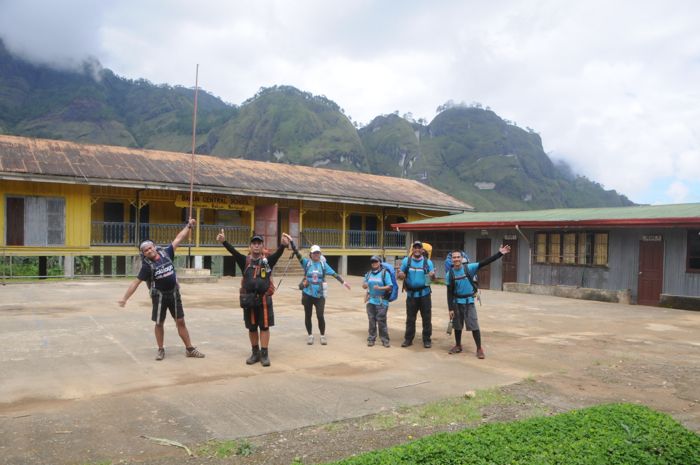 as the long weekend approached, the climb team gathered at the crowded victory liner bus station in pasay city. a departure from what we are used to during the BMC, but an introduction to the kind of life we live as mountaineers: always chasing schedules, fearing our companions might not make it by the time the bus leaves. we filled 2 trips to baguio, and arrived half an hour apart. there wasn't even enough time to sneak in a steaming cup of taho with strawberry jam before the order to march towards buguias was made. we had a very small window, and an inch of delay in the city would result in being a mile behind once the climb takes place.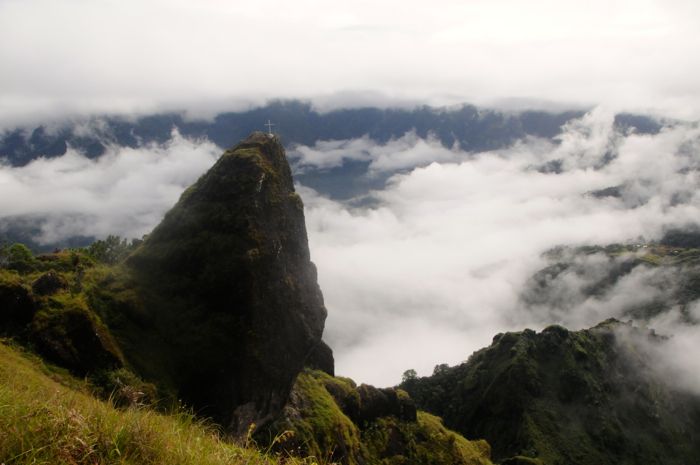 the climb was designed in such a way that 3 of bakun's more prominent peaks would be scaled. it would be a stretch to call it a trio, because i knew even before the recon that we would not summit kabunian, but at least it was going to hit all the known trails. it would be unfortunate to bring the club to bakun and return to manila having seen only a portion. but then again, once you scale mt. lobo, which is arguably the highest one among the peaks that hover over the poblacion, you realize that there are other possible hills, humbler in stature, though no less grand in all other things. there is gedgedeyan just below lobo, and the crying mountains just before kabunian. there also seems to be another trail coming from the hydropower plant below kabunian, up towards the slopes of tenglawan, one not passing through the villages. in both the recon and the training climb proper, bakun was a landscape filled with waterfalls. it would be possible to arrange an itinerary just visiting these wonders, an exercise i am certain is no less exhausting than the one we did.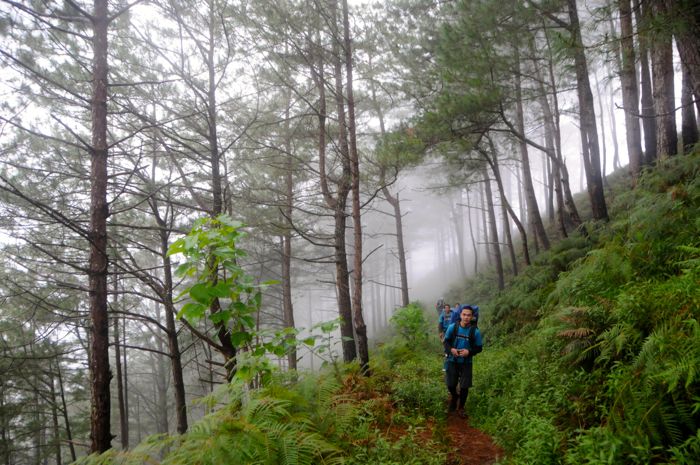 after a hearty breakfast at al's restaurant, we sped off for the poblacion in bakun, dodging earth movers and parcels of mountain scattered on the road. there was a real fear of getting stuck in mud or being unable to push past slippery inclines, but we somehow made it to sitio dada just in time. the guides were already waiting. in a place such as bakun, sources of income are scarce, and guide services are distributed in such a way that everyone gets a chance to earn a quick buck for doing what comes naturally: walking. lobo is actually not the most special of places in bakun. although it is the highest peak among the three, it isn't even the highest point in the poblacion. there is another one a few meters higher, but there is no view, as the top is surrounded by tall plants. so they've designated this as a spot for tourists to admire the mountainous geology of this part of the cordilleras. the trail begins just off the road, passing through a small village with plantations, then ending up on a steep, rough road that spirals all the way up. there is a house just 30 meters below the peak of lobo, and the road even circles around the area, providing important access to the crops that are grown around the mountain. there is another trail, which cuts a path straight towards the poblacion, but it is said to be steep, long, and inhabited by limatiks.
our views were unfortunately obscured by fog, and the recon's experience was only a little better. the guides estimate the climb to be just an hour and a half without backpacks, and while we took much less time than that, it was an unending assault that had our heads bowed most of the time. the road is paved in parts, and in some sections it is covered by chunks of rocks that some areas resemble spanish-era cobblestones. at one point someone asked me why we didn't just ask the jeepneys to take us to the top, if the point was only to admire the view. true, it would have made our tasks easier. but the idea behind the sport of mountaineering is never to take the easiest way to the top, even if it was available. what makes the experience more worthwhile and special is getting to a place not so easily reached by many, with nothing but a pair of eager legs, and a willingness to submit one's self to the labors of admiring the beautiful.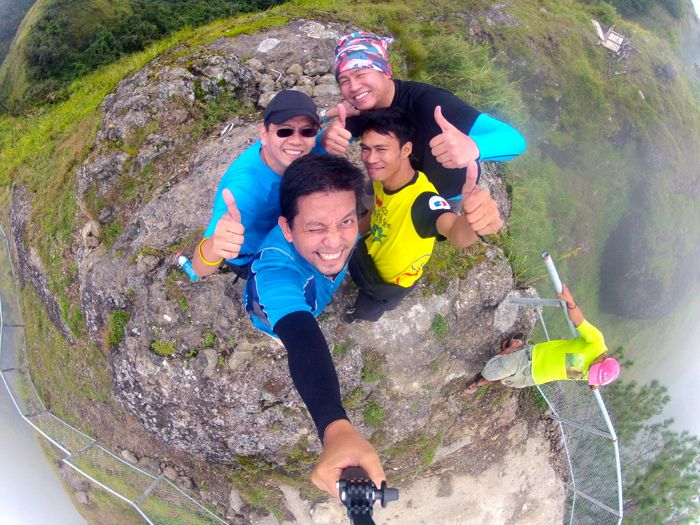 lobo's peak is on top of a small cone of rock. a metal railing was recently built to make access to it easier, and a concrete platform was built to allow hikers a place to rest. we were not blessed with a view, and i must congratulate everyone who made it there, even though the weather promised nothing would be seen. my group made its way down after staying there for a while, and found the other groups only on their way up. apparently some of the jeepneys had gotten lost along the way, and one had to be pushed and pulled to make a particularly difficult incline. since we were already pressed for time, our jeepney went ahead to the poblacion so we could start the climb per the itinerary, and distribute the materials we collected for the poblacion's day care center. it was a beautiful sight to see children's eyes brighten after toys, coloring books, crayons were distributed to them, although i did find it funny that some were a little unwilling to share the booty. AMCI's acts of charity has nothing to do with erasing the guilt that comes with privilege and circumstance, but rather as an expression of gratitude to the communities who welcome us while wondering why we seek a few days of difficulty, when our lives in the cities are already so convenient and easy.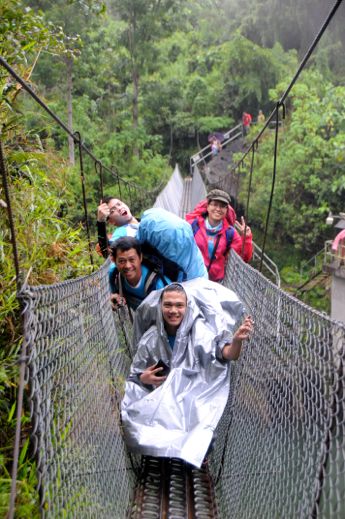 the entire time, the rain was pouring furiously. we departed the school grounds while the stretch of pavement, which plunges 200 meters down to the dam on a seldom-used path paved by moss-covered steps, was wet from non-stop rain. but this did not douse our enthusiasm even as my trainees rehearsed their songs for the socials presentation which would eventually not take place due precisely to the inclement weather that returned the following day. the way from the poblacion until our designated campsite just below the summit of mt. kabunyan is a narrow path carved on stone. during the recon, the route had been overwhelmed by reeds and plants, but it had been magically cleared before the training climb when i mentioned to our guide that they should try to clean it. the ascent steadily rises, and on a clear day, the amazing views of triangular mountains appear just across the chasm created by the gushing river. there are a few hydro power plants below, providing electricity to parts of benguet as well as ilocos. when the new municipality of bakun was created after being merged with the nearby town of ampusongan (now the location of the municipal hall), there were no existing roads into the barangay. the trail we took to kabunian was a trading route between bakun and ilocos, where jars of salt were bartered for igorot gold. only when prospectors and power companies arrived did they attempt to build a road into the poblacion, and more than 4 decades later, the road is still being made. very little traffic takes place at the moment, and the progress is slow as much of the way remains unpaved, and sometimes, even impassable.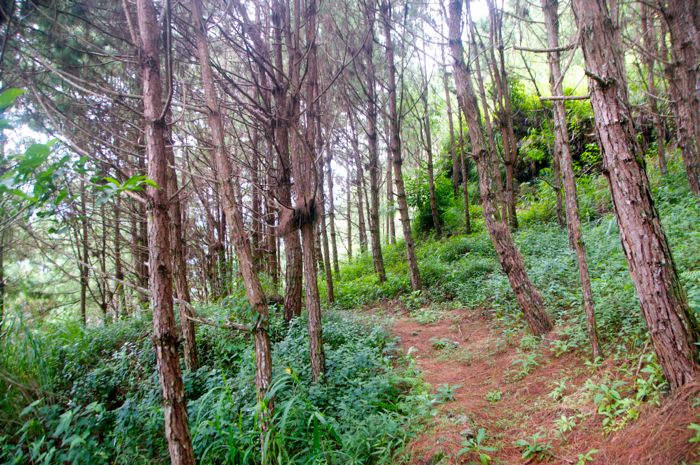 the trail conditions shift abruptly as it meanders through kabunyan's steep pass, turning into pine forest just after it clambers over boulders where crude steps had been carved. at certain points there is a need to jump over wet streams gushing from the mountainside, and near the campsite, just after crossing a hanging bridge, there is a stairway that rises sharply through trails only two shoulder lengths across, tottering on a steep and deadly drop straight to the river. from the very beginning we drew attention to the dangers inherent in the climb, and i had passed on the message through radio about being careful along sections where the trail was squeezed between a wall and a cliff. barely 15 minutes after that message was sent down the mountain, i suddenly blamed myself for not having emphasized it as much as i should have. in an area where i did not think it necessary to point out a danger, one of my trainees, who was just 5 steps behind me, took a step into nothingness and plunged straight down 20 feet below. i had heard her make the sounds of someone grasping at straws. when i turned around, i saw how her body disappeared from the trail, and fall into the chasm beside it, accompanied by the sound of breaking branches and a faint scream that flushed the blood from my face.
my initial reaction was to curse and swear and radio for help. i asked for rope as it did not seem possible to access her location in the ravine. i had this fear that she had fallen all the way to the river, 500 meters below. i was shaking, fearing that we would have to carry an injured climber down. i also had visions of the worst possible scenarios. it did not help that she did not respond to our calls for about a minute. i was worried she may have injured her head, was unconscious, or had a spinal injury. we had no medical or accident insurance for the climb. my team acted fast, and each one assumed a role without my having to assign any. umberto ran down to call for help, my trainees tried to find ways to access ann. at first it seemed impossible to get to her, but after we confirmed she was conscious and could stand, marben and jason pushed through thickets to get her out of the deep ditch where she found herself after that harrowing experience. the guide, panting from having to run from 20 minutes away, hacked a path to the small ledge where ann landed, and pretty soon, she confirmed to me that she would push through with the climb, as she feared night would fall shortly. her bag, which i assume cushioned the impact of her fall as it was destroyed, had to be carried by someone else, and i salute her resolve to continue despite that accident. she didn't complain too much, and assured us nothing was broken, not even her resolve, although many things were painful. i still find it a miracle that ann was in the condition she was in after a 20-foot fall, when i
slipped two feet and broke my ankle in two places
. perhaps ann's angels were more attentive. although i reached the campsite in half an hour from where she fell, she got there more than an hour after i did.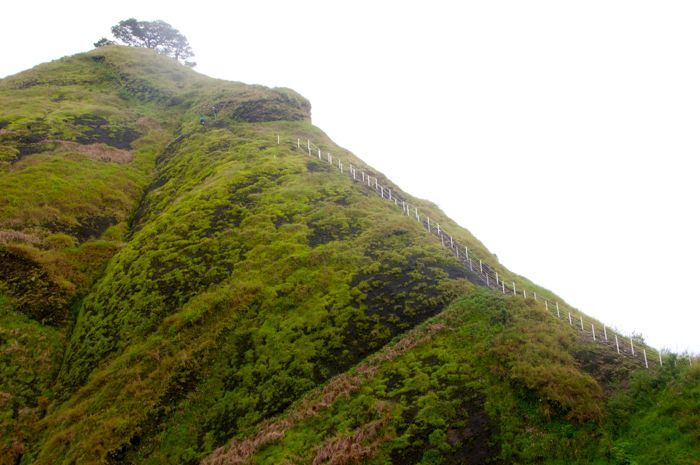 the campsite we selected for the mountain is spread over a wide swath of sloping terrain, within minutes of the water source and a shed built for those who still walk between bakun and sugpon. there is a family of carabaos that roam around here, which boggles me without end, particularly because they disappeared when night fell. pitching a tent was particularly tricky, since the rain would not stop. 5 persons in my team opted to sleep solo, so we had a particularly large footprint to cover. i set-up my parawing and in no time at all, we were orchestrating dinner that consisted of dry-aged steak and mashed potatoes. we had a keg of paulaner beer to accompany us during that nippy evening, when we exchanged stories, anecdotes, and discussed our wonderment at ann's amazing survival. the night carried on when finally the rain stopped, and i had a chance to drop by the groups around us. i don't recall what time it was when i decided to sneak out of a drinking session, but i resolved not to fall asleep again in someone else's kitchen. i barely had any time to wear all my cold-weather gear, but i would wake up the following morning when trainees were being roused for the assault. our group had an entirely different business: to break camp quickly and accompany ann down back to the poblacion.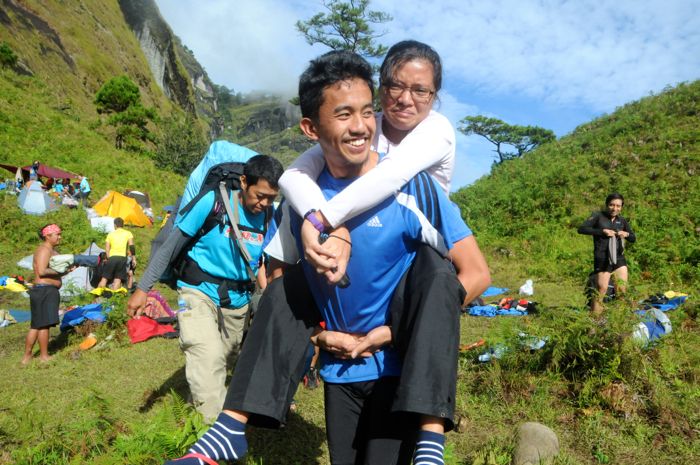 we had a quick breakfast and started our descent (and ascent) back to the barangay. ann was carried piggy back by one of the guides and left ahead of everyone. when she reached the bridge area, she was transferred to a stretcher, and she was carried to the clinic by 3 guides who i was informed were extremely efficient and tireless. by the time I got to the clinic after towing several other trainees (and after missing out on another near-mishap), ann was already peacefully resting. we had taken the decision to extricate her to baguio city so she can get herself checked. one of my members accompanied her. on the day we left for the climb, 2 of my group members backed out. on our second day in the mountain, again my number went down. i prefer to manage smaller groups during climbs, but probably not this way. from hereon, it was just 6 guys. it was an extremely strong and determined group, and i would later be turned into the weak link as a bout of cramps left me crumbling to the ground.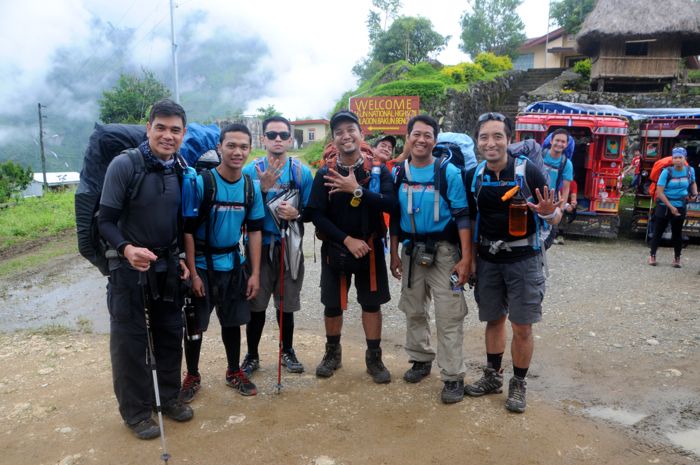 and then there were 6
from the poblacion, i pointed to the village of beyeng, roughly 2 and a half hours away. i added the campsite is another 2 hours from there. if we all left at 1PM, we would reach our quarry before 5. the difficulty with the geography of bakun is that the poblacion is perched on a hill rounded off by riverine systems, which means most of the surrounding mountains are not accessed directly. a detour into the river is required, before another punishing ascent is undertaken. i remember this way very well, because it is here where my guide abandoned me the first time i came to bakun on my solo journey, giving me the simplest instruction to just follow the way. the descent is deceptively long, and 2 hanging bridges have to be crossed before reaching the gigantic pipes used to divert water to the hydro power plants. from there, it was a slow-going ascent on a trail where the views were consistently amazing, even as we seemed to get no higher than the poblacion we had left about an hour earlier.
i began to notice the early stages of a cramp when we reached an area where carabaos rolled in a pool of mud. by the time i was crawling on a stretch of rock towards the waiting shed, i was already crying. someone handed me two salt sticks, but by then it was too late. i had lost too much electrolytes during the previous two days and my muscles were complaining. i felt the cramps everywhere: first on my quadriceps, primarily the rectus femoris, then spreading outwards to my vastus medialis and vastus lateralis, and even upwards to my sartorius. later on it threatened my calves. several times i had to kneel on the trail, apologizing to people behind me as i attempted to stretch my legs and reduce the pain. all along, my legs would throb violently, in ways i didn't know were possible where muscles were concerned. i held on as best as i could. by this time rain fell again, and the terrific views of waterfalls were completely obliterated as we proceeded to beyeng with our heads bowed. one guide took a group along the periphery of beyeng, but i decided to take mine straight to the village, and revisit the house where spent a night during the recon. i also had a present for one of the charming young girls there.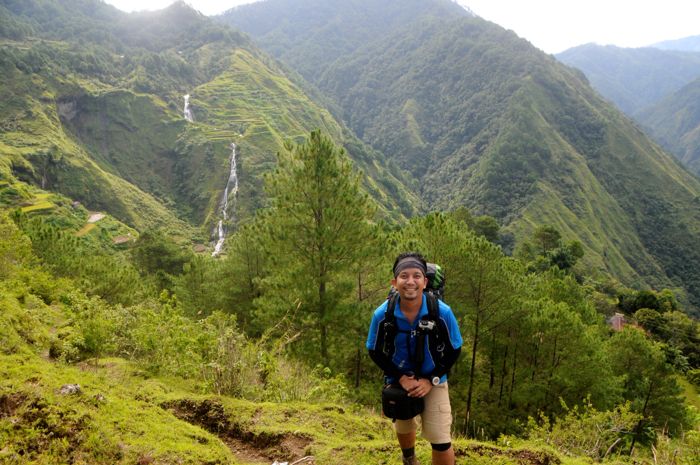 when we arrived, they offered us coffee made from peanuts. i really should have tried it since it didn't have any coffee beans in them. not that i dislike coffee. i just don't drink it. people who tasted it said it was a peanut brew more than anything else. from there we proceeded with the trek in an effort to reach the campsite before night fell. based on my estimate, which was always accurate to within 10 minutes, we'd get there by 4:30PM. after beyeng, we followed the rough road until we reached the usual diversion to tenglawan. it was a deviation on the itinerary. we had already agreed to take the road, which is longer but easier, instead of the trail, which is shorter but more challenging. and what a challenge it was. the lead guide may have been overly eager to reach the campsite that he introduced this change, and since the lead pack was unaware of the terrible difference between the usual trail and the road, they agreed. but being an obedient trooper, i took the trail, even though i was already in such profound pain.
the trail is actually very picturesque, with excellent views of mount tenglawan hovering overhead, and an unreal view of kabunian which now seems so far away. but it is also extremely hard, particularly the climb to the last house, and another climb through a forest that had been hacked just for us. it was short, but reminded me of trail conditions during a TC2. suddenly we found ourselves in a clearing, and i said the campsite was 5 minutes away. we spilled through a narrow passageway and onto the large, rolling piece of green real estate with a lonely and now naked scarecrow in the middle. ironically, with so much space available, most groups could not identify an area to set up camp. it is always when supply is so abundant and we have the luxury of choice that we could not decide. this is a quandary that's welcome, but not always available where mountaineering is concerned.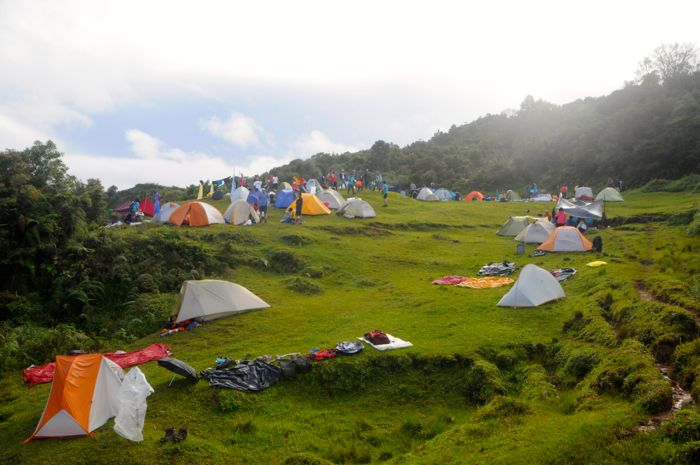 our first order was to set-up the parawing. the rain was relentless during this time and once our kitchen was set-up, we cowered underneath its cover and shivered uncontrollably. i could not wait to pitch my tent and change into dry clothing, but few opportunities were given to me by the fickle weather. somehow we managed to cook rice and soup, even as other groups came in trickles into the campsite that was already dark and brooding from the late hour and the rain. the cast would not be completed long after 9PM, as 6 members opted to stay in the last water source after a massive attack of muscle cramps rendered someone unable to continue, although really, it was only half an hour away. as i said, the socials presentation did not take place that night, but the drinking did. we still had a litter of vodka left, and only 6 of us to share it, which made for an extended drinking session that left some of us silly and misbehaving. on my part, i almost did not end up in my tent as i passed out inside one of the sweepers' tents. i only managed to crawl into my REI quarter dome 1 at around 3AM, and woke up with breakfast already being served.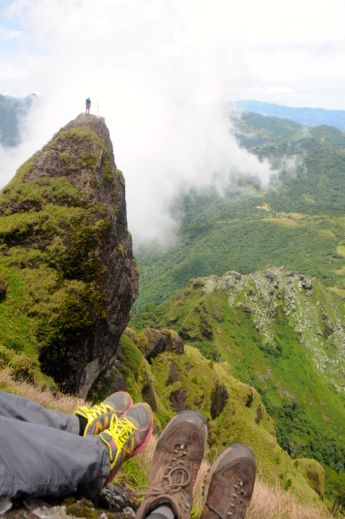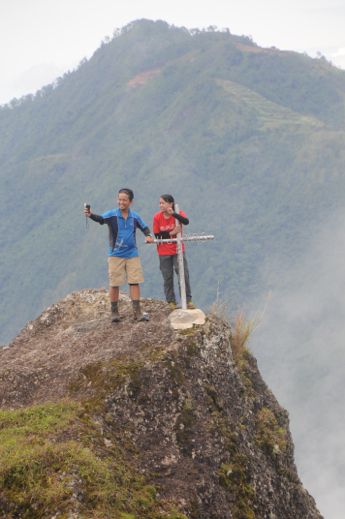 i was very worried about the mounting delay on the assault as we hurried to pack our bags. at the time i was not aware that some trainees had elected to skip the summit push even though we had agreed in principle that everyone able to would be required. i was even more surprised that none of the lead pack and no one from the sweepers had accompanied us on the assault. a pity, i think, because i personally feel that tenglawan's view is the best among the trio, and the trail going there is the most challenging, even without backpacks. only those most passionate about the sport of mountaineering would be willing to submit to the difficult task of climbing tenglawan despite lack of rest or any of the pains and complaints attendant to two days of climbing, whether true or magnified. the going at the start was slow, with the muddy trail going towards the stairway slowing us down. one group had already gone ahead, and the traffic left us inching towards the summit. the way to the summit first plunges down to its lowest point along some streams and just before the concrete stairway, getting steeper as it approaches the water source, and steeper still afterwards. i paused to refill my bottle with the sweetest water known in bakun, and resumed immediately thereafter for the rest of the difficult assault. i had an inordinately difficult time, pausing often as i bent my back over the weight of my imagined burdens, pulling my self up an incline covered by a carpet of pine needles, failing to realize that when i first climbed this trail in january, i was weighed down by a full-sized self-contained backpack.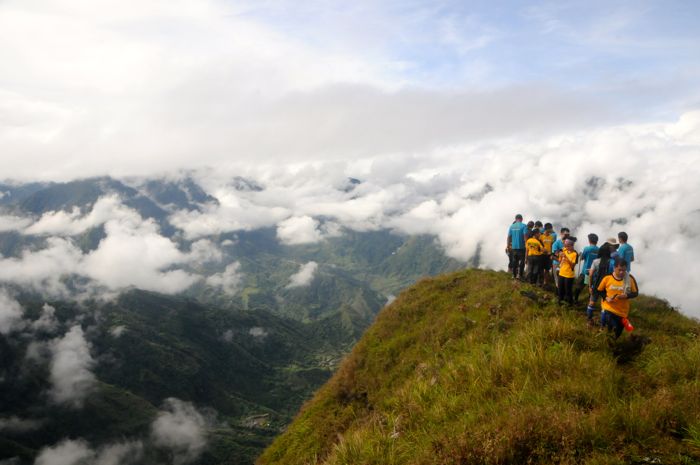 by the time we reached the summit, the first group was already making its way down, each one of them wearing huge smiles following this rare accomplishment. due to its logistical challenges, climbing bakun is fraught with difficulty, and returning to this place of wonder and beauty is an opportunity that comes far and few between. we stayed only half an hour on the summit, which is a sliver of flat rock surrounded by sheer drops. the carrot peak rises across a ravine, its top graced by a cross planted there by the parish priest some years back. it is slightly lower than than the summit itself, but getting to it can be harrowing, as i found my balls in my throat the last time i did since the wind was blowing wildly. we all had our mandatory solos beside the carrot peak's cross during the recon, but the guides would not let us venture there during the TC following the night of almost endless rain. we stayed there for half an hour, taking advantage of the brief moments when the sky cleared and we could see all the way to both lobo and kabunian, even though our views were filled by puffs of clouds.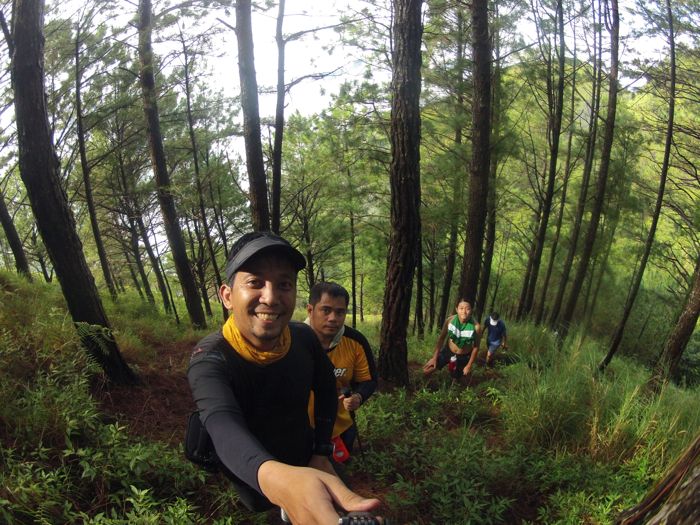 returning to the campsite was a much quicker affair. the descent was swift, and surprisingly free of unfortunate slips. we picked up our packs and continued on the last hour to sinacbat. my trainees trailed me closely, and so did a few others from other groups. i didn't need anyone to show me the way. i knew it by heart. finally, i announced at the junction of 3 paths that the elementary school was 8 minutes away, and in the precise moment of my estimate, we arrived in a vast open field with a square one-storey structure. we went out the road, down to the barangay hall, and queued to take baths at the high school grounds. lunch was served nearby, which consisted of tinola, a slice of fried tilapia, sautéed sayote tops, and steamed rice. it was a warm and hearty meal that's always ideal at the end of a long trek, although i had absolutely no appetite. besides, we still had to endure another 5-hour drive to baguio city.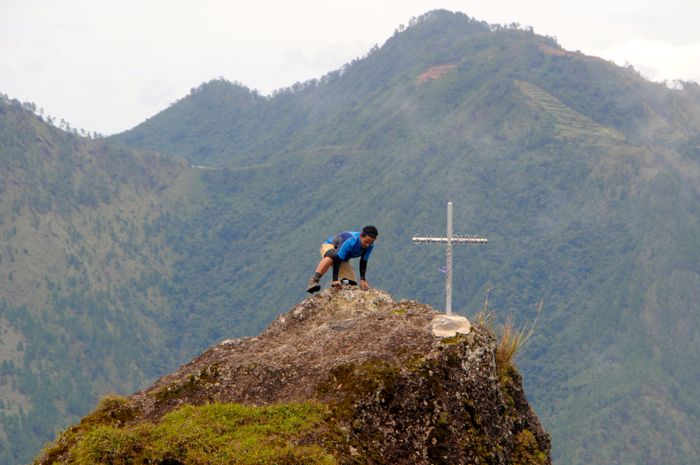 i am tempted to say good things about the climb since i personally feel i had contributed much to how it was conceived. but other than providing us with a challenging trail and a terrain that thrilled the senses, the pieces from bakun i would keep with me the longest were the lessons i learned immediately after my trainee fell into the ditch. i need not be reminded of the attendant risks that are present in mountaineering. i have had too many close calls to ignore the fact that
i could get seriously injured during a climb
, or die a gruesome death while enjoying this dangerous hobby. but what i realized after all these years of hiking is that accidents happen in the wild not because of the abundance of danger, but because too often we lose focus, become careless, or take many things for granted. many of my near mishaps happened not along the trail's most perilous parts, but during moments when my mind wandered, whether due to fatigue or boredom. it is important to be very alert all the time, to listen to the sounds surrounding you, to get feedback from the earth through touch, through sight. perhaps my immediate reaction to accidents is not worthy of either applause or emulation. but
i have on some occasion been known to pull things together
when everyone else is falling apart. in this case, everything worked, and i only had to concern myself with softening an imagined guilt. one thing is for sure though: i'm in a place where people are reliable and responsible, and know exactly what to do when disaster strikes.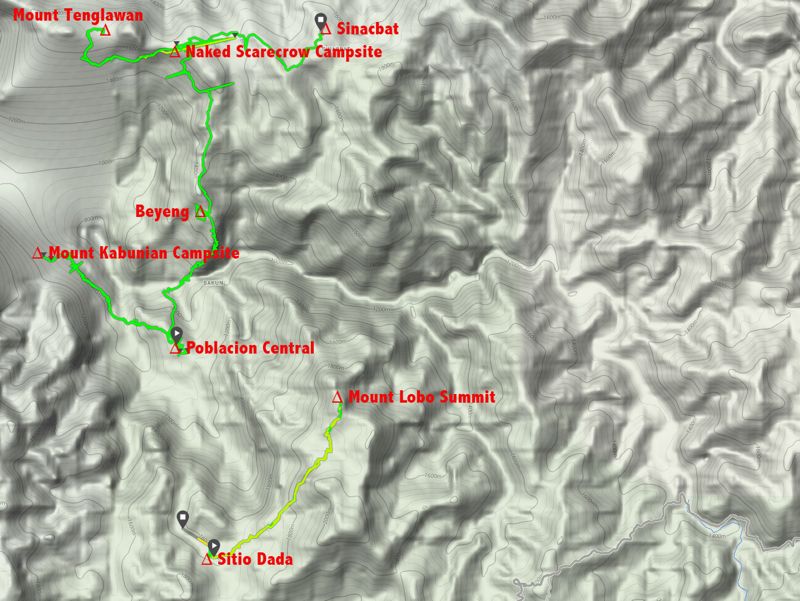 i'm not sure when i will be back on bakun's slopes. it will happen sometime in the future. besides, kabunian still is unfinished business.