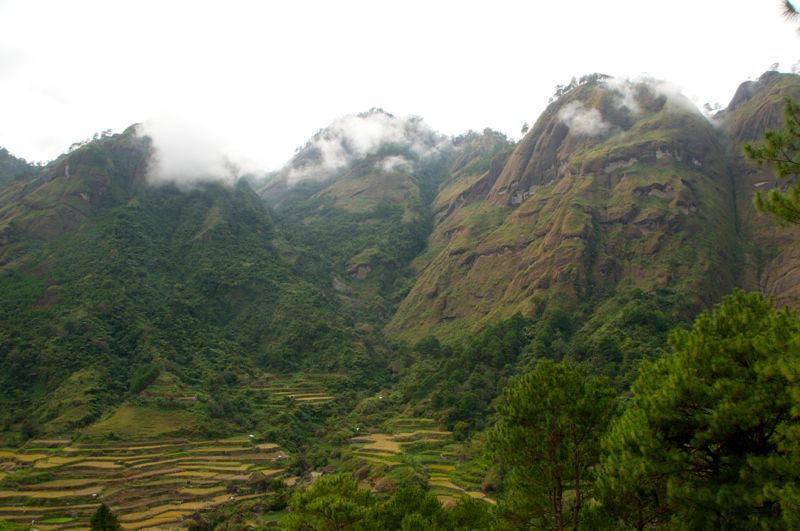 after staring longingly at maps, i developed an urge to undertake a hiking experiment, and somehow managed to seduce more than 25 of my mountaineer friends to join me by making what would later turn out to be exaggerated claims about the trail being comparatively easy. early last year, i went to bakun on a solo climb that had me carrying almost everything i needed to survive on the mountain. i say "almost", because i had forgotten to bring a bottle of white gas. during that deeply personal expedition to a new place, i told my guide that the landscape in bakun resembled kibungan's: walls of rocks with their often barren, jagged crowns reach aimlessly for the skies, and trails that either meander along sheer cliffs or rise and fall with the indecisive contour of the mountain ranges dominate the view. his response got me very excited: kibungan, he said, was just on the other side of mount kabunian. later in the year, i would return to bakun twice for AMCI's basic mountaineering course, where i attempted to summit god's mountain, but decided against it as we were pressed for time. upon my return to manila, i compared the GPS information on those two separate treks with the 2K13 induction climb, studied topographic maps, and came to the conclusion that mounts kabunian and tagpew were opposite peaks of the same ridge on this range of mountains called the cordilleras.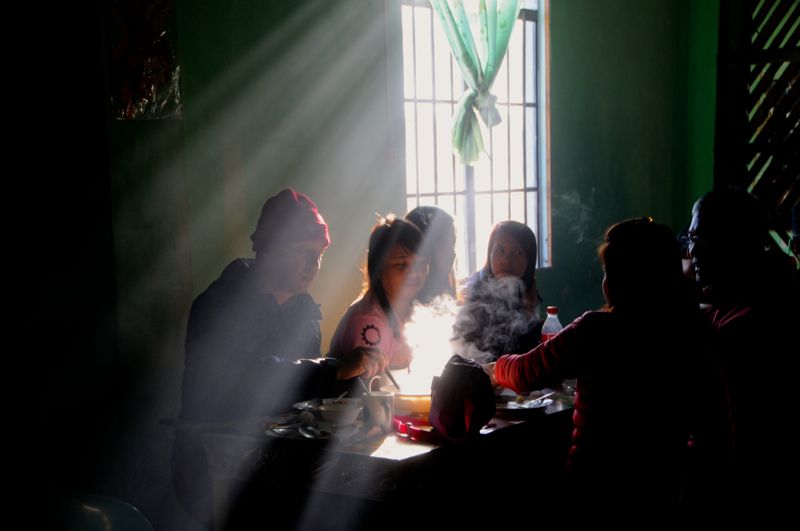 this got me wondering whether there was a trail that threaded both peaks, whether it was possible to start the hike in bakun, go up to kabunian, and find myself descending somewhere in kibungan. the GPS data showed that in terms of distance, kabunian and tagpew were not far apart. the question was: could it be done? i asked many questions from locals and guides on both sides of these interior benguet towns, and the responses that i received were positive and encouraging. yes, it's possible, they said. it would only take 4 hours, they claimed. there was a sliver of doubt in my mind about how long or short it would take us to cross the divide, but despite the scant and possibly inaccurate information we received, many of my friends expressed interest in taking part as pawns to test my hypothesis. in fact, most of them signed up even before i made the suspect claim that it would be easy. and our reward for hurling ourselves headlong into the unknown and untested was the pure satisfaction of proving an idea.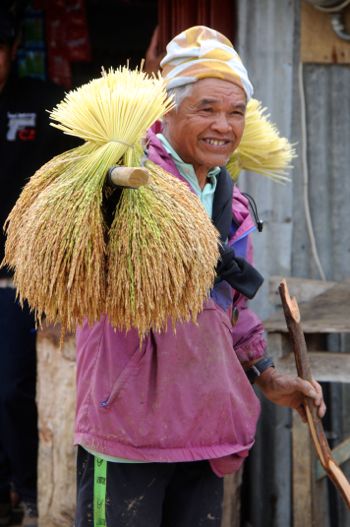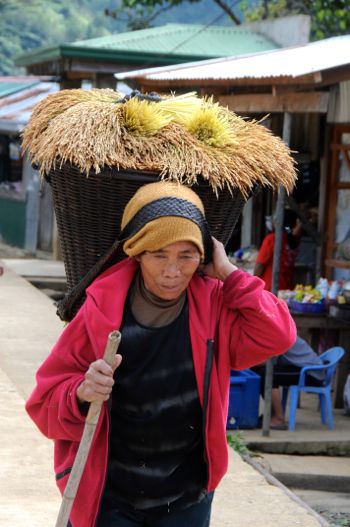 like many northern journeys, we began our expedition with a trip to baguio where we met our guides from the kibungan side. it was unusual to request them to leave town and head for the city to rendezvous with clients, but we've asked them to cross with us to la union before. from there, we rolled towards bakun and arrived at the poblacion just in time for a siesta and an early lunch. the small barangay, perched in the valley surrounded by a trio that lures peakbaggers, was unusually quiet that day. many of its residents were still on vacation elsewhere in the country. some of the locals waved their hands at me and i waved mine back, acknowledging silently that yes, we've crossed paths before, under this same sun, on these same dusty roads.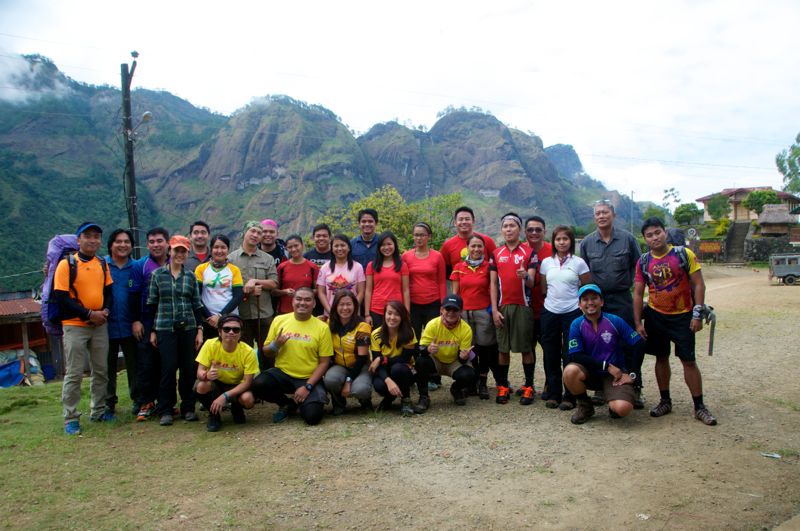 we left the poblacion just after noon. i imagined it would take us between 4 to 5 hours to get to the summit, so although it felt like an odd time to embark on a hike, it was necessary if we wanted to be on the trail while the sun was still up. i know this trail well. i have been up and down the same way twice. during the last one, i witnessed a near-tragic accident. until now, whenever my feet teeter close to the edge, a series of images of my trainee falling into nothing, like a GIF file, plays and replays in my mind, as if reminding me just how dangerous this hobby i've chosen is, that my mother's worries are after all substantiated, that i could, at any time, get seriously injured, or even die, while doing something i enjoy. but that experience has also taught me to be very alert, and i was focused all throughout, as views of distant green triangles were engulfed by white fluff, until this mountain, and its sheer edge which invoked in me both confusion and mystery, was nothing but a virgin canvass.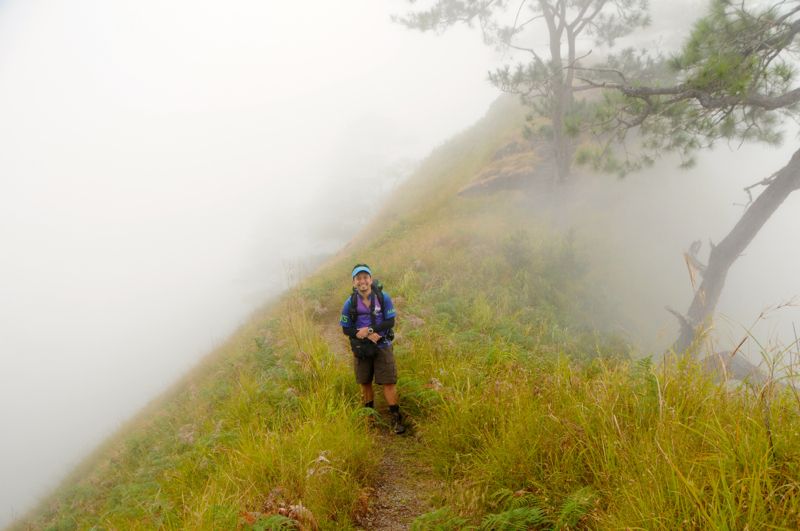 from the area where we camped last september until the summit area, i would tread slowly on trails of alternating earth and rock, unable to see what's ahead, knowing only that my destination is somewhere further afield. at times, when i paused to either catch my breath or look where i've just been or both, i would marvel at how far putting one foot ahead of the other has taken me, how high up i was compared to just a few hours earlier, and how instantly tragic and beautiful the world truly is. lonely pine trees precariously perched on narrow ridges would pierce the white surface of clouds clinging close to hills and streaming slowly like a lazy river. other peaks more lofty than the one i was attempting to reach were in the distance, and yet i could not imagine myself anywhere else: to have the heavens on my feet, and still an unimaginable piece of earth above me, and no other pairs of strong legs other than those of my companions on the trail. this is the kind of cheerful loneliness i seek. i cannot recall the number of times i stopped to admire the view, but i know that it equals the number of times my breath was taken away: it has been a while since my lungs have been this wide open, and nearly a year since i've been this awestruck.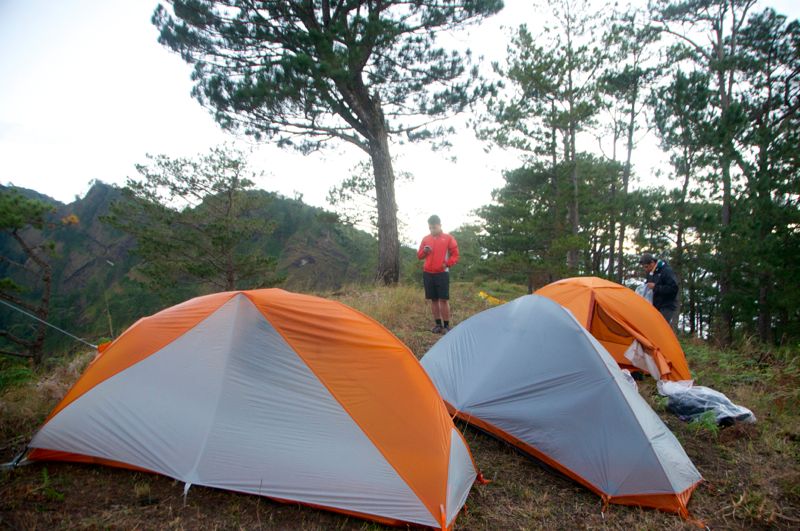 the summit campsite is marked by faded signs delineating the boundaries between the poblacion and kayapa, barangays within the political jurisdiction of bakun. there is a concrete box that stores water perched near a shed made of galvanized sheets. one might wonder what these would be doing here, as if reaching the peak of kabunian were an end in itself. but this is precisely the reason why we've come. the trail must lead somewhere, and i first entertained this idea when i found out that before mining companies built roads into the poblacion, the locals had a trade route with ilocos through kabunian, where they bartered gold for salt. that is what history as well as the legend of dolingen tells us. we weren't interested in getting to ilocos sur, however. we merely wanted to cross over to kibungan, and along the way, find a trail we've never been to before.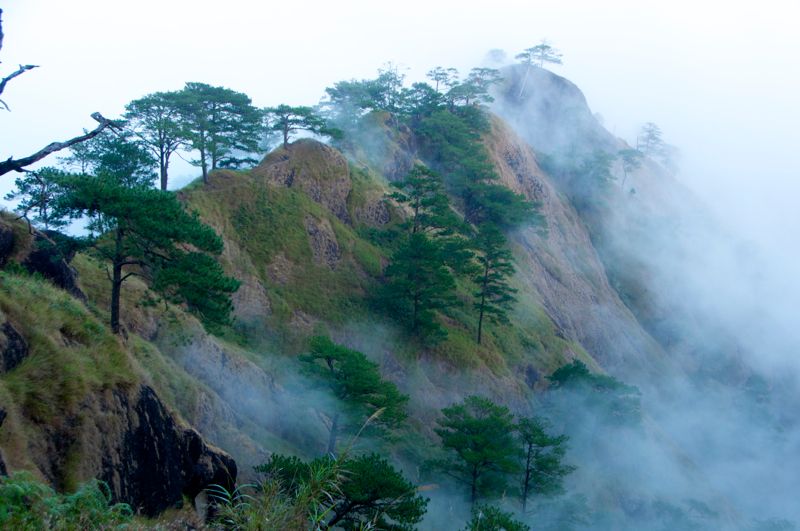 the afternoon sank quickly in the horizon even as the waxing gibbous rose over the deep blue sky. while we were busy cooking dinner and building our nylon village, the evening dyed our immediate surroundings in darkness. the moon's own borrowed light bounced off the tops of trees and mountains. the weather was ideal: it allowed us to layer several technical fabrics, but not insufferable that we actually spent the night sleeping instead of shivering. i myself had a good night's rest, aided without doubt by the generous amounts of alcohol we hauled with us. the details in my mind are spotty on how the socials ended, although i'm happy to have found my way into my tent, wrapped in my SOL escape and lying on my fully-inflated therm-a-rest x-lite.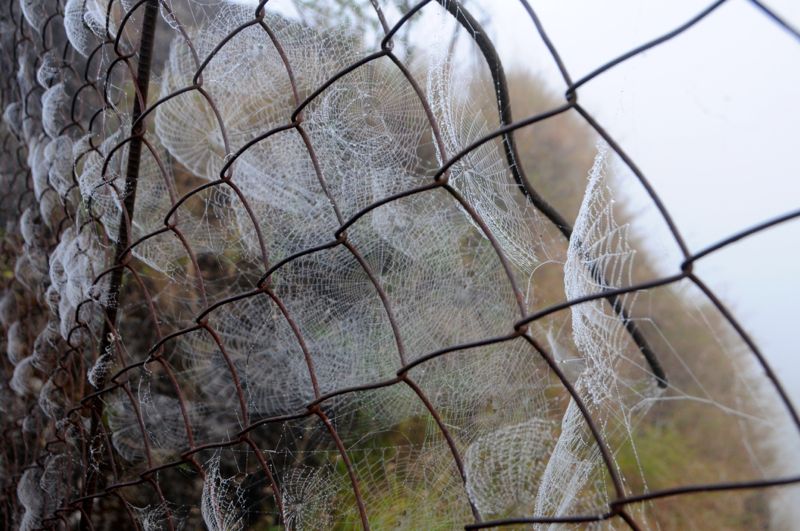 sometime in the early morning, i peeked out of my tent to find the world still basking in the glow of moonlight. when i woke up again, there were voices outside my tent recounting the events of the previous evening, laughing about statements and actions uninhibited by drunkenness. the morning was slow-moving, and we only managed to start the trek shortly before 10AM, hoping to reach tagpew 5 hours later. that already included a generous adjustment of the guide's estimate. the itinerary for day 2 was bare: i only mentioned the time of departure from kabunian, and the expected arrival in tagpew. in between, we looked forward to both surprise and wonder. we were assured a few things, and although guides have a different regard for both time and difficulty, we were prepared to explore and discover.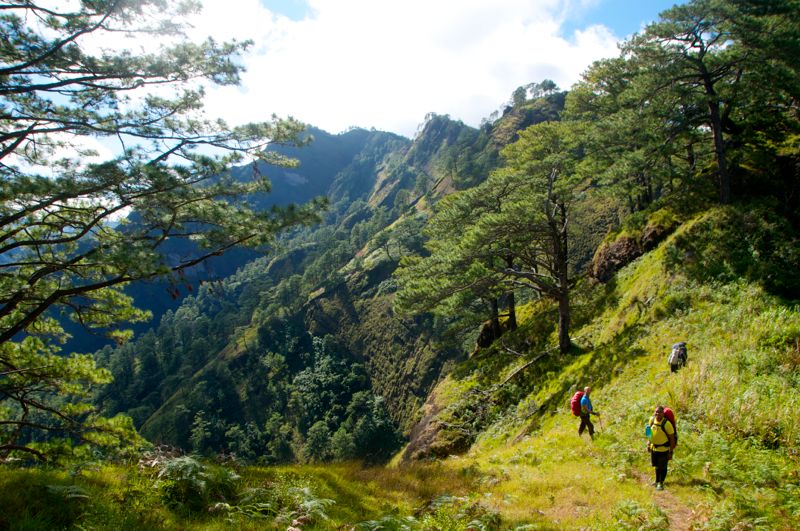 what we thought would be a brisk crawl through the bushy, seldom-used trail between tagpew and kabunian turned out to be a pleasant stroll along a path that receives a lot of foot traffic. what i did not expect was that in order to get to tagpew, we had to descend kabunian, cross the boundary to sugpon in ilocos sur, then climb up the mountains again, and locate tagpew among the many-peaked mountains that dwarfed us. i did not notice we were losing altitude until the forest opened and the familiar sight of batangan revealed itself in the distance, its sheer cliff face and flat top, all of which abruptly end, that i realized we may have been taking a less direct route to tagpew. i was in fact very surprised to find two women on the trail, on their way to their kaingin. further down were a few homes where i managed to meet my team as the guide tried to locate the trail. behind me was kabunian, and its long, uneven ridge that connects to tagpew.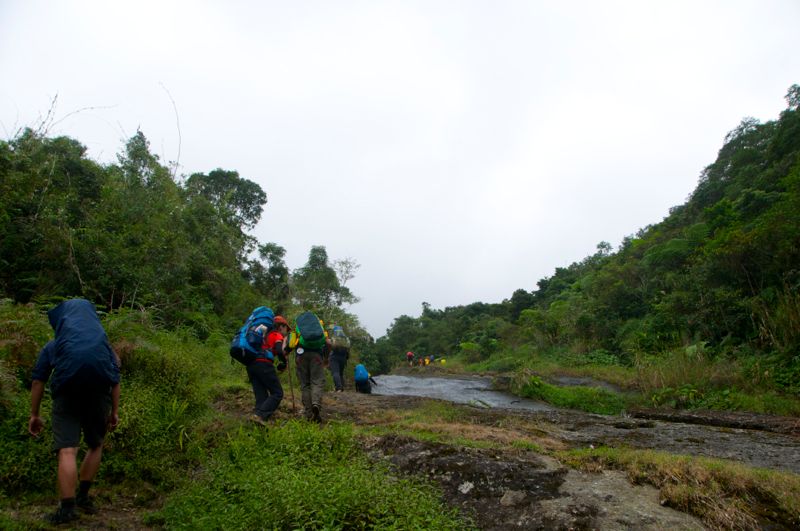 from the small house on stilts with tiny, barking dogs hiding underneath it, we proceed to cross small streams, a large, open clearing, and reentered the forest for an ascent that would last two hours. we had to recover the 700 meters we'd lost since departing kabunian, and still climb 200 more to reach tagpew's peak. after crossing a small river, we decided to have lunch where i cooked rice and heated a chicken binagoongan sa gata. afterwards, we resumed the trek, crawled on the black, rough surface of an exposed layer of bedrock that was scored by a running stream. i did not ask how much further we had to go. this was part of the deal: i did mention the word "exploration", although i sweetened its taste and softened its impact with the claim that it would be boring and unchallenging. nothing could have been more exciting, and few of my climbs from last year could have matched its difficulty. we just kept pushing up the slope not knowing what time we'd reach the campsite, relying only on the comforting knowledge that we were at least getting closer to the altitude of tagpew. i was hearing a conversation in ilocano on my radio, and along the way, we found two pine boards which had been abandoned by two kids pulling it down to the village below. the trail was also littered with all kinds of wrappers of junk food — it was an indication, at the very least, that it was used often. but to go where and to do what?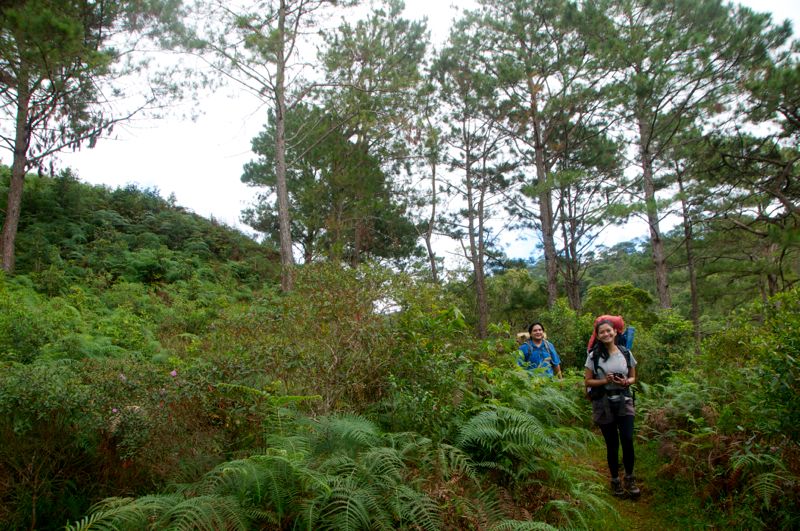 the forest changed many times, its inhabitants alternating from hulking trees to overgrown bushes to groves of hairy bamboo arranged in disorderly rows. at times the trail would be densely-leafed, and on others it would be wide. at close to 1900MASL, the forest suddenly opens into a trail that did not allow you to put both feet together. on the right the mountain continued to rise, and on the left it fell, not vertically, but very deep into chasms unseen. many times i had to stop completely and take my eyes off the trail so i could look ahead and marvel at what i saw: the cordilleras and its pine trees tumbled in every direction. very suddenly, i came to realize that i was somewhere very familiar. although i was most likely still in parts of either sugpon or bakun (i could not be sure), the terrain that unfolded before me resembled in every painfully beautiful inch this place that's close to my heart, where i've walked several times previous, threading disparate trails with desperate fascination. i felt once again that i was going home, after having been away for such a long time.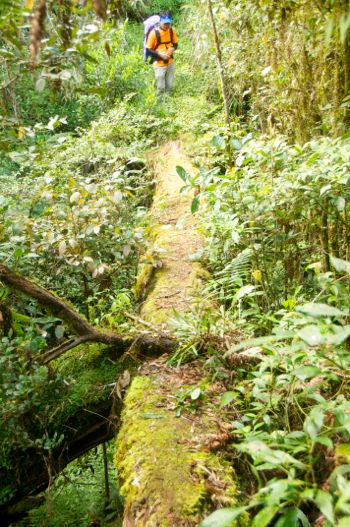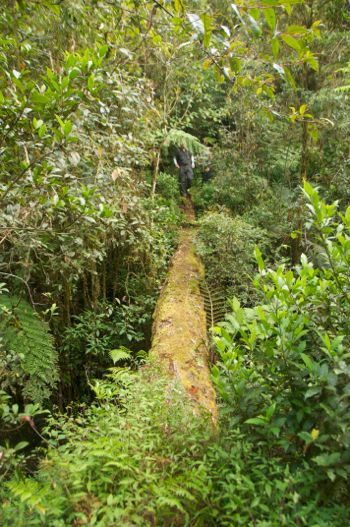 but my reunion with kibungan was by no measure of the imagination easy. it has always been a difficult relationship: one of love for something so difficult. my altimeter told me we had just climbed more than 700 meters. a few more and we'd find ourselves on the tagpew campsite. in theory, it was easy. in reality, it was a different story. as with most of kibungan, the trails here are defined by their indecision: they go up, and down, and up again, and down again. and along the way, surprise you with distractions that take your mind away from the fact that after an hour, you've remained steady, perched on the same altitude as you were when hope of reaching camp while there was still sun had first entered your mind. some of the distractions were these fallen pine trees. huge and herculean, one wonders what may have toppled them from their high, proud perches. and then there is this log bridge that spans a gap nearly thirty feet across. its moss-covered surface inspires vivid imaginations of an embarrassing, possibly painful fall into a babbling brook less than 10 feet below. the bridge is so strategically planted, it almost seems as if it had grown horizontally between the edges of the gully, or that it had been placed there intentionally to allow the safe passage of people should the stream overflow. a smaller tree even grows near the other end, acting as some form of vertical support, as well as a handhold just before crossing the divide.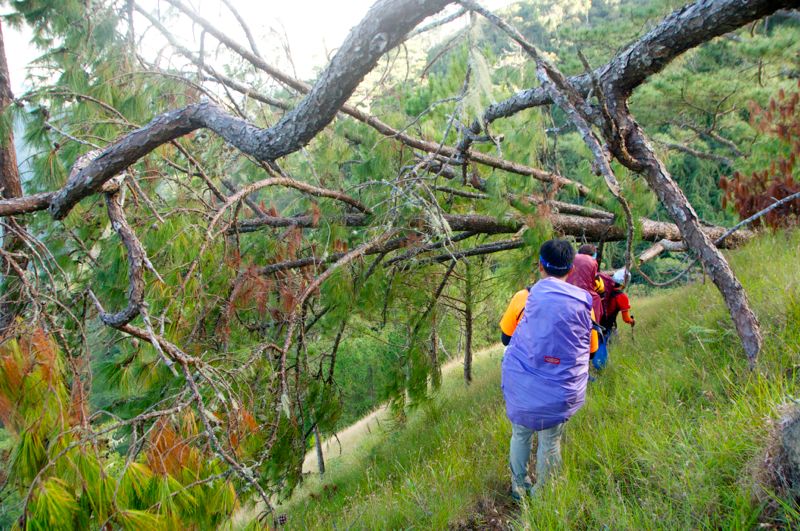 as i climbed the slope after the log bridge, i could hear gasps and exasperated expletives behind me. i myself was close to cursing, not because i was tired, or frustrated, but anxious about when we'd reach tagpew. i had exhausted my bag of the hollow assurances i've been giving out since after lunch about how far or close we were to the campsite, eroding my credibility. i picked up my pace to distance myself from those asking if we were at tagpew yet, even as the view did not diminish in its beauty, and the trail refused to reduce the amount of danger on its path. when i turned a bend on a hill, i spotted in the distance the silhouettes of people. it was already past 4PM, and the last among us were many paces behind me. we began shouting questions and instructions at each other, from hundreds of feet across. i was asked to hurry up, and i did. after scooping a bottle of water from a stream below, i went up as fast as i could.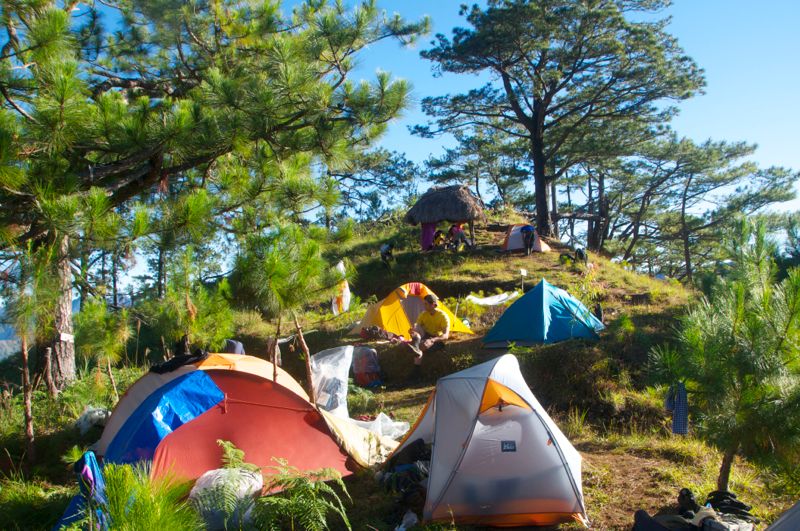 it didn't take too long for me to come upon a pine tree nursery, about 150 meters below tagpew. in one area, there were rows of young pine trees being grown, and in another was a kitchen area and a locked shed. up the hill was another covered shed, and further up were more areas to let young pine trees grow. the area was reasonably small, and certainly not the one i indicated on my itinerary, but water was flowing through an open rubber pipe. it was an ideal place to spend the night since only the last amongst us would be trekking in darkness. we started on making our temporary accommodations, and shortly after darkness descended upon us all, the sweepers arrived with their headlamps on. later that evening, i would offer apologies to everyone for having underestimated the trail, for spreading the bakun guide's approximation as gospel truth, for not bringing them to the promised campsite, as the nearly full moon circled over us and hid behind the distant peaks that took away pieces of the dark, starry sky.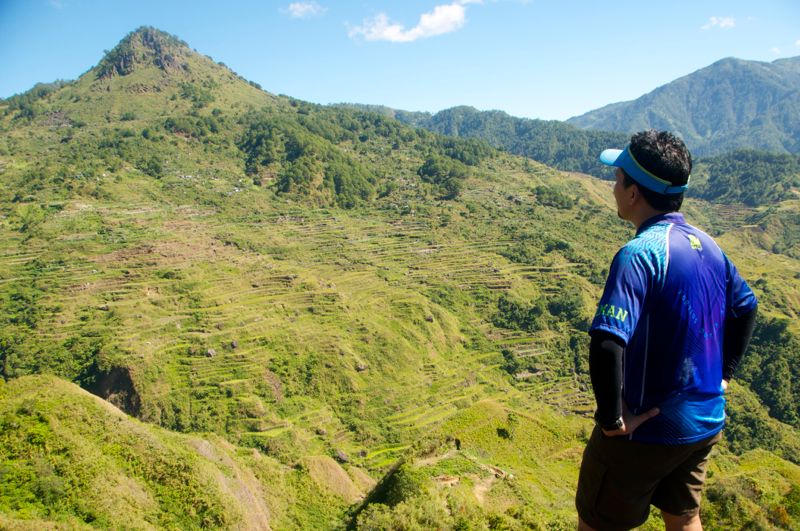 hours later, when the sun rose, i woke up to chatter of people wanting to climb the summit. i crawled out of my tent to help with breakfast as the cold breeze from that previous evening's endless debaucheries was replaced by blistering sunshine. i told everyone that the last 2 hours of the trek home would consist of a painful descent on hot, open trails. i described the last day's hike with so much detail and accuracy that i managed to recover some shred of credibility. i knew the way, having twice descended it in 2010, and climbing it in 2012 and again in 2013. indeed, from the campsite, we would scrape the walls of tagpew, walk past the pine tree shaped like a giant slingshot (or a fork tuner, to be more precise), then trek on a road whose beginning and end are mysteries. there was supposed to be water at the legleg chapel, but the hoses had dried, my bottles were empty, and my throat severely parched. we continued to the rock ledge overlooking the palina rice terraces (where someone asked, innocently, if what unfolded before us was the famed banaue rice terraces) that rippled just below a conical peak and a row of houses, down to the stream that was also our destination.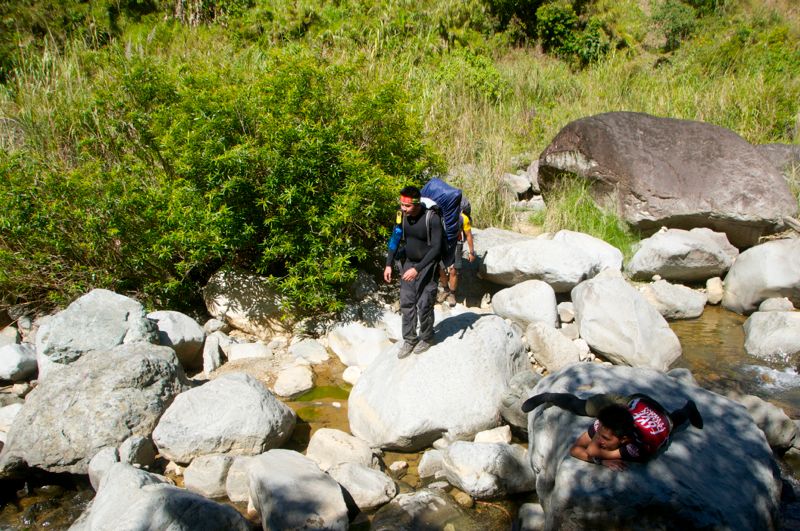 the descent was dusty, dry, and prickly, with some portions extremely steep, it seemed as if you stood directly over the person just below you. just as my knees began to wobble, we began to hear the sound of water rushing over rocks. my step quickened as i ached to kick off my boots and soak my suffering feet into the cold, inviting pools that sparkled in the shade. the road is just after the sayote orchard, i said, and decided to wait for everyone to get down. i sat on a smooth, round boulder as i watched members of my team emerge from the trail, hurling themselves into the cold water with shouts of joyful abandon. a little later, we boarded a vegetable truck too tight to be comfortable. some of us were hanging from the back, while others held on to a pink tarp, which provided shade and cover. we retired it just after the driver repaired a flat tire, 10 minutes away from the central poblacion.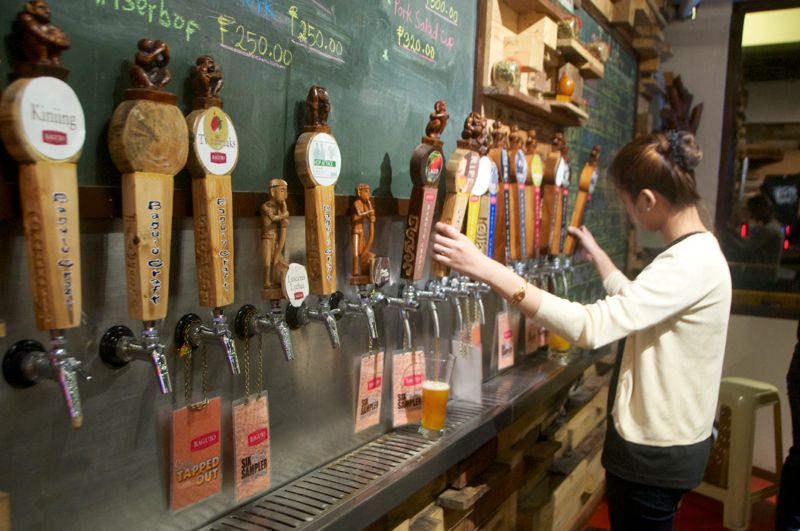 i was pleased to find out that some changes have been introduced to kibungan. a new canteen was built under the general merchandise store, and the wooden benches and thatched roof of the rest area had been replaced by a concrete shed with a long viewdeck overhead. even our transportation arrangements had been upgraded: we had 3 vans to transport us to baguio, although it would not harm any of them to receive some pointers on good driving. we ended our outdoor tryst with some beers at the baguio craft brewery. in my drunken conceit the previous evening, i promised to buy everyone 2 rounds of their choice of freshly-brewed beer. it was a good thing that some of us had early rides back to manila.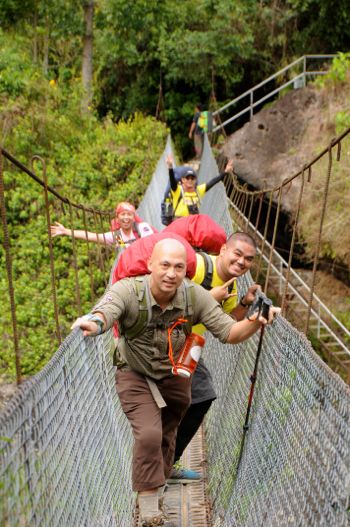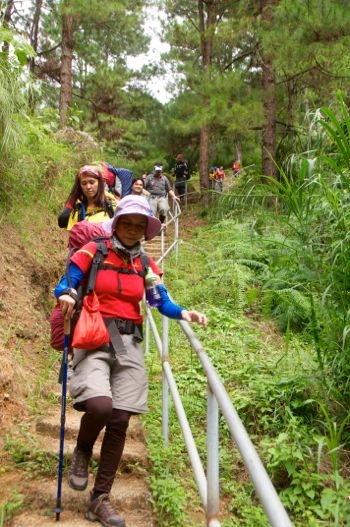 this bakun-kibungan traverse owes much of its inception to a curiosity sparked by maps, familiar landscapes, and the willingness to do things differently. but it would have just remained an idea if no one provided fuel for its completion. i am grateful that there are those among my friends who are not intimidated by the untried, who willingly offered themselves as pawns for an experiment. may this year bring us to more new trails, or give us new reasons to walk on old, familiar ones.