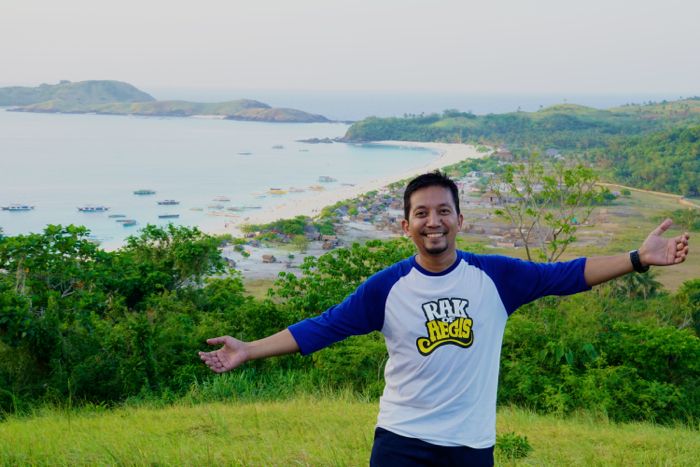 several people asked me why i didn't bother to bathe in the sea during the weekend i spent in calaguas. i said i wasn't much of a beacheneer, and i didn't find anything particularly exciting about wading into water when the activity consists of just getting yourself wet, and nothing else. it's not unusual of me to not get my feet into water even when i am at beautiful beaches, but in this case as well, i was worried about the creeping algae that marred the clear water of mahabang buhangin, as well as the dark liquid that oozed from the many bancas parked near the shore. last year,
calaguas was number one on my anti-list
, where i named beautiful places we should stop going to. and yet there i was,
eager again to escape
, when all my weekends have been filled by nothing but that. what am i running away from?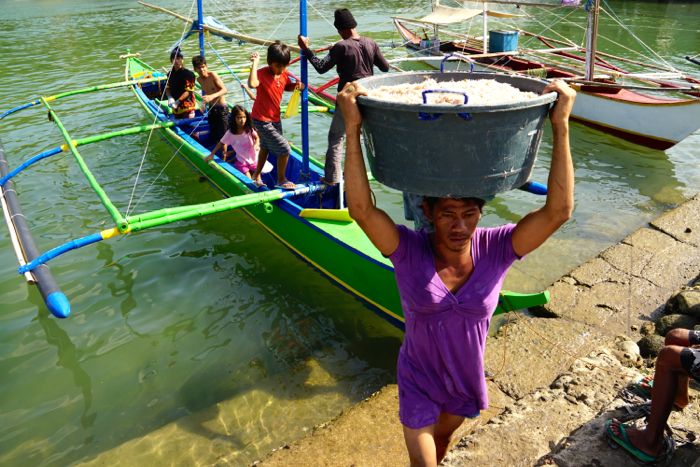 the trip to calaguas started in makati city.
dayo had once again organized this beach getaway
, and i eagerly signed up because it fit my schedule. i had difficulty sleeping inside the van because our driver had a nasty habit of overtaking slower vehicles, even in blind curves. i was very worried that we'd have a head-on collision with oncoming traffic. nevertheless we reached the town of paracale in camarines norte in just 6 tense, dizzying hours. the roads weren't straight, and our pilot didn't care about slowing down even when approaching hairpin turns. it was
my third time in calaguas
, but my first time to go there from the small shrimping pier in paracale, a mining town northwest of daet, and probably closer to calaguas than vinzons by a few nautical miles.

when we arrived in paracale, i immediately joked about the scent of bagoong in the air. it turns out that bucketloads of krill and shrimp are caught daily in the waters surrounding the town, processed in backyard cottage industries, and sent out in small bottles as this popular southeast asian side dish. i am unfamiliar with the road to paracale, and there were many narrow highways that took us there. leaving the small pier, i noticed square concrete columns jutting out of a shallow portion of the sea where local miners are apparently panning for gold nuggets from the tailings of a nearby mine.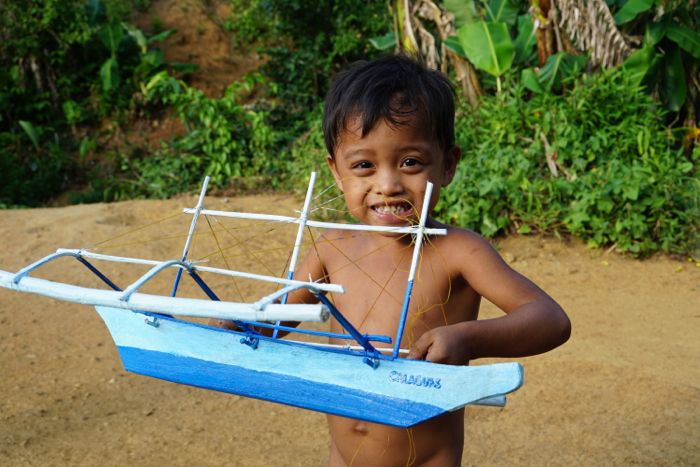 sea crossings have been particularly tense for me lately, not because i've survived close shaves in open water, but just because i've learned to fear and respect nature and its ability to disrupt our lives. there was nothing particularly scary about this boat ride, although we did manage to get a small fishing boat that slowed down amid the choppy currents of this part of the philippine sea even as its sharp bow dipped several times, sometimes throwing water onto our faces. the ride must have been pretty rough for some of us because i later found myself holding the hand of a complete stranger, providing an imaginary peace and a temporary comfort in what was otherwise a source of worry.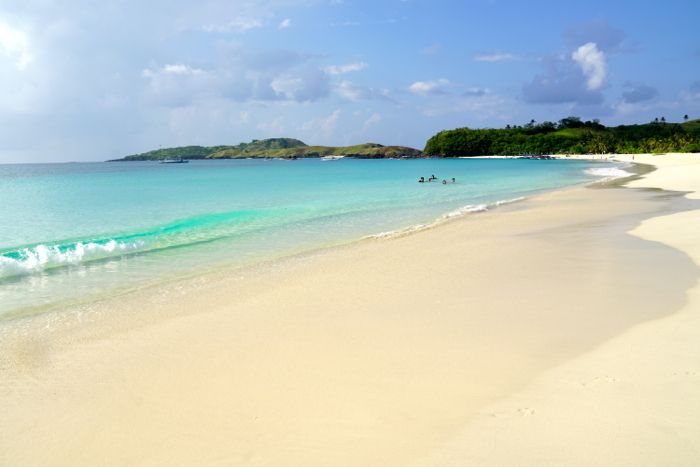 after close to two hours, we made our approach on the island of tinaga and its famous beach called mahabang buhangin. it glistened in the late morning sun with an almost blinding brightness. there were many bancas parked on the pristine stretch of beach, which from end to end resembled the waning crescent of the moon. we decided to stay in the southern end of mahabing buhangin, where most of the visitors opting to "rough it in paradise" are concentrated. vast portions of precious beachfront at the center of mahabang buhangin towards its northern end are no longer available for campers as they have been fenced and managed by resorts that boast of balinese pavilions, thatched cottages, and square sheds fronting the sea and the sunset. there are makeshift tents there where you can rent snorkelling gear, kayaks, even ATVs. the noise of generators are now commonplace, and their steady hum accompany all-night drinking sprees of people who cannot live without loud music and bright lights. our camp was shared with other people, and we queued for an hour for our turn at the well to get buckets of water for a bath or a trip to the toilet. the locals pump the water for you for 10 pesos for about 2 gallons, just enough for a quick shower.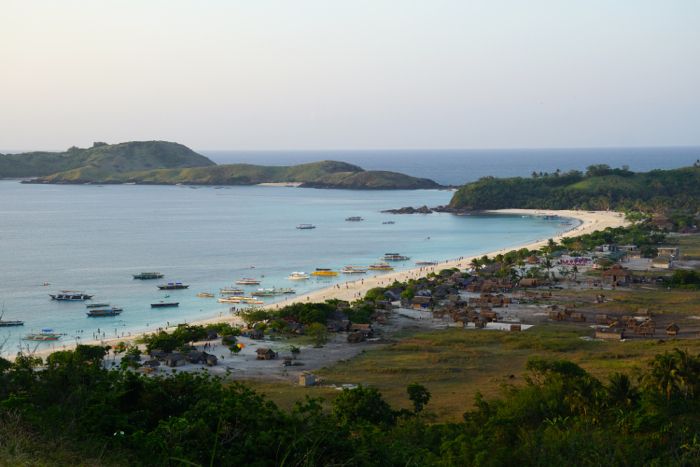 on this third trip to calaguas, i decided to walk up the modest hills that rise at both ends of the beach, and surround the island like a bone that bulks at both ends. on the northern end, someone was asking me for php 25, but i said i didn't bring any money, and i promised to go back the following day with the fee. up there, i had a different view of mahabang buhangin, its busy beach front, and some of the islands in the calaguas group. although i already said that we should stop going to these beautiful places so that they can be beautiful for a longer time, it seems i have sounded the alarm too late. these resorts and the tourist pesos they attract will change the face of calaguas, and convert it into the kind of places that purists and conservationists lament: we could have done more to preserve its raw, savage beauty; instead, we allowed commerce to consume it in the most brutal of ways possible. the view on the southern hill is even more revealing, and shows the extent of tinaga island's remarkable but sad development: the clearing of the once lush grassland to make way for permanent, concrete structures. only 4 years ago, the cottages and sheds built on mahabang buhangin had to be replaced after each monsoon.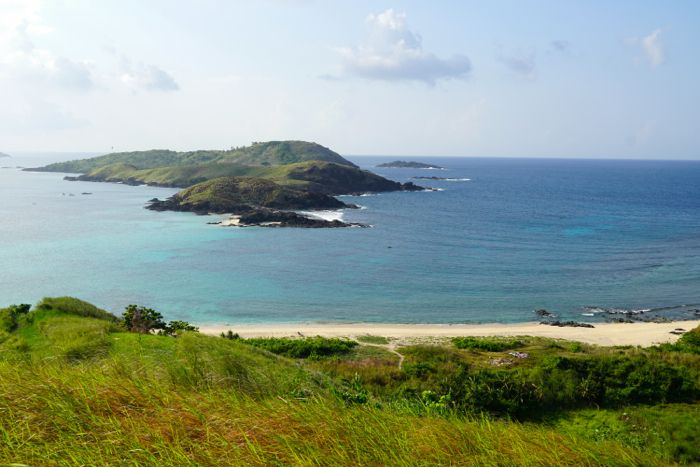 from the hill i decided to descend to the pockets of beach less frequented by visitors. there i found the ramshackle homes of locals who make a living from spearfishing and kaingin. they had small, motorless boats which looked like toys compared to the ones that brought me there. a little boy offered to sell me this banca replica but i had no money at all. on the beach, i found a fisherman who had just arrived with his grand catch consisting of a flat fish (possibly a type of flounder or a kind of sole fish) locally named tampal-puki. i thought i misheard him, so he said it again, unabashedly. he also caught some rock-like marine creatures which he said cornered a higher price, although i forgot what it was called. another fisherman also came to shore with a bucket containing just 3 live groupers. the expensive kind. the fisherman said that they had someone in the barangay who would get these for PHP 600 a kilo, although they could fetch a price of as much as PHP 2,000 in paracale. but the cost of hiring a boat to take the fish there might cost more than the price difference. once again, i am humbled by the simple lives of these people who help put the kind of food i've become accustomed to on my table, and i feel my life is enriched each time i stop to talk to them.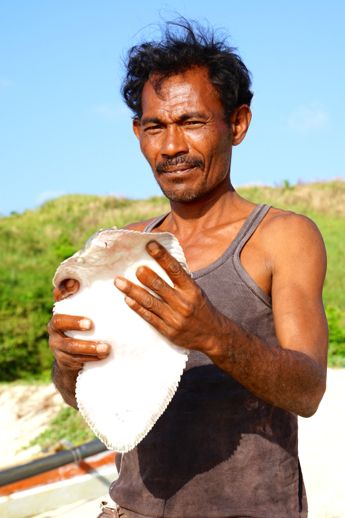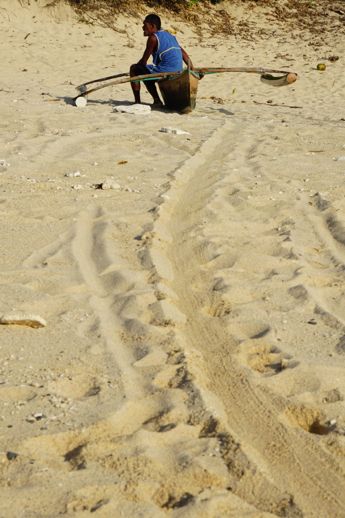 the evening unfolded as expected: with copious amounts of cheap poisons and loud conversations bordering on restricted material. i was planning to do some astrophotography once the sky was clearer, but alcohol had invaded my bloodstream and i became less and less interested in getting any overly ambitious but ultimately amateur pictures of heavenly bodies. besides, i didn't have a foreground element. so i just enjoyed the stars that night, instead of stressing myself with aperture settings. of course, these were the excuses made by an overtly tipsy man made more confident and brash by brandy.

the following day, i spent all of the morning under the shade. i had no interest in these silly activities people do on the beach, like covering themselves in sand, snorkelling when there was nothing underneath but sand and algae, or burning one's skin to a crisp under that harsh, unforgiving sun. before people set out for the beach i had to do a lecture on what broad-spectrum coverage on sunblock meant, although i was quick to pop the bubble on my surplus of useless trivia. the rest of my visit to calaguas was spent talking animatedly with a smart half-japanese boy who turns out to be my neighbor in makati. we returned to paracale at exactly 12 noon. i hummed a lullaby to relax my mind despite the rough seas that at one point tilted our banca, eliciting nervous shrieks from my companions. now one must wonder, whether going to an otherwise beautiful place uglified by too many people is worth risking nerves on tempestuous seas. i'm glad
i've seen the best of calaguas
, and
i will not wait to see its worst
.