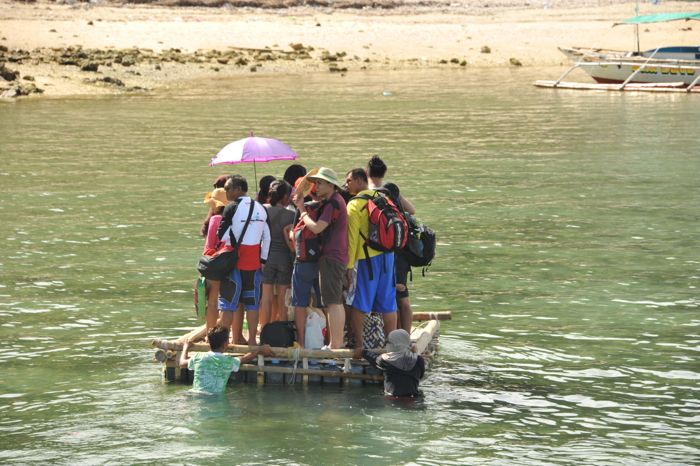 upon my arrival on the island of gigantes norte, i immediately noticed the odd quality of the beach while i stood at the edge of a passenger boat, gazing upon its shore, where the sun's blinding reflection danced and glistened. there is no pier anywhere on the island, so the boat had to be moored about a hundred meters away from the beach whose clear waters were already too shallow. we transferred to a square platform placed over empty water gallons that had been tied together. it was held steady, then towed by men back and forth, until everyone, including supplies and fresh water, were already on dry land. walking up from the shore, i heard shells cracking under my feet. unlike most beaches made up of sand or crushed corals, gigantes norte's eastern shore is covered by scallops shells. i was only briefly amused, as my guide was quick to tell me that the town of carles is the scallops capital of panay island, if not of the entire philippines. every week, about 6 tons of the sometimes expensive seafood standard is harvested and processed just in the little barangay. the scallops shells are spread so densely over the beach, it is hard to see what's underneath. the shells provide visitors with a crunchy carpet, and they rise into mounds further away. under a shed in the corner, men and women were hunched over a pile of freshly-caught scallops, pounding on the closed shells with tools, and scooping out the delicious flesh that my guide would later serve me for lunch as part of my package.
i had not come to gigantes with any definite plan. the decision to go there was inspired by envy, to say the very least. i was only enticed by a photo of an island surrounded by sparkling blue waters, a palm-covered strip of white sand, and a forested limestone hill. i knew little else about gigantes but what i had seen on that photo, and i refused to burden myself with expectations, which is always the unwanted child of too much research. i did not want to spoil the surprise; rather, i had hoped to be engulfed in wonder when i arrived and leave with longing at the end of my trip.
the gigantes are a group of 11 islands, islets, and sandbars on the northeastern tip of iloilo, floating in the small visayan sea. they are part of the town of carles, accessible through a 2-hour bus ride from iloilo to estancia, then a breezy 2-hour boat ride to either of the two main islands: gigantes sur and gigantes norte. i was whisked to the passenger boat the moment i arrived at the estancia pier where i was made to pay a fee for a terminal i did not use. it resembled a bus stop. the pier was extremely busy that day, and boats were announcing their impending departures by bleating the most annoying horns. i jumped on the first boat, and i hadn't found a spot to sit on yet when it started reeling its anchor.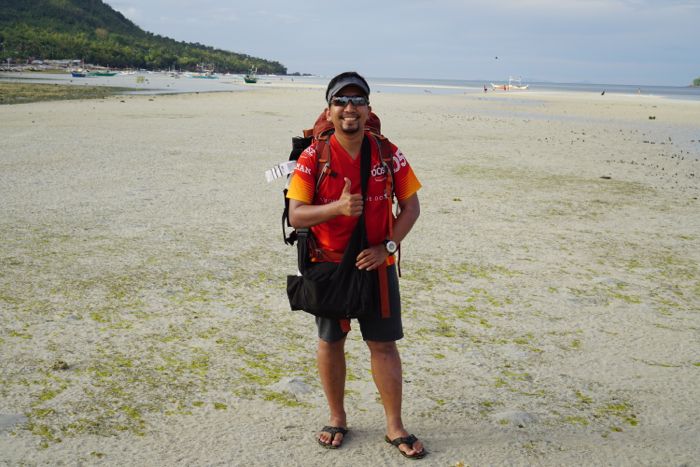 my first order of business on gigantes norte was finding accommodations. i couldn't find a room prior to leaving for the island, but i came anyway. i hurriedly stuffed a tent into my pack, hoping that in case i could not find bedspace, at least someone would allow me a small plot of land to pitch a tent. it turns out that one of the resorts only had this type of lodging, although later on, i discovered that i brought the wrong rainfly (it could have been worse: if i brought the wrong poles, i would not be sleeping inside a tent at all), and slept two nights under a mesh canopy. after lunch, the guide whom i met on the boat took me to a smaller island across gigantes norte's eastern shore where the gigantes hideaway resort offered off-the-grid island living. in order to get there, we walked a distance of over 2 kilometers on shallow waters. starfish and seagrass tickled my toes, and i only had to lift my backpack a few inches when we waded through the deepest part of the crossing. i imagine this must have been how ancient inhabitants reached the islands of the archipelago, by braving the fickle tide that revealed land bridges.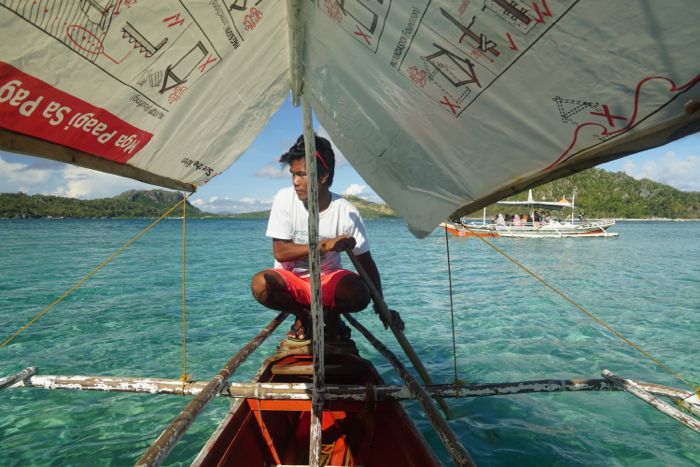 there is no steady source of electricity on the small island, although a generator was put to work immediately at breakfast, and turned off only when it was time to sleep. the resort provided me everything i needed: food, my personal guide, my own small boat, a boatman who i never heard speak, and a spot on the beach and under the stars. all these were part of a package whose cost had been kept secret from me until it was time to pay. i made a mental estimate of how all these services added up, and the actual bill came to within 200 pesos of what i imagined in my head. it was certainly not a bad deal, since at one point, i made a special request regarding my meal which they ungrudgingly provided. besides, my guide was not a bad photographer at all, if not a little predictable.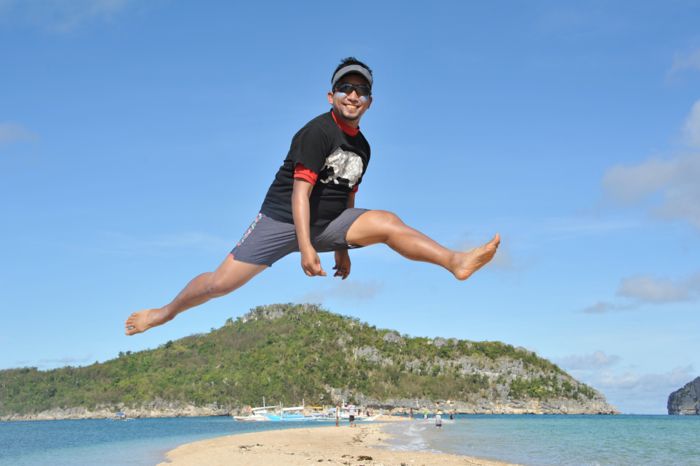 there are few things to do on the island after dark, although while we toured gigantes norte, my guide asked if i was interested in going to a disco. but during the daytime, there are lots to see and do, although the attractions and the activities resemble each other. in my case, first in my itinerary was a visit to bantigue sand bar, which was just behind the small island that served as my dormitory. bantigue is really just a strip of sand whose fat head had a few trees, a few huts, and a number of stone formations. i was by my lonesome when i got there, and it would have been an ideal place to stay for an entire afternoon, but my guide was adamant about leaving as soon as i got my shot. apparently, the sand bar disappears late in the morning, and by the time we were returning to my boat, the sea was reclaiming the land.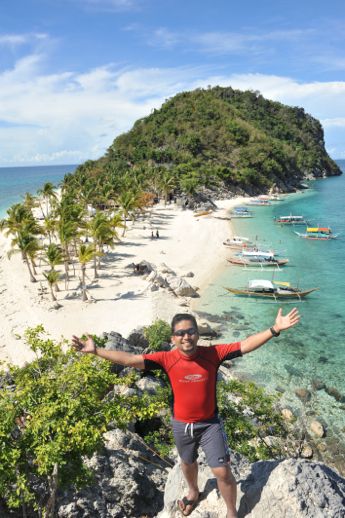 we then moved to cabugao gamay, the island which inspired my decision to come to gigantes. the boatman dropped anchor along the southern coast where a row of larger bancas were already moored. under the spotty shade of palm trees, refugee tents provided by the UNHCR and other aid agencies following the last devastating typhoon have been repurposed into tourist accommodations, while a queue of holidaymakers were crawling up the stack of boulders where so many pictures have been taken. everyone there spoke hiligaynon, and i joked that all of iloilo and bacolod was weighing down on gigantes. it took me a while to get my turn, and although my photo was excellent by whatever angle, i realized how incredibly routine the exercise was. everyone was doing it. i felt very unoriginal. it seemed to be the thing to do when in gigantes, the proof of one's visit there. upon my return to the mainland, the 5 young nurses i met on the island added me on facebook and they all had identical profile photos. i went to gigantes to do something unique, to go to a place few people i know have been to. instead, i had this nasty feeling i was merely part of the herd.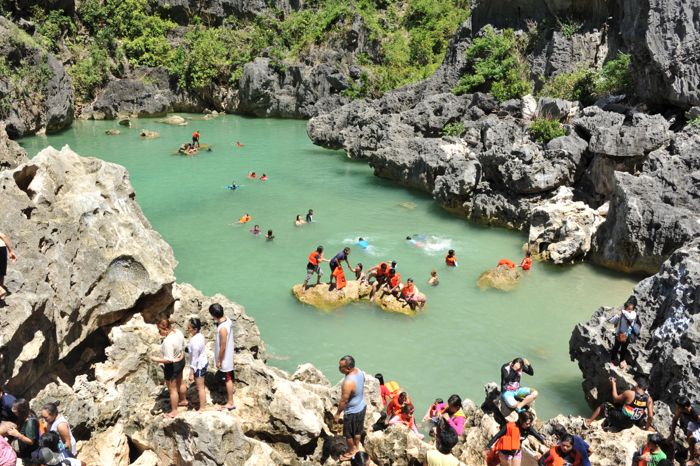 and my next stop only reinforced this idea that the gigantes had already been discovered by a crowd, and i was the last person to learn about it. my guide told me sparingly that our next visit would be to the tangke salt water lagoon, which was really part of the sea, but surrounded by limestone cliffs and rocks. there was no pier going to this spot, and getting to the pool was only possible by anchoring the boats close enough to each other that they resembled floating planks or an unconnected bridge. the boats gathered at the small entrance of the lagoon, which proved to be least ideal for the ones that were pushed too close to the rocks, since their outriggers were used as platforms and they couldn't easily depart. the water was very clear here, even before you get into the lagoon, and it would have been a very pretty place had it not been for the noise of the boatmen arguing with each other. more than once i jumped into the water to retrieve a floating plastic bottle.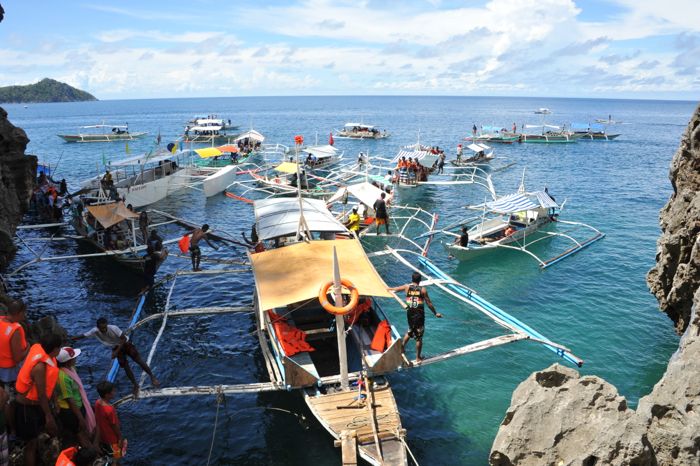 if it had been emptied of people, i could not imagine a more serene and peaceful place in gigantes. a monkey was expertly maneuvering its way through the cracks on the cliff, whose jagged walls rose high towards the sun. while i floated on the lagoon, i was asked more than twice by strangers who were curious about my solo trip if i was a blogger. perhaps people imagine that those who travel alone do so for work, and not for pleasure. they must have imagined me to be very lonely. but i travel because it nourishes me, and i am neither inconvenienced nor restricted by the lack of company.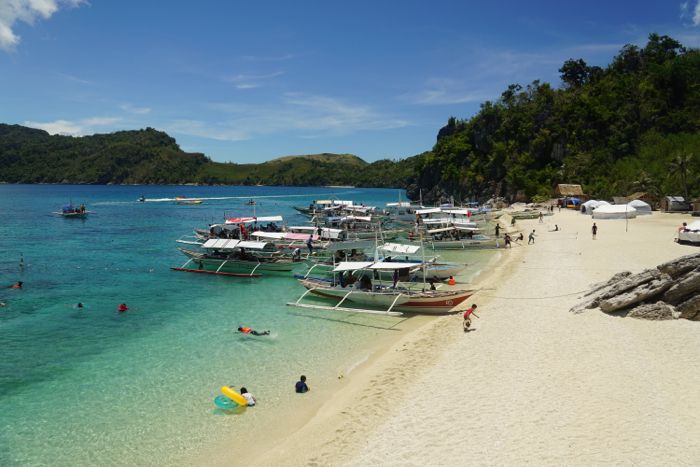 the tangke saltwater lagoon is actually not an island. it is nestled in a corner of gigantes sur. in order to leave the pool, one has to climb up the rocks and crawl through the unconnected chaos of boats. but i figured a more creative way: by climbing up the wall and jumping 30 feet into the water. first i threw my slippers down, then swam to my boat. that was a courageous thing to do, because i am not exactly the most agile of swimmers, and i nearly drowned later on as i was snorkeling at antonia beach, a small finger of sand jutting out of the karst formations that defines much of the coast of gigantes sur. the resort that operates the beach has the most amenities i've seen anywhere in this small aggrupation of islands, since they have a jetski, some small boats, and a snorkeling area, although none of these impressed me. i was more interested in sampling a bucket of the dirtiest clams and shellfish i've ever seen.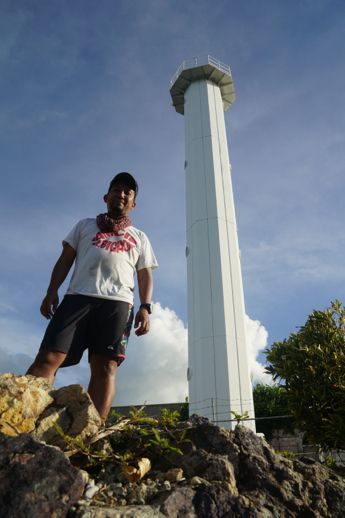 last on my itinerary was a tour of gigantes norte, whose population density is concentrated along the coasts. motorbikes offer the only available transportation on the island, and the roads are narrow and unpaved. i was introduced to a second guide who brought me through the bakwit cave, which earned its name when residents sought refuge there during a storm. until this day, the locals still treat it as an evacuation site, although its accessibility is also its doom: the walls inside are severely vandalized. at first the guide predicted it would take me an hour to get through the other side, but i inisited that i complete the traverse rather than turn back, which he seemed to suggest, and it took me less than 30 minutes despite the obstacles. they also showed me one of the coffins they retrieved from bakwit cave, which supposedly contained the bones of a giant. i was then taken to the old spanish lighthouse, which is right astride a higher, more modern structure that informs and directs sailors navigating the visayan sea. the old building that used to house caretakers of the lighthouse is crumbling, and looked haunted, although i can imagine it converted into a bed and breakfast. it is out-of-the-way in an already remote island, and it would possibly lure the right kind of people seeking solitude and quiet. the kids close to the lighthouse are polite, and already inclined to entrepreneurship, offering adornments fashioned from scallops shells and glue.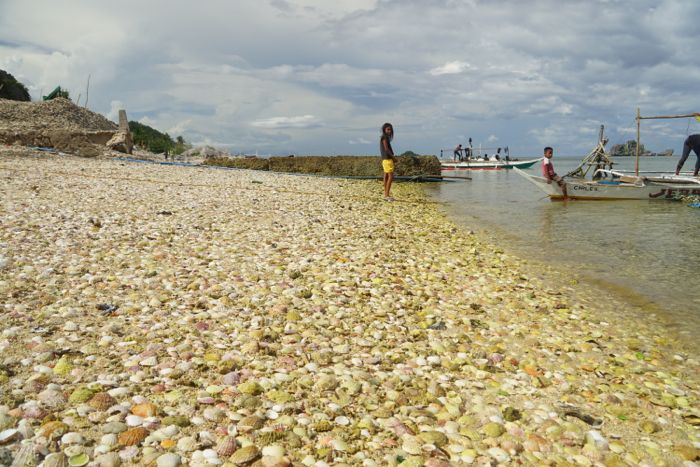 before sunset, i was brought to gigantes norte's western shore to watch the sunset. a bypass road climbs the hill separating the coasts and my guide pointed to the rocky peak towering over bakwit cave. he told me that some people have climbed it already, as if to give me an idea. the sunset was not as i had hoped, although the scenes along the coast piqued my curiosity. several boats were moored here, including those that fished and ferried passengers. a number of resorts were also located there, and it appeared to be filled with activity. the beach was clear of any shells: just dark sand that sank under the weight of footsteps.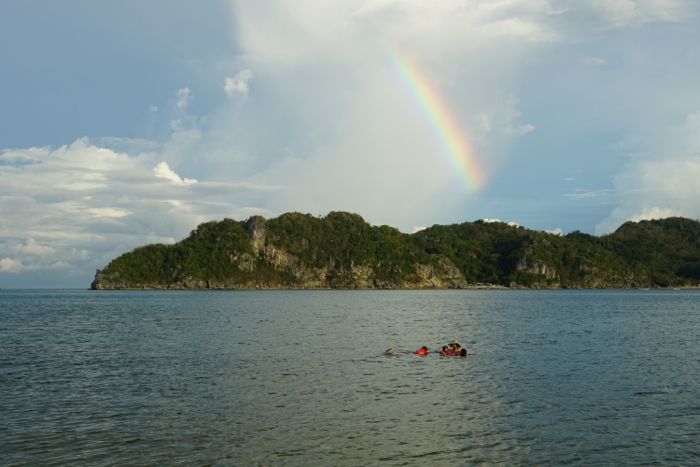 as an uninspired sun sank in the horizon, i waited to be taken back to my island, where dinner was already waiting. i shared a few drinks with the young nurses who marveled at my lamps, my broken ilonggo, and the fact that i knew the lyrics of new songs. when i woke up the following day, a boat was already waiting to take me back to the port of estancia. i shared it with tourists who insisted i join them in group photos although i'd never seen them prior to that day. a few hours later, i was approaching iloilo city as i thought about seafood served at breakthrough.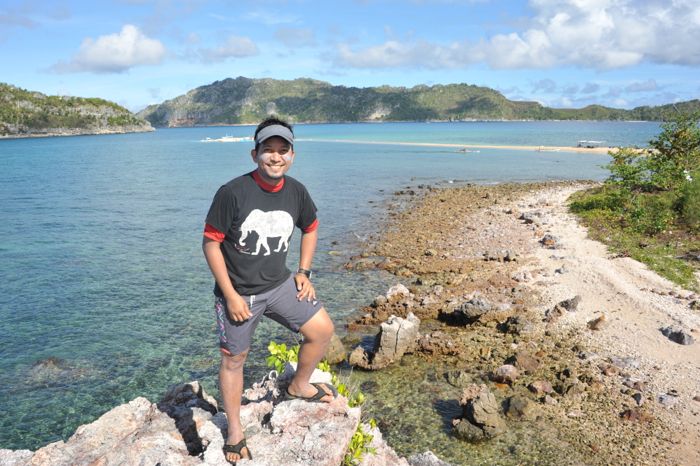 there is little else to do in the gigantes islands save for the things i've described here, which does not mean one might die of boredom while marooned there. in fact, i find the monotony of activities to be rather charming, and those responsible for promoting the islands as a tourist destination should avoid styling them in the mold of places that have squandered their potential to be slices of natural paradise. the islands of giants would be dwarfed by more accessible but overbuilt tourist spots, but i think it should not compete with the traditional amenities and infrastructure that already exist in so many other places, and instead keep itself savage, basic, and out of the way and allow its visitors to connect with the earth, the sea, and the sound of the wind rustling through the leaves.