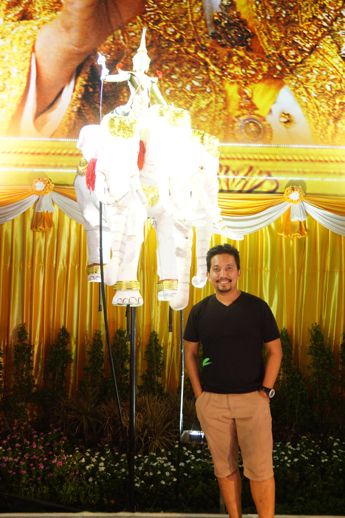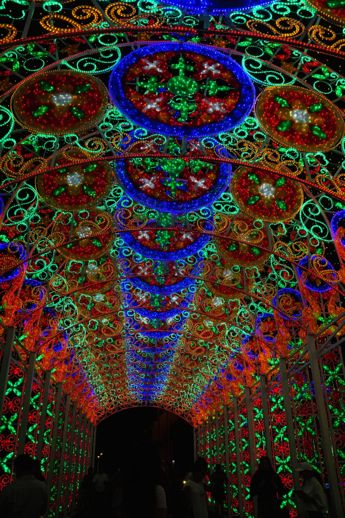 i was in bangkok for 5 whole days some weeks back, and i only had two things on my agenda: attend a training for work, which was my main purpose of going, and have a 3-piece suit made at khao san. in between, i had dinner with friends, grabbed snacks and spices from the supermarket, went to platinum to look for a very specific type of hipster pants, browsed the shops at pantip, and also took thailand's state railway to see sunflower orchards in ban thakli: a district that is already part of nakhon sawan, the gateway to northern thailand. the last one happened on the basis of an invitation from my friend pitsa, who works for the secretary of his majesty the king, and who is a licensed tour guide. i was thinking of doing some shopping on sunday, but when pitsa mentioned he planned to see sunflowers 190 kilometers north of thailand, i said why not? we met at the hualampong station early on a sunday, and pitsa's only reminder for me was to not sit on the chairs reserved for monks that were placed in front of the information booth where i was supposed to meet him.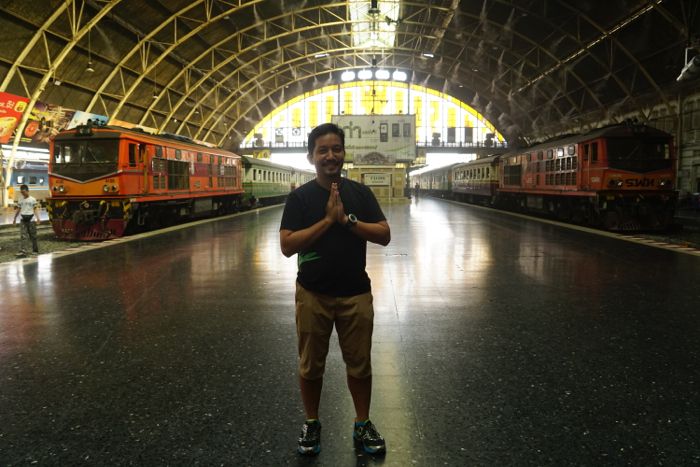 i made a mistaken pronouncement on facebook: that it would be my first time to take the thai state railway. as a matter of fact,
i already took the tourist train in kanchanaburi
the last time i was in thailand, also courtesy of pitsa. i did a rough estimate of the time it would take to reach ban takhli. i thought: if the train traveled at an average speed of 70 kilometers per hour, we would be there in roughly 3 hours, including a few station stops along the way. i didn't account for the number of stops to ban takhli. it turned out that pitsa got us tickets to the state railway's 3rd class trains, which meant the coach wasn't airconditioned and it stopped to pick up and unload passengers at every single train station along the 190-kilometer track. twice we also had to give way to the faster, non-stop trains. but i was fully awake the entire time as pitsa regaled me with interesting tidbits about every single place we passed.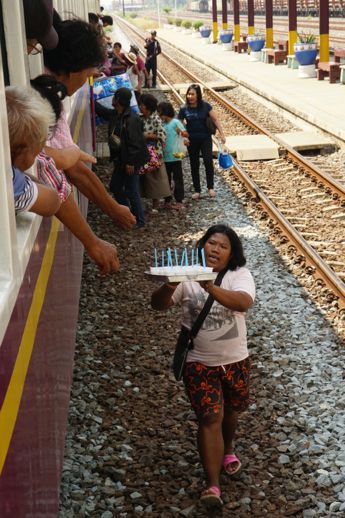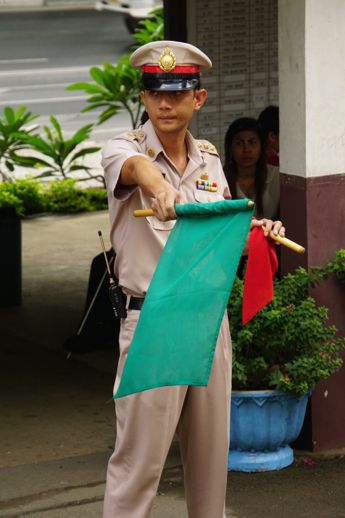 he pointed out the ongoing construction of the high-speed trains, the site of the new central railway station that would merge all of thailand's existing rail lines, the areas of central thailand which were submerged in flood waters for 2 months in 2011, the place where the first catholic mass in thailand took place, the train stop to ayuthaya, one of thailand's monkey temples, among many other bits and pieces only someone steeped in history and culture would know. pitsa has a passion for thailand that is matched only by his impressive knowledge. not once did i complain that the trip was too long because i was fully entertained the entire time. we even purchased 5-baht coconut ice cream and the best basil pork dish anywhere on the state railway (so famous you had to call to reserve a plate).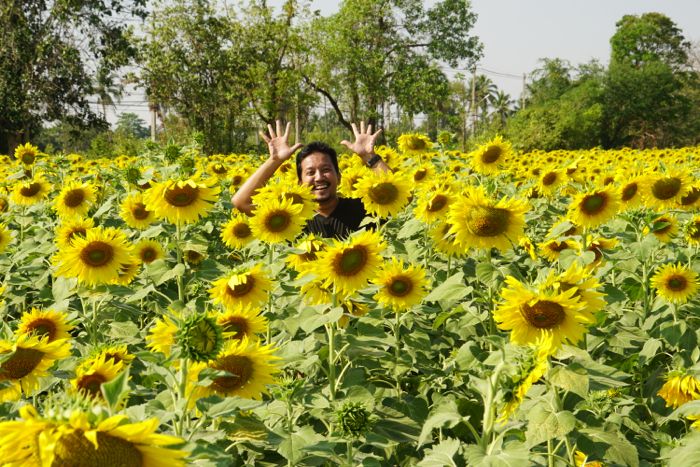 we finally reached after nearly 5 hours, and after wolfing down a late lunch, we hired a tuktuk to take us to the sunflowers. it didn't take us long, since ban takhli is practically covered in fields of sunflowers, quite literally as far as the eyes could see, disappearing in the glare of the mid-afternoon sun. the tuk-tuk driver told us they looked better in the morning, when the yellow crowns faced the sky. we arrived already when the flowers were bowed. pitsa informed me that they were planted for a very specific reason: to be harvested for bird seed. the crops could change, and are influenced by the season. sunflowers apparently don't need as much water as other plants.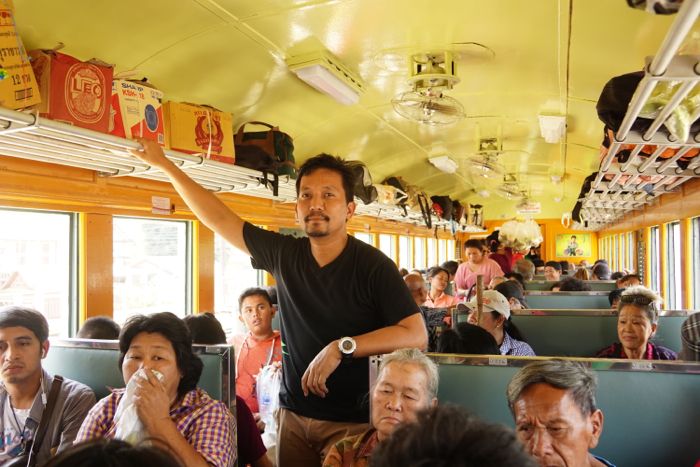 we spent a grand total of 35 minutes in the district and we caught the sunset on our ride back to bangkok. kept my window open the entire time, soaking in the sights. apparently, my face also absorbed everything, and i was covered in a mask of soot by the time we reached the main station in bangkok.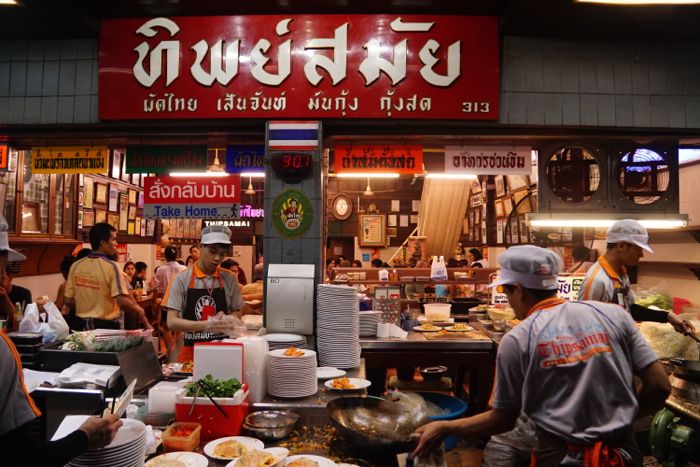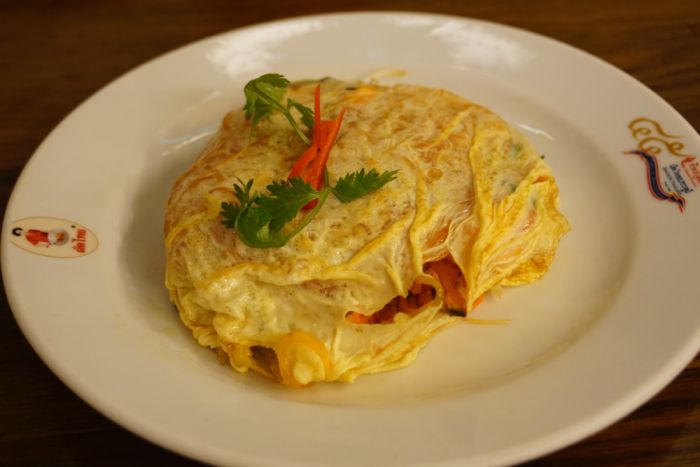 even before the nighttime fell, i had only one request from pitsa: to eat at thipsamai again, whose rendition of thailand's centerpiece noodle dish won an award as the world's best fast food a few year's ago. it still had the long queue outside, but the bangkok favorite had renovated its interiors, and expanded inwards. the new wing looked very modern, although the kitchens are still located on the sidewalk where two cooks separately prepare the pad thai and coat the noodles in a ball of egg. another thai friend asked me if i found it expensive, and after a moment's reflection, i agreed, but confessed i've never had it that good anywhere else, so much so that
the last time i ate pad thai was when i was in thipsamai 3 years ago
.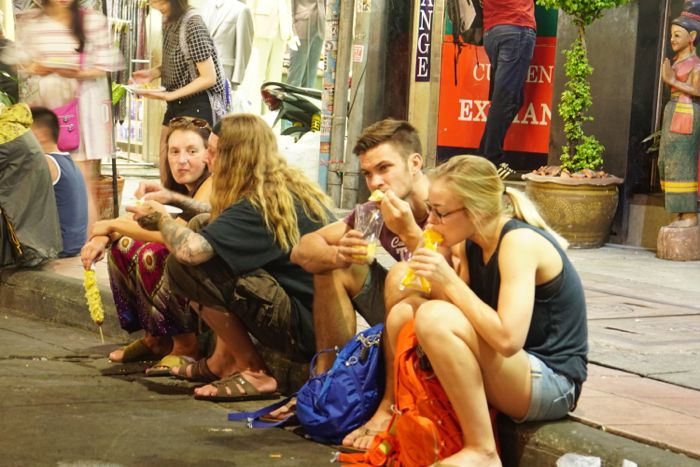 we then passed by bangkok's festival of lights across of the city hall, which had as many people as it had lights it seemed. after that, pitsa bought me dessert at this popular café that served sinful slices of bread. outside, on the street, even more gastronomic adventures were on display, like sautéed bugs and other bizarre foods. in khao san, it was normal for tourists to be offered skewered scorpions and tarantulas, which apparently make for very nice souvenir photos. enterprising vendors even charge 10 baht for a photo, but i managed to chance upon a local fair beside the national stadium where they had pails and pans of these exotic dishes. i wasn't too curious about tasting insects, since
i've had my share of culinary dares in the past
.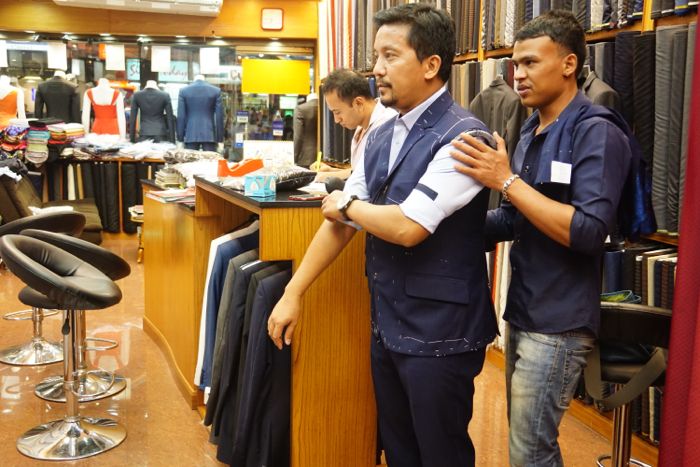 for 4 nights i would find myself in khao san road, not so much to shop for clothes, or to get my hair braided, or to have a foot massage, but to make sure that my new 3-piece suit from new boston tailors would fit perfectly.
i already spoke previously why i chose this tailor
, even though i can get it cheaper elsewhere in bangkok. it's because shawn, who took my measurements, and who still wore unimaginably tight-fitting pants and sharply-pointed shoes, was an absolute professional, took pains in getting my dimensions right, and listened to my questions, giving very precise answers without being pushy and overeager. i forgot how much it cost me the last time, but by some miracle, i had a photo of the receipt from 2013, and he didn't change the price, although they had to use more cloth this time. i don't know whether my mentioning them here will give them new business, but i've received many good compliments about my suit, so if you're interested in bespoke i highly recommend new boston tailor in khao san.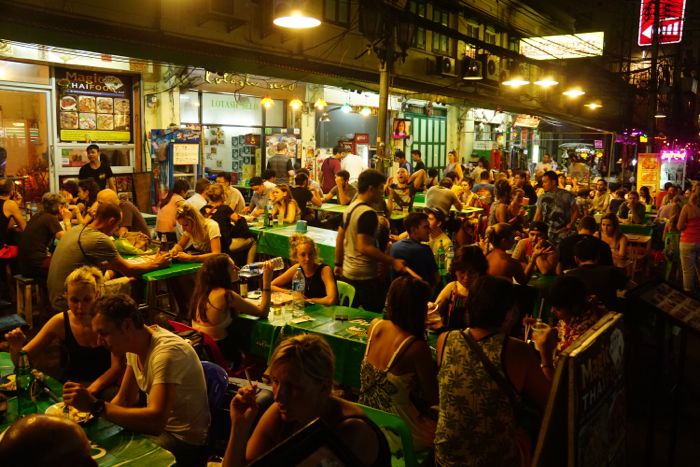 outside of new boston, the scenes on khao san are typical: pad thais being prepared on the street, cheap shirts and pants peddled on the sidewalks, white people with their backpacks getting lost. apart from getting a suit, i don't know what else would convince me to stay long at khao san. tourism, even the type that attracts budget-conscious backpackers, has somehow skewed prices, even cooking methods. so i'm lucky to have locals for friends because they managed to give me a taste of really good thai food, even if it meant i ended up sniffling, wiping away tears, and reaching for a glass of water every few minutes.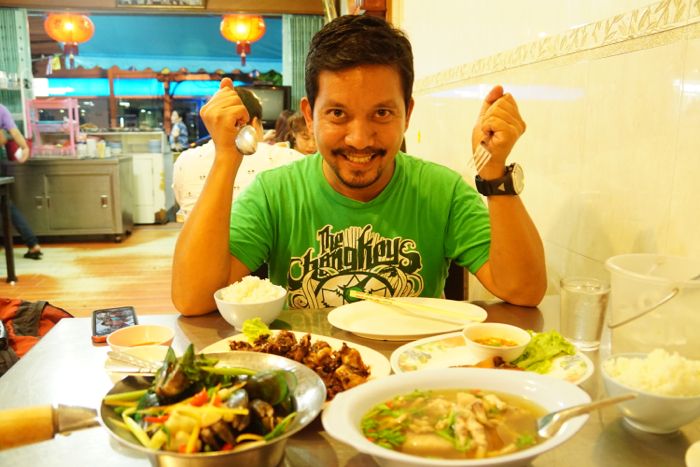 to be perfectly honest, there are other places where shirts are cheaper, or food is better, or the foot massage is more authentic, and i suppose having been to bangkok 6 times, i was less interested in being a tourist, more inclined to see it as a local.