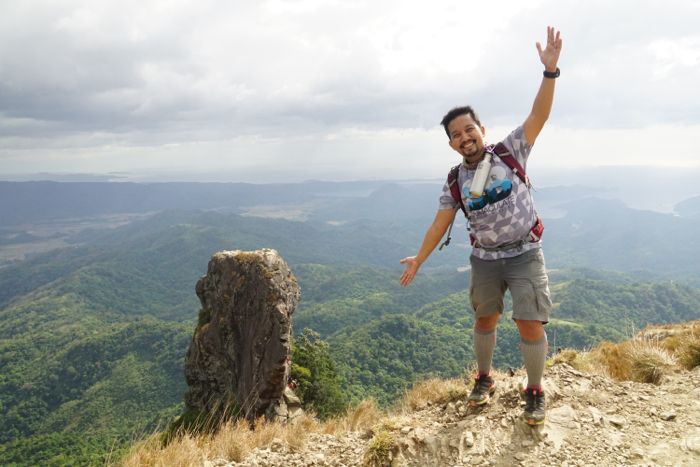 a couple of months ago, i heaved a heavy sigh as i spoke about my day hike to mt. pico de loro in cavite. i would normally shun going to a mountain that was too famous for its own good, but a friend of mine wanted to climb it, not so much because he wanted to pursue the sport for which i have so much passion, but because he was interested in doing something new and different. i suppose social media puts immense pressure on all of us to live exciting lives. so i agreed, and hoped that there wouldn't be too many people. we went on a weekday that was also a holiday, and i tried to convince myself that people would be doing something else than go on a hike. i was rather unfortunately wrong.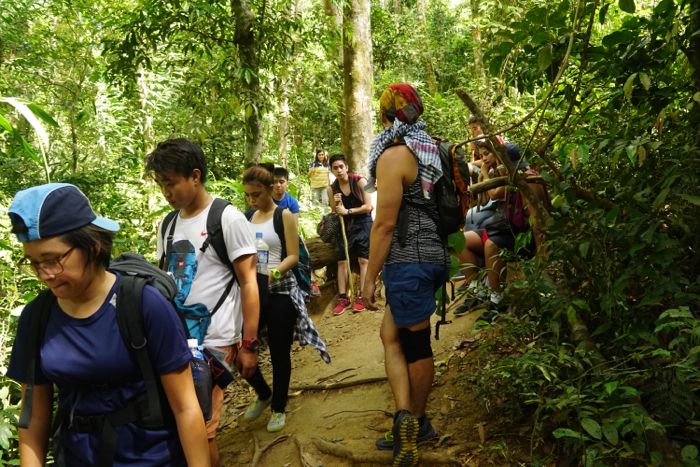 we arrived at the jump-off close to noon, and for a brief moment i thought we may have been on the wrong road since the drive felt longer than it should have. the trail to the mountain has been "redesigned". it no longer passes through basecamp 1 (where a resident collects a toll) and skirts the possibly dried up waterfall.
i was last up the parrot's beak in 2009
, and it took this long to return because i prefer my hikes to be lonely: just me, my companions, the trail, and the sounds that nature provides. the new trail now starts just right of the DENR, which was overflowing with cars and tricycles, follows the general direction of a stream that had long since evaporated, and squirms its way through the forest's badly-beaten trail. few people came up with us, but the number of people who were on their way down was astounding. i say this with no exaggeration: there were hundreds of oddly-clad and inappropriately-shod hikers that day, some smiling and beaming with pride, others with faces that betrayed their regret at having agreed to leave the familiar comforts of home, or traded this to a relaxing stroll inside an airconditioned mall. at some point i met people i knew: it is both a testament to the volume of people on the mountain, and the kind of company i keep.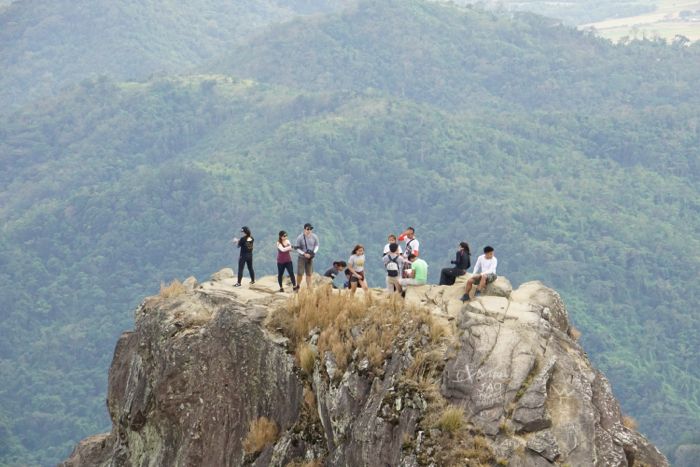 because the trail was different from how i remember it (and i have only been to pico de loro two times before), i could not tell whether we were near or still far. at one point we came upon a structure whose purpose was unclear to me. it was meant to be a lookout, for sure, but the view from that spot was nothing special. with the exception of the view of the parrot's beak, pico de loro is just another accessible mountain.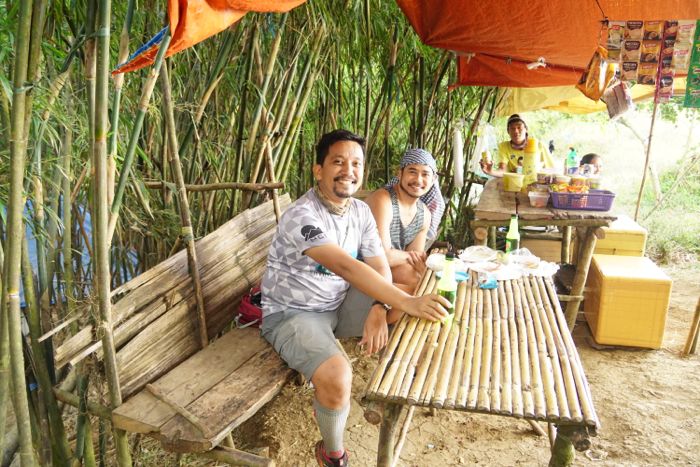 after a brief while, my friend and i reached the usual campsite just below the summit. overnight camping is now disallowed on pico de loro, and yet there were at least 5 sellers there who had built makeshift stalls on the mountain, their run-down tents pitched within the bamboo grove that continues to thin, their hammocks stretched to the limit, and the area browned by too many footfalls. the path to the summit in fact looks as if it had been grazed by a bulldozer: no trace of plantlife, just barren, crumbling soil. when we reached the summit, we had to wait patiently for it to empty. below us, a crowd had gathered at the base of the monolith, waiting for their turn to climb. we took many pictures on the summit, my friend and i, but by the time we made our way down, those who were queued to climb the rock column were still waiting for their turn. young teens from either cavite and batangas were in attendance, offering to hold the hands of hikers for a fee of 50 pesos, or to guide them to a traverse. at the DENR itself, plastic water bottles are collected, and a week's pile is enough to fill a large truck. a local woman collects a fee for the use of toilets, which is patently illegal, since both the facility and the water are provided by the DENR.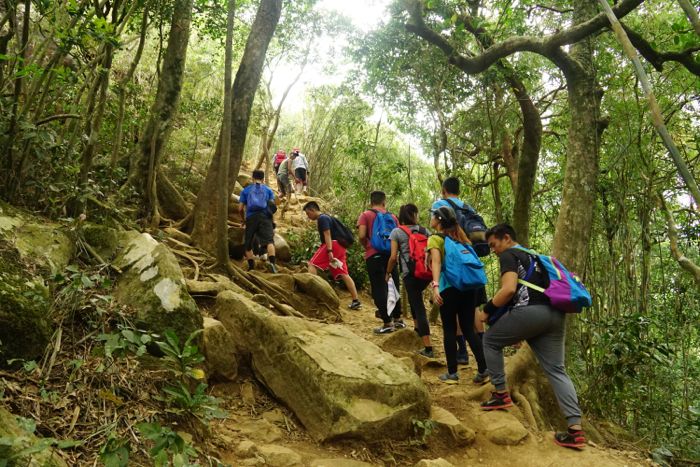 i rue the recent popularity of hiking because the burden for securing the sustainability of this hobby has shifted. it used to be that hikers themselves had the responsibility to care for the trails and the mountain. recently however, government has taken a part, seeing it as a potential source of income, milking hikers, but having no interest in returning cheese, leaving trails to crumble under the weight of bad practices. popularity and accessibility make for an ugly mix. a mountain attracts more and more hikers. trails widen and branch out to accommodate them, while the barangay sees them as a potential source of income. locals cash in on this and bring trade to the trails, offering drinks, snacks, and trail knowledge: unplanned and unguided responses to a perceived need. this form of tourism is dangerous because the hikers it attracts are those who do not care for keeping the trails clean. they are not the type who return to the same trails because they are lured by the wild. instead, they've prepared a list of mountains to see based on what's popular and which ones draw the most people. they are more interested in ticking off places in travel bucket lists, in crowing about been there's, in posting new profile photos on social media accounts so their friends and followers can sing praises about their adventurous lives.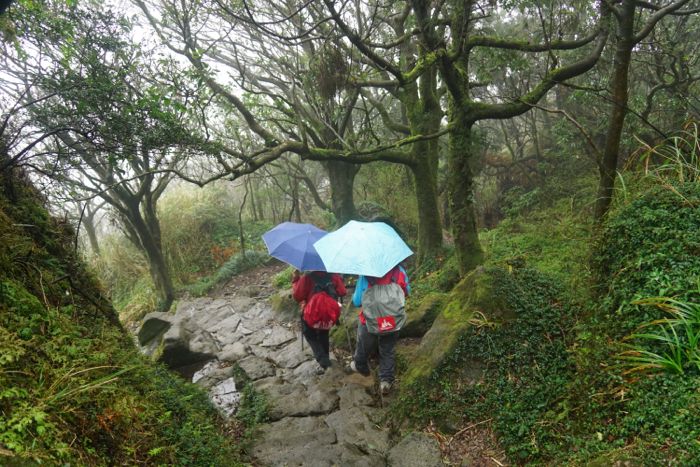 the well-maintained trails of a popular hiking spot in taipei, taiwan

i know that for most people, these views are unnecessarily harsh and old-fashioned. i am unfortunately part of that small cabal that picked up the sport before it exploded into the trend that it is now, and i could not help but hark back to the days when solitude and quiet were not elusive luxuries, but the default for anyone who dared to go outside. someone even told me that i should be excited that more people are flocking to the outdoors and pursuing adventure in great numbers. but hiking turning mainstream is not the problem. on the part of the hikers, it's not what they're wearing that i fret about; it's the absence of concern for the trail that's at issue. and on the part of government instrumentalities and local communities regulating hiking spots, it's the lack of ownership and responsibility for areas within their jurisdiction.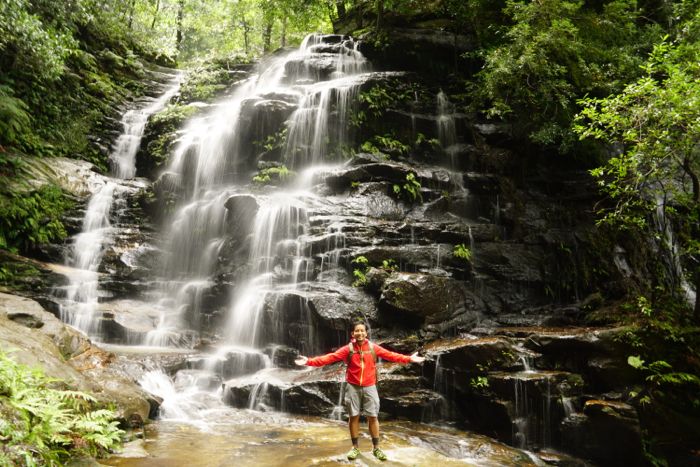 the blue mountain trails outside of sydney are very popular
i've seen people crowd trails in countries where hiking is an involved, inclusive social activity, much like going to the beach or watching a public concert. although i still prefer lonely, secluded places, i didn't complain about losing myself in the throng, because i noticed that an evolved hiking culture was in place: the mountain parks were well maintained, and basic facilities were available, allowing hikers to discipline themselves and keep their surroundings clean and beautiful, so that the mountain trails can be enjoyed by everyone, including generations of hikers yet unborn. the problem with most of the new hikers i've met here is that they shirk responsibility, always passing the burden of caring for the trail to someone else: either the next hiker or the government or the people who make a profit out of the activity. what they don't realize is that keeping the playground clean is a shared and collective duty.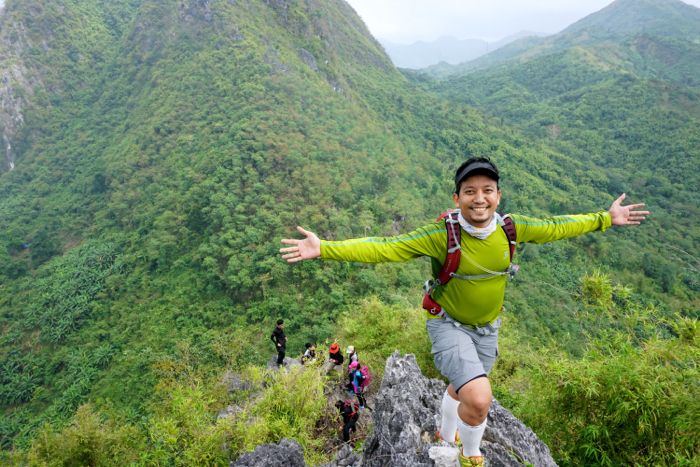 mt. pamitinan
in wawa, montalban, is experiencing a spike in tourist arrivals, all thanks to these jagged rock formations
i long to see the day when our primitive appreciation of nature and the outdoors becomes more mature. i'm not about to require all hikers to undergo some form of training (although that would be ideal), or to know all the leave no trace principles by heart. i just expect of them very basic trail courtesy, that by deciding to go outdoors, they tacitly accept an important role, to realize that they are guests to the mountains, and they should act like welcome visitors: treat the place like their own, care for it, and behave so that their presence in these wild, wide open places does not impinge on someone else's enjoyment, nor imperil the very same places we temporarily inhabit.