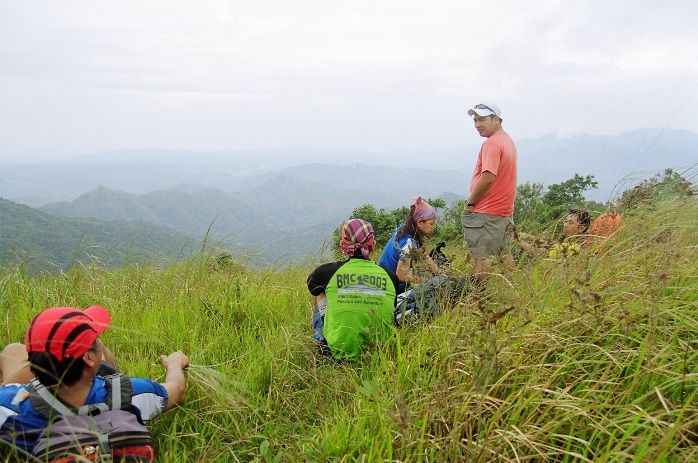 i had a grand time with a bunch of absolute strangers who fashion themselves as the ykamo group of AMCI over the weekend, which basically shows that i can get along fine with just about anyone. not that the seven individuals i joined in their semi-explo climb to mt lobo in batangas were difficult to get along with, but each one had a set of idiosyncrasies which might shock the uninitiated. the trip began in one of the huge gasoline stations along the south superhighway. we had two vehicles: a nissan terrano and a honda cr-v. all but one in the group knew close to nothing about the destination, which only served to make the trip a little more exciting.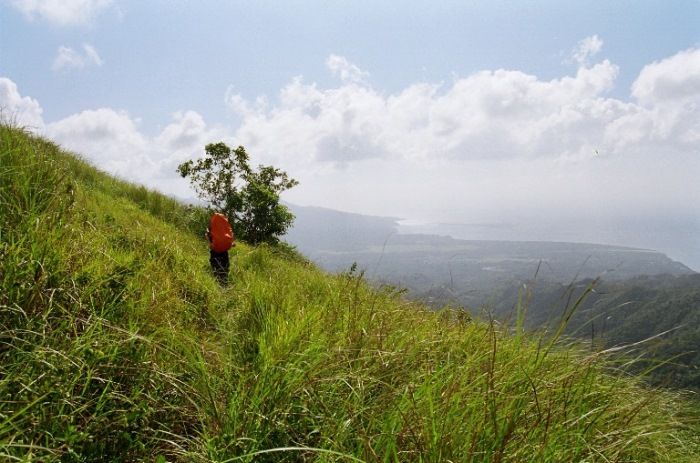 getting to the municipality of lobo was itself a huge challenge. what i know of batangas is confined to the city, lipa, and a handful of other cities, all of which are easily within reach. but lobo, which lies on the southern end of the province is the closest thing to an upland municipality in the southern tagalog provinces. i never thought there were still parts of batangas that were this far and this inaccessible. from SM city batangas, a turn leading towards fortune cement will eventually take one through rough, winding roads lined with pine and surrounded by an imposing mountain range. from the poblacion, we parked our vehicles in the former vice-mayor's mother's parking lot. the old woman kept referring to her son as "natalong mayor", while at the same time asking how it was possible for us to bring such cumbersome backpacks up the mountain.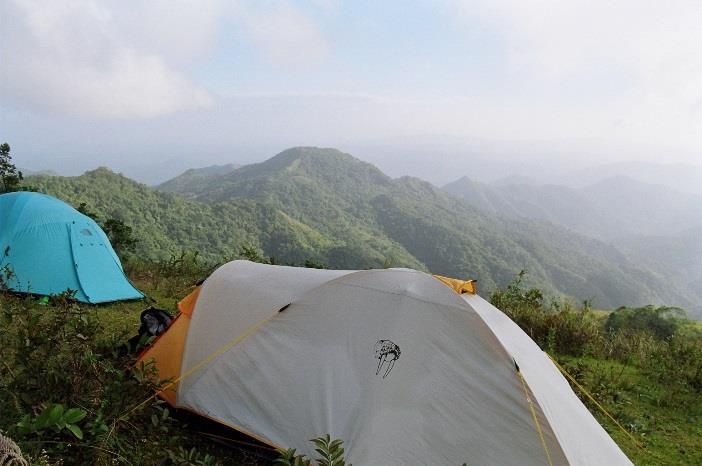 the trail is not too tricky at the start. we just followed a parched creek, which eventually took us up a small sitio of no more than 20 houses. the trail leading to the sitio is lined with sunflowers, and is very steep at one part. the view from this side is already quite outstanding, but the mountain's summit is a little further up. in fact, any vehicle with a powerful enough engine can make the trip all the way to the shed where we took a few minutes' rest. the foot trail to the summit branches out just above the unpaved road, and there is a deceptive fork just after you turn right where the water tank stands. initially, we took the trail going straight, because it looked more established, but after around 5 mins, orland, our trail master, decided we go back to where we placed the "not this way" trail sign because this one led us down. so we took the trail going right, and there are parts where the trail is almost entirely invisible, either because the towering grass clasp their leaves over it, or that there are no pronounced footprints anywhere.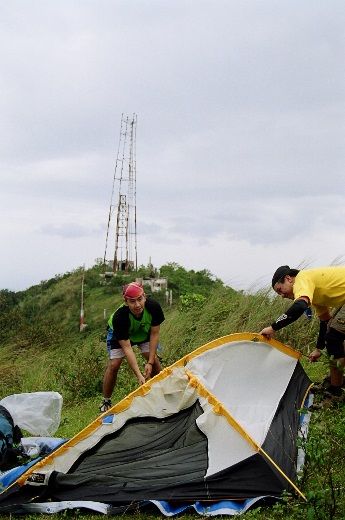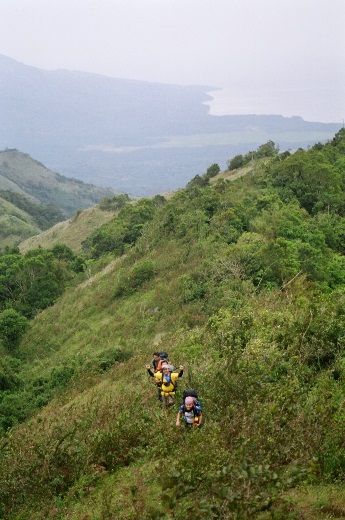 eventually, we reached the transmitter towers which now lay in ruin. rust wraps most of what remains of the infrastructure, which was blown up by insurgents many years ago for failure of the company to pay a revolutionary tax. it would have been an ideal campsite, but there were rusting metal parts hanging from high above which moved as the wind blew. so we decided to camp a little farther up. most of the tents slanted at an angle, because the campsite sloped rather dangerously. had there been more than four tents, a couple would've been ultimately miserable.



it was terribly cold after 6pm, and the wind assaulted us from all sides. for dinner, melay and iton prepared sinigang na baboy and fried boneless bangus. we hadn't managed to cook all of the bangus even by the time we started to drink this brew called cutty sark because kuya mar's antiquated coleman stove didn't produce enough heat . good thing my MSR whisperlite was present.

during the socials, we braved the chilling winds which crept inside our jackets and kept ourselves warm with stories and jokes. i was spared most of teasing but kuya mar -- rather intentionally, i might say -- kept mispronouncing my name. this isn't something i'm not used to, so i just let the running joke pass. the jokes mingled with a lot of AMCI talk, which at times made me feel a little uneasy because i was captive audience to rumors and news about people i didn't know. there's quite a lot of politics going on within the organization, which isn't new really. sometimes, the jokes were thicker than the brooding clouds which shrouded the bright moon nearing its fullness, that i was afraid the guys would end up in fisticuffs.

when we had consumed all the alcohol, we all turned in. my tent was the MSR zoid 1.5. there was a TNF nimbus and a really nice-looking walrus. kuya mar, who was by far the most experienced mountaineer in the lot, slept in a nameless dome tent with no fly. he's probably so secure of his experience and knowledge that he had no desire to flash his gear. i also brought this up with my AMCI friends: the impression that they're gear-oriented. i do not fault them that much in this respect, because it's usually these expensive equipment which provide more value for money.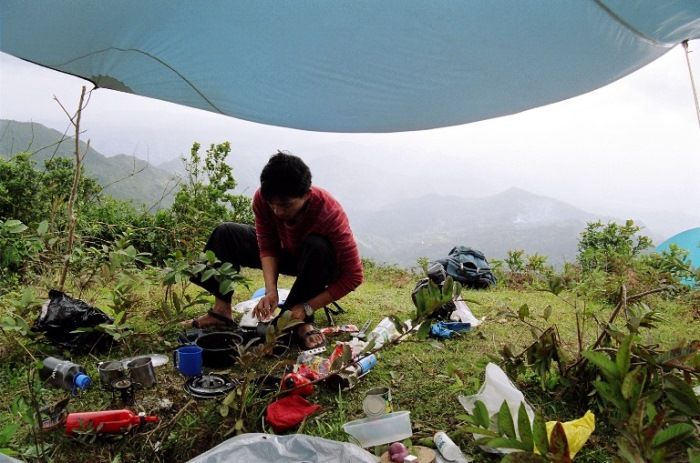 at half past 6, i woke up. it was a little late than what i was used to, but there was no sunrise to speak of since we were covered in fog. after breakfast, we started descending, and reached bgy balatbat in a little over an hour. we took our vehicles to the poblacion, shopped for lunch at the wet market, and ate at gerthel's beach resort (which charged us a whopping P500 for the use of a rickety shed!). tito boy -- the elder brother of tanya who i know from law school -- took charge of barbecuing the tilapia and the pork. it was really great-tasting barbecued pork!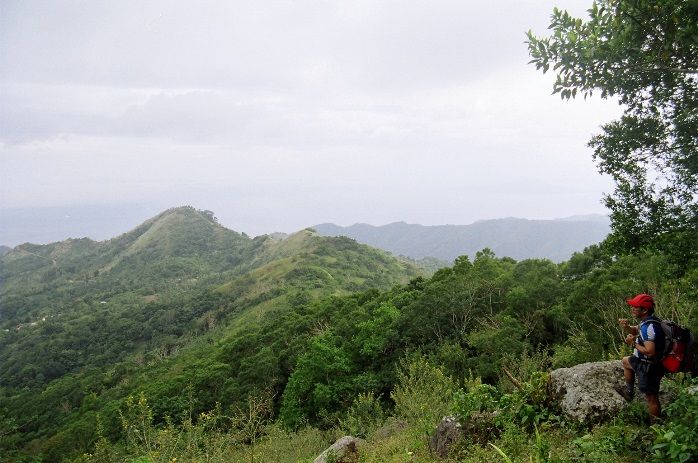 after a quick dip in the cool waters fronting the resort, we each changed into a fresh set of clothes and left for batangas. we had dinner at grace (and i sat where i had been sitting the two previous times i was there), malvin dropped me off at shaw. i was home early. it is a wonder how so much more you could accomplish traveling in private vehicles. yes, that was fun. these AMCI folks ain't half bad. not at all.