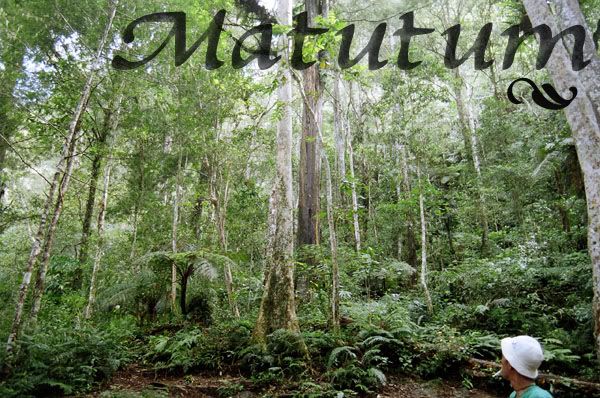 i had deliberately left my cumbersome pack in davao, and the only burden i took with me to sarangani was my lowepro S&F rover light which had a few beach essentials, and my therm-a-rest, a nalgene bottle, and a sigg bottle. like a boyscout, i also had my swiss knife along just in case. so when the dare to climb mount matutum surfaced early on in our sarangani trip, i wasn't sure whether i would be equipped for the trek. between kuya mar, roy, malvin, tito boy, roland, dyake, and myself, only 4 had dragged their packs with them and were prepared for any eventuality. despite the lack of gear, however, we had more than enough sense of adventure to compensate for the apparent ill-preparedness. so after a short trip to the supermarket, a quickie meal plan, and a hazy idea about where the climb should start, we left for tupi. it was a holiday and there happened to be municipal employees there who directed us to kablon, a barangay nestled in the slopes of mount matutum, and separated from the national highway by fields of pineapple.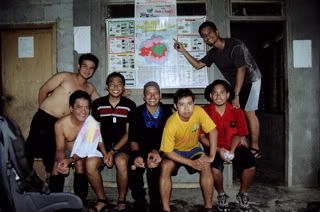 from there, we deposited our other stuff in the house of a barangay councilor, and hauled our gear onto some skylabs, yet another name coined for the ubiquitous habal-habal. malvin loaned me his trechnique, which is probably the worst bag that my back has ever experienced. we were taken to the jump-off where we collected our guide. my primary concern at the time was the still fresh wound on my knee. it was only beginning to heal, and i was afraid that it might be further infected by the trek. it promised to be a wet climb since while on the skylabs, it rained furiously.
while speaking to the guides, we decided to abort the summit camp. it was already past 4pm, and the locals predicted that the trek might last at least 3 hours to a place they referred to as "phase 1". so we decided instead to camp at the water source. we reached it just as the last lights of the afternoon were waning in the cloudy distance. i had no idea what day it was, and since i had come down from apo, i had lost track of november. but i was thrilled, nevertheless, that i was here, at the base of matutum, about to embark on something that was nowhere near my plans. i had drawn up some ideas before our departure for davao, and included samal and siargao in the itinerary. but the best laid plans are bound to go awry, so we opted to get our kaladkarin selves into high gear and decide on things as they appeared.
the water source at the foot of mount matutum was small, dank, and dirty. nevertheless, we found areas to pitch tents. earlier, we bought kerosene from a store at the jump-off. this proved to be our undoing since malvin's featherlite would not burn it. so we stoked fire with some wood instead, and i must tip my hat to roy since he managed to still prepare a really mean tuna in lemon and butter sauce. i must've underestimated our appetites since we wolfed it down, and by the time none was left, we were still looking for more. i was around for some socials until it was time to consume the london dry gin. i refused to touch it and promptly fell asleep inside malvin's tent.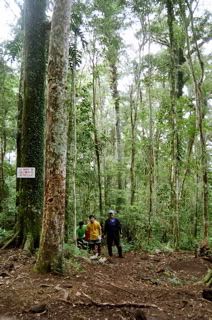 the following morning, our 7am assault was moved an hour later. we burned firewood again for breakfast, and by this time, malvin's new cookset took on a dark, burnt color. the trail to the summit of matutum was choked by an assortment of plants. it was a pleasant trek till you reach phase 1. the trees are tall and erect, and the plants are alive. there is an explosion of green all around, and it felt liberating to be trekking without backpacks. after phase 1, there were portions of the trail that were a bit difficult: steep, slippery, and narrow. at around this time, we had overtaken the other climbers who had slept at phase 1. they were being accompanied by a dog named jake. almost two hours later, i noticed that sunlight started to pierce the roof of leaves above us, and i knew that the summit was nearby. i began shouting when i reached the summit: a small, sandy clearing that was fenced by metal pipes. in the middle was a marker which declared our altitude: 2,293masl. matutum, it turns out, is not just any other mountain. it is reasonably high, and reasonably challenging. one after the other, our guide, jake the dog, and my companions started trickling in. it was just before lunch time, and we realized that we were a bit hungry. we spent around 30 minutes in the summit. there was no view at all, surrounded as we were by clouds. i hoped to see the outlying vistas, matutum being the only prominent natural landmark in south cotabato: it rises steeply, alone and conical, like mayon.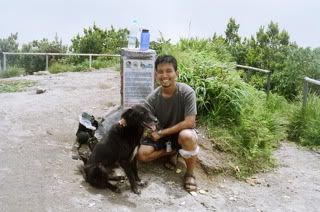 after our brief stay at the summit, we started our descent. we expected to halve our time, but it still took us over 2 hours to reach the campsite, and along the way, my shirt sleeve caught a branch just as i jumped, and i whipped against a prostrate log, and my shirt was gashed. both dyake and i wore shirts and shorts anyone experienced in mountaineering might not normally take to a trek. a few minutes after was passed phase 1, i began to notice a radiating, pulsating, throbbing pain in my left knee, just above the wound i had suffered in apo. at first it was tolerable. but it became a bother, till the pain increased to a point where it was not possible to make a step without wincing. as i grimaced in pain, i let the people behind me go ahead. and before long, i was limping each time i dropped my left foot to the ground. it was too painful in parts that i had to drive back tears. i was starting to cry.
the pain did not abandon me even as i applied a generous amount of salonpas on it. i wasn't sure if it was muscular, or a problem with my joints. but i had to endure it for a few more minutes as we trekked back to the jump-off, around 30 minutes away. we had one bag of trash which we asked one of the guides to bring with him. he paused during one part of the trek, said something in b'laan to his companion, and flung the garbage bag into a field hidden by towering blades of glass. we stood there, responsible mountaineers, surprised and shocked. and this was a guide who was a member of a recognized association. the PAMB should do something about their absolute lack of concern for the nice mountain's fragile ecology.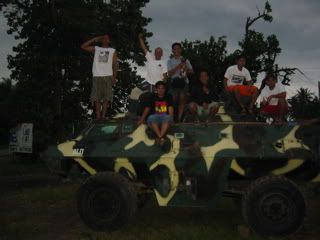 at the jump-off, the skylabs picked us up and drove us to a house where we had a late, filling lunch. we washed up, and i almost lost my dogtag in the process. from there, we were delivered to the highway, past the undulating dirt road that cut through the pineapple plantation. we had a picture taken atop an APV. at one of the military checkpoints, dyake's fatigue shorts almost got us into trouble. we reached gensan after 6pm, and it took us some time before we could find a van that would take us back to davao. kuya mar decided that we should check in at no less than marco polo. so just before midnight, we feted ourselves to some high-flying luxury. it would be my third time to stay at the marco polo. decked in our salt-of-the-earth mountaineering attires, we proceeded to our rooms and left almost immediately for a late dinner. after making the rounds at some known davao spots, we settled for the venue near the hotel. at the gate, a sign read: no slippers, shorts, sando. most of us were shod in sandals and except for dyake, were in shorts. but we were allowed into the venue for a nightcap.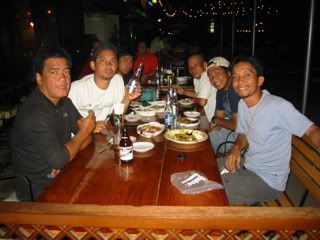 from there, we went to stag. kuya mar made good on his promise to me since i was the first on the summit of matutum. and the rest, as they say, is part of history, which malvin calls the davao scandal. we returned to marco polo, and despite the matrimonial bed, i plopped down on my therm-a-rest. the following morning, we got up early for the buffet breakfast. i had a lot to eat, and burned some of the calories a little later on the pool. in the afternoon, we went out for lunch at luz kinilaw and a bit of shopping just across the street in aldivinco.
it was already a sunday, the 6th of november. everyone was scheduled to leave for manila that day, but i had to go back to gensan for work. yes, work. and i had no clean shirt, no clean shorts, just fresh briefs. so before i headed off to the ecoland bus station, i dropped by SM davao and got me a shirt.
photo credits: malvin agra and alman dave quiboquibo