when finally i returned from mindanao, i thought i'd have some time to figure out what had just happened. 13 days away from home, and i didn't manage to reflect on the few things that have changed. i expected to learn new things about me, and hoped that i'd discover more of my friends. but the rush of all those days prevented me from making any wild realizations. and even when i returned, i had no time -- there were soiled clothes to wash, a room to fix, a life to put back in order, a blog to update. the day that i arrived on my delayed flight, i still had to drop by metrowalk for our group pre-climb. i was in shorts and sandals and i half-expected to be turned away. i was thankfully admitted. the following day was the team post-climb. and despite my newly-acquired status as AMCI member, i still opted to use the stairs. i would've wanted to stay longer even after the meeting but ava had this urgent emotional issue and i was obligated to hear it out.
anyway, my last two days in mindanao was work: i wasn't supposed to be there and i wasn't very interested in it, but the office would not allow the investigation to push through unless i was present. so although the travel documents weren't in order, i zoomed to gensan nevertheless to make sure no hanky-panky took place. i could've opted not to show up completely since the government didn't pay for my way, and there'd be no guarantee i'd be reimbursed at all! since i didn't want to rebook my flight, i returned to davao, and since i had time to kill, i saw a movie (dungeons and dragons) with dyake in SM.
anyway, my return to manila gave me one huge shock: i had almost a 500 unread emails in my 2 separate inboxes. my mail client went bonkers and i had to read my mails from their respective webpages. and not just that, for some odd reason, i had myself signed up for a "fun" friendship climb with UCPB trekkers to talipanan in puerto galera. i still hadn't fully recovered from my ordeals in apo and matutum but i felt i was prepared for a climb that promised to be easy, so i showed up on an early saturday morning in wendy's buendia. just the previous day, as i shopped for our meal plan, i was unsure if i'd make it since i was getting very sick. even the morning that i left, i was a little feverish, was drowsy from medication, and had a slight headache.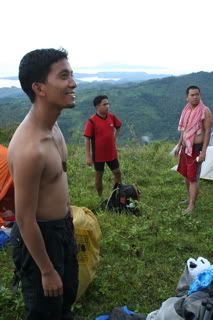 anyway, once on the boat, i realized that i had forgotten something on the bus. thankfully bojo stayed behind to wait for dindo but when he inspected the bus, it was negative. so for the entire trip till we reached mengie's resort in talipanan, i sulked and moped: i lost a pair of new goggles, my trunks, a dry bag, and my going home clothes. i even ignored the yummy yellow fin tuna steak that was prepared for our off-the-hour breakfast and not-quite-lunch meal. then bojo arrived with a familiar-looking columbia paper bag. my spirits rose! and a little after 1pm, we began our trek.
my backpack was tilting backwards and i was feeling a lot of discomfort. either i was overloaded or i had packed incorrectly. i reassured myself with the idea that it'd be a fun and easy climb. lo and behold, 10 minutes into the hike, we made a very sudden ascent. it lasted all of 30 minutes. but in those 30 minutes, i almost lost consciousness. i paused halfway, dropped my bag on the ground and unburdened my load of 1 liter of mineral water. it didn't help much because i still didn't feel okay, and it must've been because i was already sick to begin with. the trek took all of 1 hour and 35 minutes. we camped on a clearing beside a huge duhat tree. the view was magnificent. the fantastic natural harbor of puerto galera was visible, even in the unpredictable weather. i shared my tent with tads and jovs. by a little past 3pm, the U-trek people were talking about an assault to the AMCI campsite. i was not very interested in it, and all that i wanted to do was rest. i didn't feel very well. they returned long after sunset. it was already very dark and we had already cooked dinner (including my now famous chili con carne -- each time it's cooked, someone asks for its recipe). immediately after dinner, i snuck inside my tent and slept while it rained. i woke up only after 11pm for the last leg of the socials.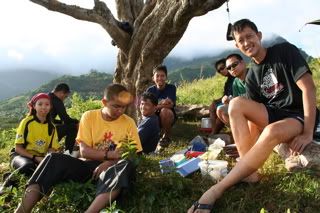 at past midnight, we slept, and woke up after 7am. this is what i call a fun climb! all climbs ought to be like this. we started our descent at around 9am, and reached the beach in less than an hour. mengie's resort was already within sight but damn! i hate trekking on sand! if i could, i would've have swam my way there. and the beach in talipanan is nice, not overpopulated, like the one in sabang and white beach. like hobbits, we had second breakfast, and had a banca deliver us to long beach for some beacheneering and a guided snorkeling tour (you just hold on to a banca which brings you around the coral garden). it was interesting at the start, but sort of gets boring since you have no control of where the banca goes, and the corals aren't that fantastic -- some are dead! from there, we went to sabang for lunch, and i had a weird pasta dish. mountain and beach! this is the life.
we returned to mengie's and were picked up by a 3pm banca. before long, we were returning to our places in the galaxy. i would've enjoyed it more if i wasn't sick.
photo credits: thaddeus reantaso