i just endured a challenging four-hour mountain bike ride through some really rough trails around sta. rosa. it began as an invitation last saturday to a party in lipa. i assumed we'd go home that same night or maybe early the following day, so all i took with me was a toothbrush and my jacket. but these AMCI types aren't interested in short overnighters. i should've been prepared for the unforeseen. so i got dragged to a party of old-timers in an airbase in batangas, and malvin promptly assumed that i was now "inner circle". from there, we moved to parañaque just so we could say goodbye to ellen who's moving her pretty face to that place down under. then mardel drove me, kuya mar, roland, and don to sta. rosa at 3 in the morning, then drove maida back to quezon city and still promised to be up by 6am for the trip back to laguna so he can join the ride. good luck. he didn't wake up of course, so we had a situation: a few extra bikes. i was just too ready to pass up on the opportunity, but they lent me everything, including a pair of shorts, J Lo sunglasses courtesy of don, and a helmet. now i don't know jack about gears and grannies, and the physics behind bikes and what works uphill and downhill so you can imagine what kind of punishment was imposed on me that sunday morning. there was one stretch where the road was savage: unpaved and untame. my whole body was shaking even when we reached concrete! and since my seat was too high, it kept punching my butt! painful activity, i tell you. we even had to pass through narrow trails inside a pineapple plantation. there were nasty and steep drops there, not to mention a few uphill battles. i have to confess that i had to push the bike up on one of them (what on earth is a granny?) because i didn't know how the gears worked.
nevertheless, i was able to keep pace with guys who practically do this on a weekly basis and who own bikes that are more expensive than my iBook. goodness. some of these things are worth a decent 2nd hand car! i guess my cosmic cycling classes paid off. but when was the last time i had gym? ages ago! well, that same sunday, i got to see "the exorcism of emily rose". not as scary as i initially thought, but the priest mentioned a few things which sort of reminded me of the things my father used to say. and to think i've witnessed a casting out (my dad would rather prefer this over exorcism) myself. it's really something that can shake the foundations.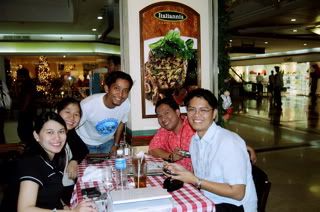 so earlier today, i got to see pitsanu pratoomthong of thailand for lunch. other SIF people were there, and i was just so pleasantly surprised to see tasha and quennie both on the family way. after lunch, i took pitsa out for coffee and we both saw "ang pagdadalaga ni maximo oliveros". i translated for him. i'm liking these independent filmmakers and their independent cinematic thought. and the warm response "maximo" is getting is a good sign of a maturing audience. pitsa is here on a holiday of sorts and is staying with a host family. he's seen more SEA games than i have. i ribbed him about what thaksin said on the fairness of the games, and he sort of disagrees with his PM. we were supposed to watch the closing ceremonies. but a mammoth traffic jam prevented us from approaching luneta grandstand so we settled with looking at the fireworks from the jetty terminal at the CCP.