location: the smoking area of figaro inside robinson's galleria's east wing, where wi-fi is available, and most importantly, free. plans: to see "beautiful boxer". after seeing "shutter" yesterday, i figured i should go see another thai movie. of course i also went shopping. earlier today, during my lunch break, i went out and bought myself a new wallet. i would've wanted someone to buy me a new one as a gift for christmas but i can't be walletless longer than is bearable. financial state: around P5,000 poorer. the cost of the new wallet and the money i lost (not counting the value of the wallet itself).
nevertheless, despite the less-than-ideal circumstances which happened to me, i was not surprisingly perky these past few days (although i was sluggish last sunday), in tune with the slew of christmas parties that accosted me one after the other. first was the ykamo christmas party in synder, malate. with a borrowed P500 bill (i lost all my money including my ATM, remember?), i went to manila wanting to forget about what just happened. it was fun, and we had lots to drink and many songs to croon and belt. we got home very early: 5:30 in the morning. the following day.
so on saturday, since may and i didn't make the cut for AXN's amazing mall challenge, i had nothing better to do but play badminton. although libis is so far away, i went anyway and had a few games. after the game, we were supposed to have the AMCI bads christmas party, but i wasn't quite in the mood to party that night, well, at least with someone who'd be there. instead, i went over to johnbee's for dinner and more magic sing. it sort of gets to you, when people who are trying to be funny somehow cross the line or strike a chord and they become extremely annoying. so i was annoyed. and the annoyance continued till monday night when i played again.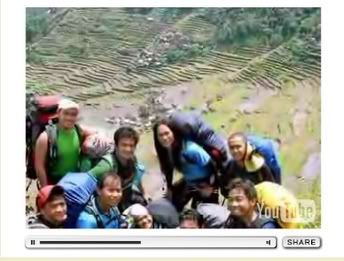 so just now i finally i got to see borj's prezo (there's a new word for yah!) which is posted on his
blog
. he did a pretty good job (and that's a bit of an understatement right there) collating the pictures for a really wicked slideshow (and to call it a slideshow is like downgrading its value). now many of the pictures (probably more than 60%) in it are from my camera, most of which were taken by me (of course, i also have pictures taken with my camera, which only means i either used a tripod or asked someone to take it). now i regret deleting my solo shots when i gave him my pictures! darn. not that he would post my solo shots to begin with... don't attempt to watch the video though, if you're running on anything less than DSL. it'll be a huge challenge waiting for the file (which is more than 30MB, so i'm told) to download, but watching it will inspire you to take up mountaineering. 2k6's BMC is only a few months away. again borj, great job! (although, if you're reading this, i have to tell you that you inadvertently inserted a photo of mt. matutum in the mt. apo portion -- matutum was just our sidetrip, and not part of the BMC, hehehe. but i may have been the only one who noticed that.)