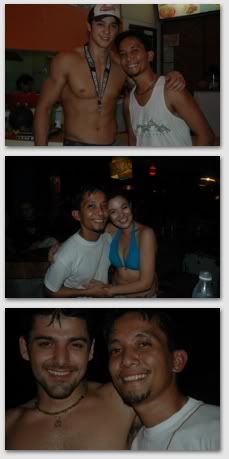 if the manner in which i welcomed this year were to be an indication of how the next 365 days would unfold, then it might be defined by a few adjectives: bacchanalian, dionysian, and hedonist. the orgiastic rites i so willingly threw myself into at the island of debauchery called boracay are going to be very well-remembered. it is, by far, the wildest new year's party i have ever been in, and sort of gives some sense to why some would call it revelry.
a few days before new year's eve, i left for the island of panay with a few AMCI folks. we were on our way to roxas city in panay to celebrate with chris on his birthday. the trip was tedious. we left manila at 10pm, and had to divide our time between a van and the most decrepit vessels in the archipelago. nevertheless, the adventurous in us prevailed and we made the best out of a situation. on the transfer from mindoro to caticlan, we cornered the ship's videoke for a few good hours. just after lunch, our ship passed the island of boracay, its western face gleaming like a thin white strip. we will not deny that we entertained the idea of not proceeding to roxas city. getting there was another chore. we had to take two vans, first to kalibo, then on to roxas. it promised to be a seafood party (roxas is after all touted as the country's seafood capital). chris had a few sacks of talaba available, and on top of that, served an array of delicacies, ranging from duck to prawn to lechon. and of course, beer and purified water was flowing freely. burp!
the following day we left for caticlan. we were joined by oltz, AMCI 2k3, and two of roy's assistants. on our way to the island, there was some discussion whether we'd be staying at rogue, which means rascal or scoundrel, or rouge, which means red. turned out that we had reservations for roque's. first on the agenda was to await the sunset, accompanied by fundador. come dinner time, marga arrived and suggested we dine somewhere upscale. and she chose true food which served indian cuisine at ostentatious prices. even joseph thought it was far too pricey, but kuya mar would not have dinner anywhere else. so i finally got the chance to squat on one of its many pillows, having things like tandoori. we were the only locals eating there, so i noticed.
for some after-dinner delights, we found seats at bom-bom bar, while the rest of us found company. two canadian girls decided to join us. one of them was nadine, a particularly burly young woman who was so visibly drunk, she had smarting red blotches all over her body. other than being far from sober, nadine, who looks a little like sandra bullock, is also a rugby player from halifax. her beautiful friend caitlin, was so much more lucid than her the entire time. i don't know what else took place that evening, as i fancied myself watching folks who played with fire. i also was on the lookout for some very beautiful people: celebrities and other artistahins. i was not disappointed.
the following day we were scheduled for a boat ride around boracay on a paraw. it's actually an outrigger canoe with a sail. on one of the rigs, a mesh is fixed. it is perhaps one of the most relaxing ways to travel around boracay, since you're spared the noise and the smell of a motor. but a paraw's speed is not one to be belittled. we sliced through boracay's blue waters as the timon maneuvered the vessel with great skill. i worried for a moment that we'd clash with one of the jetskis the paraw deposited us at puka-bora beach, a small cove past diniwid, bordered at both ends by huge jagged rocks. there was hardly any improvement on the beach, but that might change soon. a green flag belonging to shangri-la stood there. construction of boracay shangri-la is already underway, and i remember that locals have protested the construction of the hotel in pristine boracay. but pristine it is no longer, and the uproar is belated, to say the least.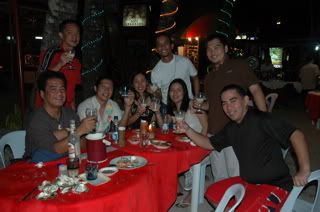 after the paraw, we readied ourselves for the new year's eve celebration. we decided to have a budget buffet at a nearby hotel where mardel and joseph polished their talaba collecting skills, outsmarting their korean and chinese competitors. some of the chinese visitors were particularly irritating, and one of them nearly blew off his hand with a kwitis. as midnight drew closer, we found ourselves at summer place, where chock had invited us and promised to drown us in alcohol. many minutes before midnight, we dragged seats to the beach and watched the fantastic display of fireworks which momentarily lit the boracay night sky in many colors. the explosions of multi-colored light came mostly from far beyond station 1, where the upscale resorts are found. and the display lasted many many minutes, long after the entire island screamed "happy new year!" it may not have been pyrolympics caliber, but it certainly matched the annual ayala fireworks display.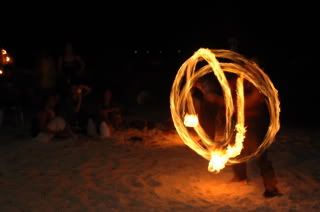 after the fireworks, there was a short period of dullness. it drizzled a little, and i entertained the idea of turning in early. but all that changed when i all of a sudden found myself inside summer place, with a bottle of beer on my hand, and with 4 young girls dancing a choreographed number of the pussycat dolls' "don't cha." i had a photo taken with them and in the process ripped my pants. they're not called party starters for nothing, and the party promptly blazed. drunk young australians clambered on top the bar and gyrated their nubile bodies to the loud dance music which came from an unseen source. i don't know what else took place but from out of nowhere, we found ourselves sharing a table with a big group of girls from citibank. by this time, i was already aware that the small gash on my pants was getting bigger each time i danced and moved my legs, but i didn't much care. no one except the AMCI people knew who i was, and people were too concerned with getting drunk that the hole went by unnoticed.
marga, after 2 glasses of rhum coke, became so amazingly plastered. she was adamant that i get the contact numbers of the citibank girls because she wanted to keep in touch with them. don had to bring her home onboard a pedicab. whereas i decided to stay and party some more. although i ordered no further drinks, they just sort of kept coming, courtesy of chock who would not allow a minute to pass without us nursing a bottle. he even gave me a glass of red bull vodka, which kept me very awake despite the alcohol streaming through my system. the citibank girls also introduced us to beer with extra joss. it makes the bitter gulps a tinge sweeter.
so i danced and made toasts to the new year and took pictures and only finally decided to retire when the darkness was being replaced by a hint of sunrise. there was an unmistakable blue cast over the island when we took kuya mar home. even as i was falling asleep, i wondered whether all those people who got my number and email address would bother to keep in touch if only to get their pictures. the following morning, i reviewed my camera and found that i had taken more than 600 shots that night, many of them of strangers who i will probably not see again. but memorialized in those images are genuine fun and cheer shared by people. strangers we were to each other, but in that fleeting moment of dizzying alcoholic spells, we were friends and kindred souls.
finally, it was time to get back to reality. we hurried back to the mainland and took our 3pm RORO back to mindoro. it was an interminably long voyage, on a smaller vessel without karaoke. the minute we docked at roxas, it was turning worse. the enterprising drivers defied physics by fitting 18 adults inside a van. the other group consisted of musicians, so space had to be shared with guitars and keyboards. it was unfortunately a bad way to end a great weekend escapade. so i'm not recommending you get RODATSCO the next time you go on a budget boracay trip, but i will recommend you spend new year's eve there. there is some value to boracay. but then again, i'm not such a party animal myself.