last thursday i tried to run a few rounds at the academic oval in preparation for my 8km qualifying run on tuesday. i know 8kms doesn't sound too intimidating considering what i've accomplished in the past, but you're only as good as your last run, and if my last run were to be any indication of how well i'd be running come tuesday, then the prospects are bad. actually, it was gear failure more than anything else. but i'm concerned since i haven't had a decent run in a long time.
having said that, i received snail mail the other day from the organizers of the world's longest buffet. they sort of thanked me for being a good client, etc., and in the letter was inserted a GC to shanghai bistro for 500 big ones. i decided to take kuya mar out for dinner friday, and kuya mar insisted that i tell everyone i took him out for a treat. later though, he retracted and said he just ordered soup. anyway, between the two of us, we still raked in close to P800. from shanghai bistro, we proceeded to digi café, and started early at around 9pm. i had a few bottles too many because i ended up not getting ready for a 9am assembly for a manabo climb. kaye insisted that i join her on this birthday climb with her beau because she was running out of english. funny thing is the one who organized the climb ended up not being able to go because the same beau is apparently sick. i thought a lot about not going, but the rest of the guys were counting on me and my gear, and i really hate people who have no commitment, so i went anyway. i've been to manabo before so i decided to just catch up. but rains got in the way, and traffic snarls down south and in laguna and batangas conspired to delay me. i ended up starting my trek at past 6.30pm. alone.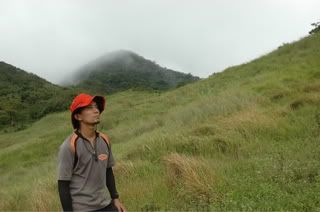 i know it should've been a scary ordeal, walking in the pitch black darkness of a dripping forest heavy with the unknown sounds of animals and other unseen things, but i tried not to think of anything that might strike fear in my heart. although during the few pauses i took, i wondered whether my heart drummed to a hasty beat because i was hiking too fast, or because i was freaking out. if it were the latter, then i must've been in denial, because i walked on, trusting a hazy memory of the trail that would lead me to the campsite. at one point, i heard a persistent noise in the thicket, as of a beast thrashing about, and snorting wildly, caught perhaps in a trap or in the branches. i imagined it might have been a horse, or a wild boar, or worse, something that folklore might explain. i unlatched my headlamp's wide angle lens and found a busted pipe, with water gushing forth and hitting nearby bushes. this realization didn't calm my heart, even as i reached the cross in the summit in just over an hour.
finding the campsite wasn't necessarily easy since manabo attracts a fairly large amount of mountaineers with their school bags and bobcats and canned goods and instant noodles. then from out of the blue (or the black, actually), someone called out my name. they'd been waiting for hours for my stove, since what they took with them couldn't even bring the sinigang to a boil. while they cooked dinner i pitched my tent. it would be my second time in two weekends to sleep alone in my capacious tent. i'm liking it.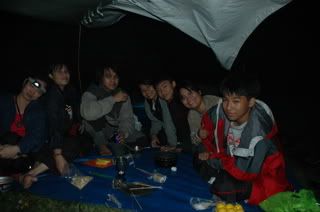 anyway, after dinner, i was tasked to prepare the chocolate fondue. we shared it with our rowdy neighbors. found an airport contact there who offered his connections should i have any future travels or friends and relations coming or leaving the country. as we were about to finish dinner, someone from the other campsite came along and told us a mountaineer priest was present and that he would be offering mass at 6.30am. now there's something you don't hear everyday.
the summit looked awful, actually, occupied as it was by all these ugly tents, and a host of irresponsible people who are either totally bereft of common sense or have no notion at all of basic mountaineering ideals. there was a full moon recently, and earth's satellite shone brightly with its borrowed light, raining a subdued moonshine on the summit. the lights or nearby lipa glittered in the background. but this didn't help to make the summit prettier. even when i decided to turn in, i had this nagging feeling that the folks who had just arrived were walking around just outside my tent, rummaging through my things, or trying to filch my stuff. i must've been really paranoid, but i swear i could hear voices of people talking from many paces away as though they were right outside my tent. i kept unzipping my doors to see if they were there. a nearby tent was even playing loud music at 2am using cheap speakers with a broken bass. i mean, i don't care much for his awful musical preference, but he shouldn't subject me to anything less than an altec lansing! and it's not even an iPod, for crying out loud!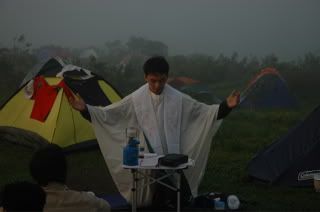 anyway, i only got to sleep continuously at around 3. woke up with a start at 6.30, and when i peeked out of my tent, fr carlo was just getting ready. he was garbed in his priestly attire, arranging his bible and chalice on an aluminum table. now i'm not catholic (check previous entry), but i've attended a mass in the past (once in ilocano, a few times when i was made ninong or attended a wedding, and another time when i was a boy scout), but a mass on a mountain is definitely a first for me. fr carlo introduced himself as a newly-ordained priest from don bosco. he talked about children, this being the feast of the Christ child. fr carlo can certainly work on his confidence and his ability to deliver powerful homilies (i'll forgive him because it was his first), but i cannot help but admire his dedication to the faith and to his love for nature. it was very selfless of him to actually decide to climb and at the same time reach out to people who, by climbing, may have missed out on their religious responsibilities. i'm not exactly very religious, but i'm very spiritual -- i'd like to think -- but finding a man willing to share his calling to many is indeed as rare as finding a fresh and clean water source near manabo's summit.
after the mass, we went about preparing breakfast and prepared our descent to lipa. i was lead pack this time. my bag tilted to the right a little, but it didn't interfere with my balance as i dealt with the muddy trail. we caught up with people who left about 30 minutes ahead of us. some of these guys wore slippers, and there's a pun there because they kept slipping and walked ever-so-slowly. at the bukohan, i had a coconut and got myself a new pet: an icky-looking iguana. i think it's probably illegal, but i'm not in the DENR for nothing! i'm not sure if this pet's going to last me more than a month, and already, my mom is very scared of it. but i've always wanted a reptile! nothing freudian there i should hope.
so there's my weekend. it's the middle of the month. in 15 days, some things are going to change.