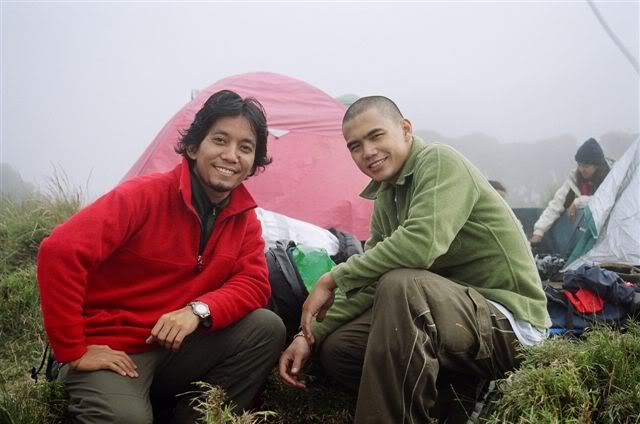 in the last 5 minutes, i have deleted at least 5 sentences. i honestly don't know how to start this entry, as it forces me to come to terms with a subject which i have difficulty dealing with. death is not something i can speak about with ease, and i often pretend that it is something that isn't inevitable -- that no one i love will die, that i will live forever. but this week has been a rude awakening as it has allowed me to come to grips with my mortality.

the other day, just after valentine's, francis, an AMCI batchmate, informed me that his wife has joined our creator. i was of course shocked. i'd just played badminton with francis that previous saturday and monday, and he didn't seem to be gripped by any gnawing concern. and when you receive news like that, the whirlwind of emotions locks you in a most awkward situation. i really don't know if there is anything appropriate or right to say. what do you say to comfort anyone who has suffered a loss of that magnitude?

then just last night, while i was having a nice late evening dinner at the breezy skyline of vivere suites in alabang with some AMCI folk, i received devastating news: a friend of mine passed away. cliff brian constantino was stabbed in the neck along commonwealth avenue on his way home from work. i was very shocked to hear it. i have had the privilege of cliff's friendship only for less than 2 years -- we were introduced when we joined a climb to pulag with people from miriam college. i'd known of him previously, having seen him in UP and at fitness first where he was an instructor of sorts. he's a very nice young fellow who spoke really good english, and who'd regularly send spoony SMS about the future and friends and family. he's been wanting to climb a mountain again, and we'd once talked at length when we took the same bus home. it happened just this week, and the details are not very clear. there are no witnesses, and the security guards stationed at the foot of the MMDA footbridge near st. peter's parish have offered little help to solve the case. only last tuesday, the dulnuan brothers informed me to take extra caution when going home late precisely because of what happened in commonwealth, and i had no idea that the person who was stabbed was actually someone i knew.

i went to visit cliff early this morning. i was shaking a little, still bothered by the tragic circumstances that resulted in his death. i didn't want to view his remains. attending funerals is not something i like to do, and i would rather keep a happy, living memory of someone i know. i remember telling cliff when he had no hair that he looked like jay-r. he had since grown his hair back. i winced when i glimpsed at his body. he appeared gaunt but bloated at the same time. i was unsure, and i didn't want to keep that last vision of him. i prefer to see him as he looks in this picture we had at the grassland campsite.

2 wakes in 2 days. that can be a lot exhausting. i am amazed by the strength and courage that francis has shown. that debbey -- cliff's sister -- has shown. i would've been a total wreck. somehow, i have this idea that those i love are not going to die. that i wouldn't have to deal with anyone passing on to eternity. but i am not immortal. i will not live forever.