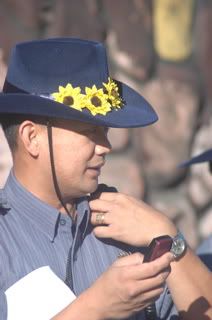 my reasons for returning to baguio so soon after my last visit were purely singular: to photograph the panagbenga flower festival. i've always wanted to shoot fiestas and festivals, and other than the pahiyas, the panagbenga remains to be one my backlogs. so after several years of failing, i finally got the chance to see the flower floats when i booked myself a trip to baguio on this last weekend of february. but the best-laid plans have a way of going awry, and instead of splurging on a shootfest, my weekend turned into a gastronomic nightmare, possibly at least 10,000 calories.
together with other kaladkarins from AMCI, i left manila at midnight of friday. we reached baguio unceremoniously before 6am, and had little time to prepare for the 8am parade. we expected a lot of people. and our expectations were sufficiently met. nevertheless, we occupied a space just between upper session road and session road, directly in front of the giant fake pine tree which has seen better days, and just below SM baguio.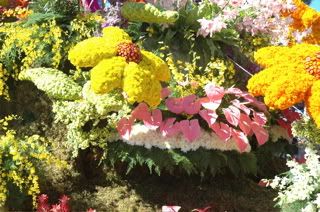 the parade started slowly, and the floats and dancers trickled one by one, and after 2 hours of exposure under the sun, we were quickly getting listless. there were very impressive floats, actually, particularly the ones by SMART and chow king and jollibee, but everything else seemed to be pointless canvases, thoughtlessly pasted with dried and cut flower petals. some had no themes, looked purposeless, and hurried. this definitely was not the rose parade.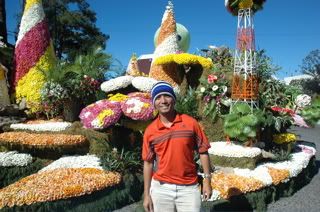 but i'm getting ahead of myself. my disappointment really came from the fact that i had very little freedom of movement. i was transfixed in one spot, and couldn't go near any of the floats to actually take good pictures. if i left my spot, i'd be certain some other tourist would take my place. and i should've taken my old press ID with me so at least i could go inside the picket line. darn.
there were also a few marching bands, some dance groups dominated mostly by tired and jaded transvestites, and the usual things you see in most fiestas. anyway, when the floats disappeared and hordes of bikers on scooters arrived, we decided it was time to maybe find shade. the weather in baguio is cool and i cannot complain, but exposing yourself longer than is necessary to this deceptive sun could be potentially dangerous to the skin. so what we did was proceed to SM. i swore off the mall in protest to its destroying the baguio skyline -- not that i have any strong anti-over-development issues about baguio (too late for that), but then we were left with little choice.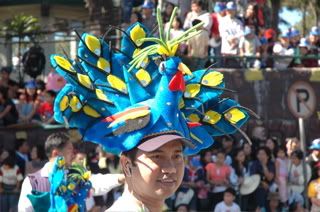 so we threw away our diets starting with a visit to gerry's grill. it was a long, sumptuous lunch, and surprisingly, the view from the 4th floor of the mall is nice. i don't know if that added to our appetites but i appeared to be really hungry. it was rather unusual, but i actually had 3 beers. in the afternoon, we decided to go back to the DENR cottage and slept for about 2 hours. when we woke up, it was just about time for dinner. so we headed to o'mai khan. i could scarcely remember doing anything substantial between dinnertime and lunch. but somehow, it seemed like a good idea to sample the mongolian barbecue. i've been to o'mai khan several times already but not once did i try its buffet.
and so i had 3 bowls. on the last one, i was interested in regurgitating everything i had ingested. i just could not take one more spoonful. i had experimented in all 3 of them, mixing leaves with meat and fruits and other vegetables and sauces and things. i had no idea whether the flavors and tastes would go well together or if they'd fight one another, but what the heck. since my arrival in baguio, it seemed like a doomed diet. my gut was getting more profound. it was a culinary adventure! i brushed aside the consequences and kept repeating that calories don't count when you do a lot of exercise.
from o'mai khan, we wanted to sample café by the ruins. but we found out it closes at 9pm. so may told us we could go to kaffeeklatsch, a place she said was near guimbal's. we boarded a cab, and she gave confused instructions, and we realized that guimbal's no longer exists, and that kaffeeklatsch (noun, literally, coffe + gossip. also, an informal gathering) was a 3 minute walk from where we took the cab.
at kaffeeklatsch (if i say that one more time, i'd probably misspell it), we stayed at the loft with the really low ceiling. we had to bend down when we weren't sitting on the beanies, listening to baguio acoustic artists. i had a hot choco (because the beer was expensive), and the girls as well as joseph had really sinful cake. 6,000 calories right there! i was supposed to sing (against my will, really), but my usual repertoire of ballads wasn't in the playlist. thank goodness for that!
returning to the cottage, we still had a few beers, strawberries, grapes, and stories to share. we were about to scare each other, but decided against it because the place already looked sufficiently spooky. we turned in at past 3am, with most of the lights on. someone called me up at past 5am asking about the pasig marathon. i almost threw away my phone. the ringtone startled me, and i actually said "leche" for the first time after the call. it was a girl who knew me but her number wasn't registered in my phone.
although we were told that another parade was going to happen on that sunday, we were too lazy to peel ourselves out of our beds so early in the morning. yes, the parade promised to be bigger than the one we witnessed the previous day, but another few hours getting exposed to the sun wasn't in our itinerary. although if i were by my lonesome, i would've gone, actually.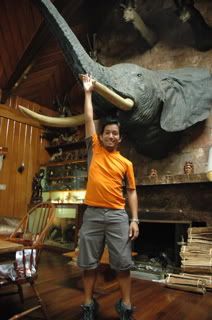 so we had late breakfast at the cottage. mostly bread and coffee we'd purchased the day before. and some fruits. for the rest of the morning, we bought some silver, looked at the stuffed animals at safari lodge, and decided to visit tam-awan village. it's supposed to be an artist's haven. there were ambulant artists there who would do your sketch for a small donation. and there were century-old indigenous homes from all over the cordillera there as well. some local artists also exhibited their paintings. i was mildly impressed, but decided against having my sketch done since my brother can do better.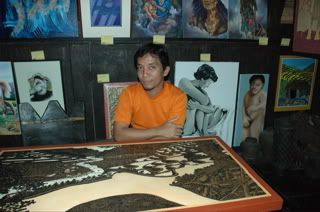 from there, we proceeded to have lunch at solibao in burnham park. again may was a little confused about its location. nevertheless, when we got there, we waited for a table, then wolfed down a platter of grilled goodies. after a hearty lunch, we were quickly on the lookout for dessert. first we passed by the ukay-ukay at session road. joseph covered his nose while he was there. there were a few nice jackets on sale, but at outrageous prices, considering they probably got these at a bargain per kilo. anyway, since dessert was on the agenda, we proceeded to don hen. i had tiramisu. neri had 2 blocks of fudge brownies with a scoop of ice cream. add another 5,000 calories to the kitty.
after dessert, we proceeded to the market, and for the first time, i actually bought a set of brooms. how very predictably domestic! i also got a few jars of jams and preserves, and a basket of strawberries. more than half of it is no good anymore. we returned to the cottage, took our things, deposited our bags at victory liner, and had a budget dinner at 456 along session road. it was my first meal that didn't cost over P150. haha. but i still had 2 beers which was enough to get me through my 5 hour trip back home with very few hitches. i was still wondering whether the situation in manila was of such a magnitude as to warrant concern, or at least, to entertain a distant thought that there'd be no work. i slept through the trip without dreaming.