now this is funny... i just deleted the entry that i was writing, and the frustration is such that i cannot quite get myself to rewriting the five paragraphs that i had just written earlier. anyway, it was just a prelude to some far more interesting things. but since i'm posting the entry anyway, here are some highlights of my introduction, without going through the verbose details:
left for capas at 12mn after having to wait for the late arrivals of some people who arrived late. it confounds me to a point that i am almost irritated, how some of these mountaineers don't know where victory liner cubao actually is, and why they confuse it with the kamias station. worse is that some of them have actually been to that station before.
alexis was made TL as some sort of a joke that evolved into a dare, the idea being that with him in the lead pack, OT-ing would be disallowed. imagine everyone trekking for upwards of 24 hours.
we started our trek at first light of day, while some isuzu alterras and d-max's were cruising past us, wondering perhaps why we'd opted to walk, when we can ride.
we refused to abide by the 5 mins every 1 hour rule, and we broke our trek as often as we wanted, with the consent of the TL, of course.
the serene, calm, and mysteriously scary waters of the crater lake were cool, almost chilling, in fact, despite the searing heat of the sun.
for dinner, the two groups began comparing meal plans. ver's group noticed that we were preparing anchovies and tomatoes -- something which sir manny himself requested -- and made snide remarks about our poverty. i retorted by saying that we only had atsara for dinner, and lechon kawali as a dip. while all these were going on, we were trading saliva on the only shot glass available. i could barely tell the difference between gilbey's and ginebra premium, and i'm only too thankful that i was still able to cook despite marrying two different gins in my system. while the other team threw potshots at our menu, they were in a bind: they'd run out of fuel. of course i pounced on this opportunity, and emphasized that food is always better cooked and hot. imagine eating uncooked pasta or button mushrooms straight from the can!
now it isn't my habit to draw attention from everyone, but my impassioned, if not histrionic, retelling of the pulag stories had everyone hooked. this is not to say of course that i embellished anything, or fabricated incidents. it was, quite frankly, a very accurate and historical narration of what actually took place, and i let my listeners draw their own conclusions. which is not to say that i did not influence their opinions.
that same evening, we also were outspoken witnesses to something rather out of the ordinary. i began by playing DJ, playing music requests on my revivified iPod powered by my altec lansings. and one of the songs i played was the answer to the question: "why is roland in pinatubo?" then guy sebastian's "angels brought me here". roland initially didn't want to go, but of course, it was his prerogative to change his mind. i don't know if he heard my observation, but his arm was over angel's shoulder most of the time, and he gripped the latter's right deltoid with a lot of force, much like the way you hold a person you're preventing to get into a fistfight, or from jumping off a building. it was that tight! anyway, the rest of the evening's happenings (like the 8 minute rap of ray, a guest) were lost on me since i passed out on one of the groundsheets. woke up many minutes later to retire to my tent. was supposed to share it with jenny and george, but george was nowhere to be found. i actually slept soundly that night, and it was surprisingly cool. i could hear the wind blowing intensely outside.
the following morning, i learned that george slept outside, under the platform. he said he'd struggled with the cold. pinatubo is usually associated with devastating heat, but that night, we were assaulted by terrible winds. and so it was that we had to prepare breakfast, which consisted of chicken tocino, a cheese and tuna omelet, and coffee. that morning, roland was unusually busy at the kitchen. it was at this instance that beng's now famous "you look satisfied, i should know i'm a woman" remark took on fire. suddenly, everyone seemed satisfied. and everyone seemed to know why.
just before we started our trek, we spent a long time taking snapshots of everyone at the lookout. while we were doing our badminton poses, some Koreans who claimed to be from the same network which brought us "my name is kim sam soon" started filming us. then they asked us to do some poses and i even gave a short interview. in hindsight, i think what i said was pretty stupid.
we started our trek back at around 10.30am. sir manny and a few others already started walking to tarukan even before 10, obviously in a hurry to get home. the trek back was long and bordering on boredom. although pinatubo possess a bizarre, almost otherworldly character, the gray highway can get tiring at times. at some points you walk through narrow channels, but for the most part, you find your boots sinking into the sand of a plain, featureless terrain decked between two smooth faces, at least 100 feet apart. but also, it is a time to marvel at the architect of disaster -- how a catastrophe over a decade ago has produced something as marvelous as this. although the sun was pelting down on us without mercy, the wind kept us company, and it was actually rather cool, with strong columns of air hitting the ground, sending up pillars of ash and sand.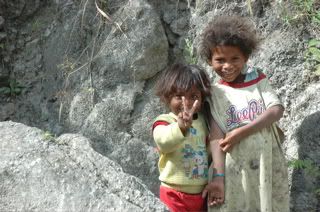 before 3pm, we reached the jump-off. a stream appeared from nowhere, or probably moved from its previous location. and this is one of pinatubo's distinct characteristics: that it changes its landscape as often as the seasons do. after waiting for the last few partners to arrive (angie was sticking out), we returned to sta. juliana, cleaned up, and had dinner in capas before taking separate buses to manila.

my ears were still bleeding from the sensory overload that was the pinatubo climb. i'm thankful for friends with strong legs and itchy feet.