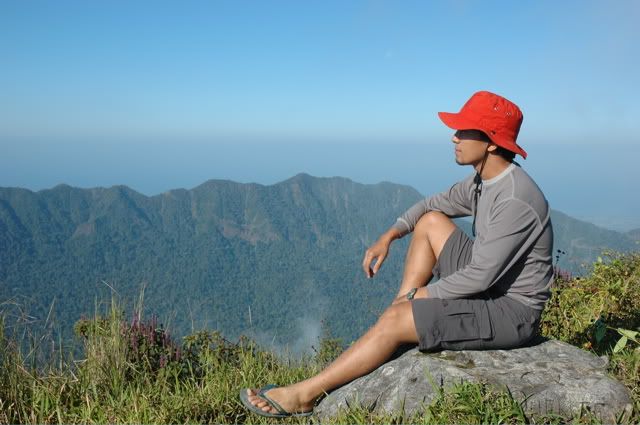 it may not seem like too long ago, but i have not been to a new mountain since january of this year. and for someone who is very serious about mountaineering, a full month can be enough to make you itch a lot. it's like an allergy whose relief lies not in climbing alone, but in discovering a new destination. so when bojo sent out an invite to climb mt. natib in orani, bataan, i was the first to say count me in.
at past 5am of saturday, i lugged a pack which tilted a little to the left and a bag of groceries to the five star bus station in cubao. the rest of the crew was already there, and we waited a while for the 6am trip to bataan. with just 6 of us climbing what bojo describes as his favorite mountain, i was a little worried about a few things: that we might not have enough water, and that we were bringing too much food. my fears, it turned out later that day, weren't necessary, as we had more than enough water to actually take baths, and only enough food so that no one would crave more, leaving behind only the shiest of the shy pieces.
more than 2 hours later, we stopped at a non-descript highway somewhere in bataan. a pair of tricycles took us to the public market for what perhaps was that day's only jeepney traveling to the lonely barangay of tala. climbers who fashion themselves as the samsung explorers shared the conveyance with us. the road to tala is rough and unpaved at parts, and runs across a few foul-smelling pigpens and an open dumpsite. after a brief stop at the military checkpoint, we were deposited at the jump-off point. once upon a time, military trucks plied this route to as far as the cogon covered flat called the battlefield.
as we were walking under the unbearable heat of the sun, bojo was rather generous with his anecdotes of how the trail looked like on his first visit there. he's been there many countless times, he says, and the trail has transformed. after the last house, the trail narrows when wild plants begin to crowd to the center. the twin tracks of the military 6x6's are no longer visible. meanwhile, despite the atrocious heat, trees provided some much-needed shade, a luxury which used to be absent many years ago.
we reached pinagbutasan in a little under an hour. so-called, i am told, because a small passage, possibly for the cows to pass through, was made on an artificial wall of rock. from here, the summit of natib is already visible, thick with all things green. there are other mountain ranges in the distance, almost imperceptible under that punishing glare. and yet, in spite of the heat, i was nowhere near suffering from any heat-related injuries. after another half hour, we reached mang gorio's house for lunch. this is also the last water source, which is carried by a series of halved bamboo shoots from the waterfalls about an hour away. from here, the summit was still approximately 2 or 3 hours away. we caught up with some folks from USTMC, who said they'd been taking their sweet time under the shade since 10am.
from mang gorio's place, we continued with the hike. the trail has been very kind since we started, gradually rising and falling. a steady and sometimes really cool wind had been keeping us company. of course all this pampering ended when we reached the battlefield. ironically, there is no battle being fought in this mighty, open field, since the war begins immediately after you leave it, and start on the punishing, unforgiving ascent. a brief break for a sugar rush was all that we had when finally, we started our climb.
the slopes of natib were very dry at that time, but i could imagine it might look and feel a little like makiling during the rainy season, due to the presence of the pesky limatik, and the need to actually kneel and go down on all fours. it is really hard if you have an awkwardly large bag which increases the chances of you getting caught in this branch or that thorn. i must admit that each time i stood up from having to crawl my way through some low-lying foliage, i'd be woozy and dizzy. although this happened only a handful of times, i felt completely spent. and again that lurking doubt appears. i kept thinking i won't make the summit.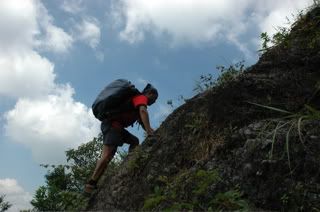 suddenly, a winding spine of jagged white rocks appeared, and this bojo said signaled the end of crawling. from hereon forward, it meant rock climbing, but it also meant we'd still be using all of our limbs. the last push towards the summit was particularly puzzling. i caught a glimpse of bojo standing there, nearly motionless for a long time, trying to figure out an ancient mystery. he was actually trying to look for a foothold to prop himself up the last slippery rockface. when it was my turn to stand there, i was completely clueless as to how bojo managed to get up. i knew my weight would increase the chances of slipping, and send my hurtling a few meters down to a really painful fall. and then rope was invented.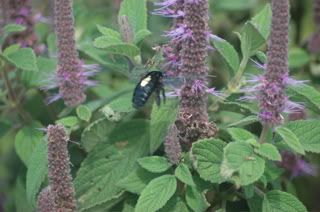 after that, i just kept slicing my way through the crowded path, and in less time than i dreaded it would be, i eventually found myself welcomed by a fading marker on the highest peak of the bataan natural park: mt. natib. and it was just before 3 o'clock. what normally took as many as 6 hours took us just 4. this isn't necessarily bad, actually, but in an exposed flat area such as natib's summit, there isn't much to do but soak in the sun.
so we all waited a few more hours before even dreaming of pitching our tents. i explored the small campsite and marveled at how we stood perfectly above everything else. there were birds flying above us, swifts, as vince correctly observed. there were even these phallic, violet flowers visited by bees. it was a nice place with an amazing view. because it was still early, we improvised a tarp to guard us against the sun and fell asleep. but we had to get up since the samsung people started trickling in before 5pm. we quickly pitched our tents and readied dinner. the sun was playing a show in the west as we steamed rice and i prepared one of my signature dishes: thai garlic pork. i also experimented on a new pasta dish: spaghetti with red pesto and grilled chicken. while the sun was setting, we treated ourselves to excellent meals, if i may say so myself. the pasta was quite a revelation, and i plan to prepare it again soon.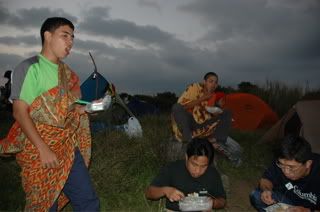 of course, when the dishes were taken cared of, we had some after-dinner delights. with my altec lansings playing a slew of songs, i opened my liter of gin. this is an extra special drink since it crossed the boring grays of pinatubo inside a sigg bottle and had yet to be consumed. i worried initially that it might not taste good anymore. but with only four of us drinking, we filled the night with many stories and jokes. before long, my speech was incongruous, and i was laughing for no particular reason. i retired to my tent while bojo and francis spoke at length about life in hushed tones. many times bojo evaded my questions by saying "relax". i wanted to eavesdrop but i fell asleep with a silly grin on my face. in the morning, i woke up really early as i heard voices outside. i was also feeling cold. regretted that i didn't have an extra pair of socks. the samsung people probably didn't sleep.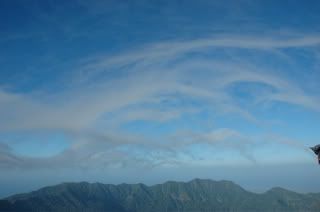 i wanted to sleep more. but i also wanted to go outside and put one over the heads of the samsung people. they were really loud. i felt they'd surrounded my tent and shouted to each other. and i had a headache too. skipping coffee, i tended again to breakfast. the meal was simpler this time, but the estimate was perfect, since not a morsel was wasted, nor was anyone left wanting. before we finished breakfast, the now-irritating samsung people were already making their way down. we broke camp long after they left, at past 9am. but at the slippery wall, we caught up with the UST guys. they were causing lots of traffic, so at the battlefield, we overtook them and caught up with the samsung people at mang gorio's place.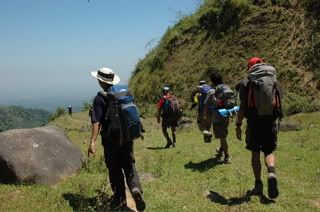 strangely, the trek back to the jump-off felt a bit longer. but we hastened our steps, and at pinagbutasan, we'd overtaken the first of the samsung people. one of them suggested to his companion: "sabayan natin sila." then after a moment, he shot down his own idea, saying: "wag na lang, baka hindi natin kayanin." when i passed them i said, "steady lang." for some reason, we were really hurrying, not bothering to stop and smell the roses. there were none of course, and we weren't running after a bus waiting somewhere, but since no one was tired (and we were presumably hungry), we just wanted to be able to bathe first.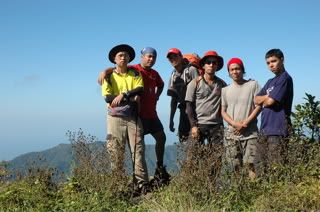 we reached the store just after 12nn. bojo prepared an excellent cabbage stew dish (finally, some veggies). there was a bit of miscommunication regarding our jeep, but an enterprising driver offered to ferry everyone to the highway. we left at around 2pm, leaving ahead of the USTMC guys, and reached manila at around 5pm. which was a big surprise. for a change, i'm back from a climb before sunset.
mt. natib is an excellent destination. it has a bit of everything. the scale of the challenges is such that even seasoned mountaineers will not tire of returning. and the rewarding view at the summit is absolutely amazing. of course we could have had a better sunset, but i am happy that i joined bojo on the mountain he climbs only on special occasions. that, in itself, is really cause for celebration.