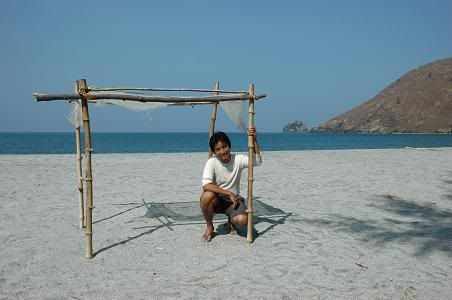 over the weekend, i tagged along with kuya mar to anawangin for AMCI batch 97's outing. we met at victory liner, and i was short of amazed by the fact that we managed to coordinate the trip without the help of cellphones. a joke has been circulating that kuya mar turned his jurassic mobile phone into a trail sign along the trail of mt. kinabalu. anyway, both of us were there long before the appointed time, but me missed the iba trip by a close shave. so we had to take connecting trips, initially to olongapo, then onwards to san antonio.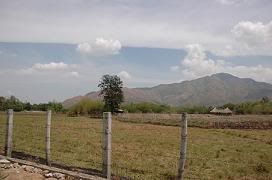 upon our arrival in the sleepy zambales town, i noticed something rather peculiar about the sky. it was as if it had been covered by an immense white sheet of paper, half of which was torn off along a nearly perfectly straight perforated line. half was a very sunny shade of blue, the rest, the color and texture of cotton.
it was over an hour after lunch when we got to pundaquit, but instead of heading straight to the beach, we opted to stay at meghan's for a snack and our fill of songs. most of the time, i was just choosing songs for kuya mar and ordering beer for him. it was so terribly hot at the time. even though we remained motionless, we were sweating very profusely. at the resort, there were badly constructed sentences along its perimeter wall, declaring that there are discounts on the occasion of meghan's father birthday, etc. her father happens to be american.
at nearly 4pm, we finally decided to leave for anawangin. the pundaquit beach was cluttered with all sorts of vessels. it appeared to be calm, unlike last time, when giant waves crashed onto the shore, carrying surfers in its froth. less than 30 minutes later, we were in anawangin, and the distorted view from the beach made me think that batch 97 had chickened out of the plans. there were a few people wading in the water, but little else was seen. turned out that the tents were pitched under the shade of the pine trees. including myself and kuya mar, there were 27 of us, 3 kids below 7 years of age thrown in.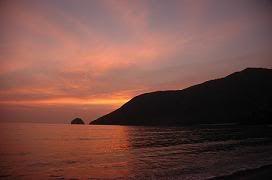 at sunset, i noticed something strange. has the earth tilted? does the sun no longer set in the east? my first time there, dindo took a pic of me with the sun right behind, sinking into the sea. now, the sun wasn't visible, covered by the slope of a small ridge, whose silhouette resembles a turtle.
i knew only about half of the people there, but i felt right at home. helped with preparing dinner, and when darkness fell, we were enjoying food fit for a small barangay. there was a lechon, many kilos of liempo and tilapia marinated in salt, eggplants and mangoes and turnip. i was so disgustingly full by evening i knew i was going to throw up. an ice chest kept several cans of sanmig light and bottles of soda cold and by 8pm, i had already shaken beer, gin, red wine and tequila in my belly. when they popped the chivas regal open, i feigned sleep so i could pass up on the rounds. kuya mar himself couldn't ingest even one shot, and purposely poured his first round onto the lechon paksiw i was preparing. i woke up to find the bottle of chivas empty, and great timing, because immediately after i was busy again, at least 3 people took turns regurgitating the sumptuous dinner that had been prepared. one of them plopped down on my hammock and vomited on himself. and on my hammock as well! haha.
i woke up the following morning when i heard the voices of kids playing right outside my tent. i wanted to drive them away as i had little sleep. it was good, actually, to be up early so i could take photographs. in the sweet morning light, i noticed the circa 1997 (i.e., old school) gear of many of the participants. since a majority of them don't climb anymore, they don't have updated and modern gear. it's something which i find both nostalgic and admirable. i would probably not have survived either halcon or apo with such heavy, awkward and humongous bags. i salute these guys from 97. they're the first to have an induction outside of Luzon -- mount apo, in fact.
during the morning, after i took a giant crap, i walked around and found that the stream had nearly dried, and that the river is now stagnant and possibly knee-deep. it looks different altogether. anawangin, to begin with, is already a lot different from all philippine beaches in general because it is inhabited by a swarm of lean pine trees. the sand is nowhere near the white beaches of boracay and bohol -- it is a pale kind of gray, like what they use to mix cement, but it isn't very hot, and is at least not jagged. the water is also quite nice, although i spent less than 10 minutes in it. and the beach goes on forever. but what i like about anawangin is that there is no development at all for the entire stretch.
at 10am, we left the beach and stayed in meghan's again for videoke and lots of lobster. these underwater mutations are absolutely delicious! it looks like a hideous experiment, but it tastes delightful! i had a lot since kuya mar feared a sudden attack of gout.
then we boarded the bus chartered by batch 97. we stopped over at the café in olongapo. they had giant tacos. kuya mar and i had ice cream and tabatacos. i was home before 7pm. i'd like to go back to anawangin again while the sun is up and the waves are down.