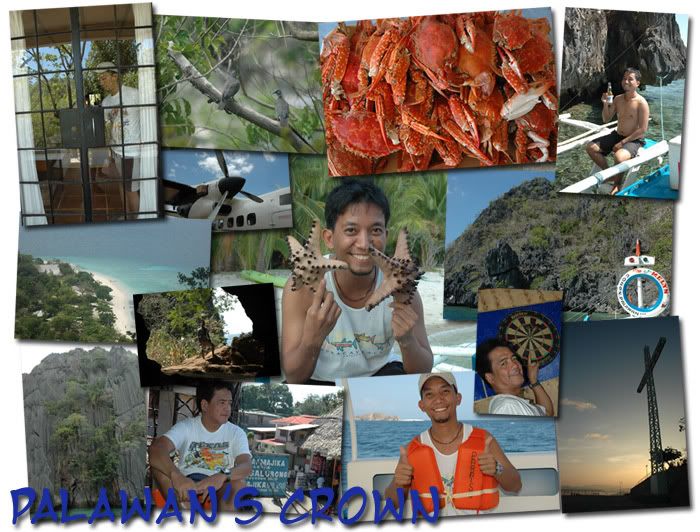 it is with some conflict that i begin this entry. after an absence of over 14 days, i feel somehow disconnected. it hints, quite simply, that i've returned from an extended vacation. and it means, also, that i am once again jolted back to reality -- a reality where i am forced to work, to endure the travel from home to the office, the burden of waking up early each morning to begin a day you wouldn't do if it weren't paid for. my 8-day hiatus might feel like a treasured eternity for some, but i felt it wasn't enough. i still feel somehow spent and needing more. how i'd like to do what an elderly man once told me when i first visited boracay: to depart from manila to sleep. my ordeal has been a total opposite. i left manila to spend many hours awake, boozed, and busy. so other than the change in scenery, there really is very little difference between being here and being away. no jason mraz, i wasn't able to just sleep all day.
in this first of two parts, i shall write about my journey to coron, in palawan. i have long dreamed of visiting the islands of northern palawan, for no particular reason really, except that it seemed like a good place to be away. the dream took shape early this year when a palawan expedition was being planned by the same guys who took me to bicol last year. the plan, however, was very abruptly abandoned when not enough people expressed interest in what turned out to be a very expensive project. in spite of that, i was still a little stubborn: adamant on pushing through with the trip. luckily, kuya mar was just as stubborn. so the two of us booked a trip via asian spirit to busuanga.
the day we were to fly to coron, kuya mar was still many leagues away from his home, impossibly inebriated, and was nowhere near his normal self. he had too many drinks at the party in JC's house. don had the foresight to suggest that i pass by for him on our way to the airport. i initially disbelieved the sequence of events, but my experiences with AMCI adventures have been a series of fortunate mishaps, so i sped off to makati, fetched kuya mar, haggled with a cab driver to pass by onex (the driver turned out to be a former dive master [PADI] who once worked in a resort in anilao; the driver is a diver!) and wait as kuya mar changed, and deliver us to the airport. in our haste, we arrived many hours before our flight. and the strangest thing was that if i hadn't bugged the asian spirit people to open the gate for the USU flight 40 minutes before its departure, we may not have managed to check in. the influx of tourists to caticlan was just driving them absolutely crazy! at 16 flights a day, who wouldn't be?
finally, we were onboard our 19-seater plane, and though the noise was drilling my ears, i was able to sleep nevertheless. when i woke, we were already descending into a green, hilly place marked by defined paths of cows. busuanga's airport is located in the middle of what probably is the biggest cattle ranch in asia. passing by herds and herds of cows, and blowing up a lot of dust, we reached coron town in under an hour. we booked accommodations in LM&P, a resort which stands on piles over the waters of coron bay, and looked for margie, another AMCI contact. there is something very interesting about this northern palawan refuge. it is called the municipality of coron, but it is on the island of busuanga, quite separate from the island of coron, an imposing chunk of limestone just across coron bay. it is said to be almost uninhabited. in the island of busuanga, the town of busuanga is quite a distance from the town of coron, which is the center of most things: it is where the superferry docks, it is where merchants are alive, and in palawan, it is supposedly the second most populated town after puerto princesa.
we found margie in her own inn, an unpretentious, basic place of lodging on real street which is called majika. no, this isn't one of those establishments that would ride on a telefantasya's fame (i.e., mulawin bakery, etc.), but is so original, it came years ahead of GMA-7. margie is surnamed palanca, hence, the truncated name. we had free lunch at majika inn, since margie would not let us pay. of course kuya mar was also stubborn, though in the end, the glib lady's stubbornness won. we promised to return the following day to check in.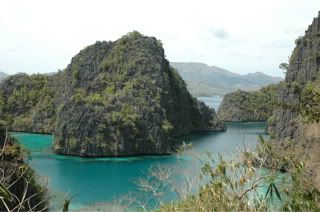 after lunch and banana shakes at seadive, we decided to visit kayangan lake. the lake is right across the bay on coron island. i arranged for an P800 ride. in a few minutes, we were ferried to the chunk of limestone in less than 15 minutes. as the banca slowed down, we entered a cove surrounded by still, aquamarine waters. there is a limestone sentinel standing guard at the entrance. in order to see the lake, one must fork P200. this is something rather nasty i discovered about palawan: each place has been turned into a source of income, under the rather convenient guise of nature protection. so up the hill kuya mar and i went. from this vantage point is perhaps the most popular shot of palawan. i wanted to cut down some branches to get an unimpeded view of the cove.
from the top, we went down, walking on red earth, and looked at kayangan lake. it is fenced by imposing walls of limestone. yes. this whole island's made of limestone. it looked like the sea, but it really was a freshwater lake. there were rickety bamboo rafts there, but i was afraid of not being able to return. so i satisfied myself by soaking in the view. at about this time, kuya mar said he needed to answer a major call of nature. so he maneuvered himself over some big rocks, some distance from the lakeside. when he had finished, he popped out from behind the rocks, and as he balanced himself, he showed his right hand. his fingers were covered by a thick, brown material. i began laughing uncontrollably. when finally he'd pulled himself out, his feet, up past his ankles, were also soaked in the same brown material. i wondered whether he'd expelled that much. he explained he'd slipped and fell into the mud. he washed himself at the lake and we left. we dropped by barracuda lake on the same island and i dipped at a nearby beach where i left behind my body glove flip flops. i walked from the pier to the market barefoot, and got myself a pair of nikons. 50 pesos.
for the rest of the afternoon, we'd decided to sleep. between kuya mar and i, we had just about 3 hours of sleep since the previous day. i promised to be up in time for the sunset. and at exactly 6.22, i woke up with a start. i peered out the window, and a most magnificent show was happening. the sun had set, and it painted the sky the colors of blue, violet, and orange. i ran out, mindlessly shot one picture and rushed back into the room to get my tripod. this didn't take 15 seconds but by the time i returned, a second shot was no longer possible. nevertheless, if i expose 5 rolls of film and get one good shot, i'm happy. in this case, if i use up 1 whole gigabyte of storage and come up with 1 good shot, then it's all worth it. for the rest of my palawan sojourn, i came down to having less than 15 shots left on my 1gb CF card, and i'm certain i have more than 1 good shot.
that evening, we had dinner at seadive, which also stood on piles over coron bay. some bancas were parked beside it. a steady breeze blew, and laughter floated in the air. in a nearby table was a huge gathering of caucasians, possibly from the UK. they had ordered great food, and the chef stepped out to make sure they had a great meal. i had chicken cacciatore (which is italian for hunter, someone told me). kuya mar had filipino beef steak. both were just excellent. it was a good first night. we hopped to the helldivers bar just beside it. during the war, helldivers were war planes. it is said that they were the same planes that dropped bombs on the japanese gunships that sought refuge around coron bay. coron has much to thank these helldivers for, as they'd helped in making coron wreck-rich.
on the wall of the bar was a huge propeller. it's fans were bent, and it resembled the flippers of a sea turtle. it turns out to be previously part of a plane which crashed into the water with so much force, its fans bent. there we met haikov, a guy my age from munich. he offered to take our picture beside the propeller. talking to haikov makes me think of the nuremberg trials. his german accent is very obvious. he looks like an absolute nerd, but has very nice things to say about coron. i excuse myself to go to the toilet, and haikov turns out to be quite the conversationalist. when i returned many minutes later, kuya mar slapped me on the shoulder. "langyaka," he said. "iniwan mo ako dito ang tagal, wala na akong budget na english." i joked about kuya mar coming close to bleeding.
it was already midnight but we'd decided to look for videoke. trademark alotaya. we found one called rockwell. it was a dark, dank establishment. casually-dressed women were lounging around. i asked for the songbook and squinted as i tried to look for our signature songs. after more than 20 songs, we retired for the evening.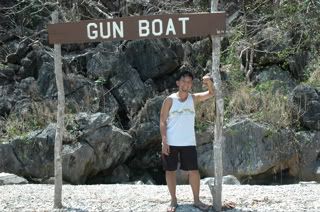 the following day, getting up was a drag. but we had to be up early since we planned on transferring to balay majika. plus, we were scheduled to do some serious island-hopping with people who introduced themselves as being from TNF. as i correctly guessed, they were actually employed by TNF's distributor, primer group. kuya mar had 2 cases of beer ordered, and i gave instructions to buy lots of ice. the huge ice chest was very expertly moved to the banca on the pier behind the public market, and we sailed for the sangat gunboat.
coron being wreck heaven, sunken ships are all over. while most will need serious scuba equipment to see, the one east of sangat (or tangat, as the locals often interchange 's' and 't') island rests on a wall of reef, and its fore is less than 15 feet below the surface. i floated gingerly towards it as the rest of the group paddled like a small school of fish. i barely noticed it at first, but very suddenly, it was in front of me. clearly, it was a maritime vehicle. metal, with a generous helping of barnacles and reefs gnawing all around it. colorful hordes of fish were in attendance. i so badly wanted to dive down to it, and touch its eerie, rusty, possibly poisonous surface, and be transported to 1944 in a flash. but alas, my aptitude in swimming will not allow for such foolish, nostalgic things.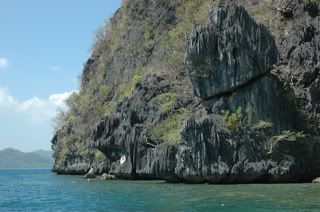 after the gunboat, i resolved to one day take up scuba diving. and i immediately remembered it was not the first time i was to make that resolve. we then moved to the coral garden, west of sangat island. we cruised along a quiet bay filled with rows and rows of black buoys. we were informed that this was a real pearl farm. its guards were located on a raft that floated on a series of blue plastic barrels tied together. below these buoys are cages occupied by clams and oysters. you can tell that this pearl farm is very tightly and closely guarded. not far away from the pearl farm, just along the limestone walls, is a coral garden, part of the rather expansive bintuan marine park. there were good, intact corals inhabited by a motley of multi-colored fish. a big chunk of limestone is leaning over a big part of the garden, and seems just about ready to slide down. snorkeling in the coral garden was okay, but i've been far more impressed elsewhere.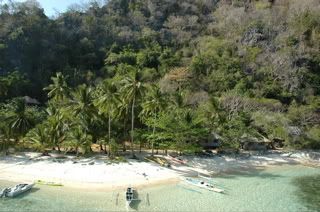 from the coral garden, we made almost a full circle around sangat island to drop by the resident resort, called the sangat island reserve. it is a precious scoop of white sand fronting a shallow sea which extends far away. the resort is owned by a dornier, the same guy behind seair. and about 20 years ago, he got it for a song. now, it's valued rather exorbitantly. almost like the income of a lifetime of everyone residing in coron. seriously. and for our stay there, we had to chug P150 each. the reserve is actually rather idyllic. the setting is still pretty tropical, and it's away from it all. it's like pandan island, only a little dressed up, in a way.
we returned to coron town and promptly had a very sumptuous dinner. kuya mar invited all our boatmen to join us for videoke, and they did arrive, bringing along their shy ways. surprisingly, kuya mar refused to sing any of the songs i punched for him, so i ended up singing all of them, only later would he scold me for not letting him sing! what?
the following day, we went to dimakya island, home to double A resort, club paradise. i was hesitant to go, since it was too expensive, and suggested calauit instead. but kuya mar usually gets his way, and the power of his fat purse won me over. so off to club paradise we went. we fetched other arriving passengers at the airport, then were taken to a river that empties into the sea northeast of the island of busuanga. the shallow river is home to a dense mangrove, and there were some VIPs on the flight whom we suspected had a meeting in the yacht moored near the mouth of the river. the banca that ferried us to dimakya was made of fiberglass, but it still had rigs. sort of an upgrade of the usual outrigger banca, really. from afar, club paradise glistened like a singular white jewel in the middle of the sea, envied by other blessed islands all around. once we arrived, we "daytrippers" were separated from the rest who availed of 2 night packages as they were regaled with a song and offered a welcome drink. we were promptly taken to our room.
immediately after our arrival, i opted to take the hike up eagle point, a modest hill overlooking the rest of dimakya island. there is a small watchtower up there, and the trail was pretty easy, which i managed in less than 10 minutes. surprisingly, for an island so small (less than 20 hectares), it is inhabited by a rich array of colorful birds who sing sweet songs. in fact, there is also a deer on the island, but which, as i correctly suspected, was merely introduced. after my hike, we went around the beach, played ping-pong, darts, and billiards, and sang karaoke before lunch. you pay a modest salary for a few hours and yet you're pressed to look for videoke! unbelievable! haha. after a great buffet lunch (the best pancit ever! and on an island too!), we went snorkeling. there was a dugong near the shore, feeding on the seagrass. its body would breach the surface every now and then. twas only then that i learned that a sea cow is different from a manatee. a dugong is actually dark in color, either brown or gray, and not white as i expected. i was snorkeling towards its direction, when i came face to face with schools of huge jacks. i immediately thought, where there's big fish, there's bigger fish! so i swam back to shore. besides, we had around 30 minutes left on the island! so much for our luxurious castaway experience!
one great thing about club paradise was overhearing these septuagenarians gushing about my country. i couldn't agree more with their adjectives. "splendid", "spectacular", "wonderful", "amazing". i think there's one positive way to describe each of our islands. i wanted to cry. immediately, i thought about working for the tourism industry. or am i not already, albeit vicariously?
returning to coron, we again passed by the airport, drove through a swarm of horses, and reached the town before 5pm, and got ready for dinner. by getting ready, we meant going up mt. tapyas to absorb the sunset view over coron bay and coron town. the hill (not exactly a mountain) is just about 400 meters, and is paved with good intentions: concrete steps and rest stops all the way. a pair of pugilists were jogging up and down its length. when we got up, we were rewarded with a great view. coron -- the karst limestone island across the bay -- was a hazy apparition, and coron -- the town -- was a sleepy, small town with no huge buildings, except for the INC structure. there are yachts sitting in the bay, and a sprinkle of islands all around. wonderful. i could stay there and just keep looking at the view. then the sun came setting. not as magnificent as the first, but it was nice enough.
on our way down, we met a kiwi named kerry. kuya mar whispered that we should invite him for a couple of beers, and so we did. he was a bit surprised that we paid for the alcohol. i did most of the talking while kuya mar just nursed his bottle, agreeing with a grunt, and asking me to tell him this or that. kerry is really glib! we went off to have dinner: us in balay majika, kerry in LM&P, but agreed to meet at 9 again at helldiver's inn.
dinner was great, again. nanay bing is a really amazing cook. then at 9pm, we were in helldivers bar. kerry followed a little while later. it was then i found out he was already 52, has visited the philippines twice previously, and works in the NZ post office, sorting mail. imagine that. you sort mail, and you can travel to places like kathmandu, thailand, malaysia, the philippines, etc. i don't even think the guys who sort mail at philpost can travel to boracay, even on a budget. that's first world blue collar for you.
we decided after that to move our butts to the old house for more beer. of course i was more interested in getting sleep, but kuya mar insisted, on kerry's invitation. by the time we arrived, there were already a few guys there who were a little drunk. so drunk, this guy fell to the floor, went to us, and attempted conversations in english, asking us why we were laughing. who wouldn't? then we walked back to balay majika and prepared for our departure the following day.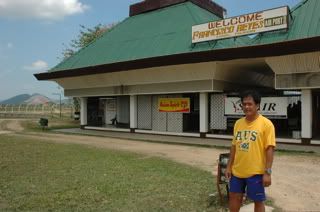 that turned out to be a catastrophe. we were supposed to leave coron town at 6.50am, as instructed. by 6.30, both kuya mar and i were ready. 7am and the jeep wasn't there yet. one thing about coron is that no public transport is available to take anyone to the airport. instead, the airline agents offer jeepney transfers at P150 each. which is weird. this service should be free to passengers! i don't see the logic in that. it's really too expensive. anyway, marjie and nanay bing comfort us by saying that the jeep will come. it'll come, relax. 7.20am and i'm really agitated and decide to go to the asian spirit office, not 3 minutes away. i get there and discover we'd been left behind. the manager raises his voice and says, "well you didn't inform us!" i'm livid. i storm into the office, he tries to grab me, i grab their logbook, open it, and point to our names. "there," i said. "how are we supposed to catch our flight?" he immediately changes his tone. kuya mar follows after a while, and this guys is profuse with apologies. i don't let up, and made sure my voice was loud enough to make known my anger. and the weirdest thing is that the office manager, who obviously has no training in that field, offers to take us to the airport on his motorbike. at P600 each! excuse me! amazing service. you make a mistake, and you decide to rob your clients. well thank you. kuya mar and i would have none of it. okay P400! this guys is raking up points in the negative! he offers instead his apologies and says there's a 2nd flight. what about our connecting trip? (i say "trip", although they thought it was "flight", haha) we were, in fact, scheduled to leave for caticlan that same day, via negros nav, at 5pm.
a little later, the tension in the air hasn't settled yet, when an office staff arrives. the manager lashes back at her, the poor lass, and says things like, "tatampalin kita! tutusukin ko mata mo! kakausapin ko tatay mo!" in front of us passengers! one mustn't expect professionalism in a rural town. later, the guy proclaims that he'd fired her. they were all in fault. i resolved to make a formal complaint with asian spirit, soon.
anyway, our flight was scheduled at 12.30pm. i was already making calculations about what time i would possibly get home, and whether there was enough time left to make it to the pier. i just decided to sleep through my flight, only to wake when we entered a giant cloud that caused us to drop about 20 feet. fun. i got home at past 2pm. and yes, i was able to make it to pier 2 in time. but that's another story.