our constant search for meaning outside of the spheres in which we usually revolve must mean, initially, that we lead lives bereft of -- or, at most: with little -- meaning. the daily grind in which many of us unwillingly subject ourselves: attending school to get a degree (not an education), pursuing a profession (not a passion), building on a career (not a cause), making a living (and not a life), often leave us asking if there is any grander purpose other than an existence focused on satisfying the self. not a few of us are possessed by this guilt, but we each exorcise our demons differently. some may feel that donating to charity may be sufficient. and then there are a handful who do much more.

whether it was because of a creeping guilt or for some other reason, two busloads of volunteers packed their bags for a weekend with the children of lacub in abra for the second annual big brother, big sister community outreach project. a week previous to our departure, we had carefully placed a specified set of school supplies into oversized bags. a few notebooks, writing pads, pencils, pens, a ruler, a sharpener, and even a toothbrush. assembly time was 7pm at the dominion bus station in cubao. i had opted to halve my day at the office in order to get to there in time. we departed for abra at past 8, after hauling 75 sacks of bags into the compartments under the buses. the conductor then feeds M:I:3 into the onboard TV. i was way at the back. it was a poor bootleg copy. dark, and the sound was crappy. i closed my eyes and forced myself to slip into deep sleep. i could not, and for the next couple of hours, the broken audio of the recent tom cruise starrer kept me more or less awake. on the last leg of the 8-hour ride, i finally got to sleep, but there were instances when i felt the bus was running too fast, and that we were about to drive into a ravine. i would now and again open my eyes only to witness a vast darkness outside.

at past 5am, we reach bangued. we hauled the sacks onto our respective jeepneys, and having been warned of the "terrible, dusty" roads, i opted to topload, failing to take into account that it would be a 4 hour rough and tumble to the hinterlands that is the municipality of lacub. but i have learned early on that riding on a jeepney's roof is where you get the best view. and i wasn't alone on top.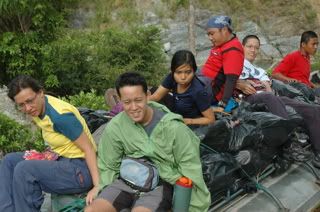 the views going to lacub are varied. the capital of bangued isn't exactly highly urban. and although this is part of the cordilleras, there are few of the proud mountain ranges that reach out like sunbursts. rather, there are fences of burnt, badly browned mountains spaced far apart, exposing a vast valley. manila, at the time we'd left, was tormented by caloy. but in abra, the weather was anything but disagreeable. the sky was blue, and there was an attendance of clouds to veil the sun. after 4 hours, we reached lacub: an arid town that had collected as much as 3 inches of dust. i disbelieved that fact that it wasn't a lowly barangay, but a municipality. there seemed to be few voters around, although its area extended far into the mountains.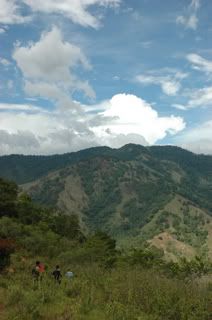 initially, we were supposed to carry 2 bags each to the barangay of pacoc, around an hour away. but after depositing our bags into the classrooms, we were told to just bring our lunch and some water for a "trek". i thought maybe we'd have some interaction with a few of the children. instead, as i later learned, it was just a way to kill time, since the kids of pacoc saved us some precious time by trekking instead to the poblacion. i was just behind our guide: a short man with large feet who had a bolo. at times, i think i was within inches of his bolo, when he raised it to whack the branches that bent into our path. after a close shave, i made sure he was well ahead of me.

the trail wasn't particularly memorable, since i did not quite make a connection with it. i could not attach any specific emotion to the trail, since i felt that any exertion was unnecessary. i only had my packed lunch, a liter of water, and 2 bars of snickers almond in my sagada weaving bag (which i said was in celebration of ethnic diversity). after reaching a ridge with a mighty view of the summit, we stopped for lunch. i had actually imposed the idea on the guide, since alexis, who was behind me, kept reaching for the tube that dangled out of his bag to suck water. it was a funny lunch. i didn't even take out my food, and just shared what my groupmates had. blue had an excess of packed goodies, and i was all too eager to finish them for her.


after a brief rest at a shady portion which had earlier been identified by globe as an area for a cellsite, we proceeded to trek down to the river along a different route. a different route because we were told the workers at the gold mine weren't too thrilled when we passed by them on the way to the lunch area. the trail to the river had already been eaten up by vegetation, and the guide had to hack a path some more. there were also parts where a small bushfire had reduced the grass and the bushes to black ash, and the earth, pebbly. slipping became less unusual.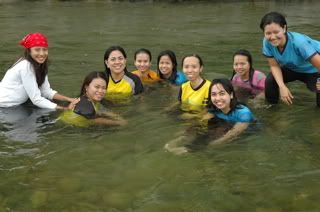 at almost 3pm, we reached the river. i can imagine it must have been vast during the rainy season, since its bed was well exposed. it forked at a certain point, where several carabaos were stationed, bathing. further downriver, we decided to take a dip, the carabaos upstream notwithstanding. i was in the water for a brief amount of time. the current wasn't very strong, but you can guess the summer has taken its toll on the river, because the rocks had started to collect slimy moss. after a while i went to where i'd left my bag. i wanted to take photos of other mountaineers, so i bent my body at the waist and reached down to rummage through my things. i grabbed my camera, pulled myself up, and then bang. roland was holding his canon 350D just over my bent back when TB (
cutebalddiver) announced that he was going to flash his butt (something he's famous for, which we hardly find shocking, but we worried about the other guests). the impact was so strong that i had completely forgotten what i hoped to do (which was to take pictures. the outer tip of my left eyebrow was nicked by the rim of his 50mm lens. the bleeding stopped after a while, but i had this nagging, throbbing pain on my head for some time. i was so disoriented from the impact that i appeared lost, and even decided to leave ahead of everyone else to apply first aid on the small wound.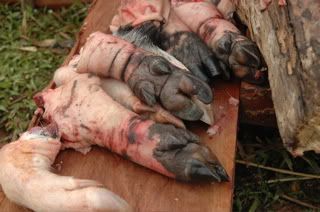 on the way back to the elementary school, i discovered that the mayor had ordered that 2 native pigs be slaughtered. they were slicing and dicing the meat when i got there. inside one of the rooms, the teachers who converged for a seminar were dancing to the rhythm of gongs. i immediately proceeded to our room, took out my deuter wash bag and daubed betadine to the small wound. of course people asked about how i sustained the injury so i just kept telling the story of how i planned to sue roland for reckless imprudence resulting in slight physical injuries. before nightfall, we had nearly everything in order: we'd cooked our food, and were just about ready to start dancing. but the teachers were late and we were getting hungry, so we started to eat anyway. yvonne's garden salad was a big winner. she tossed in greens, water chestnuts, walnuts, and balsamic vinaigrette. i prepared two types of pesto: the regular one, with basil and olive oil, and red pesto (sun dried tomatoes). i also threw in fried chicken.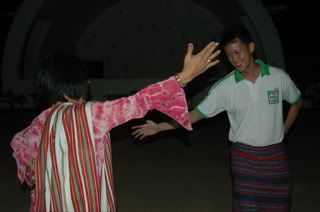 when we were alas called, we pooled our meals onto the table near the stage, and we ate all together, the guest mountaineers first. i already had my fill, so i skipped that, and besides, after seeing the hooves of the slaughtered pigs, i wasn't too keen on trying the local treats. i didn't mean to be disrespectful, but i lose an appetite when i witness the slaughter of an animal. after everyone had been fed, we began the nightlong party, abra style. we laid down our groundsheets on one side of the concrete basketball court, opened our poisons, and the locals provided the music (around 6 gongs) and the choreography. you cold say, we danced all night, and nearly everyone had his or her chance to do the courtship dance. one thing i've always noticed, though, is that while this culture is still very much alive in many parts of the cordillera, the dancing has evolved to nothing more but an ill-studied follow the leader. the bayanihan troupes have stylized these highland dances, and ascribed meanings to each of the movements. but it's sad that the people who are source of these inspired movements have lost touch with their roots. they dance aimlessly, without precision, and lacking in a profound understanding.

but that didn't stop us from enjoying the night. nearly everyone had a grand time, particularly tads and bojo. they were positively smitten by the exotic delights. and for my part, i was beginning to find the gin too distasteful, so even though it was still early, i proceeded to the classroom. my therm-a-rest was already laid out beside the space occupied by alexis. and after a whole day of making other people laugh at his expense (one thing about alexis is he rarely gets miffed), it was his turn to lash back at me. he snored so loudly the entire night that i could hardly sleep. i would wake in the middle of the night and a thought would enter my mind, like stuffing his open mouth with a sock. i wondered how the others could find slumber in that resonating noise. and when the sun was finally up, he denied it altogether, saying he could hardly sleep. so i asked him this question: "kung tulog ka, gising ka ba? di ba hindi? kaya paano mo masasabing hindi ka humihilik." he reasoned again that he wasn't the only one snoring, to which i replied. "oo, marami kayo, pero ikaw nangingibabaw. back-up singers mo lang sila."

we had adobo for breakfast, and before long, a throng of short people had gathered in the basketball court: dusky boys and girls with brown streaks on their hair, some dressed in their sunday's best, while the rest were decked in dusty clothes and worn slippers. it was a sight to behold. i have never seen so much genuine innocence in one venue. i doubt whether many of them knew exactly why they were there.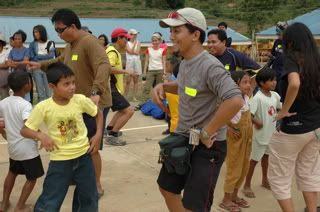 the program started with the usual formalities. then we made pinwheels. we didn't have enough construction paper, so some of the kids had to content themselves by watching. i felt bad about that, because although the kids could hardly speak a word of tagalog, we understood each other. we knew that this pinwheel was a toy, a gift, a magical piece of paper that spun when facing the wind. we also had dances and games. i had to teach everyone how to dance the sexbomb's spageti song. then barbara gave a classical rendition of the PBB theme song, complete with a tremulous vibrato.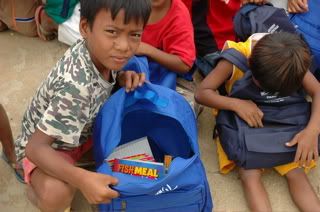 it was a really fun morning filled with interaction until it was time to distribute the bags. it was coming close to chaos, actually. we discovered that there were some kids who hadn't even started school who lined up and got bags bigger than they were. there were even a few adults who hoped they get a bag too. in spite of that, it was a great time, which was better seen in slow motion, and with tight close up shots. the children really were very thankful for the bags and the school supplies. it must've been a windfall for many of them. the activity wasn't just a prescription for guilt. we didn't just give them things. we'd delivered a good message: one filled with joy and hope. at least, that's what i think we achieved.


by this time, we were running late in our itinerary, so we decided to leave for bangued. on the road, the children, new bags on their backs, waved at us and bade us goodbye. we returned their good wishes, and left them covering their faces in the dust.

after a long and bumpy ride, we were delivered to a riverside resort for a late lunch and soapless washing. the great abra river is a point of convergence: it's where families forget summer, and where big trucks and buses come to be cleaned. dominion was a little late in picking us up, but arrived nevertheless. we stopped at a mcdonald's for dinner (although they had all run out of rice, and everything wouldn't be ready in 7 minutes). the entire activity had me so exhausted that i slept through alexis' snoring, so much so that he had to shake me so that i'd wake up.

i guess for a fleeting moment, i found some meaning in all this. i was able to marry a passion and a cause, and that's a good thing. dedicating even a portion of your time for something selfless, charitable, and meaningful, fills this existence with at least a bit of purpose. but one shouldn't hold on to that singular act of compassion to justify a life obsessed with hedonism. rather, charity should define all of our lives.