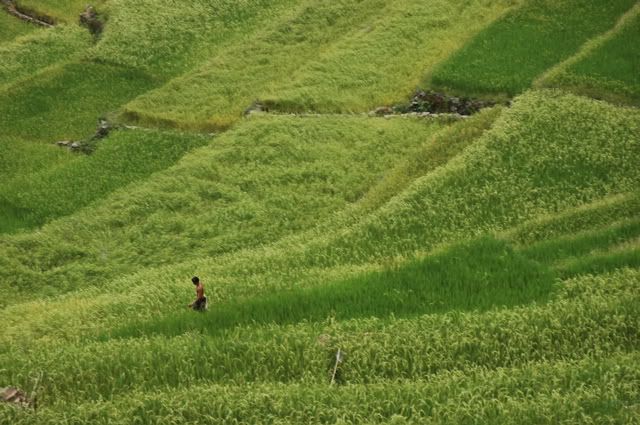 alman: alexis ang taba mo!

alexis: baby pa lang ako mataba na ako.

alman: ibig sabihin nung pinanganak ka, 200 lbs ka na?

alexis: [smiles]

alman: alexis kelangan mo nang magpapayat.

alexis: hindi talaga pwede. it's in the genes.

alman: talaga? pati parents mo mataba?

alexis: hindi.

alman: ahhh... you mean, it's in the jeans... nasa pantalon?
when we ran out of tickets for the 2 autobus trips a full 5 days before friday, i mulled several other options: the first, which was to take the still illegal manila-bontoc route onboard cable tours quickly fizzled out, and we were left with the second and last, which was to take connecting trips to banaue via solano. there were already hitches to the idea, and i was honest to the group who'd signed up to what i'd called the "ifugao villages hike: a journey back in time" that delays might be inevitable. in spite of this, everyone seemed to be still sold on the novel idea of hiking through these terraced interior barangays.
we were scheduled to depart for solano at 11 in the pm. i gingerly went about my work, leaving the office at past 7pm, passing by ralph's to get a liter of jose cuervo, and dropping by columbia gateway to check if they already have my replacement soldotna. i eventually reached the station at around 10.30pm. there was already a long queue of chance passengers outside our bus. i immediately barked orders to load. as expected, not a few people were interested in getting our seats. at exactly 11pm, the bus left, and we cruised steadily towards nueva vizcaya. it was actually a rather slow trip, which shouldn't be such a big surprise. the stretch of highway to cagayan valley is particularly bad in bulacan, but improves drastically once you're past nueva ecija, winding up and down balete pass.
we arrived in solano just before 6am. i'd spotted a jeepney and they agreed to take us to the jump-off in awon-igid for P150, which was within the IT's budget, although i initially worried about how the driver's eyes looked. they were shot, like he'd been drunk, or worse, drugged. anyway, we still managed to reach awon-igid in good time, with a brief stop at the banaue rice terraces viewpoint. i told them to relish in the view now, since they were in for an even better sight in batad.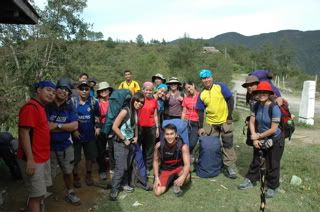 we started the trek at 9am. i'd said that the trail is more or less even terrain ("strolling" according to alexis), although when i started hiking, i was surprised to find the path to the first shelter sloping upwards at a steady angle. it wasn't steep, but it was an incline nevertheless. we passed natural walls covered with carpets of moss, and water pouring out of tubes, a tin cup sitting beside them. there were butterflies floating towards us, and in exactly an hour, we reached the first shed. local sculptors had turned it into a temporary work area, carving porcine trays from trees felled in the forests. we paused for a while, then started walking again, with the lead pack consisting of dennis, tintin, and bitoy trailing not far behind me. the trail from awon-igid to pula is pleasant. it seemed to have been carved out of the mountain, since the trail is nearly perpendicular to a vertical wall. the lush trees provide cover from the sun, and a steady breeze is in attendance.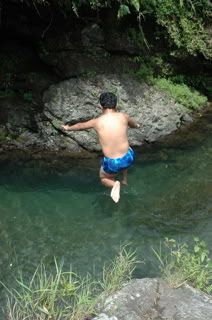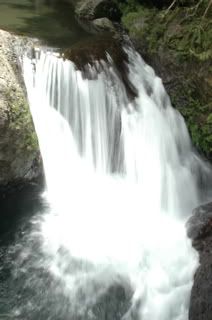 by 11.30am, we'd reached the last waiting shed before our lunch area. below us was the village of pula. a clump of houses: basic, brown, and squat, gathered at the edge of a ridge. to its left were rows of terraces, green with life. above it was the center of the barangay, and the foot of mt. amuyao. we headed down, encountered a perilous-looking landslide, and then paused at the bridge. the waterfall was simply too enticing to refuse. i told dennis and tin we could stop for a break since the lunch area was about 15 minutes away.
the break actually took longer than i had planned. the water was not cool. it was cold, and it is almost a wonder how it can keep its freezing temperature when the unrelenting sun is beating down on it. at one point, i challenged dennis to jump down to the water from the bridge, and it may have been an irresponsible challenge if he called it. the water below is deep, but not nearly deep enough to cushion the impact. nevertheless, he did jump, from a rock that was about 20 feet high. i was eager to follow suit, but my doubt swallowed my eagerness as i had to take many deep breaths. i stared down at the water and worried about several things. my friends egged me on. i'd count to 3, then won't jump. the encouragement faded and transformed into jokes. bok bok bok, they chattered. it took a lot more of that before i actually leapt out of the rock where i was safely perched. and when i finally took the plunge, i was all too interested in doing it again.
when everyone had arrived, i started to hike to the lunch area. much to my surprise, the basketball court in the middle of the school was empty. the familiar laughter of innocent children at play was distinctly absent. under the shade of the school buildings, we prepared lunch. my guests, abe, et al., are bicolanos, and they prepared a mean dish of bicol express. i was initially afraid to sample it, fearing it might be too spicy for my palate (remembering again how awful the tom yum experience in poring turned out to be). but it was just right, and i had lots to eat for lunch.
while my groupmates prepared lunch, i looked for the kids. i had made the effort of having pictures from my last visit printed so i could give them copies. earlier, i already gave cham-ag bentican his pictures, and he said something in his language which i didn't understand. i suppose somewhere there, he must've said thank you. eventually, the kids appeared, and i waved my hand at them. it took more time before they actually came down to the court, as each time i would approach them, they'd run away. i took out my baits: 3 pictures which i raised to them. one of the older girls was the first to approach me. and it was not without a lot of trepidation. after a lot of coaxing, they all came down, approached me, and looked at the pictures. the glow in their eyes as they marveled at the glossy images of themselves was just precious. they giggled, and uttered sentences whose meanings were completely lost on me. they pointed at faces on the pictures and mentioned names. or at least i suspected they were names. they seemed happy and amazed at the same time.
at 3pm, we started on our way to cambulo. i predicted it would be about 2 hours to get to the village. we followed a hazy memory of my last trek, threading terrace after terrace bristling with life, green with probably the best kind of rice anywhere. we went up and down cantilever steps, a word which fascinated some of my companions. we passed by another clump of houses along the way, and were greeted by friendly voices. crossing the only hanging bridge in the area, we reached cambulo at past 5. i walked towards the cambulo riverside inn, owned by lydia dumanglig. i'd met her previously during the amuyao to batad traverse for TC4 last year, and i made a promise to her to stay in her humble inn should we be in the vicinity again. i also gave her 2 pictures which i had taken with her. when we said we'd be sleeping for the night, her daughter, a teacher in the grade school in nearby batad, quickly fixed our accommodations. there were 4 rooms upstairs but there were 19 of us, so we had to squeeze ourselves into tight little spaces. ms. lydia had a store and despite the P30 tab for one bottle of lukewarm soda, we drank away! this despite the fact that soda doesn't really quench your "real" thirst.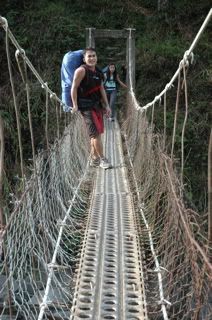 after a while i'd been told that abe was suffering from cramps. i went out to meet them but he refused to have his bag carried. i asked if the tail end was anywhere near, and they said they didn't know. so i began to worry. i returned to the inn, took out my headlight, and asked dennis to come with me for a "rescue". it was already about 5 minutes till 6. we were walking back to the hanging bridge, 20 mins away, when i saw alexis, his familiar pear-shaped frame bobbing gingerly on the terrace. it helped that he was wearing yellow. behind them was an old woman, who walked with her upper body bent to one side. on her head was a white plastic bag, and she had no footwear. we waited for alexis somewhere, and he immediately scolded me for subjecting him to this much difficulties on the day of his birthday. earlier, marga had "officially declared" that this was not a fun climb, and i said, i don't recall ever describing it as one.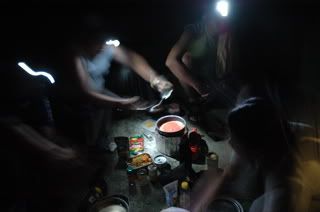 i led them to miss lydia's inn just as the afternoon's light was giving in to the evening's darkness. houses became solid shapes and persons became silhouettes when we reached the inn. a gas lamp over the dining table cast a pale yellow light on a small radius. dinner was on its way. upstairs, the four rooms could only accommodate 14 on beds. thankfully, a few of us brought therm-a-rests, while abe and his friends opted to sleep at the native-styled houses of the cambulo friends inn. for that evening, we had something special: angel hair spaghetti in 2 different sauces which were jointly prepared by bitoy, jenny, and marris. we also had overflowing KFC-styled french fries. dinner extended far into the evening, and we were conspicuously the only voices that could be heard in the village. i had earlier asked lydia if there was a curfew and if it was okay to make a little noise. she disabused me of my worries, although i was certain she was just being polite to us visitors, particularly because we were paying visitors. with that assurance, we bathed, cooked, ate a sumptuous dinner, laughed our hearts out, sang happy birthday to marris and alexis, and downed a peculiar jose cuervo, a bottle of even stranger vietnamese vodka, and were about to start on gin. even dindo, who didn't even have a drop to drink in kinabalu, had a few swigs of alcohol.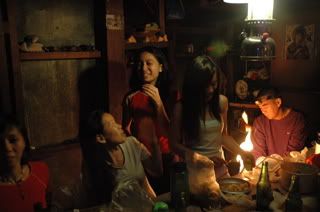 it was a fantastic socials. music was provided by my altec lansings, water was not in short supply, and we had a surplus of things to laugh about. this notwithstanding the fact that we hardly had a decent sleep since friday. i had also pulled together 2 separate groups which previously had no occasion to climb together: ykamo, on one side, and a motley of characters from 2k3, 2k4, and 2k5. plus my guests. somewhere in the socials, abe pulled me out of the dining room and shared a sagada pipe with me. what is it with hashish and rice terraces?
outside, the evening wasn't as pitch black as we had feared, and a terrified moon nearing its fullness was rising high above, hazy behind a layer of clouds. then it came down to just 3 of us. dennis broached the idea that we walk to the hanging bridge, and i said it should be okay except we might wake the neighbors. true enough, when we stepped out, dogs started yelping helplessly, so we went back to the inn. tin and dennis decided to stay at the foot of the stairs to "talk", and i took this as my cue to head on up. somewhere, i woke up when dennis entered our room to complain that he couldn't sleep. he had the unfortunate fate of sleeping beside alexis. the following morning, he scolded me: "wag mo na ulit akong itabi dun ha!" i knew exactly what he meant, remembering the BBBS incident.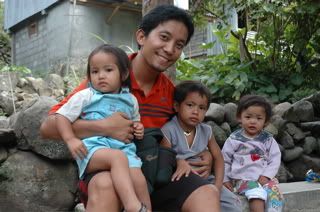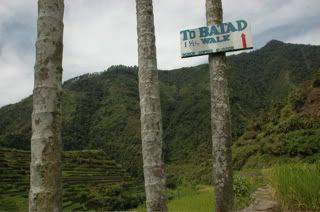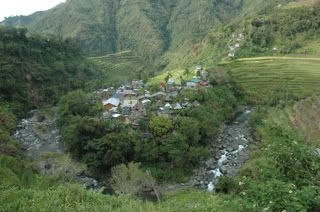 when i got down, breakfast had already been prepared. we ate breakfast, and i always like the feeling of not having to rush things, to take your sweet time, to soak in the sunlight, to embrace the pristine beauty that's abundant. sometimes, in our haste, we lose sight of what's truly essential -- the primordial reasons why we go outdoors. that morning, i even had time to go to the hut where i saw cambulo walking from pat-yay. it was perched high above, at the top of a dizzying flight of concrete steps. there, cambulo is laid out perfectly, sitting quietly on the river bend. i also looked for wen-wen, the charming little boy who had a photograph taken with roy and don the last time. and, at around 9.30pm, we started on our way. i said tappia falls, where i planned to have lunch, was just 2 hours away. but my memory of the exact contours of the trail leading to batad was unreliable. i initially imagined it would be an uphill climb. but there was a steep decline, and another steep incline after the stream where dyake and joven had their now famous photo taken (i tried to repeat it with dennis, but the water was too shallow) before we reach the shed and batad accosts you with its magnificent view.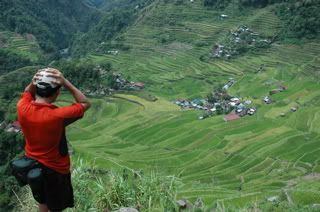 it's like a brick wall. you're tired, spent, nearing a cramp, and wondering whether there are any more rest stops up ahead, and when you do find the shed, you stop. but you shouldn't. ten steps away is a view that'll seem unreal at first. it'll reach deep into you, and quite literally take your breath away. pardon the cliché, but there is no other feeling quite like that feeling when you're there, gasping for air, looking out around you, terrace after terrace, in various shades of green, with patches and gaps speckled with brown, nearing harvest. it is wonderful. it is amazing. these are the batad rice terraces, and this is why we're all here.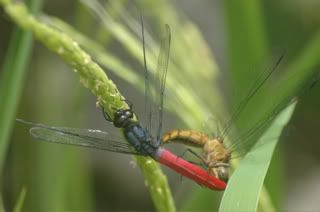 click click click, i fired away at my camera. going digital has its advantages, in that you can take as many shots as you want. you're no longer limited by the number of rolls that you have. with 1gb of memory, there are no limitations. you fancy a rock, and you shot at it, you want to make sure your shot's good, and you take 5 of the same scene, experimenting with the white balance function. i stayed there for an extended amount of time, suddenly dumbfounded. i was actually weighing things. based on the IT that i had prepared, we were supposed to do lunch at the tappia falls, down -- no, way down, below, at the bottom of a steep flight of concrete steps. i waited for my other companions to arrive and i assessed the situation. there was no way the wonderful view would compensate for the worries plaguing their minds. and as TL, you have to make decisions, not only for yourself, but for the whole team. there were first-timers to consider. the team covered the entire spectrum: from very fit, to very sedentary.
i may have misjudged my companions, as well as my memory of how the trail was going to be like. i wasn't nearly as tired as i would normally be on a second day in a multi-day climb, but some of those who came with me had a set of expectations which were quickly thrown out the window on the first hour of the hike. i was holding on to the totality of my previous experience here, and i don't remember it to be difficult at all. so there i was, needing to make a decision, but not one that was too quick because the rest were way behind. i asked some of them some questions. clearly, i had to change the itinerary, and i said they could proceed to simon's, have lunch, and proceed to tappia afterwards. in the meantime, we stayed there for as many as 30 minutes, photographing every square inch of the view.
then we trooped to simon's inn. nearly took a longer route along the way, but found it in good time, thanks to the guidance of 2 boys we met along the way. once everyone was there, we prepared lunch. it was a long leisurely lunch where we had a more than generous helping of beef spareribs which dindo prepared. melay's group was nearly running out of fuel. nevertheless, it was a sumptuous lunch, and by 3.30pm, we were ready to start on our way. we were persuading alexis to come with us, but he'd decided to stay behind, along with marga and gigi, one of our guests. i didn't try to convince them otherwise. besides, we needed to be back before 5.30pm. before we left, a group of spaniards came to the inn looking for room. i joked about re-enacting the declaration of independence. "patayin ang mga kastila!"
we went to tappia falls via the "scenic and cultural" route, passing through the heart of the village below the terraces, right smack where the shape of the ampitheater draws your eyes when you gaze out into what literally looks like a "rice bowl". it wasn't arduous. we didn't have bags, and were only burdened by water bottles and cameras. far easier was the trek that i advised everyone to just wear slippers. later that day, when they found out there was an easier route without the steep steps, they berated me about skipping the part about culture altogether.
to get to tappia, we had to go down, down, down. it was tough on the knees, and i had to hold back imagining how it would feel like going back up. but shortly, we found ourselves in the company of tappia, pouring powerfully into a big basin about a hundred feet below it. we rushed to her, and felt her as pure force of nature, generating a strong wind blowing away moisture like particles of dust. so strong was she that the water surrounding her didn't ripple, but moved away like small waves. and she was ice-cold. perfect, i think, for soothing away the heat and the pain that had collected all over our bodies.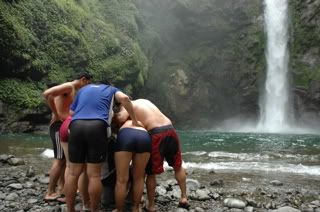 after 30 minutes of soaking in cold and beauty, i said it was time to pack and return to simon's. and as i had expected, going back up was quite a chore. but surprisingly, the return to simon's was shorter by as many as 15 minutes. and it did feel easier, actually. i arrived at simon's to find alexis, with his ears plugged into my iPod, and his gaze fixed at the terraces. he said he'd been staring at it for over an hour, contemplating, perhaps, why he was there. i joke about his weight all the time, but one has to admire his spirit, since no one i know who's as heavy as he is does what he does for fun.
about 30 minutes after we arrived at simon's, there was an abrupt change in the sky. it was suddenly dark, not because of the sunset, but because rain was brewing. and it felt as if the light had been turned off very suddenly over batad, as it rained fiercely as we took turns taking baths, and tending to dinner. i thought about the spaniards who we'd met on our way back from tappia. for sure they were still out there, drenched in the rain. payback for 300 plus years of colonialism?
it was then my turn to do kitchen duties. on ver's request, i prepared one of my signature dishes, with its not-so-secret recipe: thai garlic pork. it surprises me that this dish is such a hit when it's probably simpler than an omelet. they loved it. i love it. and i thought about potatoes. yeah, they'd make a good addition. meanwhile, the other group was having difficulty keeping the flame on their stove. dinner was taking long to cook.
after we'd all burped, we took out our poisons. marga brought in an absolute raspberi vodka, still in its attractive red bottle. that one i liked. the gilbey's, never mind. while my face distorts and cringes into all sorts of mutations whenever i gulp this gin, alexis chugs shot after shot without much drama. i hate it, but i still drink it. what's wrong with me?
the rain had slowed down into a drizzle that evening as we gathered around for our last evening in batad. we finally were able to put on our jackets after marga complained to me about the heat. "can't control that," i told her. it was a really deep, colorless night out there, and there was hardly any hint of the terraces. the full moon was unavailing, and as the evening wore on, we dwindled in numbers. one after another, people reported to their rooms upstairs, awkwardly walking towards the stairs, dragging their painful legs. dindo dared to sleep in the same room as alexis. "i have noise-canceling headphones," he shared, when i warned him of alexis' snoring.
we woke up late the following morning. alexis knocked on our door, looking for fuel. bitoy, jenny, marris, and ver were just starting to stir inside our room. sunlight filtered in through the open window. when i went down, breakfast had already been prepared by our guests. it was independence day, and a great day to start our journey back home. after breakfast, we placed memorabilia on simon's walls. i'd left a photo of myself with batad in the background. i was obviously very prepared for the trip.
by 9.30am, we were already walking to the saddle. i was forcing alexis initially to get a head start, but he said he didn't know the way. i insisted there was only one way. so after about 40 minutes, i reached the saddle, going through the shortcut. an old, disheveled englishman without a shirt tried to talk me out of taking the shortcut, calling me a "foolish young man with a big backpack." after all, the shortcut is another steep flight of stairs. and one might think we've had enough of stairs these past 2 days. i sat on a rock at the saddle, took off my sweat-drenched shirt, and after about 5 minutes, the englishman arrived. he looked like saruman, except that his white hair and beard was a bit wily and unkempt, and he had rotten teeth. there were wrinkles all over his body, and i said his abdomen has its own terraces. he spoke to me about youth and foolishness and that he'd made dumaguete his home. i spoke to him with an ersatz english accent. it didn't put him off.
after an hour and a half, everyone was ready to head back to banaue, where we had lunch at people's lodge. while waiting for lunch, we seized the opportunity to buy souvenirs. i just bought a pipe, actually, while others bought things like brooms, trays, wooden figurines, and ver even got a wizard's cane with a weird sculpture. i have no idea where that would look good on. since we'd earlier decided to risk getting home via solano, we skipped autobus and took our chances in nueva vizcaya. when we arrived, it seemed like an unwise decision since there were some passengers scattered all along the highway. i started to worry. then luck smiled on us when a coaster offered to bring us to manila at the same price as the buses would. it was not legal, i know, but getting home early was top priority, so we took the coaster. it wasn't as fast as we hoped, but we did have a stopover at chow king. pretty soon, we were in bulacan, and the biggest hitch was when the driver decided not to take the NLEX. it would've saved us as much as 30 minutes.
anyway, dindo offered to pay for the toll fee, so we took a long detour and used the NLEX only for about 10 minutes before we reached EDSA. i alighted at quezon ave., bade goodbye to my companions, and got home by 1am. i sat down on my bed, and reflected on my independence day hike to the interior villages of ifugao. it's a little coincidental that this was done on a long independence day weekend, for it marks my own freedom -- albeit temporary -- from the confines of city-living. it was escape in its purest form, complete with fantastic company, great food, and wonderful views.
i had done a similar hike in the past, and had written about it in
this blog
as well, and i recall, rather vividly, how i talked to jay about reversing our hike. i do not claim any originality to what we'd done. after all, the trail is mapped out in lonely planet and even my own philippines travel guide by jens peters. although i didn't copy the itinerary from sources other than memory and imagination, i'm thankful for friends who are daring enough to do unpredictable things with me. i remember how jay and i tried but failed to convince our other friends from sierra to come with us but nobody else signed up. no one from AMCI had done this before, but they trusted that it was something we were going to pull off and enjoy. yes, they'd complained about it being more difficult than they expected, but i hope that they felt as much joy as i did in sharing this wonderful trail with them. and i will not hide the fact that the experience was satisfying even this second time around.
i will never grow tired of the cordilleras. the way of life, the weather, the views, the people. i will always find it interesting, and i will find myself returning while i can, no matter how many flights of steep steps get in the way.