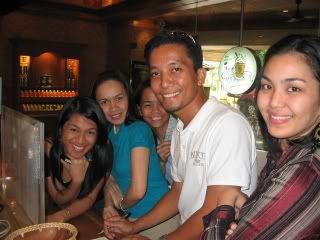 an officemate won PhP37,000 worth of GCs to coffee bean, and for lunch today, we wasted ourselves on pastas, salads, breakfast meals, sandwiches, cakes, coffees, and teas.
this
photo on flickr has just breached 4,000 views, although not a single user has tagged it as a favorite or has even commented on it. i'm not sure if it's very interesting to look at. i shudder at the thought that the number of hits is because flickr has a rather substantial number of pederasts in its population. haha.
the 2006 BMC of AMCI is going on its 3rd TD today. i was supposed to run last sunday, but was just too lazy to peel my butt out of my bed (thanks to really tough games at the MSE courts and late dinner at som's noodle house near rockwell -- that place reminds me of the thai canteen in UP which i miss dearly, although som's has a lot of other choices and i sampled the red curry chicken which made me scream out for water). i was supposed to try out my TNF gulper. at any rate, i finally retired my old new balance 503. it has served me well this past year (i bought it june last year also during my own BMC), and has helped me through many many kilometers, including two 10km fun runs, two 15km qualifying runs, and countless short distance runs. since a pair of running shoes has about 500km in its life span, i should've retired this a long time ago! so now my new babies are another pair of new balances: the 825 model. the color scheme hews closely to the old pair: gray and orange. i also got myself a pair of nike badminton shoes. and why not asics or mizuno or yonex? well, i'm not
that
good a badminton player anyway, so there's no reason for me to be wearing the choice of champions. yet. anyway, more on the BMC. i created a
site
of the photos i regularly take of the training/trainees.
last night i had my first performance evaluation discussion here at the office. i had to stay behind really late in the evening because my bosses are all the way in chicago and dallas. it was not bad, actually, although i didn't have any specific feelings about the whole thing. no, i wasn't scared, anxious, unsettled, or anything like that. my attitude was, well, bring it on. whatever. i didn't have a baggage of expectations either, so when the result was a small bonus and a(n even smaller) raise, i was happy. people say, well, you deserve more, but my response is: i expected no bonus and no raise. i mean, hey, i've only been on the job for over 4 months! now, no one should be asking me for treats, really, since in recognition of my short stint, the already small raise + bonus were further prorated to an amount which won't do wonders for my dwindling savings. but i'm not complaining. not at all. although it would've been cool to finally get my own mountain bike. oh well, that can wait.