three days before that weekend, a typhoon wrecked havoc upon most of the island of luzon, leaving in its wake several dead, hundreds homeless, and millions of pesos in infrastructure damage. the metropolis wasn't spared, and on two succeeding days, we were sent home earlier than usual. so the prospects for good weather during the climb was bleak, and naysayers were already predicting foul scenarios: knee deep in mud, cooking helplessly under the rain, a dangerously slippery slope: things you don't want to encounter, but are sometimes necessary to make you better and stronger.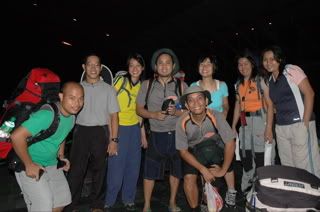 friday evening, i left the office a little later than usual. i got home at a little after midnight and still had a few things to do. i planned to leave the house at a quarter to 3. i finished packing at a quarter after 2. i thought about sneaking in some sleep, but i doubted whether i would wake after 30 minutes. so instead i just cooked myself a quick meal. i left the house while everyone else was still deep in slumber. i wondered whether i had actually informed my mom about where i was going. along the way to MSE in ayala, i dropped by wendy's in boni to get breakfast and lunch: 2 different burgers. everyone in the fastfood was looking at me, obviously wondering what i had stuffed in my bag. it was a burdensome, stuffed creature clinging to my back. a patron even asked me about where i was going. along the way, kids were yelling at me: "sama akong everest." yes, there is renewed interest in the sport that is mountaineering, but one that has failed to drive up AMCI's recruitment. we only have less than 35 trainees this year, a far cry from the times when AMCI raked in applicants by the hundreds. ours was a fair number last year: 49 of us got inducted, and we started at around 55.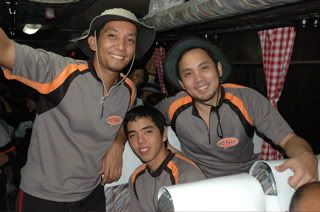 and one more thing about this year's batch: nearly everyone is new to the sport of mountaineering. so new that on the morning that we gathered at the MSE, the grounds were trampled upon by at least 25 sets of spanking new shoes. so much unlike my batch, where about a fourth may be considered "veterans", and went into the training already more or less equipped with both experience, arrogance and gear. that morning, after checking how our trainees packed their bags we loaded ourselves onto this green star bus. not very comfy. 3 seats on one side, and 2 on the other. none of the seats recline. there go my hopes of getting sleep. very early in the morning, i let out a tirade of jokes. i train my attention on KP and her multi-colored striped shorts. her response: "pack you" and "punyeta ka". one really can't argue with that.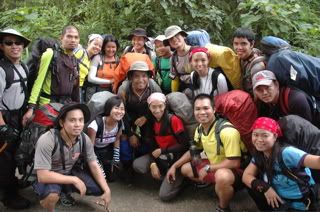 along the way, we passed by several stops to pick up members who failed to wake up early: joven at magallanes; bien, tatax and niel at shell SLEX; and sir manny at walter mart in calamba. we met up with sky at calauan. the jump off is right along a narrow concrete path into a barangay called lamot II. i strapped on my gaiters, and almost immediately, hoots about my new gaiters were made. this is sort of a leap with me, since ever since my first climb, i've always worn pants, and for my entire BMC 2005 career, i subjected my TNF convertible trekking pants to so much abuse. i thought of giving it some rest while i try out a new get-up. and speaking of which, i notice that one of the trainees, tristan (whose name later changed to something else), wore a basketball jersey, flesh-colored cycling shorts, and a bonnet. i asked him if he was serious about his attire and he said: "kanya-kanyang fashion yan."


we were the 4th group to leave the jump-off, and our goal was to follow the red ribbon. well, more like the pale pink straw scattered all over the trail. early on, the going was fine. we trekked as a group, and only encountered a huge build-up when a whole group took the wrong turn. the forest in the foothills of the mountain wasn't the prettiest: sparse growth here and there, and nothing majestic in the way of tall, imposing trees. banana plants and other fruit-bearing crops were mostly the ones present. one had to resist the temptation to pick ripe jackfruit, santol, and even avocado. i just tried to focus on the trek, with an obedient adonnis following closely behind me. it was at times difficult to spot the straw, and i worried always about being lost, since two other groups failed to see the right path. but then again, what is the right path? any course you take will lead you to the summit of the mountain. sky's trail was long and winding, slithering through the forest, taking you up, then down, then up again, around a deep bend when going straight was possible. it was, actually, a little irritating, since there was a much shorter way to do it. but when we reached the 3rd kubo more than an hour ahead of schedule, sky was actually trying to find ways to somewhat extend the agony. well, agony in so far as the trainees were concerned.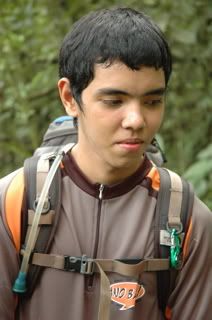 while it has never been my habit to undermine the difficulties of even the least challenging of mountains, there are ways by which you can gauge how well or how bad you're doing. i just sort of imagine myself in the worst of situations at another mountain at another time and try to think of my condition. so at the time, it wasn't quite as hard as it seemed to be, although quite a few trainees were on the verge of crying, i would imagine. i won't say they're such wimps, really, but unless you're born in the cordilleras, you really can't tell how quickly your body will adjust to the rigors of the sport. carrying a load that's upwards of 15 kilos (mine was knocking on 25!), walking for several hours and resting only for 5 minutes every hour, punishing your calf muscles, hamstrings, and quadriceps each time you take a step higher -- these things can take their toll on even the best of us. so this is how i comfort myself, as well as my trainees, as we rested for lunch. some of them feign a smile, and make a thumbs up sign, when deep inside, they might be regretting their whimsical decision to join a program called a BMC. so to distract them from the inevitable, i put on a show.

after an hour and a half -- probably the most leisurely lunch i have had in a training climb -- we picked up our bags and left for the summit. a fog was moving in and i placed my camera beltpack inside my bag. i immediately felt the added burden. we passed by a few more rootcrops, another banana plantation, and really tall cogon, swaying smoothly as a gentle wind caressed the summit, its blades fencing against our clothes and our skin. in less than an hour after our push, we reached the campsite. not far away, a makeshift cross had been erected, and some tents had been pitched. i proceed to the site, wave at people, and try to find my group a spot. if you think about it, the summit is huge. but it is like standing on a crown of pure human-height cogon. no grazing grass here. so while i waited for my group to arrive, i used my shoes to trample on the tall cogon, mindlessly breaking down stalks. pretty soon, my groupmates arrived and they joined me in making out a flat area. i think some of them actually enjoyed doing it.


by 3pm, the last man (or woman) had arrived, and we'd pitched our tents, identified a kitchen, and slipped out of our trek clothes. what to do? i started by telling stories of our own travails as trainees. after about 30 minutes, i was running out of things to talk about. i began to wonder what we did wrong... or right, to have arrived at the campsite at so early an hour. well, for starters, even the IT pegs the campsite ETA at 2pm, and then of course mt. lamot is only a little over 600masl. it was knocking on boredom's door, really. at around 4.30, i told the trainees to start cooking. we initially heard people from nearby campsites that it was way too early to start cooking. but by sunset, we were already starting on dinner, while the rest of the groups were still trying to salvage their rice. i prepared a different kind of dish: beef adobo sa gata, something i had chanced upon in a magazine, and decided to prepare for the climb. it was loved! before long, we were offering our food to other campers. they were just too hungry to pass up on the offer. night fell quickly over the campsite, and i began our group bonding by opening my stash of fundador gold reserve, a request made by vince. one trainee earlier spilled the beans on her sister in this way: "i shit you not. malakas uminom yan si jomen." so true enough, malvin poured her a full shot glass, and she downed it without the smallest complaint, and with almost no reaction to its foul taste. yes, alcohol to me, even something this expensive, evokes the most unusual of facial contortions.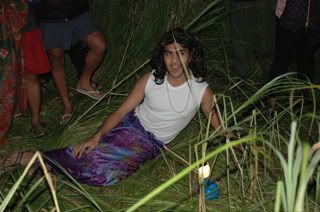 the shots went around as usual, with me and malvin taking the floor, exchanging veiled insults that belie our mutual disregard of each other's person. the other groups were only beginning to eat. soon after, the TL announced the socials, and i asked the sweepers to judge. we stood up not after i noticed the change in genie's color. she said she was fine, but when she got up, i think the alcohol rushed to her brain and knocked her out, almost. she looked pretty disoriented -- in a drunken sort of way -- while all these other groups made their presentations. a note on the presentation though: they all sucked! haha. it was an intimate socials, since we gathered round a small circle of flattened cogon, watching the trainees try to outdo each other. most just tried to comply with the task. the winner was angie's group. they did dyesebel and it had an MMK feel to it. although, to be honest, i didn't quite get the story. it was just absolutely hilarious to see tristan, a big husky guy, in a wig, a pearl necklace, and with a brusque and awkward parlorista affectation. that did it for them really. but henceforth, tristan will be known as dyesee.


after the socials, i declined most of the drinks that came my way. i didn't want to mix gin or anything else with the fundador that had settled in my tummy. i just went around, said hello, made myself visible and busy. rico kept admiring my altec lansing speakers. incidentally, jenny just got her own: a black classy and newer number. but mine lasted till bedtime. i went to my tent. michelle and genie (who threw up just before lights out) were already asleep, and i tried not to wake them. i slept soundly that night, and the next thing i knew was beng waking the trainees. i hadn't slept since friday so i ignored her, and left the trainees to fend for themselves. been there, done that. besides, they have to learn the rudiments of mountaineering. i can't always get up early and cook so early in the morning.


i only got up when dawn was over, and the sun was already near our height. for breakfast, we had cocktail hotdogs, tomatoes, and fried boneless bangus. burp! they moved our descent to 8am, but i was still a little late in packing. after over a year of mountaineering, i am still one of the slower packers. when i finished, i was the only one left in the flattened area. four groups took residence there, and it looked different from the previous day when i first arrived. it was as if a massive ship had landed there, making some strange-looking crop sign.

getting down was quite a mess. traffic was building up at certain points, and the trail was really really slippery. one of my trainees had a hard time getting down, mainly because she wasn't confident about her footing. a usual thing for newbies. anyway, we just went down, and i began missing my soldotna. i wasn't very comfortable with a low-cut pair of light hiking shoes. anyway, the gaiters helped heaps from keeping the mud away from my socks and sliding inside my shoes. on the way down, i suddenly heard this terrible cry. at first i thought someone had fallen into a ravine. or someone's arm or leg or other appendage was totally severed, and blood was spurting and spewing in all directions. it is the kind of cry that inspires some anxiety in your heart, and i ran towards the source of the cry. what i saw was this: medi and xenon bent over a prostrate KP, her head lower than her legs, crying helplessly. at first i thought maybe a bone was broken. something must be very painful. it turns out she slipped, hit her thigh on a stump, and fell flat on the trail. first thing i did was to wipe the mud off her face. i tried to detect if anything was broken, but the point of impact was a big muscle. no tear on the leggings. so nothing was bleeding. probably a big hematoma. nothing fatal. this girl can still walk. xenon helped me to raise her head, and after assuring her that everything was ok, i left her to the care of her GL and the sweepers.


further down was an old man harvesting coconuts for buko pie. he had no use for the juice, so we had lots of to drink. while we drank ourselves silly, cecil was under a tree, lying on his pack. he looked blankly up at the heavens, appearing dazed. wasted, i thought to myself. janice kept saying "load! load!" and he was barely responding. what he did say was this: "i know my body. i've had it for 44 years." haha. another one (almost) bites the dust. anyway, we proceeded, and i think he may have gotten some second wind because he almost overtook me near the pick-up point. we each took tricycles to junnit's resort, where more than half of the team had already arrived. there was a long queue for the shower, so i decided to just rough it with other members and trainees, sharing a lone shower head. after rinsing, i hit the pool directly. i wasn't even sure if the pool was clean. it appeared green or something. then i took a bath, dried myself, sang karaoke, ate lunch, and waited for the rest of the guys. by 2pm our butts were hauled out of there, and we were traveling back to manila while this sucky movie called "the island of dr. moreau" played. notice something there: 2pm, and we were well on our way home. the previous day, we reached the campsite also at around that time. is this a training climb? i kept telling this batch that ours was a totally different story. each climb cost us upwards of P1,000, and we always left makati at around midnight or even at 11pm. and we always returned to the city really late in the evening, and we had nothing down south.

now something has to be said about this whole ordeal. here i am again, musing on an oft-discussed subject in my blog. i say no two mountains in the philippines are the same, and no two experiences in the same mountain are likely to be similar. it is always a unique experience each time, and while terrains often resemble each other, and the hardships are often identical, one deals with one mountain at a time, and each journey ought to make one better. i continue to enjoy this sport particularly because each time, i am blessed with an experience that is always worth telling and sharing. each time, i get stronger, i get wiser, i get better, i improve. i hope that in spite of the difficulties that some of the trainees may have endured during their first climb, that they will see this as a challenge -- as an opportunity to push their individual envelopes. and ultimately, to enjoy the sport which we love and which inspires so much passion.