the pain from the fall is still smarting on the region above my right ear, and i might have it checked, although i suspect there should be no major damage other than something resulting from some paranoia. i've suffered worse falls before, which would explain why i have a really awful scar resembling an x on the back of my head, although now that i no longer sport a 2x3 haircut, no one seems to notice. yeah, but i did fall last saturday morning, during the rastafarian rendezvous B2k6 acquaintance party at takam-mura along reposo in makati. the place used to be a restaurant, although now, it seems like a failed attempt at art deco. after zipping by market! market! to splurge on what i thought were jamaican trinkets, i popped by the party in a green shirt which sort of advertised a show with bob marley and the wailers, a yellow beret with the 5 fingers (which made me look more like a drug-depending frenchman), a black bracelet with the reggae colors, and a rasta crucifix! i should've have just opted to pay the P50 fine!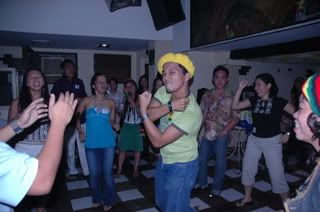 anyway, like all parties, there was food. not enough, by my standards, but i wasn't very hungry. there was something about the design of the place which sort of divided the whole group. the vertical orientation didn't do well for anyone to be focused, such that when you enter, you have no idea what's going on near the bar. ike's officemates played some covers from the sundays, although no more than 10 people were listening. there were lots of alcohol, it seemed, because i bombed out of the party. not from my own choice really. i actually did BI chores circulating my absolut vodka vanilia but that didn't do anyone in. the culprit was the beer bong spiked with
cutebalddiver
's johnny walker black. i ribbed him earlier about scotch being old man's drink, and he replied saying it was the choice of the social set. typically TB! anyway, i stayed away from alcohol most of the time, and danced to music. someone was telling me the party was dying, so i volunteered to embarrass myself and lost in on the dancefloor! haha. twas my party indeed.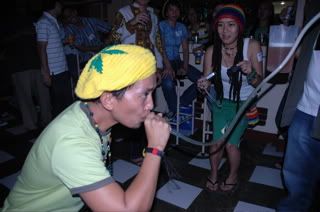 so i had 3 or 4 bongs, i can't remember. the last one had a very suspect flavor to it, and i suspect it might have been the black. i wanted to sock dennis in the face, but he traveled all the way from subic just to attend the party. i miss the dwarf! haha. i went to the toilet to pee, and there i went. slipped and fell on my butt, hitting my head on the floor. i'd slipped earlier, because water had overflowed from the sink, but kept my balance. TJ blew on the sink. disgusting. so i'm not suing anyone since i was partly at fault: drunkenness is always self-imposed, unless alcohol were intravenously introduced. so my slipping was partly because of the wet, slippery floor, and partly because i was totally drunk. well, not completely, since i was still very aware that i was holding on to my camera, and that i had to save it from an unfortunate impact. after that, i don't know what else happened. i kissed the girls, changed into a different shirt, and left with malvin. i think. i somehow got home and had to confirm with malvin whether i did hitch a ride with him. so, we've chalked another wild AMCI party. i'm not sure whether some people might have been shocked, or worse, offended by what goes on in an AMCI gathering. but mountaineers are such party freaks! and AMCI folks are the worst freaks of them all! and i mean that in a really good way. so i did manage to get home.
i actually woke up with a really bad headache. i got out of bed, took a cold shower, popped 2 advils, and went back to bed. i was totally useless. fabian was inviting me to his new house in loyola grand villas, and i wasn't sure whether i was in any shape to show up. at around 5pm, i asked my mom to give me a head massage. miraculously, the headache went away. iba talaga ang haplos ni inay. so i went to fabian's house inside loyola grand villas. i'd been to la vista before, but not loyola grand, so i was totally lost, passing all these world cup and miss universe streets. the guard's instructions were rather incomplete. but i somehow did end up in their house. i remember fabian telling me to crash his house anytime while he was really drunk during a PUHC party. when i got in, i was immediately impressed. i should've had a camera! i mean, there's a courtyard inside the house. with soil, and even random kabute ("what's mushroom in tagalog?"). really really nice. and you know that the mangahas brood are a well-read lot. books books books. there were 2 pianos. entire librettos of musicals were present. a brunswick pool table was present. and the food was superb too. i was actually a little early there, before anyone i knew (other than fabs) arrived, and i kept joking about being unwillingly thrust into the english-speaking zone. i was bleeding! furiously! haha.
just before midnight, and after 2 glasses of blue frog (a traitor of a mix, with gin, vodka, tequila, rhum, brandy, and blue curacao), which isn't really blue, but green, i went home. i wanted to get some sleep. but at 2am, my eyes were still wide open. was it because of the frog? i wonder. or maybe because i was asleep for most of the day after the AMCI party. i don't know. i really just had to get up for the rappelling activity, to witness a new set of hysterics. very early in the morning, i was informed that the venue was moved to the old pamantasan ng makati building along buendia beside the train tracks. i sped off to the venue and found it in utter disrepair. it was a condemned building, with awful graffiti, leaks on the roofs, and it felt like the scene of a crime, like someone was going to be beaten to a pulp. the rappels were going to take place through the stairwell. it seemed scarier than usual, because it was so much higher, plus the place was dank and dirty, so cobwebs fell on us every so often.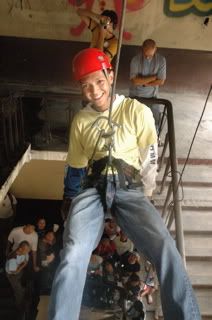 the rappels started with the usual thrills. people have to overcome an initial fear. i've said before that the fear stems from a lack of faith in your gear. will the harness keep me up? will this rope hold? are there micro cracks in the 8 ring that i don't know about? will something unfortunate happen? but once you've overcome this initial bout with fear, you'd actually start to enjoy the activity. well, at least for some. others belt out a whole set of curses and histrionics and call on mothers and God before they actually plunge into the great uncertain. but yeah, things like this, though only remotely related to mountaineering, above all things build character. and they make for nasty rope burns as well.
without finishing the rappels, i left with gerry and jenny to catch "pirates of the caribbean" at the podium. well, it was just that: more than 3 hours of anticipating the ending. i didn't enjoy this as much as i did the first one, i think. but the effects were superb, particularly on the ship of the flying dutchman and the kraken (i'm not sure about the spelling). i opted to skip the post-rappelling party at top grill because of the rain. sayang.