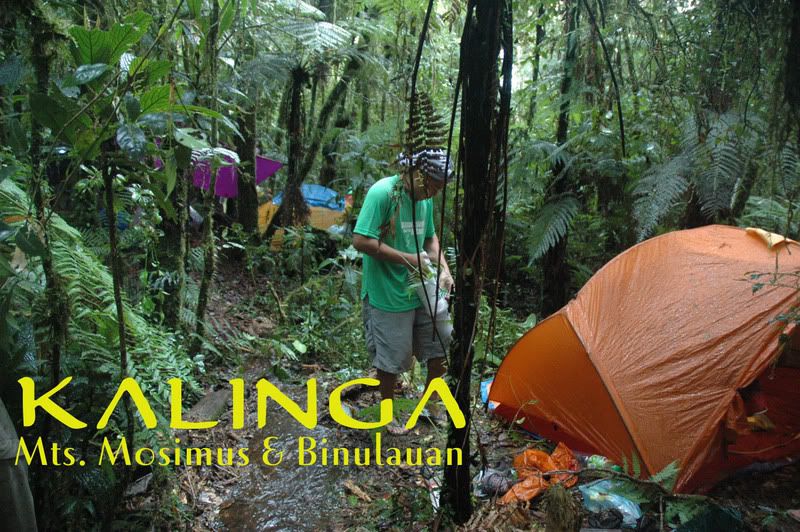 there are certain events in our lives that we would prefer not to repeat, but which we are thankful for because they leave us with an experience that ultimately makes us better individuals. the first induction climb of AMCI's batch 2006 might very well count as among those events. what started out as a climb precipitated into an ordeal, a string of unfortunate events, but which, in its entirety, will be remembered and compared to other travails, past and future, all of which, would certainly pale.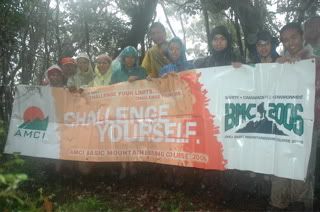 at around lunch time on our third day, half an hour after the "dirty dozen" were inducted as members of the club on the summit of mt. binulauan, i took niel's suggestion a little further and instructed my new members, particularly the boys, that they should learn the fine art of assisting their fellow climbers, i.e., the girls. niel and i were holding on to the edges of our patience while we gave detailed instructions to kim and pie on our way down to the campsite from the summit of mt. mosimos and even the days after, and i felt this was a skill that had to be developed by adonnis and jay (aka
heyjay
). besides, i relied on the pronouncements made by TL lovell, that the campsite wasn't too far away. there was a "slight" change of plans. in consideration of a member who, 3 hours after the first day, showed clear signs of difficulty, lovell sought to find a shorter, if not easier, way back down to tulgao. although we still had ample time on our hands, the summit camp had been called off the previous day because it was almost certain that yvonne and her sweepers would not make it there. night fell early in the forest that dripped endlessly, and anything done in darkness would have yielded unexpected, if not scary, results. furthermore, the trail through dananao was supposedly a difficult descent, so the "circuit trail" was scratched, and another route was considered. the guides -- hunters who trekked in rain boots or slippers or with their soles exposed and whose feet were wide, webbed like that of a duck -- said they knew of a way. a shortcut. so i sped off in the direction blazed by the hunters, following white straws tied to branches and fresh hacks on the trunks of trees. after about an hour, there was a short discussion. in a language too strange for us to decipher, the guides argued about the right way. and although we could not understand a word that was said, we knew that something wasn't right. we backtracked several times, and paused an almost equal number of times while the guide tried to find a way to a place they'd only referred to as kaingin. the guides were worse than most mountaineers, as their concept of time was warped, which shouldn't be too big a surprise for people who wear no watches, and who divide days not in hours or minutes, but in positions of the sun. my group, i was confident, was likely to be 30 or so minutes away, and the distance between the lead pack and them might have been a blessing, since they'd naturally escaped the uncertain anxiety of what lay ahead.
then, after following a ridge, i looked down upon a trail that seemed to have been the site of landslides. there were sheer muddy drops, nearing vertical, and each one more than 15 feet high, that at times i felt the rope should've been longer. i immediately worried about my girls. there was no chance they'd approach the trail without some amount of fear and trepidation. and it didn't help that the trail proceeded on like that, getting more perilous after each challenging drop, going astride ravines and even cascading streams, where a misstep might send you plummeting to an agonizing injury, if not a slow and painful death.
the roads leading to this were certainly not paved with grand preparations. i had been a reluctant GL. i had no particular love for the mountains in kalinga, and they didn't quite strike me as attractive. i had climbed 4 mountains in this BMC, and i somehow felt that it was sufficient to show how much i was willing to sacrifice so that others might discover what i see on the slopes and summits of mountains. i felt that unlike the previous year, there was no rush to be part of the IC. it seemed the BMC itself failed to drum up enough interest among the trainees, and even more so among the members. i think there is a failure somewhere there, which is not solely attributable to the BMC, nor to the character of the trainees, nor to the attitude of the members. but then again, this denouement, as it were, has been the result of a conspiracy -- we all had a hand in it, and must thus accept the consequences. it was already too late in the month, and yet more than half of the would-be inductees were still wavering, not sure whether they could possibly join the climb. it appeared, somehow, that few were excited about the thought of getting inducted. while induction is not an end in itself, i think it still is a goal that one should aspire for. and i felt very upset that there were too many people who so eagerly gave in to the decision not to join, who were swayed to postpone membership, and in the process fabricate, concoct, make up, invent, exaggerate, and insist on reasons to justify why they couldn't make it on this particular climb. the word i usually associate with mountaineering is passion, and i didn't quite see that here. it was missing, and hence, it was missing a whole lot.
but even in the most hopeless of situations, even in the darkest of nights, the faintest lights might as well be the only things you need to illuminate your way. there were few of them, and that was all that's necessary. when
miraclecello
locked his arms around me, and promised me that i'd be guiding and leading 6 others in this climb, it would have been unreasonable and unconscionable for me to decline. in less than a week, our battleplan had been drawn, and we referred to ourselves as PATH -- papalicious and the hitads. our first day was almost entirely spent on the road. 12 hours onboard a chiller of a rickety bus, and another 5 inside jeepneys in such sorry states. the last five were rather exciting. getting to tinglayan from tabuk was in every respect a miracle. 80% of the road, or probably more, was unpaved, and in fact, left to rot and disintegrate. the upland barangays no longer held the charm and nostalgia that remind us of masferre's photos, or otley bayer's researches. the homes were ugly, and the structures awkward.
from tinglayan, there was yet another hour of transit to tulgao. it was easy to miss, the narrow road leading to the other barangays in this 6th class municipality, which inclined at an unimaginable 50 degrees, and had more hairpin turns than than two hands can count. but whether it's the diesel or the engine, these jeepneys nevertheless make it there, the absence of streetlamps notwithstanding.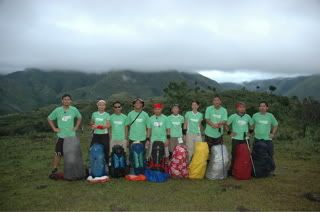 on our first night, we holed up inside the ex-mayor's house. my group all slept in a single row, and if a light had been turned on in the middle of the night, we would have looked like dead bodies wrapped in colorful blankets lined up one after the other. lovell was strict about light's out, but we still managed to finish the bottle of mccormick green apple vodka courtesy of kim. i woke up with a nail on my forehead. the following morning, we donned our green uniforms, and started the trek. it was sunny. in about an hour, we passed the barangay of tulgao which seemed like it had been plucked from a dreary worlwide campaign for third world aid. along the trail, 2 young people caught up with us and asked where we were headed. "sa mosimos," niel said, and the guy replied: "sa tingin ko sa inyo, hindi nyo kakayaning makarating dun." "marami nang bundok na mas mataas pa dyan ang naakyat ko," was my dry and wry rebuttal. at 2200masl, mosimos didn't appear to be at all daunting. but i was certainly not privy to its challenges. we just proceeded with the trek. passed rice terraces, swooped down a river, crossed a hanging bridge whose handrails were fixed lower than the knee, and assaulted a ridge towards another barangay: balay. along the ridge, i had caught up with jon. he looked morose, and complained vigorously about his present burdens: his heavy pack, aggravated by the last minute deduction in his group count, and yvonne, who prayed for rest every 10 minutes.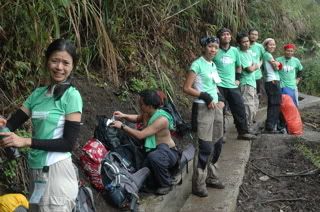 why she was there, desiring to expose herself to the dangers of an induction climb on mountains hitherto unclimbed, i could only speculate. but it was generally thought that she was here for revenge. during the IC1 of 2k3, she was ordered to take an ignominious exit on the second day, because, based on their assessment at the time, she was in no condition to continue the climb. and so i can only assume that her experience was incomplete in the past, and her mission was to succeed where she had failed 3 years ago. but alas, if this mission to conquer kalinga were true, then her foolish enterprise was bound to crumble, or to be reduced into ten blistering toes. one can never exact revenge on a mountain. she decides who sets foot on her, and who walks out unscathed and unbruised. we have no control over her whims or her decisions, and the best we could do is to prepare ourselves for everything -- even the unimaginable. i was not present in 2003, but the way she looked on that ridge, with an undeniable distress painted on her face, her enormous backside blocking our trail, uncertain where to place her foot, and myself and my wards itching to OT, should've been enough reason to tell her not to proceed. so why was she allowed? her reason was simple: she passed the 10km qualifying run. of course, if the time is 2 hours, hardly anyone would've failed. while i may have some beef about the qualifying runs (since not everyone who showed up in that climb ran the requisite course), it is in itself an insufficient requirement, an inaccurate gauge of one's ability to finish a climb. making the time shorter wouldn't have solved it, since i know of many who couldn't run 10 km in less than an hour and a half, but who could easily outclimb me on any given weekend. and the converse is just as true. jon gave her the option to return to tulgao. she declined. she may as well have signed her own warrant. whatever misfortune she suffered the succeeding days were of her own doing.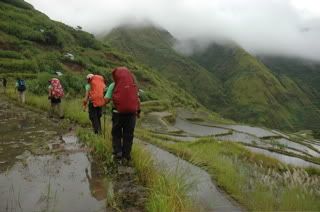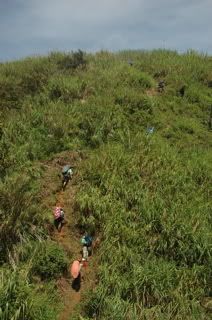 we reached balay and had an early lunch there. it was a small clump of houses on a small flat midway from the river and the summit of mosimos. i wasn't aware, at first, but it turned out the chieftain had prevented us from proceeding. only after our translator and head guide gerald arrived were we given safe passage. from there, the summit was still a long way ahead, and i suffered from a bad case of muscle cramps and IBS. i trekked alone for a short while, until i reached the summit a shade before 4.30pm. there were huge trees all around, and the washed-out sky sparkled up above in the spaces allowed by the thick canopy of leaves. then we proceeded to descend to the campsite while lovell awaited the rest of the team. just after 5pm, it became unreasonably dark. but in about an hour and 45 minutes, we were met by both adonnis and jay. they'd found us a campsite. not the most ideal, i would say, but given the general state of things, it was acceptable. a little later on, cecil and vicky arrived, and in no time, i had prepared quesadillas filled with chicken, cheese, and onions, as well as a really spicy thai red chicken curry.
with dinner accomplished, i retired to my tent. but didn't quite turn in immediately. kim, jay, and myself sampled my liter of absolut raspberi vodka. over at dinner, we nearly finished the bottle of cheap franzia red wine (it had a resealable cap, for crying out loud) which i asked mike to offload to me, since he looked positively out of it when we saw him at the shed. jay got his slippers, adonnis a can of spam, and i, of course, opted for something i could possibly take advantage of. it started to drizzle that night, so although we were most eager to have socials outside, we moved it instead to the relative comfort of my spacious tent. from the outside, we could hear people talking, and although i didn't see it personally, i heard the arrival of yvonne and her sweepers. it was an hour to light's out, and i could hear lovell's voice reminding us of the long day tomorrow.
the following morning, i woke up when my phone alarmed. i found kim sleeping in my tent, and i wondered whether she'd passed out there. i was a little hesitant about going out the tent. little drops were still drumming on my tent's fly, and i wasn't sure whether it was still raining, or the forest's leaves were just dripping. i opened my lamp and i discovered that outside, we'd been flooded. the tent's floor rippled and vibrated like a waterbed. but we were completely dry inside. i went out and found out that it was ankle-deep in floodwaters; we'd pitched our tent on a waterway. and worse of it all, all these rotten logs near my vestibule had created a small dam. when i cleared the barricade, the water flushed out, but water from higher places still drained through my tent. it was something short of amazing we didn't drown inside -- a testament to the quality and performance of my 17-month old TNF talus 23!
it was already way past the wake-up call, but so far, only adonnis, myself, jay, and cecil who were busy tending to the kitchen. rain can be the worst thing to accompany a morning at camp. i whipped up a quick breakfast, and gave instructions to everyone to set some aside for lunch. when i finished cooking, i went back to my tent and left the cleaning-up chores to everyone. we'd packed quickly, but not quickly enough as we fell behind the IT by a mile. i had stuffed many things inside my bag, most of them soaking wet, and the weight of my pack multiplied. streaks of sun were peeking from the roof of trees, thought it was still decidedly wet. we proceeded with the trek, following thin white straws through the forest. we were no longer setting foot on paths frequented by the community, but treaded secret, unknown trails of hunters. left and right were holes with stone rip-rap, some of them covered and camouflaged with leaves and branches, hoping to trap wild boars or some other animal. the lead pack placed large red squares on these traps so we wouldn't accidentally fall into them. the guides said the hunters would frequent these traps only once a month. i sometimes wonder whether any of those boars would survive that long inside.
at about this time, i began to appreciate the unique character of the forest. it was unlike anything i had seen in my mountaineering exploits. whereas you would often describe one montane ecosystem with something you'd seen previously, my senses were exposed to scenes completely fresh and new. the trees were generally moderate in stature, generally sparse in population, scattered all over and old, like they'd grown randomly at the beginning of time. there were no visible marks here, no abused soil, no roots exposed by the passage of boots, nothing littering the trail. it was easy to get lost, and it was possible to get lost here forever since every inch of the forest resembles the other, i can imagine that without the hack marks or the straws, we'd possibly wander here endlessly and aimlessly.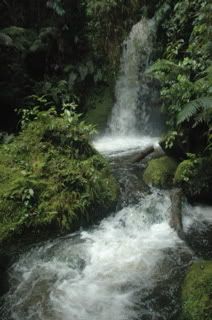 in time, we chanced upon a raging stream. there was a huge waterfall on one side, and it poured thousands of gallons per second. it would've been a huge treat to bathe in its cool waters, but since it'd been steadily drizzling since we'd started, that would've been tempting illness. from the falls, there was a vertical ascent of about 20 feet. it would have been impossible to climb without rope. at the top of the climb were two long leaves curled at the edges. gerald said this was a signal that a trap that could possibly impale had been installed somewhere nearby. imagine indiana jones, with flying spears. for a while, i volunteered to pull the bags of kim and pie up to the top. kim and niel may have been so exhausted by that challenge that they got lost immediately afterwards.
after the waterfalls, we found the dry riverbed, which that time, wasn't so dry. it was at the bottom of a tough descent, where nearly everyone either fell or slipped. we set up a tarp, and quickly cooked pesto for lunch. from there, lovell instructed the lead pack to find a campsite in about 2 or 3 hours. it was just a little past 1pm at the time, so i asked why. he said the sweepers won't make it to the summit. yet again, one person's burden has to be the entire team's bane. the law of averages is thrown out the window, as we cannot compensate for yvonne's pace. we are only as strong as our weakest member. and that really sucks.
the next challenge was the river trek. this was so much unlike malipunyo, since we hiked against the current. kim had clear difficulty with the upstream battle, despite the water being more or less clear and below the knee. we took a sudden left from the stream, and in about 30 minutes, found our campsite. we had to find little flats in the middle of the forest, which almost extinguished any cheer that was left in me. good thing adonnis found an area to fit all of our 5 tents. it wasn't even past 4.30pm at the time. the guide kept saying that we could still make it to the summit, and i replied that we weren't the consideration. the sweepers and their sweepee were. since we were there early, i told my group they could rest a while before dinner prep. the guides had built a small shed just beside our kitchen, placing leaves on the roof and kindling a fire to dry their clothes.
dinner consisted of laing and ike's binagoongan, which had far too much bagoong for our palates. with dinner having been finished early, we thought of what else we could do, sitting under the tarp, getting smoked, and catching a whiff of the MJs the guides so brazenly puffed at in broad moonlight. by 7pm, we'd proceeded to our tents. the forest kept dripping, as if a big bucket punched with little holes was left hovering over us, sprinkling (not pouring) water wherever we were. we had no idea at the time that our manila contacts were pulling at the ends of their hairs, worried to the point of insanity, about whether we'd been swallowed by a typhoon that was stronger than milenyo. but inside my tent, warm, comfortable, clean and dry, gilbert unveiled a bottle of cheap tequila. at first we agreed to drink only until our liter of chaser was consumed. no one would dare go out, dirty his or her feet, and get wet in the drizzle. but we ended up having 2 more refills of the chaser, and i gulped the last 2 shots with gusto -- i passed out.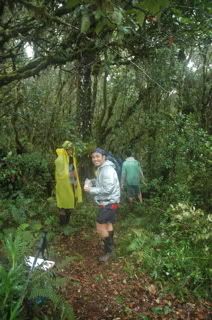 when i woke up some hours later, i was just surprised to find kim inside the tent again. i checked if we were flooded. it appeared dry, and i went back to sleep, waking up at around 4am later. i prepped breakfast as well as packed lunch. since we didn't push for a summit camp the previous day, we were to assault binulauan without our packs. lovell wasn't about to allow this batch to be inducted anywhere else: not at a basketball court. at 7am, we proceeded to the summit. without our bags, we got there in about an hour and a half. yvonne was in no condition to assault, so she was far from succeeding with her revenge. it rather clearly backfired. the trail leading to the summit looked pristine and savage at the same time. the hack marks were the only visible signs of human intrusion. with its gnarled trees, carpets of moss, and biting temperature, it was the perfect place to conduct the induction.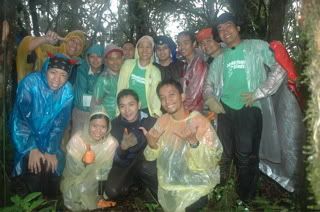 AMCI's induction rites are shrouded in some degree of mystery. i was able to guess what would take place during my time only because i had been through something similar when i was inducted as part of pilipinas sierra. despite this knowledge, however, i felt no temptation to divulge what happens to anyone, not even to my closest friends. what i don't understand is why other members would intentionally dilute the solemnity as well as sanctity that surrounds an induction by sharing the secret to others. i was glad, however, that no one from this dirty dozen had been polluted with the circulating stories. woe to he who first shared the secret. and woe to she who spread it. the induction was completed with sky singing a stylized version of "tatak AMCI". and despite the rain, i risked injury to my nikon D70s by taking a photo. so with their pair of dogtags hanging loosely and adorning their necks, the new members proceeded to our campsite where we'd left our bags. i waited for them there for about 20 or more minutes. when they arrived, i was told that they'd momentarily lost the way, and jay fell into a boar trap.
that was a first for the group, but throughout the explo that afternoon, falling into traps became a usual affair. buko fell into one filled with water. then he fell a second time when he tumbled down the steep trail. mercy had a whole leg shoot into a trap. before long, at least 4 people were about to change their middle names to permutations of wild boar trap.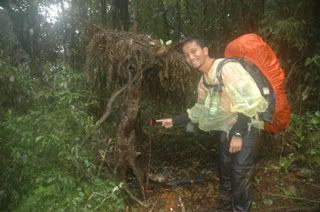 by 3pm we'd found signs of human activity. not bad if you think about it, but at this hour, we should've already been at the campsite. the guide said that the shed was an abandoned NPA camp. 2 shotgun bullet casings had been placed at the ends of 2 slats of bamboo and planted near where a fire had been made. the news was that we'd get to kaingin in 30 minutes. instead, we find ourselves on a river. then a little later we find that the water had been diverted. this should mean that terraces are nearby. but not necessarily. the canal stretches out far, drops almost a hundred feet down, and stretches again for about 200 meters. there i found the lead pack. sky looked irritated, but it appeared that they'd found a place to camp. it was already past 4.30pm. i went back up the trail, fetched water, and found our campsite in an area that's been purposely cleared. it wasn't clear to me yet, but we'd apparently been made privy to a kalinga secret. we'd known this all along and its truth didn't require confirmation of this kind. officially, it's denied, as if no knowledge, even of suspicion, exists. but there we were, pulling out stalks that had only been recently harvested. we were going to sleep on thousands of pesos in illegal money, but not if this were amsterdam.
after pitching my tent, i did nothing but worry. it was getting dark, and there were still no signs of the group. we'd clearly been separated, by how much time i didn't know, but i knew that in that darkness, it was difficult to move. only 15 of us had made the "happy campsite", the "herb garden", the "strawberry fields", the "doobeedoobeedo", etc. where are the other 21? between niel and myself, we had 2 tents, 1 rice cooker, a stove but no fuel bottle, and about a kilo of lechon kawali, more than half a liter of raspberi vodka, some pasta, pasta mixes, mushrooms, and little else. that night, i settled for a bit of the lechon kawali, a bit of niel's whole wheat pasta in herb and garlic, and a bit of everything else. like a thoughtful mother, i made sure i had set aside more than enough for when my wards arrive. i'd identified places for them to camp, i dried the empty space inside my tent. but it seemed my preparations were for naught, because when i awoke at 10pm, there still was no sign of them. they must've camped somewhere else. it was a good decision, but i couldn't shake off that feeling -- was it separation, guilt, anxiety, worry, distress? i didn't sleep well. the trail invited accidents, and i wasn't with them; their possible thoughts played in my mind. they might feel abandoned. i wanted to be there when they felt like swearing out mountaineering. they were in good hands for sure. but that's if arnel was in their company. this certainly was not in the plan. lovell said the trek would be 3 to 4 hours. this should not have happened.
the following morning, we ate the pasta we set aside for them, as well as the tasteless apple oatmeal niel found in his bag. then i heard a bird call, i rushed down in my slippers, "to welcome them," i said. but it was just the guide. he said they were still cooking. i rushed back to the campsite and shared the news: ito was in bad shape, bajay fell but can still walk, and they camped before the river. by 9am, we were out of there. lovell had trekked ahead and he said the campsite was probably just 30 minutes away. but later in the day, i found out it took the others nearly 2 hours to reach the cogon area.
from there, it was all descent. it was very technical, and the only thing you could hold on to were the sharp blades of these reeds. i had no gloves on, so i risked injury to my palms. nevertheless, i made it to the first terraces almost unscathed. others were in far less better shape than i. they'd been nicked, bruised, slashed, bitten, scratched in far too many places. they were still wearing the wounds of battle on their arms and on their legs. on the other hand, i hardly bled. i had not a single limatik bite. and was almost completely free of any scratches. this was an achievement on my part.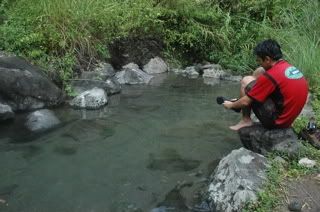 before proceeding with the trek, chok left behind some medicine for ito's amoebiasis. we left it on the shed. as i was about to pick up my bag, i noticed movements high above. it appeared a speck of orange, a dot of white, a sliver of black, moved against the general direction of the reeds. this looked very promising indeed. but i had to continue with my trek. my knees were already starting to hurt from the killer descent, we had to go down all the way to the river, and walk back up to tulgao. at the edge of the bridge, the guides told us that there was a hot spring 5 minutes away. by this time, i had began to doubt the accuracy of the estimate, but i was already there. so along with igue and bojo, i rushed to the springs. perched high above, i looked down on a small tub where 2 naked brown forms were prostrate. i said locals were there, possibly male, and in the buff. bojo and i moved quickly, and if i had timed our rush to the springs, it really would've been just 5 minutes. we took off our soiled clothes and very gingerly dipped our bodies into the warm water. i could feel stings on the places where i had suffered bites and minor cuts. it felt good and glorious. it was the equivalent of a long, meticulous massage. it soothed away the pains as well as the cares i had been nursing since the previous night.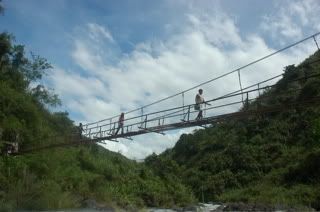 after that, we went back up to the bridge. 7 minutes. it was time for lunch. i didn't have anything. i took a bite from caloy and gerry. then i munched on a bar of snickers. lovell had just said that norman and i should take care of the book donation. locals said tulgao was an hour away. or even 30 minutes. "how about with this bag?" i asked. the girl laughed uncontrollably. on the way up to tulgao, norman and i paced each other. every now and then i'd look at the direction of the descent. far away, i sensed movement. good signs. very good signs. they're probably 2 or 3 hours away. by this time, i was already very thirsty. you go ahead, i'd tell norman. no, after you, he'd reply. finally, we made it to the barangay proper. kids ran with us, detaching the straws on the trail. they were the birds in hansel and gretel. and in my slow pace, i reached the school in 56 minutes. accurate enough.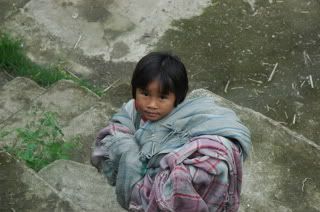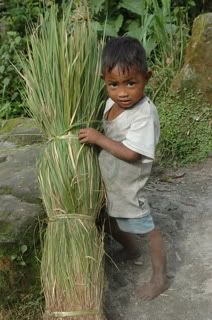 there, the children of tulgao looked at each one of us as though we were strange curiosities. i quickly picked up a conversation with the school principal. she asked us how we survived up in the mountains, when a typhoon ravaged the barangay, and presumably, nearby towns as well 2 days previously. she pointed to a tree outside the door to her office. she said it fell due to the wind, and they'd just replanted it there. i replied by saying that i wasn't aware of a typhoon. we hardly felt any wind up there, nor any raging rain. we had some cursory photos taken with norman turning over the books to mrs. aggalao, then afterwards, we loaded our packs onto the jeep, and trekked up the hill to meet it at the junction. the road was in pretty bad shape, so it couldn't make it up there if there was added load. along the way, buko and chok provided us with a lot of entertainment. tulgao as well as dananao, were slowly reduced into sad little specks in the distance. it was just after 2pm, but i could hardly heave a sigh of relief since i didn't know where my new members were. would they sleep an extra night in the mountain? would they make it? i worried some more.
then the jeep met us at the junction and ferried us to tinglayan. we kept stopping along the way because the typhoon had blocked the path. chok pointed out sleeping beauty to us, and how its shape resembled the profile of a woman's face: her prominent forehead, her perfect nose, her pouting lips, and her chiseled chin. why didn't we just climb this one instead? in tinglayan, i was the first to catch a whiff of the elusive mobile phone signal and i called up sir oca. this much i was able to report: 17 of us have made it down, while the rest are still on the trail. no one was seriously injured. news of this nature have a way of spreading like fire on a field soaked with naphtha. i received one message after the other, all in the general theme of: where are you? is everyone safe? at one point, 3 phone calls came to me at about the same time. this was really weird, since i wasn't the only one on the smart network, but i was the one who managed to connect. text messages came pouring in, and nearly everyone there had used my phone to send out messages. i was unaware that there was this much concern for all of us at the time. of course, the folks in manila knew (we didn't) that a super typhoon lashed at northern luzon, including the cordilleras over the weekend, but the extent of their concern was just overwhelming, if not a little over-the-top. it warms the heart the thought that this many people care for you, certainly, but then, there's that big snag. i was still very emotional and upset about how little support this climb received from the general membership, while i (and i'm sure others as well) risked not just life and limb for its success, and i couldn't help but feel that these grand, gung-ho, shades-of-rambo intimations of SAR channeled too much of the all-too-common too-late-the-hero scenario. unless anyone had superpowers, a foolish jump into the dark water on the eleventh hour would not have yielded anything at all. i will not sugar coat my opinions when i say this: if these guys really cared so much about us, then they should've have just joined the climb. which is not to say i'm not touched, but then again, i couldn't help but feel after reading all these emails, that there was stiff competition to be
the
source of information.
when we arrived in tinglayan, we ate immediately. lovell went back up to tulgao bringing with him some food as well. we took much deserved baths, got dressed, and readied for long nights with alcohol. at the common area of the sleeping beauty inn, we drank slowly, talked about mountains, cannabis, art, highland culture, and the climb. it had all the flavors of a fantastic and historical climb, sans, however, dessert. the rest of the team wasn't in yet, so although we had the world's longest buffet of challenges and experiences that mountaineering may have to offer, there was something preventing us from closing down our feast with some sweets: the constipating feeling of not knowing where your friends are, of whether they can still walk on both feet, of whether they've sunk deeper than boar traps. then at a little past 11pm, someone said: yvonne. she was taken into the inn, 3 persons assisting her. her eyes were devoid of emotion, as if expressing feelings taxed her body too much (later that night, mercy would tend to her like a devoted florence nightingale, wiping her limbs, assisting her when she needed to slip out of her soiled clothes; she, on the other hand, just flattened her back on the bed, unable to move, like the burnt man with the brogue in the english patient). i rushed up to the street, and hugged everyone, sweat, snot and mud notwithstanding. "you don't know how happy i am to see you," i told brody and mike. and i was actually serious. i found my group already inside the restaurant, helping themselves to the food. pie was close to tears when i found them. i apologized, asked how they were, hugged everyone, and was just too happy to find that everyone's spirits soared higher than any of the summits we'd climbed.
finally, it can be said. now that everyone was safe, dry, and far from injury, the conclusion that i could not yet make until my own disquiet had been relaxed and soothed, was now possible: that despite the bad decisions, the foolish choices, and the nagging desire to go blamestorming, the climb, with all its peaks and lows, all its dangers and challenges, was divine. it was a magnificent and altogether wonderful experience. this is a realization you make, not when you're on the summit, but when you're all back down, and looking back at the magnitude of what you've accomplished.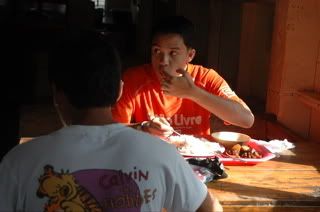 the rest of the night was spent swapping stories, reminiscing the previous day as though it took place years ago, and quietly assuaging and comforting friends back in manila: whole team back in tinglayan, ETD for manila 9am, or when the landslides clear. i took care of my group, running up and down between the 2 inns, offering to tend to wounds, sharing alcohol, caressing bruises, both physical and emotional. then we continued drinking. by 1.30am, we'd run out of anything to imbibe, so we slept, while in the other inn, those who were more recently-arrived, lasted till 5.30. in the morning, we ate breakfast and dried our stuff. it wasn't certain whether the roads could be crossed just yet. we waited. new ETD: 12nn.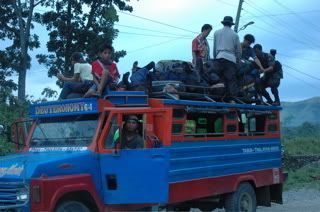 then just before noon, jeepneys arrived. signs that the roads were passable again. we sped off for tabuk. along the way, darren complained of stomach pains. he would be the 4th or 5th person to fall ill with LBM or amoebiasis. enough with sharing plates and utensils. upon reaching the provincial capital, our jeepneys were stopped at a military checkpoint. one soldier went on top of the jeep and searched for possible NPA supplies. later, it turned out that they were looking for marijuana "in commercial quantities". normally, if i had been less cool, i would've marched in and said: "abogado ako, violation ng human rights to!" but honestly, if anyone had seen the size of the sweat that collected on the brows of my companions at the time, the search was perfectly legal. they had cause. but then again, we didn't just survive 4 nights in the wilderness for nothing.
as the bus rolled to manila, piercing through the darkness of the blackouts wrought by typhoon paeng (the little man), i had occasion to think about what had just taken place. the risks surrounding the climb, not just to my life or my limb, but to many other things as well: career, family, and relationships. will i be willing to make similar risks again? i might not consciously plan on doing a climb like this again, but when the opportunity presents itself, i most certainly will.