my older brother sonny married his girlfriend of six years, jill last saturday in what i think was a very down-to-earth, but nevertheless traditional, ceremony at the wack-wack golf & country club in mandaluyong city. my mom and my aunts and jill's mom and sister cried buckets of tears, and i was just cool about everything while most everyone were frantic and on the verge of nervous breakdowns. manoy sonny is an architect, and i think he's one of the most talented persons i know. he's such an amazing illustrator, and his hands are absolutely blessed. but i think those talents weren't exactly utilized in much of the wedding preparations, since i felt with his capabilities, he could've produced a more fascinating invitation. like the invitation to my parents' wedding. my mom tells me that they had a very small budget, so they had to print on only one side of the paper. but this limitation became a plus, actually. my mom fashioned their invitation in such a way that it had four folds; when closed, it featured the names of my parents inside two overlapping rings which had been drawn onto the paper. it was absolutely creative. my brother's wedding looked really nice as well: the motifs were orange for the primary sponsors, and green for the parents, the secondary sponsors, and the flower girls who wore butterfly wings. my brother prepared a speech, which was more or less predictable, i mean, it's the kind you'd expect to be said in a wedding, and the line i remember the most is this: "i will cook for you... at least until you learn to cook." haha. yeah, my brother can actually cook. runs in the family i think. my dad's the only one who's incompetent in the kitchen -- i mean, he can botch an instant lucky me pancit canton preparation.
so the themes were sort of scattered, but this is just me looking at the wedding from an aesthetic point of view. sometimes, i think we're too conscious of traditions, but don't really understand their origins or meanings; that we just go through the motions because we want to safe and traditional; that we borrow symbols even when they don't really mean so much to us, or that they are downright silly. nevertheless, in the whole, i think this was one very memorable event and i'm happy for my brother. and of course, i was made best man, which is no big deal really, because i was essentially one big
alalay
. during the reception, i volunteered to sort of take care of the kids while the adults had dinner. i stayed with them inside a lounge, gave them crayons and coloring books, and played with them -- they started calling me teacher and they asked me even to grade their drawings. but the host called me when it was time for me to make the toast. i said things about privilege speeches in the halls of congress being immune from charges of libel, and that me and my brother have shared many things including shoe sizes and waistlines (so in a way, i hinted that i'm happy he's moving out so at least my clothes or my shoes don't go leaving my closet without me wearing them). i ended by saying something like may you share a love with a passion so great it will shake the world, obviously a line i may have unconsciously borrowed from the last novel i had read: "memories of my melancholy whores". and i raised a glass of water for crying out loud! haha. i didn't really get to prepare a speech, but after some thought, i think it would have been better to say something like: "may you be like children who enjoy each other for who you are and for what you are; may you be like teenagers and be forever infatuated with each other and bask in the bliss of courtship; and may you be like adults and share a love with a passion so great it will shake the world." too late. after that, my mom called me and said that jill's relatives -- some of the ninangs -- wanted to shake my hand. i didn't know these people from adam so i don't know their opinion of me, but they kept saying some of the things which really irritate me: "abogado ka pala ang bata-bata mo pa" and "ang galing mo naman mag-english". i wanted to say: "eh wala na po talaga tayong magagawa dun". this even happened in the men's room. i don't really know what to make of this statement -- do people notice that i speak good english because they don't expect me to speak good english because i don't look like the type who speaks good english? or do they just want to congratulate me for having a talent they don't have?
well, anyway, that wedding reacquainted me with many of my childhood friends. i grew up going to church, so many of my friends as a kid went to church as well. and since i haven't been such a church goer in the last 10 years, i was really surprised to find all of us so grown-up already! suddenly, i miss my friends from church. i mean, they were really nice persons. anyway, here are some photographs:
best man alman with nephew bible bearer jam-jam, who chickened out and cried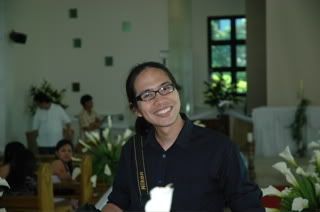 one of the wedding photographers, daniel cercado -- one of my
kababata
s
all the ninangs wore gowns cut from the same cloth -- only my two titas from australia wore gowns of a different shade
the adorable flower girls... but not when i was taking care of them; kids are a pain, i should've warned my brother when i did my toast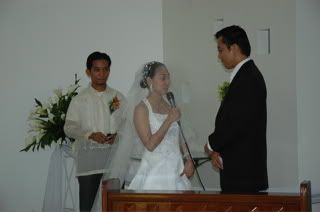 here i am performing one of my roles as best man: holding on to the rings (which i hear took almost half of the budget)
and here i am again doing one of my tasks
the new couple with their parents; my mom designed and sew her own dress, including all the intricate embroidery. she actually makes her own dresses, and made one when i graduated from law school
the new couple doing their first dance; this is one thing the wedding lacked: dancing. the things you see close to the camera are actually bubbles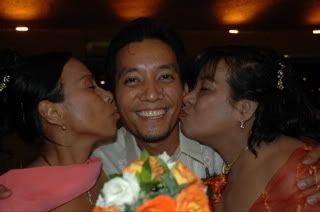 my two titas giving me a buzz
*most of these photos were taken by my other older brother with my nikon D70s. these are not photos from the official photographer
p.s., now you might think i didn't at all prepare for this event. this was really major for me, because after several postponements, i actually finally paid a visit to a facial care center and had my very first ever facial. imagine that. i never realized it could actually hurt. and disgusting the amount of blemishes the cosmetologist got from my face -- she showed it to me. yuck! my face is dirty! haha.