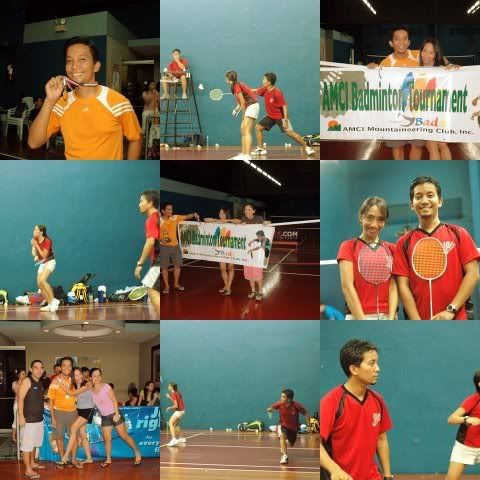 i am now officially a bemedaled athlete. i, along with my partner tweet, won runner-up honors at the 3rd AMCI badminton tournament last sunday. this is a feat for me, since i've always considered myself a klutz and i'm not good at anything requiring a lot of athleticism, focus and coordination. throw me a small ball or object from a distant of more than 15 feet, and i probably will not catch it half of the time. of course, badminton isn't exactly such a precise sport unless you're competing, and my goal is usually just to return the ball to the opponents' side of the court. but well, after months of dormancy, i had two instances to practice the sport, and tadaah! roy and heidi won the top plum even after we swept the elimination with lopsided scores. despite the fact that both of them were already very tired, i was bothered by errors and poor judgment. it was a close, three-set championship, which in the end, was one by the better pair. but runner-up is good enough for me! of course, i bombed out at the 2 previous badminton tournaments we had at AMCI, and i didn't even move up from my level, but hey, this is promising! the downside, of course, is that my shoulder injury returned. it's hurting a lot, and i can't raise my hand over my head without a lot of effort.



so after the hostilities that lasted from 8am till past 6pm, my team won overall champion. our championship appearance, of course, helped contribute to the win. there also was a special game, featuring manny and roy versus mar and don. the former won, but we all benefited: we lunched on lechon. a second one came all the way from iloilo, which birthday girl roan donated. then some of us proceeded to ka ising's in seaside along macapagal to celebrate.

it really was a very athletic weekend for me because last saturday, i ran a 5k at the bonifacio global city fun run which began and ended at the bonifacio high street. at first, i had my eyes set on maybe winning my age category, but lo and behold. all these career runners show up. these guys eke out a living out of running. and they're awfully fast. to be honest, there shouldn't have been any professional runners in a fun run. they already lord over events like the milo marathon, the adidas king of the road, the new balance power race, etc. leave the fun runs to us non-pros for crying out loud.

i registered 19 people from AMCI. more than 5 of them didn't show up. there goes the training! one funny anecdote was that i mistook a complete stranger for someone i knew. i was looking for the AMCI people to arrive so i could give them their race bibs and i saw someone not far away who looked familiar. when he saw me, he appeared to have recognized me and approached me. the first thing on my mind was: "ryan peralta looks different -- a lot geekier!" he said: "buti na lang may kilala ako dito." my reply: "and why are you running the 3k?" he said "hindi naman ako tumatakbo eh." and i said "that's because you quit BMC." i repeated that another time, and he said, "no i'm still with the PSE." then i realized: it's likely i don't know this person. we made more small talk after that and he even said: "text me naman if you know of other runs." i rushed to see the other guys from B2k6 and they all said it was ryan, but ryan's doppelganger didn't even recognize them. i'm still thinking if i actually know this guy. i actually might. but he's a ryan deadringer for sure.

end story: i shaved a whole lot of minutes from my time. finished the course in 24 mins and 50 secs, per my stopwatch. the official time is usually not very accurate, and still, i'm not too sure whether we actually ran 5kms because there was an unintended shortcut somewhere. a good 500 meters might have been taken out of the track, which is about 3 mins.



* * *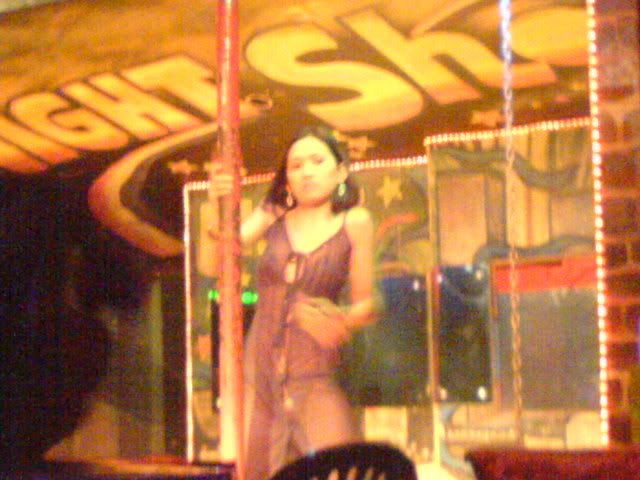 last friday and saturday, i had some sort of reunion with high school and elementary friends. late friday found me traveling to antipolo to accompany kent, alexis, jay and abraham to a seedy girly bar named "night shot". it still baffles me why these guys would go to places of ill repute for fun. kent and abraham were crushes ng bayan back in high school, and yet they pay good money (lady's drink at P280) to talk to a woman and possibly touch her thigh. alexis wasn't exactly crush ng bayan material, but still, the girly bar culture sounds funny to me.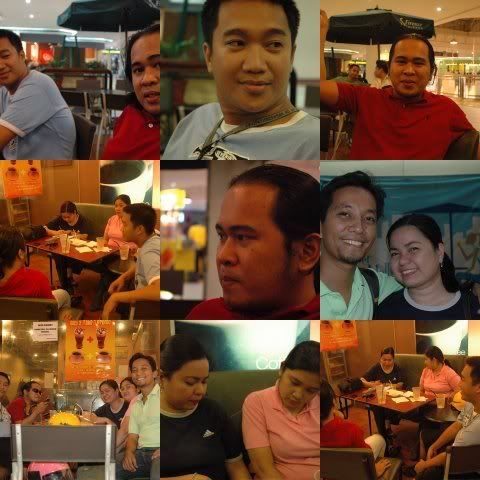 the following day, alexis, who was also my classmate back in elementary school, invited me to another small get-together at sta. lucia east. met up with 3 other classmates: april rose, aprilyn, and august. the latter two are married and are blessed with a 6-year old child. i don't remember the two ever being close in elementary school. aprilyn was a young beauty, and a lot of guys courted her, but august never was interested in her. i know this because i wrote august's love letters. some changes though: aprilyn has put on a lot of weight. and i mean a lot! august is surprisingly much much taller than i (although he was about my height when we graduated from high school), and is a lot darker too. alexis, on the other hand, has developed an unpretty beer-belly, long hair, and shocked me when he shared his raket: he maintains pornsites. i didn't know a lot of these were made here, locally. haha. so now i know at least one person who can give me passwords. other than maintaining porn, he also does a lot of wholesome web-designing. i remember we would compete against each other with our drawings. we even collaborated on a comic back in high school, which i even colored. that was quite fun. gosh i miss these guys. when i went to UP, i lost contact with much of my high school and elementary friends because everyone else studied somewhere else. i hope we can actually push through with a planned reunion of elementary classmates and tricol boyscouts.