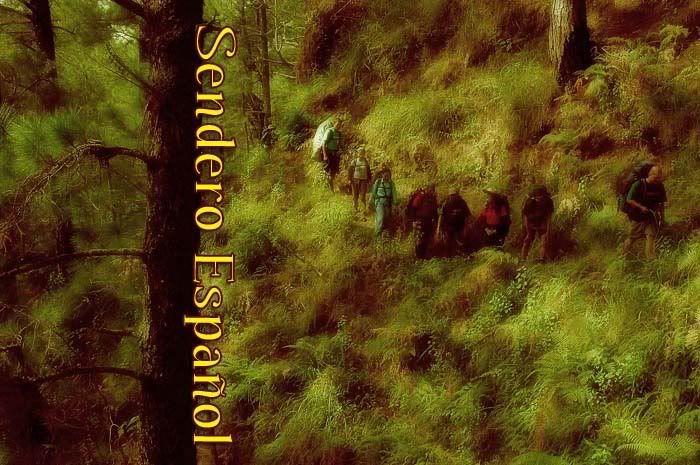 i had two successive long weekends, but only the first was spent outdoors.
just like last year
, i took to the mountain province to join what is now turning out to be an annual trek through an old spanish trail to sagada, which has till this day been kept secret by its trailblazers, and remains an exclusive AMCI affair. how accidentally appropriate that it should be done when we remember the birth of bonifacio, but how ironic as well, since, after all, it was highly unlikely that bonifacio ever set foot on these spanish trails; rather, it was his executioner, aguinaldo, who may have used these pre-hispanic paths when he was fleeing from the americans.
on the night of our departure, we gathered at the victory liner station in cubao, where several other mountaineers had assembled on their own pilgrimages to northern mountains. i saw dino de leon, sans the beard, field testing some mountain hardware gear. i accosted him about my shoes, and although i am not all too happy with the latest of columbia's shoes, i will be getting a replacement pair soon before this entire thing is completely forgotten. in just a little over 5 hours, we reached baguio, and slowly moved towards our bus station. the pulag climbers had arrived in droves, and we were thankfully not quizzed about our destination.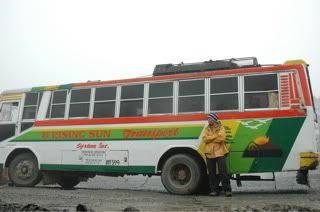 bus stop along halsema highway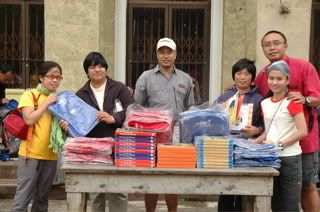 but reaching baguio is but half of the land trip, and another 5 hour bumpy bus ride waited for us. it started to rain slightly but constantly, and there was a chilling wind along most of halsema highway. just before we left for baguio, a typhoon was scheduled to make landfall on manila, and though our destination was many miles away, it was almost certain that we would feel a bit of its fury. i worried a little, but was comforted by the thought that the terrain wasn't too difficult, and at best, the rain would provide us a little challenge. at our jump-off, we distributed the books and bags to the local teachers and paid a courtesy call to the police station. and then i led the prayer. i am not unaware of the fact that people have noticed my prayers, and i have been asked, at times, if i think about my invocation long before i say it, but the truth is that my prayers are spontaneous: i say what feels most appropriate at the specific time. there is a template though: i begin with thanksgiving, follow it up with exaltation, and end with a petition. my prayers are always personal, and having been raised an evangelical protestant, i do not memorize and recycle prayers; and having spent a lifetime composing unique prayers every single time, this part really does come naturally to me.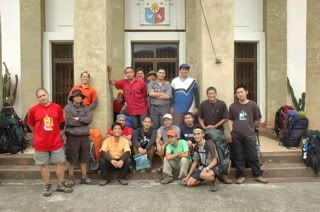 for this trek, i decided to model TNF. i was decked in a new yellow long-sleeved shirt, my about-to-retire convertible trekking pants, and my just-faded leather boots. this is a leap from the old ano baah shirt which i've been faithfully wearing since after induction. it sort of takes some getting used to, and it is certain to give you a bit of guilt, since the shirt is really not cheap, but then it ought to be used for the purpose it was made. if only the trail didn't require me walking through thickets. anyway, with kuya mar opting to take the direct-to-sagada route, some of the trail-finding tasks fell on me and francis, since sir oca was often in the middle of the pack. alvin and gilbert have been on the trail as well, but other than sir oca, only francis and myself have back-to-back experiences there. which, very early, turned out to be too unreliable a memory after all. about an hour after starbucks, i was immediately thrown off-course, and my spatial intelligence had all but abandoned me. i couldn't tell which way would lead us to the campsite. many times, the forest would look unfamiliar and identical at the same time, as if one photograph had been duplicated many times and placed around you. i suddenly lost all sense of direction, and my natural compass started missing many of its pieces. when i was uncertain, i would ask francis, which was a mistake, since he consistently pointed to the wrong way. after a major backtrack that had me going up, down, and up again, we reached last year's campsite where we pitched our tents amid a gentle rain.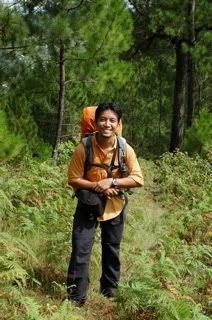 my all-TNF attire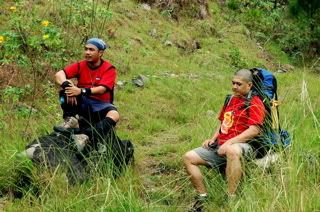 red, fat sentinels
it was cold, and an urgent breeze was blowing through the forest inhabited by tall and erect pine trees. on the ground, pine needles browned by the sun were scattered. the place still looked much like it did last year, except maybe grass had grown taller, and bushes have become thicker. as before, it was still clean and pleasant, and without much impact; this is a good reason to keep this a secret, to be shared only to a select few who have enough love for mountains to refuse abuse. i prepared dinner which consisted of quesadillas and a thai green curry chicken with eggplant, while pie took care of the boneless bangus. i also took along a margarita mix and tequila, which really weighed heavily on my pack. but they made for perfect companions to a chilly evening, as the socials lasted till after midnight. one of the highlights of that evening, of course, was genie and i locking lips. it was more of a smack really. genie said that she won't drink anymore because she was already drunk and she could tell by the fact that her lips were beginning to numb. much much later, after additional helpings of TJ's disgusting brews, she threw up. we transferred to the sweepers' area, and after a while, it was TJ's turn to blow. for some reason attributable no less to the alcohol than anything else, kim's voice was louder than everyone else's, and she was happy and shouting "ano baah! tagay pah!" a strange but funny behavior which we had an inkling of in kibungan. she'd said many things, and after her first shot of absolut raspberi, she was out of it. she threw up into a plastic bag inside her tent.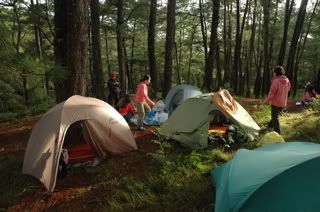 the following morning was excellent; it appeared to be ideal, with birds chirping in the background, laughter filling the air, and sunlight bursting into the campsite from above the trees. breakfast was fast because it consisted of the usual pita pockets that have gained some amount of fame recently. when it was time to break camp, i had to wait on ava to finish getting dressed inside my tent. she was taking a long time -- and she usually takes a long time -- and had the situation been any less perfect, i would've gone ballistic, the same as when glenn failed to show up when the bus left or when brody kept us out in the rain waiting for him to leave the tent. she is spared this confrontation because she has strange conditions, like tenting only with me and no one else (it's been like that since after induction). anyway, ava had been taking liberties on me since we'd started the trek, and sometimes, i feel that she can't tell the difference between friendly banter and serious talk.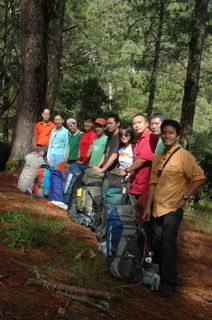 we had packed at around 9am, and walked towards the viewdeck for photoshoots. then we proceeded to the trail again. the path had been eaten up by the quick-growing forest, but the giant trail sign we made last year was still there. we treaded the narrow path along the steep cheek of a ridge, until we found ourselves staring at the small community of bagnen. when jon and i reached the road, i said, the store is just around the bend and i reckoned it would only be about 10 minutes. it turned out to be much farther than i imagined. and just our luck, although coke was abundant, there had been no electricity for over 3 days, and refrigerators had been temporarily transformed into cabinets. we cooked breakfast as the locals and their dogs ogled at us.
when it was time to resume the trek, i noticed that the trail leading to the next town had been widened and a road was underway. as i was walking, i remarked to cecil that in stark contrast to the forest trail which bore little change save the growth of bushes and grass, the trail looked almost unfamiliar. "i hate progress," i said. but progress, whether in the form of concrete roads or non-traditional houses with zinc walls, seems to be the by-word here; and i've only been gone a year. a small foot trail branched out to the right, which everyone missed because it seemed natural to follow the road. from there, we walked through the small community where i insisted that we should head for the school against gilbert's insistence that we go down to the road. i said the plans were to go up ampacao, the highest point in sagada. at the school, we had to await sir oca, since i confessed that i would easily get lost inside sherwood forest. my memory had become unreliable, and i was almost sure that i would be uncertain which path was right should forks appear on the road. and once again, i made the mistake of asking francis to find the trail, because he said we should be taking an early right. the team halted while we ran around finding the trail. jon, who hadn't been here before, insisted that we take an abrupt right somewhere, which went nowhere. at this point, i phoned for help. and at that precise moment, 3 kids appear. it was a good thing ava was around as interpreter, while cecil placed very noticeable trail signs along the trail. before 5pm, we were looking at the smart tower at the summit of ampacao. slowly, a fog was moving in, but we still caught a glimpse of besao in the distance. by the time we had reached the green fields on the shoulder below the summit, there was not enough light to take decent photographs. so we just proceeded to follow the road down to sagada proper. slowly, the evening crept in while i spoke with bojo about our first visits to the resort town.
finally, we reached traveler's inn. bad news though: some of our rooms had been given to other persons since we supposedly failed to confirm, and we had instead been booked to a house with 2 rooms but its own living room. my group quickly chose the house, and after taking a cold bath, i was already ordering food at yogurt house. glenn, probably to make up for his blunder earlier, bought a bottle of wine. it was mountain robbery at P600, to be honest.
that same evening, some of us decided to visit the bikers and the tourists of AMCI who had been shacked at st. joseph. it was already way past curfew and i kept telling my companions to not make noise and to say that we were on our way home. it was easy to know where the AMCI people were since they could be heard from half a kilometer away. at that time, that was the only noise that could be heard within a 400-meter radius. when we got there, we finished off the jim beam cecil (
miraclecello
) took with him on the occasion of his 45th birthday. it was obvious that people were having fun, celebrating their successful bike rides through sagada's ideal trails. but the noise they were making made me not just a little concerned. st. joseph wasn't exactly an exclusive inn, and although the AMCI folks there numbered more than 20, they had to share it with complete strangers. and it was rather obvious that we weren't just noisy, but a many steps above boisterous. people were shouting and screaming and playing loud music. at way past 10pm. i kept hearing a door bang. apparently, there were strangers on the floor who didn't quite appreciate the noise. a confrontation was inevitable, and when i heard heated voices arguing, someone told me to lawyer for AMCI. i said i won't defend the indefensible. i think some of the guys there didn't show a lot of class when they pushed the envelope by making more noise than was necessary. it was very disrespectful and insensitive and callous and uncouth. sagada is a very special place with sacred traditions and age-old customs that have to be followed, notwithstanding the fact that much has changed since my last visit. it wasn't just rude to the other visitors of st. joseph, but an affront to sagada's modesty. and i honestly feel that there is nothing to be proud about inviting strangers asking for some consideration to a fight, clenching your fist and making them choose 4 hours or 8 hours. that smacks of arrogance don, really. the situation was resolved when malvin proposed that they be allowed their revelries till 11.30pm, which is a compromise, but one that doesn't speak well about AMCI at all. before that deadline, i called the climb team to head back to our inns. even after some distance, we could still hear their happy and merry voices piercing the rest of peaceful sagada.
then kim called. she asked us if we could buy some drinks. all the stores were already closed except a bar named persimoon. i walked inside and asked "do you still have alcohol?" someone replied: "what kind of a question is that? of course we do." unfortunately, they only had red horse. so TJ and i ran -- yes, ran -- back to st. joseph to steal -- yes, steal -- the alcohol left untouched. besides, with the ruckus they were making, they shouldn't be allowed to drink anything intoxicating. so i took a bottle of GSM blue and TB's orgy, supposedly 95 proof lambanog. we took these to our house and drank ourselves half blind. kim's voice was starting to rise above everyone else's, and each time she spoke, we would shush her in unison. i think TB's lambanog was a fake, because it went down smoothly and was actually better for something so potent. much better than the absolutely disgusting GSM blue. we managed to drink, talk, laugh, and play music without our neighbors or complete strangers banging doors on us.
we all slept at past 1am that morning. when i woke up, i immediately proceeded to yogurt house for breakfast. some folks had already left for the first trip out of sagada and back to baguio. we had decided to stay a while, and take the virgins to the st. mary's, the cemetery, and echo valley. we had assumed that the last trip would be at noon, but it was a good thing i was inquisitive, since it turned out that the bus parked near ganduyan would be the last trip for the day. and it wasn't even 11am. there was only just enough room to fit all of us, and by a little after 11, we were already on our way to baguio.
genie with the late olat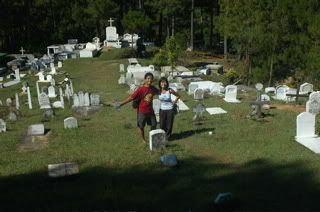 the cemetery at sagada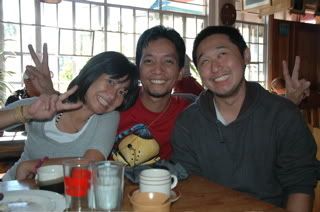 TJ's outstanding impression of doraemon
we arrived just after 5pm. as usual, we left our bags at the station, and had dinner. we wanted to have it at forest house, but it was closed for its christmas party. we had no choice but to proceed to o mai khan instead. then we hauled our butts to kaffeklatsch for acoustic music and coffee. bajay remarked that it was a nice place, but strangely, it was only then that i noticed it was rather expensive, although it would be my fourth visit to the place.
heyjay
sang 3 songs, and quite surprisingly, i didn't! baguio still has a few places worth visiting, tucked in many of its deep, hidden pockets, but in general, it's withering away, like an old rose. i really see baguio as no more than a jump-off to other destinations than a destination in itself. there's something to hate about progress. our trip back to manila was scheduled at 11.50pm, and after about 5 hours, i was home, asleep again, asking myself why i didn't take the day off instead.
i love sagada, but i also worry about it. i remember a conversation i had with angie and kat just after our cave connection over a year ago. angie was talking about building better roads to sagada to make it more accessible, boost tourism, improve trade, and provide prosperity to its people. kat and i somehow agreed that it was not how we would imagine sagada, but angie contended that we shouldn't deprive the locals the chance to rise above poverty. it wasn't that i didn't want progress for sagada, but i felt that our idea of progress didn't quite fit with what sagada ought to be: a heavenly compromise that unites even the most extreme and hardcore of mountaineers and nature-loving weekend warriors who have enough sense of adventure to endure a 12-hour land trip. but then again, that is my idea. it is rather selfish, actually. i want to keep sagada the way it was 10 years ago, because it is only this way that we can keep out those who might have the audacity to turn it into another baguio. i can imagine sagada 2 or 3 years from today. it will be different, even unfamiliar. i can imagine not liking what i will be seeing, but i am fortunate in the least, because i will be able to hold on to a unique memory of yesterday's sagada.