friday night, i slipped into my jacket as i pondered the long road home. my brain was swirling in a mix of paracetamol and ibuprofen, and i had been unable to make sound decisions. despite a slight fever, i left for the office with cravings for pritchon. someone threw a birthday bash and i had decided to go. this concerned my other friends, of course, because they feared i might not be well the following day for a trip to capones island.
yes, capones island. i have been dreaming of this place ever since i first heard about it. i have seen it many times when i went by anawangin, with its imposing hill rising a hundred meters above the busy sea, its profile resembling a sphynx, with its ears and its front paws cut off, scattered around as small, jagged boulders. more than 2 years after i desired to set foot on a chunk of rock and crushed corals, it still remained a distant dream. i still could not find other people who would spend a night in the island. and then came the AMCI january birthday celebrants. finally, capones island.
but there was still the matter of the fever. when i got home early friday night, i put on a pair of socks, plugged my electronic mosquito repellent, and shivered under a thick blanket. i had just chugged another one of those blue pills from bioflu, and drank water like a sailor. i hadn't even packed yet. kim's concern really, was that i was supposed to bring my stoves, my cookset, and my personality (without the last one, it was certain to be boring). 4am saturday, i woke up. my body hurt. i felt my neck with the back of my fingers. i didn't feel hot. i started packing. my mom was also up and she asked what i had planned. i said i was going to the beach. and she said i should reconsider, with the fever and all. i said i won't even swim. despite her protestations, i left the house at 7.40am. by 8, i was already at mcdonald's. no sign of the celebrants yet. they trickled in one after the other, and we only got to be complete at around 9.15, and we still had to buy ice, water, and lotsa booze.
i managed to convince kuya mar to get us a bottle of jagermeister, over the 3 liter fundador. he also threw in a bottle of absolut vodka and a smaller version of funda. by 10am, we were zooming towards san antonio, zambales. we passed by subic to pick up dennis who had to take half the day off to join us. lunch was at the coffee house along the hi-way, a place where they serve giant tacos. how these oversized salads in crunchy shells are supposed to be eaten is a mystery.
then we proceeded to san antonio, bought charcoal at the market, and then found ourselves a little later at the parking lot of megan's. insert people skills here. kuya mar insisted that i should do the talking with its proprietor, virgie, and make sure we'd be smooth sailing all the way to capones. since there were 17 of us, not counting the huge ice chest and big bags, we needed 4 bancas. but megan's only had 3. a perfect opportunity, or excuse, to momentarily sing karaoke. we imagined it would be a short 30-minute boat ride. capones was strikingly-near, and on the beach, it could be seen, its hills darkening in the sinking sun. after at least 4 rounds of beer and many more rounds of songs, the bancas returned to ferry the last group to capones. it was a really bumpy ride. the sea was not still. it was listless, stirred constantly, and threw pales and pales of saltwater into our faces. in the distance, the sun was gently fading. after about 25 minutes, we reached the shores of capones island, a strip of beach on its southwestern end. we only had a few minutes left before sunset.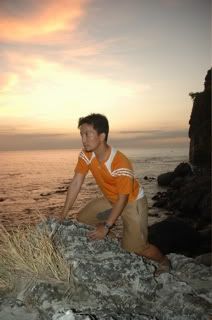 immediately, i took my camera, traded my slippers for my mojos, and went bouldering to face the sunset. the boulders on this side of the island are sharp and jagged. by the time i reach a big rock with a good view of the west, the sun is a small blazing orange coin about half an inch from the sea. . it wears a small halo around it, casting a variety of hues in all directions. it isn't as dramatic as the ones i've seen in boracay or puerto galera, but it was certainly good enough for the effort. pres was already there, seated on a flat piece of rock, pointing his camera at the sunset. after a while, sansu, rochelle, and nette joined me for a shoot. fierce. give me fierce.
we returned to our campsite and began the routines that would lead us to dinner. i pitched my tent, helped arrange the socials area, and tinkered with the kitchen in whatever was i could. by the time darkness fell, kuya mar was already far from sober. no one had opened any of the spirits yet. only the beers were running in his system, and he happily succumbed to them. dinner consisted of pasta with red pesto, barbecued pork, salad, and a chocolate fondue. since mar was already out of commission, pres had to spoonfeed him. "airplane! airplane!" unfortunately, sand had found its way to the barbecue, making it a little too crunchy. and just before 8pm, we began the sordid routines AMCI and most mountaineers willingly submit themselves to. i figured that since our tastebuds fatigue as more alcohol is introduced into the bloodstream, we might as well start with the better-tasting ones. first up: absolut bling-bling. i asked jay's friend, macoy to be our tanggero. earlier, i roused him gently from his slumber, and he woke up with a frightening and even violent start. it was a little comical actually. i've only seen it in the movies. i made this joke that his life was constantly under threat. when i gave him the bottle, he immediately downed 3 successive shots. i reminded him that he was merely going to circulate the shots, not drink them all.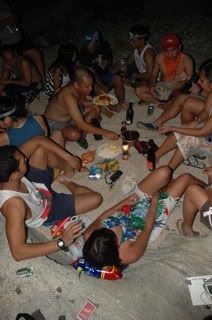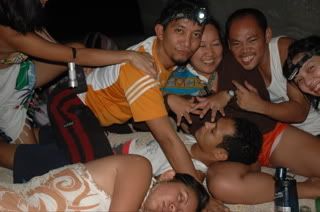 being the new one in the group, i introduced him to everyone else, and by the time we finished the absolut, he had memorized all the names. when i took out the jagermeister, he asked not just for 1, but 2 test tubes. when genie revived, she and leo returned to the socials area, not after genie chased me around the beach when i asked the very innocent question: "tapos na ba kayong mag-***?" she picked up a near-empty bottle of mineral water and threw it at me twice. she missed the first time. it was extremely dark, but i was wearing my petzl myo xp. so when leo was back in the circle, i had him down 2 test tubes of the jagermeister, that dark, vile stuff. he took it. not to be outdone, i took in 3. difference: he passed out, i didn't. leo and i didn't mince words that night, and insults were as thick as mau mauricio's lips. he makes more wild assumptions than most women i know combined. anyway, when the fundador was opened, people started to feign sleepy. tatax was certainly amused by kim, a facet she hadn't seen before. admittedly though, kim was no match for me that night, and didn't manage a touché, unlike previously in sembrano. at midnight, we sang her a sick version of happy birthday.
by the time we had called it a night, jhoana, nette, kim, angie, and kuya mar were on the sand, asleep. we tried to get them away from the beach, fearing they might be swallowed by the tide. we covered them underneath tarps and their malongs. meanwhile, i managed to salvage my altec lansings, and still found my way back to my tent which had no fly. now i know why it has such great star-gazing potential. i stared at an unknown cluster of twinkling lights, an unnamed constellation, until the heavy lids of my eyes were shutting down, blurring the lights, sending me off to sleep.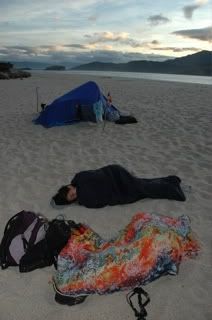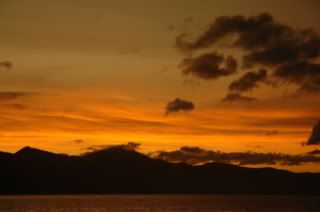 i woke the following morning with a cleaving headache. it wasn't even past 5.30am. there was a sliver of yellow light behind the mountains on the mainland. a dull blue glow was cast over the sky. the sea was slapping the sand. i went out in search of water. i popped in 2 advils, took out my manfrotto table tripod and found a place in the beach to photograph the sunrise. for the first time since june 2004, i got to use my cokin colored filters again. the results were okay i guess. it was still very early in the morning, and i guess after the tiring routine of the previous night, no one was interested in getting up. i went around checking on people. many of them had slept outside of their tents. jhoana slept in darren's vestibule. when i approached the kitchen, i heard the faint purring of a cat. could it have been kuya mar snoring? i took advantage of my solitude and did my business behind a few rocks. at 6.30am, i started blowing my whistle.
kuya mar was the first to stir. he immediately started fixing the kitchen area and asked if we had dinner the previous night. i said pres had fed him much to everyone's delight. we arranged breakfast. a confusion consisting of hotdogs, sisig, fried liempo, rice, spanish sardines. i barely had anything. and then we had the rest of the morning all to ourselves. i attempted to play frisbee with tatax, kim, nette, dennis, and rochelle. but i was unsuccessful. i also attempted the poy. unsuccessful as well. then i took photographs of the place. very successful. i'm all for learning something new, but it also pays to stick to what you're good at.
megan's boats delivered more people on the island, and as our own laughter mixed with those of kids and high-maintenance adults, we realized that the island was ours no longer. so we decided to return to pundaquit. most of us left on the 2nd trip. the water, which was already part of the south china sea, was restless once again. just as we were about to approach the beach, one of the bancas encountered trouble and had to be towed. unfortunately, the towing banca wouldn't start. we were under the sun for too long, i think. when we reached megan's, lunch was almost done. we kept singing till the mic gave up on us, mildly electrocuting our lips. there was a bus loaded with koreans there. the kids screamed at everything: the ugly puppies, the froth on the sea as it crashed into the beach, the singing of the transvestites in the other hut. leo observed that he hasn't seen an overweight korean. kim added she hadn't seen a good-looking korean man. "katawan lang ang may pakinabang," she added. i would've said "hindi ka kasi nanonood ng koreanovelas," but at that moment, i couldn't help but agree.
we left pundaquit after 3pm, passed by subic, and had coffee and pizza. almost immediately after, i felt a fever coming along. we reached manila at around 7.30pm, and i wasn't interested in anything but getting home. when i slipped the thermometer under my arm, my temperature was almost 38.5. i was really hot.
i'm glad my fever cooperated with me. it left me only momentarily, so i could enjoy the weekend, finally get to visit capones island, get really boozed, and take fantastic photos.