despite my asseverations in a previous post, i very hesitantly decided to accept my nomination as VP-internals for AMCI for the year 2007. i'm still not sure what i got myself into, but it will be a lot of work, i am sure: a position burdened by great expectations, but not-so-great rewards. critics and their criticisms, and well-meaning members with their suggestions and ideas will make the next year one exciting boat ride. last night, we had our first meeting, and already, i am beginning to be overwhelmed by the responsibility. how on earth can i cram all these into my schedule? i'd like to repeat the last sentence when i took my oath of office: so help me God! but then again, i am drowning in an ocean of plans and visions for AMCI's 24th year. it may not have been part of my plans when this year began, but everyone should always be prepared for unexpected curves and turns along the road.
* * *
over the weekend, i finally got my starbucks planner. i'm not necessarily deliriously delighted, since i am no big fan of coffee or of starbucks. but i am quite thankful, because glenn basically just handed over to me his card complete with all the stickers. so i went from store to store looking for the planner, and these apparently are always out-of-stock. i even called up several outlets in metro manila and all of them no longer have the elusive planner. but, i was struck by brilliance when i correctly guessed that provincial branches are likely to have them. so i got mine at a starbucks along the SLEX. trouble is, i'm not too happy with it. i don't see myself bringing this big planner around. it's a chore. i envision it'll just sit on my table, actually. i mean, if anyone wants a planner that already has my name on it, i'll probably give it out. no offense to glenn, really. but someone might actually really desire this object. or perhaps not. i can practice my calligraphy on it. hehe.
* * *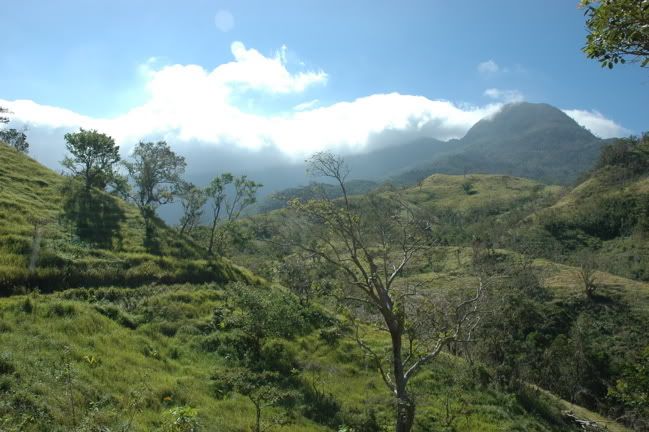 a string of unfortunate events nearly turned my weekend awry. but then again, not everyone has the ability to deal with situations such as the one we found ourselves embroiled in on our way to what we thought would be a hitch-free 2 days away from the city.
at around a quarter to 12, after stopping by robinson's lipa to do our groceries, we were rushing to catch the 12.15pm trip to white beach. we ran to the banca parked at the batangas pier, only to realize later that it would be further delayed by as many as 20 minutes. when we started our voyage, i noticed the unusual movement on the bay. the wind was fierce, and the sea was jumpy. it wasn't cause for any major concern actually, and i have had worse weather out in the open. 30 minutes into our trip, the boat's engine began to chug, sputter, and wheeze. and then it stopped. the boat captain and his crew frantically checked the boat's engine, and at this precise point, there was a mad dash for lifevests. the boat was filled with a cacophony of worried voices. people stood up, whispered oh my gods, asked whether water was entering the boat, and in a few seconds, nearly everyone looked like fashion victims, made bulky by their orange vests. all the while, and in the midst of the chaos,
mosscake
,
pisceantears
, janice, and i were seated near the boat's front, watching, calmly, and silently, the pathetic and almost comical mess that had consumed all the other passengers, while we showed not a bit of concern, not a strand of worry. i thought for a second, damn, my gadgets are going to get wet. and then i continued my conversation with jason.
at about this point, someone approached me. it was someone i knew from law school. her voice was trembling. "so what's going to happen?" she asked, and i said, i guess we wait for rescue. "is it going to get worse. are the waves going to get bigger? what do you think? i have my whole family with me. you're a diver right? good for you. are you sure the weather's not bad?" i almost had no time to tell her to calm down. but i tried to get her mind off the situation by asking where she's working, etc. then she goes on about the coast guard, and asks for an explanation from the crew of M/B brian.
i decided at this point that it was maybe better to make the most of the situation. i invited a complete stranger to visit the AMCI website and maybe join the club's BMC later that year. then, the AMCI folks went to the boat's aft and soaked in the sun. we began making jokes about playing a game, like the boat is sinking, form yourselves into groups of blank. after about 30 minutes, when we retreated to the shade of the banca, a queen suddenly took the cudgels of the meek and the quiet by announcing, "sino ang kapitan dito?" he stood at the front of the boat, his left hand on his waist, and his right hand holding on to the ceiling. he had a loud, booming voice, and there was a hint of an ilonggo accent in his tagalog. he was wearing a tight-fitting pink shirt which betrayed his unattractive gut, had longish hair with cheap-looking brown streaks, and wore a pair of funky jeans and a pair of plastic sunglasses.
"sino ang kapitan dito?" he screamed again, and sauntered towards the direction of the pilot's berth. he gesticulates his arms and says: "nagkakasakit na ang mga tao, nagsusuka na ang mga bata. pwede nyo bang ipaliwanag kung ano'ng nangyayari?" he was given an explanation, which apparently was not sufficient, because he goes on: "you have an obligation under the law to bring this vehicle and its passengers safely across the sea." yes, he said vehicle. he goes on saying something about the law, and i was beginning to suspect he may have taken up oblicon in college. he obviously was not arguing like a lawyer, and his knowledge of the law was rather disgusting, because he later declares that we should be entitled to a refund because what took place was not an act of God, but a result of the captain's failure to observe the prudence of a good father of a family. yes, he said prudence, like maybe, the captain wasn't all too discreet with his love affairs, or something.
bonus pater familias
roughly translates to the diligence of a good father of a family. diligence and prudence don't mean the same thing. by this time, he was beginning to really irk many of us, especially when he went on saying. "sino ang media dito? kelangan ma-report ito. sino ang nakakaalam ng number ng coast guard? bro, na-contact mo na ba ang coast guard?" i would have wanted to say something to him, but what good will that do? in the same way that this grandstanding queen should've have asked himself, what good will all that shouting do? there was no added value. the rescue didn't arrive earlier because he suddenly felt that he had to speak on everyone's behalf. and yes, a smaller boat did arrive and towed our boat back to batangas pier. it was already past 3pm when we returned. and because of the incident and their insistence on alerting the coast guard, we couldn't leave port till after 4pm. complete strangers, entertained by our antics, were agreeing that yes, that small group caused a chain reaction to happen, and we are all suffering from their overreaction.
we left batangas pier when the sun was beginning to dip its rays into the horizon. and in few more moments, white beach became a shimmering strip of sand illuminated by the full moon. lights were sparkling, in a rather gaudy kind of way. the minute we set foot on white beach, jason is possessed by this strange feeling. he did not like the vibe that the place was radiating. "i'm never coming back here again," he muttered, and in fact, it was just his first time. since it was already dark, the banca could not make the short trip to talipanan. instead, we were just taken to the road and brought there by tricycle. none of us thundered at the boat crew, and not surprisingly. we're really very cool people.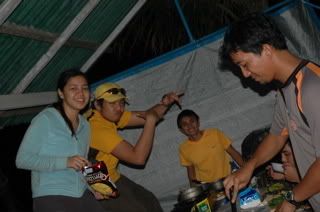 the road from white beach to talipanan is rough, but we got there in high spirits. we immediately proceeded to preparing dinner. jason authored an okoy dish fashioned from squid balls and carrots, while i put together an instant black bean chicken dish. after dinner, we took our spirits close to the beach which glowed in the moonlight, and started drinking. our sessions were only interrupted by an episode of project runway, and our own fashion show on the beach. jason and JC tailored at least 5 deconstructed outfits each out of the clothes off their backs. it was fun as hell. all the while, an ardent wind blew down from the mountain. what was strange was that we were on the fringes of the sea, and yet we were all wrapped in jackets and malongs. dyake's dome-type tent kept tumbling down because of the wind, and it may have been a blessing in disguise that we had camped on the beach instead of the mountain. niel's family was also there. i got to see mateo, who was born only 2 days before we set out on foot for our mount apo induction climb, and also met her two other daughters. alexia won't stop talking! i said alexia's gift of gab was probably something she got from nicole.
as the night grew deeper, jason took a stick and wrote "mistakes" on the sand. after a while, it had been engulfed by the frothy sea lapping at the beach. we should all just let our mistakes be erased by the passage of time.
the following morning, we decided to get up early and hike up mount talipanan. i felt bad that i couldn't break in and test drive my osprey atmos 65, but i was nevertheless strapped in my spanking new TNF jasper canyons (remember, i found the pair), and led my team up to the campsite below the summit. there are many trails going up, and i remember the trail we took last year was one that was rather steep, but the trail i took was so much steeper! if we had carried bags, it would have been a 4-wheel drive.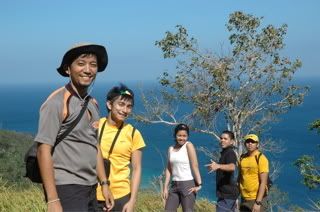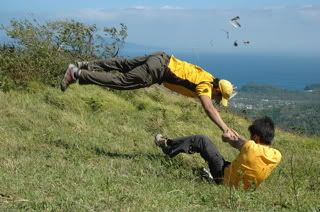 in less than an hour though, we had already gained elevation, and had a fantastic view of the sea between mindoro and southern luzon. from hereon, the trail was less challenging, and jazzie and janice were running along the beaten path as though they were being chased by a deranged man. while we were hiking, the wind was blowing furiously. the grass swayed, and the sun was beating down. the ground was hard and dry. in just over an hour, we reached the campsite under the duhat tree, where the view of puerto galera's natural harbor, and the pockets of beaches around the northern end of mindoro oriental was unimpeded. we also found other campers there. they were on their way down after having camped at the shoulder of talipanan. i made cursory hellos at them and sat down under the shade of the duhat tree. the wind was really really fierce there, and it nearly blew away dyake.
niel approached the other campers and one of them asked what our group was. "AMCI," niel replied, and one of them asked, "is that dave?" when i approached them, i was trying to place this man who introduced himself as chito. i thought, had i met him before? and if i have, where? and how come i could not remember him? then he does the favor of putting me out of my embarrassment by saying that he is a reader of my blog. "ah, so you're
tochs
," i said. how serendipitous that we should meet on the slopes of a mountain. chito was with his group, and he introduced me to his friends, including chris, a brit and also a photographer. we spoke briefly about their experience the previous night when the wind howled and the moon was full. chito described me as a journalist of mountains, someone who documents all his climbs with big pictures and kilometric but highly literary accounts. he even flattered me by saying that he read my entry on talipanan prior to their climb because the last time he was there was 5 years ago. i doubt though, if he managed to get any important information from what i wrote.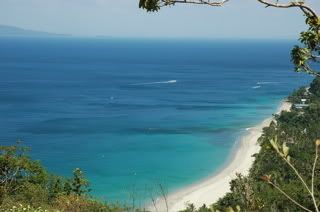 then came the point that we had to say our goodbyes. after a while, we also made our descent, and in about 20 minutes, we were on the road, then on the beach, walking towards mengie's resort. lunch consisted of red pesto pasta and 2 pizzas ordered from luca's, an authentic italian restaurant at the western edge of talipanan. as we allowed the lazy afternoon to wear on, two german women decided to do some sunbathing, in a very western kind of way. so i wasn't just taking pictures of the scenery, to be very honest.
at around 3pm, we were ready. but our boat got delayed because, according to mengie's daughter, the coast guard was being overly strict, and would not let the boat leave, even though it had no passengers. we were still feeling the overreaction of the frantic passengers of the previous day's brouhaha. nevertheless, we cruised across the sea and into the bay of batangas with no hitches. it was a very quick trip since there were very few people on our boat, and by 8pm, we were having dinner at KFC along SLEX. and since i was with a bunch of PUHCers, i got invited to charrie's birthday party in marikina, where we livened up the evening with our dramatization of the weekend that was. JC was the narrator and the coast guard caller, i was the grandstanding queen, and jason was himself and the other passengers. laugh trip. no one would believe any of that took place, because it was a rather comical situation, particularly when the queen announced to everyone, "babalik na po tayo ng batangas pier!" then he turns to the kapitan and says: "bakit hindi na lang tayo dalhin sa white beach? sayang ang oras namin. nasira na ang bakasyon namin!" he betrays his real intentions at this point: that he's not interested in anyone's safety, but in his vacation only. the kapitan responds by saying, "hindi po tayo kayang hilain hanggang white beach. baka masira ho yung bangka. at malakas ang alon. ano ang gusto mo? mamatay tayong lahat?" this irks the queen, and he says, pointing a finger at the short man: "wag mong sasabihing mamatay tayo." after our re-enactment, someone from PUHC whom i didn't know said: you're such a good actor. haha. well, i actually am.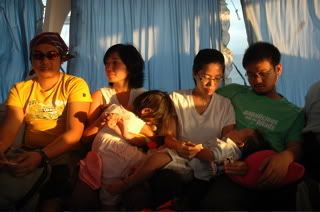 sunset on the boat
* * *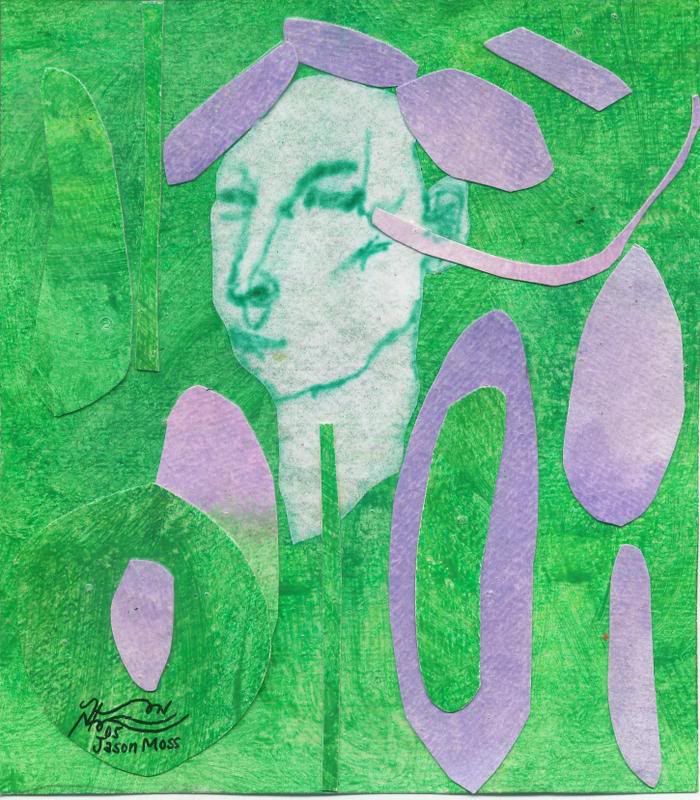 i now own a piece of jason moss! when we passed by his house en route to charrie's, jason picked up one of his paintings -- the spoon man -- and gave it to me, as a belated birthday gift. i have to find a nice place to hang this piece of art!
at the moss studio