i finally got to test drive my osprey atmos 65. and while the backpack may not be a beast, it performed well above expectations. my new pack is a handsome, functional, and efficient pack, but fragile. there are many trade-offs to achieve its light weight. i fear that it may not withstand the rigors of a multi-day hike, but it certainly makes for good conversation, and not to mention envious gazes, on an overnight climb. initially, i thought that its waffle pattern hipbelt and shoulder straps might not provide enough cushion or not effectively transfer weight, but i was surprised and not at all disappointed when i felt no soreness after carrying the weight of a tent, a cookset, a stove, a fuel bottle, a thermarest, 3 liters of water, a liter of alcohol, speakers, my clothes, a tripod chair, a table tripod, etc. of course, if your climb lasts all of 40 minutes, a longer hike might be altogether different. so we'll see.

and where did i break in the pack? last weekend, i joined ALI outdoor's beach clean-up at maricaban island and tree planting activity at gulugod baboy, on the strength of kuya mar's invitation. the plans were initially set for anawangin, and i was quite excited to return to the beach. when the venue was very belatedly changed to anilao in batangas, i felt a small nudge in the side. i felt no particular love for gulugod baboy, because its habitués are not my type of mountaineers. but then again, i recalled rather vividly why kuya mar had invited me. they needed first, a photographer to document the activities, and second a cook, to take care of kitchen duties.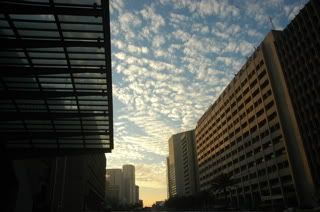 so i took a cab from my house all the way to makati, finding alternatives to mammoth 6am saturday traffic courtesy of the MMDA's concrete blocking efforts on EDSA. my taxi driver's mouth was foaming. he threw invectives at bayani, like he was out to ruin business and weekends. i don't see that at all. in fact, i appreciate the attempts to make the long ride along the main artery smoother. if you commute from makati to QC, you know exactly how terribly bad the road conditions are along EDSA, which at times can actually cause damage to your car. why can't taxi drivers see this?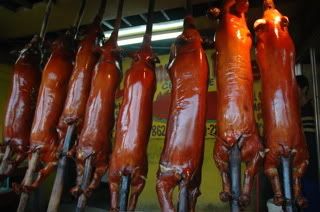 anyway, i reached makati just before 6.30am, and we made our way to susana heights to pick up faux cebu lechon. i didn't know there were lines and lines of lechon sellers in that area. i asked the proprietor if he was cebuano, and he said he had someone from cebu preparing the pigs. but then, he handed us a big plastic bag filled with lechon sauce, and that was a give-away.


after a long ride which i slept through mostly, we arrived in anilao, and found ourselves at philpan resort. we took a banca to maricaban island, at the tip of the isthmus of batangas to clean a small beach. the beach itself is not frequented by visitors. it's mostly made up of crushed corals, the size of small pebbles. it's laden with trash, not because people leave behind their refuse there, but the tides bring in and deposit several plastic bags, slippers, and just basically lots of trash. the waters between maricaban and anilao are frequented by boats, whose passengers think that the ocean is a big bin. the situation is a little sad, actually, and since the philippines is surrounded by the blue, the sadness escalates into alarm. after an hour, each of us had big trash bags bursting at the seams with all sorts of garbage. of course, i thought it was natural to load the bags onto our bancas and bring them to the mainland where they can be properly disposed. but faggot had been collected into a pile, and they were set to burn it. i was a little aghast! all that clean-up for nothing, i thought, since all that smoke has got to go somewhere, and we just end up transferring pollution to the air. i lost the vote, and they set fire to the collected garbage and even had photographs taken as the fire was just starting. the sun was really high and the small hill behind the beach was dry, and the grass on its slopes were brown. there was also a lot of wind, and the fire had grown to a height of over 20 feet. jhun feared the fire might go berserk and burn the hill. before long, they'd formed an assembly line, passing along a bucket riddled with holes from the sea to the fire, attempting to kill it. comic relief. in the end, the earth decides what's done to it. we loaded the rest of the trash onto the banca. (we brought them back to anilao, only later to find out that before we could dispose of them properly, the philpan personnel said they'd burn the trash themselves. sigh.)




we returned to a resort in maricaban island and had lunch and videoke. i had a bit of the lechon, and it certainly didn't have a hint of cebu in it. i sang some videoke until the power was cut off at 3pm. back in philpan, we took our packs and readied to assault gulugod. a jeepney waited to take us all the way up to the end of the road, which cut the hike by as much as 30 minutes. the concrete road is actually the hardest part of the trek. i started my hike, and walked past the 2 designated rest areas. i was very interested in getting to the summit before sunset. on the way, i passed a group of young people. the boys had these huge packs on their backs, and the girls had small bags, smaller than the one i bring to the office. one of them was wearing a pair of jeans. they hiked holding hands. i paused near the plantations at the summit to await my companions and i spoke to an old man with an old-school external frame pack. he was having troubles with his knees, he confessed. the young people i passed went ahead, but 10 minutes after i paused, i overtook them again before the fork. we either go right, where close to a hundred campers had already set-up their tents, or go left, where the view of anilao bay was clearer. i opted not to go to the fiesta.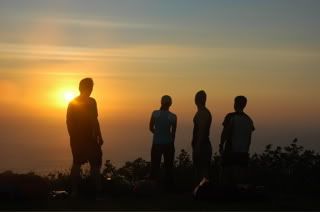 when i set foot on the highest point of the northern peak of the swine's spine, i felt the wind. it was there again, fierce and strong. it was my fourth time since my first training climb with pilipinas sierra, tying with pulag as my most-climbed mountain. not exactly the most honorable of claims to make. i hope that changes soon. the crew trickled in little by little and refused to turn our tents into kites and succeeded in building a small campsite. kuya mar hiked very gingerly. he had quite a lot to drink, and even fell asleep along the trail, not due to exhaustion, but due perhaps to inebriation.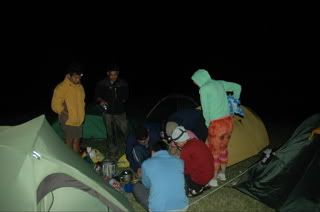 and i tended to dinner. i prepared a seafood pomodoro, and while the squid hadn't been prepared to instructions, it turned out fine. i was complemented for the great dish, though i think it was only because i was the only one who had volunteered to cook. we also had lechon paksiw, which jhun carried nestled inside a big cauldron. double J had an ice chest. he didn't know the venue had been changed to gulugod baboy. the others carried narra seedlings. kuya mar carried a 2.75 bottle of fundador.

we had dinner under the stars and even as the wind threatened to blow all of us away. my tent was the only one not fortified by guylines. the wind probably traveled at more than 80kph. anilao bay was filled with a few fixed lights. behind it was batangas bay, which sparkled with thousands of dazzling lights. it rivaled the dark sky.

after we ate, we started on alcohol while double J burned pusit on my stove. i just happened to tuck in 2 packets of tang into my bag. and that was all we had to chase the fundador. all our other juices were left at the resort. before long, we just had water. but with ice, mind you. but then again, since we had newbies along, not everyone carried their fair share, and we also ran out of water! while i was inside my tent, listening to kuya mar snore, the wind carried the voices and the laughter of the other campers from 500 meters away. i had half the mind to go there and drink with them. i still had a liter of fundador in my sigg. but then, i was called to sleep.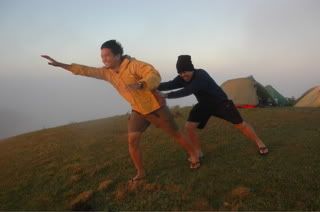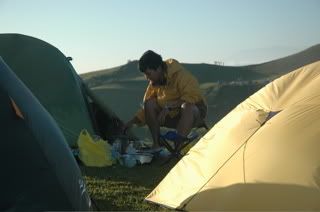 i woke only the following day. while it was nearly perfectly still inside my tent, i could sense the carnage that was taking place outside. the nearby tents were flapping noisily. when i went out, it was hard to go the direction of the wind. crazy.

while i prepared breakfast, the ALI outdoor volunteers started planting their seedlings. we ate bacon, longganiza, and more lechon paksiw. i allowed all of them to get a headstart in the descent while i checked out the "fiesta" at the other peak. i was eager to promote AMCI and to maybe look at halcon's outline. when i got there, i met people who knew people i knew. on the way down, i had to overtake several guys in their jeans, in their badminton shoes, with their small bags, and their puzzled looks. i know i am beginning to sound very arrogant, but, hey, c'est la vie. i caught my team at the first house on the way down having fresh buko juice. i had one myself after having photos with the kids there.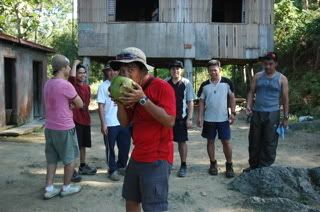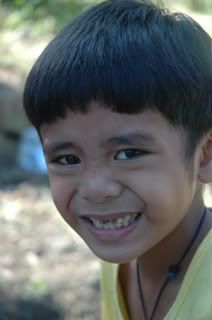 i proceeded to jog the rest of the way (although i failed to overtake kuya mar), to see if my columbia ludamania pass WP boots would do well. not as good as the soldotnas that they replaced, but better than sandals, i suppose.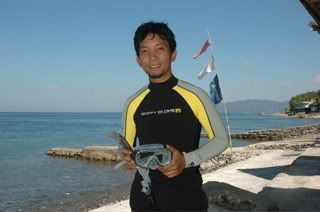 when we reached philpan, we immediately hit the water. i put on my body glove rash guard (which i got at a bargain from eureka dive in power plant -- and so did everyone else in AMCI!), and went snorkeling. now i have not kept secret the fact that i am a bad swimmer, but i have a lot of heart, and i snorkeled at depths of over 15 feet without a life jacket, where there are jacks, triggerfish, parrot fish, and all sorts of colorful sea creatures, notwithstanding the fact that the shores of anilao have gotten quite a beating from a lot of things. i even went farther and deeper when i borrowed double J's fins. i would've gone farther into the sea but worried that a force might suck me into a void or something. haha.

at around this time, jhun and jasper returned from market. so i abandoned the sea and started cooking while the ALI guys were chatting and doing more snorkeling. i was rosalinda for one whole weekend. the menu for lunch: sinigang na bangus and pinakbet. how i was supposed to prepare them i had little idea. i don't even eat pinakbet, to be honest, although my mom, who's ilocana, can cook it with her eyes closed. it's one of her specialties. but guess what, i pulled it off! it may have been in the genes. the pan where i prepared the pinakbet had a wooden handle, and when i finished cooking, i lifted it up, and the handle turned, spilling all of the pinakbet onto the table. being mountaineers, this was not a major issue. we scooped back the pinakbet onto the pan, reheated it, lifted the pan again, it turned again, and spilled again. as if we've learned our lesson, it happened a third time. vegetables and me just don't agree. but surprisingly, the ALI people wolfed down the pinakbet! i didn't even have one morsel of it.

after lunch, we prepared to leave philpan. i spoke to the other mountaineers there, enticing them to visit our photo exhibit in glorietta soon. that's the VP in action! sometimes, i think other AMCI members are too preoccupied with their own that they fail to reach out to other clubs. when we were about to leave, an all-women's contingent arrived at philpan. cool. they were affiliated with MFPI-clubs though, so i steered clear of them, knowing fully well the unfounded rumors circulating there about AMCI.

we decided to leave anilao, and long before 7pm, we were back in ayala. kuya mar and i even had time to drop by the pre-palawan meeting with majika at max's in malate. i would have wanted to join them, but i am currently planning a guiting guiting climb for the labor day long weekend. we had dinner at porky's inasal along a row of small restos built from cargo boxes fronting baywalk. and since i had planned to clean my TNF tent and wash my TNF jacket, i went on ahead of everyone. weekends were supposed to be periods of rest. but mine are always filled with lots of action. and no, i am not complaining.