on the way to lea beach. that's
cutebalddiver
, hugo, and thad. TB had me retell the nouveau riche story more than twice. while i've been consistent, his version evolves each time he tells it. haha.
roy's bikerack, approaching the tollgate at the SLEX. although we didn't convoy with the rest at petron, we managed to catch up with them along the stretch of the south superhighway.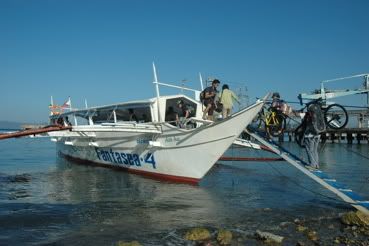 we loaded ourselves and our bikes onto fantasea 4. i realized when i looked around that i've actually been to lea beach before, when i volunteered as a paralegal for one of greenpeace's campaigns against GMOs. a shipment of soya arrived, and greenpeace suspected that it was genetically-modified soy, so their climbers chained themselves to the conveyor of pacific flour mills, hung a banner denouncing GMOs, and basically made for a great media spectacle. that was way back in 1999! before actually getting to lea beach, i instructed malvin to turn into the shell refinery, which was wrong. the guard let us through because he was talking to someone at the gate. good thing no one shot at us.
on the way to talipanan beach. it was a smooth ride, just a little over 1 hour. which was a good thing because we got delayed by as much as 30 minutes because brody arrived late for their rendezvous, and chris took EDSA which was being rehabilitated. i had previously advised malvin to avoid EDSA precisely because of the concrete-reblocking thing. later, when we arrived at talipanan, brody said he lost his cellphone, which fell through a hole in his pocket. i said that was his punishment for delaying all of us.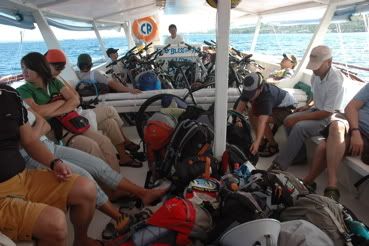 38 passengers and 17 bikes fit comfortably into the fantasea 4. and it was on the cheap too, because we each just paid P160, and had none of those stupid port people to harass us about our knives.
frodo's feet. this pair has been to the shire, mordor, and back. even after over 2 years of mountaineering, i have never had dead toenails.
luka, preparing pizza with slices of mozarella, pepperoni, and secret italian herbs. his wife says they met in puerto galera six years ago. i asked if luka really knew how to prepare authentic italian recipes, and she said that his family has a restaurant in italy. if you happen to be in puerto galera, even if you're as far away as white beach, luka's at the far end of talipanan is worth the visit.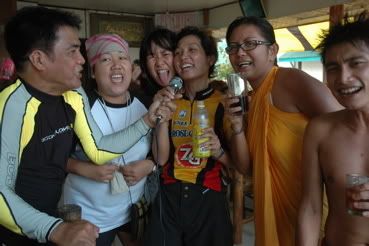 "kahit sulyap lang darna." after a gruelling 7-hour bike ride, tatax still had the energy to belt out a kamikazee standard. notice how kuya mar is trying to retrieve the mic, and how tatax was holding on to it tightly, when, all throughout the song, the mic wasn't working. but when it was working, we sang our hearts out. even invited a bunch of canadians to sing along.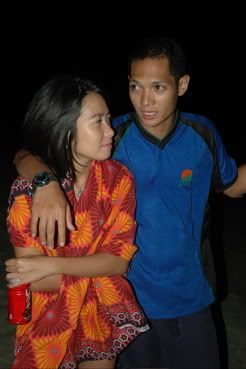 just before the start of the procession.
facta non verba
.
i am here and i am present. during the rites, genie collapsed, and it is a testament to how cool AMCI folks really are, because the program went on despite what happened. genie was attended to by her batchmates, and i very calmly said: "check her pulse." she was carried away and regained consciousness a few minutes later. i nudged tintin on the ribs and said: "papayag ka ba? di ba, may history ka rin naman ng pag-collapse?" genie says she was just staring at the flame, and the next thing she knew, she was prostate on a bench, with her batchmates surrounding her.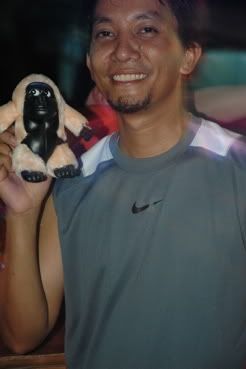 meet joe. my tentmate. got him at the tiangge in market! market! for 70 pesos. finally, i have my own mountaineering stuffed toy.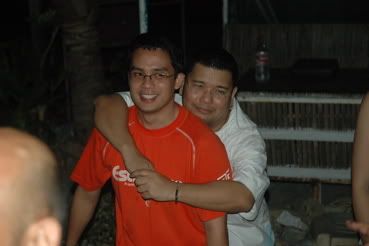 i don't actually know what took place that saturday night, but xenon says he was extremely happy. i asked mike what he did, and he answered: "basta, nakuha na ni xenon ang inaasam nya sa akin." mike was also really weird. he kept shaking hands with me. at least 5 times i think.
JC doing effie white. "and i am telling you, i'm not going. you're the best man, i ever knew..."
me, pole dancing. i started out the night bartending, giving out shots of jagermeister, stolichnaya, and fundador. by midnight, i was really drunk myself. i had several bongs, which, i suspect, didn't just contain beer. tatax took over bartending when i lost it.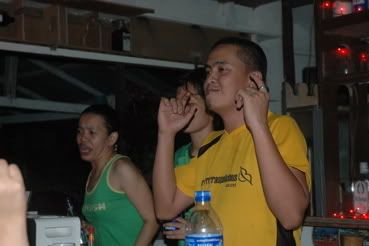 wild wild wild. camote ugly. the apple hi-fi is one mean machine! it actually drowned out the videoke, and we had a wild party on the beach. people dancing on the bar, rolling on the sand, kissing under the darkness of the new moon, and having a rollicking fun time.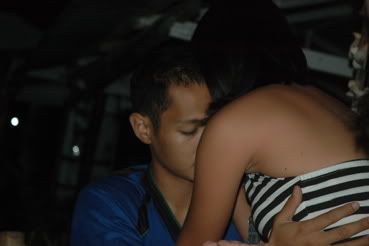 okay, so my training as a lawyer has taught me the art of interrogation. i know what questions to ask to reach a certain conclusion. all i can say is that there is nothing quite like the liberating feeling of confronting the truth. hey, this might be a note to myself as well.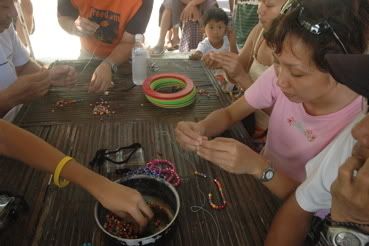 i planned 2 major events for the anniversary weekend: the mountain chef cookout, which was won by the chabelitos, don and roy (they had an unfair advantage though, having used a real kitchen), and the adventure race. the iron chef was judge by myself, thad and sansu, with guest canadian judge, mike. the following day, everyone was either too tired from the bike ride or still reeling from severe hangovers that an adventure race was out of the question. so i just gave out prizes and had a few members perform the tasks. was surprised that not a few of them were very competitive. carla wanted the waterproof wallet so badly, she resorted to unfair play at the bingo challenge. malvin joined almost all of the events and won only a carabiner. i had a bring me portion, and i said: "bring me a conch." beng ran to the beach screaming, looked around, and said, "ano ba yung conch?" i was actually really stressed during the event, that i almost threw a tantrum.
andaming pasaway sa AMCI
. what did i get myself into?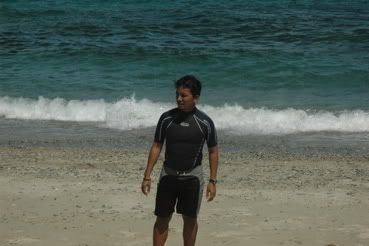 in my club flipper neoprene rash guard. this must be what superheroes wear. if this thing were any tighter, i would've fainted.
not to be outdone by JC. i did my paris hilton on the sand.
running after hugo.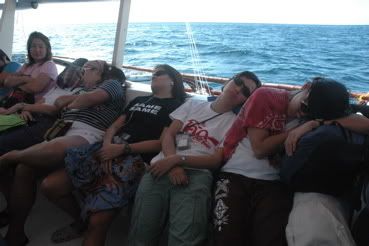 on the way back to lea beach from talipanan. we were accompanied by dolphins along the way. we just saw their dorsal fins and tails, so i'm not sure what kind they were. only a few of us were awake throughout the trip, so i had to shout out loud when we saw the sea mammals. i was reminded of that whale when we went to apo reef.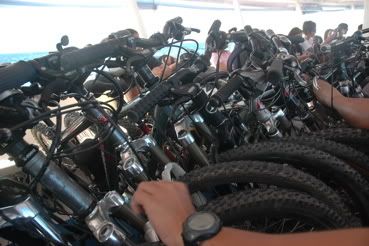 a lot of bikes were transported. when we arrived at lea beach and entered the parking lot, brody discovered that his cellphone fell just outside the door of chris's pick-up. either people there are very honest, or brody's phone was too cheap to be the subject of theft, or no one saw the phone, or brody was just plain lucky.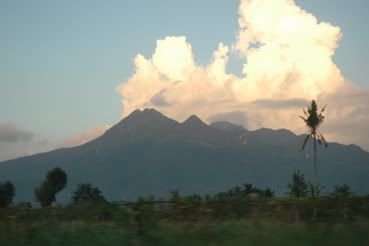 a view of makiling from the STAR tollway. i want to climb this mountain again soon.