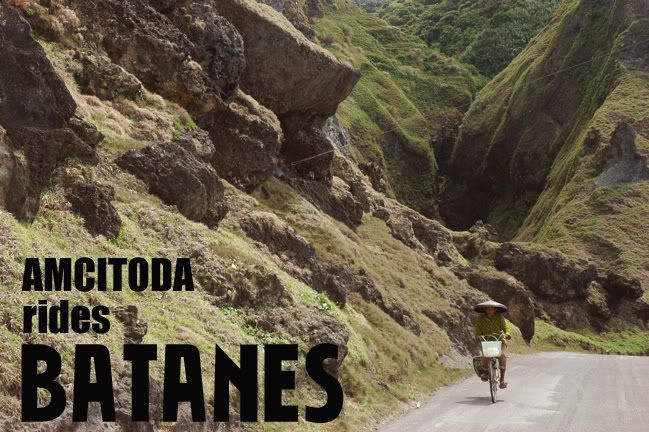 at a quarter to 6 in the morning, i was very gingerly contemplating my luggage. i had decided to lug along my deuter ACT lite 50+10 backpack along with my deuter speedlite 20 with me. the latter, which i intended to be my hand-carried baggage, was filled to bursting with my iBook, my wires, my spare lenses, my nikon F80, and a lot else, and actually felt just as heavy as the bigger bag. my lowepro camera bag and the nikon D70s inside it was slung around my neck, and an extra bag containing the souvenir shirts that i had made also kept my hands full. at around this time, i received an SMS from roy. "san kn?" he asked. my response was that i was just about to leave the house. "915 pa naman flight natin, right?" i replied, and double checked my ticket. roy responded that they needed my baggage allowance. each of us was allowed as much as 15kg, but roy, and many others, had planned to transport a total of 9 bikes onto a plane bound for basco, batanes.
three years after a visit in which metaphors failed me, i returned again to this place of amazing wonder. when don broached the idea of biking batanes, i signed up for the trip in a heartbeat. i do not own a bike; my helmet is a hand-me-down from roy, and which i didn't even bother to bring on this trip. and save for that
instance when i was reluctantly dragged to a short ride in santa rosa, laguna
, my only knowledge of bikes was limited to a skill in balancing. i have many times heard that this is one of those things that you never unlearn. so i was not at all prepared to hop on to a bike for the trip. my main interest was to take more photographs. now that i've gone digital, i didn't have to be limited by the number of rolls i was prepared to expose. i was merely limited by the number of bytes that my iBook was willing to store. but then again, in batanes, plans get waylaid, and you brace yourself for many fascinating turns and surprises.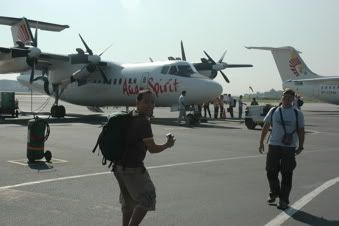 i reached the airport just after 8am, and i was the only one who had not yet checked in. our tickets had VIP printed on them in bold, large letters, and i was given priority. the bikers were there very early, and although i wasn't around, i was told that the trip had almost gone awry. asian spirit changed the aircraft. instead of the regular 70 seater british aerospace advance turbo prop (ATP), we were going to board a smaller 50-seater da havilland dash7. the details were a little sketchy -- it was either the ATP was rerouted to caticlan, or it was undergoing maintenance in india. regardless of the exact reason for the change, it meant that several batanes-bound cargo and luggage had been offloaded, and they wouldn't even load any of the bikes. don, after some arm-twisting, pleading, begging, and bullying, managed to find space for only 4 bikes: his, malvin's, roy's, and sir manny's. for the next 2 hours, we flew without incident over cloud-covered mountains, and ripples of earth unfolding either as slopes or terraces. a big portion of the trip was the sea that separated the islands from the rest of mainland luzon. i had a window seat, and i could see two of the dash7's huge propellers. one of them wobbled a bit, as though a screw was missing.
upon arriving in basco, i was immediately pulled back to an exciting memory of my first encounter with the place. in the distance, i spotted 3 windmills. elsewhere, there were white towers colored gray, red, or white. the airport had also been renovated. it sported a different look, channeling a bit of ivatan culture and history, although i think they chose the wrong kind of stones, and the wrong color of roof, as it looked more like one of the houses in the expensive batanes resort rather than a tribute to the old stone-houses in chavayan. i read elsewhere that they spent P10 million for the airport, and it may have paid off rather well. when our baggage had been rolled out, and the two bottles of henessy were unloaded from its special storage -- the cockpit, no less -- we proceeded to shanedel's. tita dely, who we kept awake for three successive nights, was already there to meet us.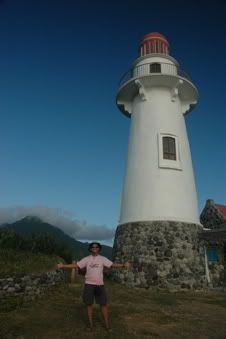 when we arrived at the inn and café, we were treated with an amazing view of the pier. the M/V tacloban was unloading cargo: several cases of beer and soda, and whatever else. there were concrete piles on the plank, evidence that there are plans to expand the port. the sea appeared to be calm, and people started asking if our stories about the sabtang crossing were no more than exaggerations. i told them to keep their conclusions until they experience it first hand. after lunch, the bikers immediately pedaled for pacita abad's home. us pedestrians were confined to the inn, and although kuya mar had consumed some beer, i convinced him to walk with me towards naidi hills and the lighthouse while there was still some sun left.
along the way, teenagers who had just been dismissed from class looked at us and pulled back embarrassed smiles. it was pretty obvious that we weren't locals, not because of the way we dressed, but because in basco, every single person is a neighbor, familiar and known by their first names. we ordered a cake at the SDC canteen for roy's birthday on saturday, and continued walking. when we reached the lighthouse, kuya mar's intoxication had apparently left him and he seemed terribly excited. the setting sun colored the sky in a conservative kind of blue. in the distance was mount iraya, crowned by strips of clouds, like fluffy white hair blown away by the wind. above it was a moon nearing its fullness. shortly after, the bikers followed and on our way down, we met the girls; 30 minutes earlier, they made kuya mar and i wait for some time before we decided to just walk on our own.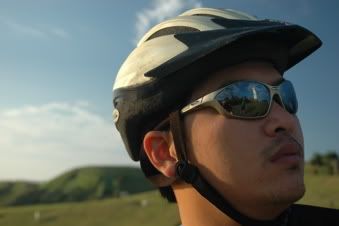 naidi hills and an english lighthouse
back at the inn, we peeled off the day's stories, and freed our minds for the evening's revelries. we started late and slow, but picked up speed sometime between sir manny crooning "my way" and roy coaxing tatax into a sweet, intimate dance. we had the videoke turned on, feasted on flying fish, and invited a solo japanese traveler to join us. the following day promised to be long and tiring, but we extended the day till early in the morning, when the only sound left was the racket of the videoke, and our own voices, screaming, perhaps out of joy and surprise, over the opportunity that has been given to us to visit batanes. kuya mar has tried more than twice, and only now did he succeed.
the basco pier
the following day, we woke up to the soft breeze blowing at our window. the sun was already up, and we were in no hurry to get anywhere. while the others prepared, i walked with don and our guide, nerisa, to a corner in one of the narrow streets of basco, which from the air spreads out in a grid with nearly equal polygons and straight lines. at a store belonging a certain mr. amboy, we rented 2 mountain bikes. i laced on my TNF jasper canyons, which were a bit too heavy for cycling, but were better than being shod in sandals. we took off for the national highway which winds and snakes through batan island's rugged coast, with its cliffs and flat rocks, inclines and downhill drives, horseshoe turns and explosions of waters. the island is generally hilly, with only a few flats scattered near the coast. the hills look as if they are expanding, bursting at the seams, pushing out the highway and the clusters of houses out into the violent sea.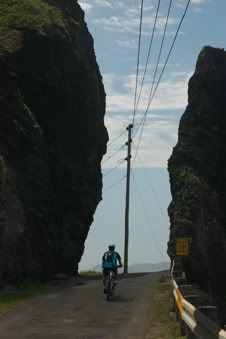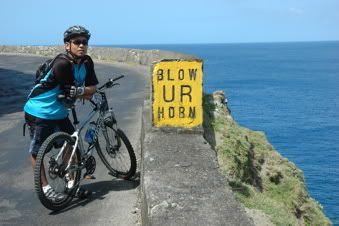 there are blind turns all around, and blowing ur horn is important
it wasn't a difficult ride. there were short challenges sprinkled here and there, but it was actually rather pleasant, especially since all throughout the stretch of highway were beautiful landscapes and seascapes. i held back some disbelief, considering that 3 years ago, i walked most of the distance, hitching a ride only when a vehicle happened to pass my way, and often even declining an offer because i felt that i'd lose much from being confined to the inside of a jeep. there are parts of the road that had sliced through roots of hills. there were times where we were nearly at sea level, other times when we were perched atop cliffs, or on the hills themselves, sharing the greens with cattle and scattered goats. very very few vehicles competed with us on the road, and there were more local bikers as well, pedaling from their farms back to their homes, or maybe just enjoying the view.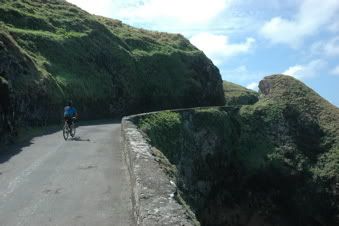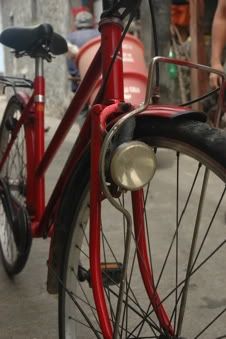 many of the bikes in batanes are vintage japanese. they have no gears, are single-speed and oddly-shaped, the seats are low, and there are baskets and dynamo-powered lights in front. bikes are also registed in batanes, and there are bike-specific road signs along the highway. i don't recall seeing this many of them the last time, or maybe, i was just not paying attention on bicycles. but now that i was touring the islands on a pair of wheels, i saw bikes in everything. such as the old man, with the pointy straw hat and the stunning green frock pushing his bicycle up a short incline, his face lined by years of hard work, and his expression fixed and stern, as though he was performing a routine, while his background tumbled up in green bulges of sparse grass on jagged rock. he was like a passing dream, unflinching even as many cameras trained their lenses on him, mounting his bike, and cycling his way back to his place in the universe.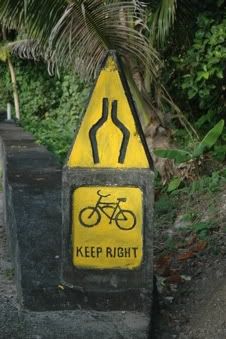 from basco, we passed through the towns that share the small island of batan. we passed by the viewdeck that's noticeable even from the air. we stopped at mahatao, purchased beer at a store where they lent us a bucket and even a case for the bottles. there we also played basketball with kids. we passed san vicente, and also ivana, where we paused and lunched at the honesty coffee shop. this store used to be just a small shack at the end of the small pier at ivana, but it has now evolved into a big store with a videoke machine that needs to be fixed. "jesus is our security guard", a sign reads somewhere. across of it is a price list. on a counter is a slot where you drop your payments. we helped ourselves to the goods at the store and listed what we consumed in a notebook. the fact that the store has expanded is proof that probably nothing is stolen in batanes. somewhere else, in the island of sabtang, a sign at the municipality read: "lost and found, money". even in shanedel's, tita dely did not provide any of us with keys to our rooms. we just left the doors closed, but not locked. we left behind very precious things for most of the day, and nothing went missing. nothing got stolen. is this the philippines?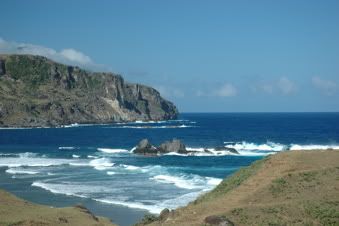 for lunch, the chabelitos (champions at the recent mountain chef challenge) prepared vermicelli noodles with an assortment of vegetables and meat. from there we continued with the ride, passed through itbud and did one big push up a steep incline that overlooked imnajbu (the 'j' is silent). it was all rough road from here entering into the communal pasture lands called marlboro country because of the wild cattle and the rolling greens. somewhere along the way, i stopped my bike to take a photograph. i was already feeling its weight -- heavy, and my boots, heavier. this was a mistake, since because it was a steady climb, i couldn't get started anymore. when the jeepney arrived, i loaded my bike inside and toploaded. up ahead was malvin who was very slowly inching his way up to marlboro country. kuya mar kept shouting at him to stop and to ride the jeep. his back was turned but i knew he was smirking, driven uphill by pride and an inflated ego. the other bikers -- sir manny, don, roy, and chair -- have all gone ahead.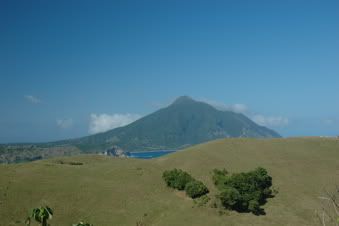 when we entered marlboro country, a sign was at the gate featuring a bovine creature. in the distance, mt. iraya framed our view majestically. not far away were cows and horses, still and silent on the edge of a hill. we might have been too smitten with our view because we completely forgot to ask the driver to stop. the last time i was here, i had gotten too curious and went too near the cows that a moment later, they were running towards me. i never ran so fast in my life. i also got to explore the other lighthouse, and the small fishing community of diura down below.
eventually, we found ourselves back at mahatao. i returned the case, the pale, and the bottles of beer that had been consumed, and although the jeepney was offered, i opted to bike my way back to basco. i took it slow, stopping when i felt like it, not restricted by the other people's schedules. when you have this much beauty around, it is always nice to be able to share it with your friends. however, there is something quite unique and special about traveling alone, something almost contemplative and meditative. everyone should try it.
when we returned to shanedel's, we found the chef of casa napoli, and i took the initiative to order dinner: 3 pizzas, 2 pastas, and 2 chickens. the girls, who felt that we were inconsiderate the previous day, wolfed down as much of the dinner as fast as they could. kuya mar and i had to contend with skinny chicken bones. but it was really good food, something you almost cannot expect in batanes. the evening was not a replication of the previous night, because it turned out wilder. at the end of it, i had to assist both don and roy back to their room, remove their shoes, and cover them with bedsheets. that morning, we all had to get up early for the crossing to sabtang, and they woke up with no recollection of how they got back to their room.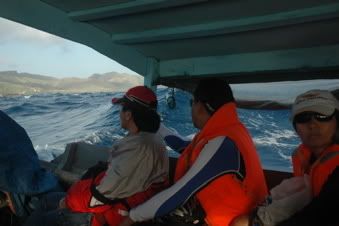 the bikes were loaded into the jeep, and very early in the morning, with most of the boys decked in their body glove rash guards, we left for the san vicente pier. a small, rickety falowa, which has far too long postponed its date with the scrapyard, waited for us. the others were still unconvinced about the tempestuous waters in the crossing, and i smiled secretly. orange lifevests were handed out to us, but none of the locals wore them. the falowa tilted from left to right, depending on where the weight was placed. sometimes, it tilted far too much that the rim of the boat nearly touched the water. in the middle of the round-bottom boat, a man was pumping water out of the hull. i'm not sure if i felt that the waters were close to peaceful that day, or maybe because i have been there once before, but it certainly wasn't as scary a ride as when i first encountered the crossing. i recall, very vividly, how we were tossed and tilted, raised and lowered, rocked and rolled, in that short, 45 minute ride. but i was not at all concerned about the transfer. malvin said that although he was a little scared, he just looked at the boatman's face. he was not impressed or frightened by the size of the waves. everything was fine.
we arrived in sabtang amid all the flurry and excitement. an island-wide sportsfest was underway. so when we rode to the barangays of savidug and chavayan, we found the small villages nearly empty, like ghost towns that lay in ruin. in savidug, indipendent cinema was in action, and they were filming a digital film about an ivatan girl who lost her pet goat. she wore a vakul, and many of us took turns trying it on. while i was on my bike, the producer flagged me down because he knew who i was although could not remember my name. he just called out: "attorney!" these are the same guys responsible for the indie film "donsol". the following day, angel aquino and simon ibarra arrived, i guess as part of the movie as well.
rico, one of the stars of the independent film. i'm not sure if he knows the great impact he will soon make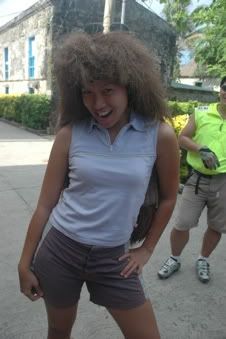 the traditional vakul, here worn by kat with either top model tendencies, or tina turner inspiration
from savidug, we continued on our way to chavayan, a well-preserved barangay at the southeastern edge of sabtang. it still has narrow cobble-stoned paths and stone houses with thick cogon roofs. we were charged P100 each for the visit to sabtang, supposedly as part of the conservation of the island, which might just be listed as a world cultural heritage site. although 3 years doesn't quite feel as too long ago, much has changed in the landscape. there are more dream TV satellite dishes now, and ugly towers ruin panoramic shots. the bike back to centro from chavayan begins with a short uphill challenge. but the rest of the way is freewheeling bliss, although i did stop many times along the road that was sometimes paved, sometimes rough, sometimes sand, sometimes dirt. when i reached centro, the crew had been waiting for me for some time. since we were scheduled to ferry back to batan island, we opted to ride the jeep to the other villages of nakanmuan and sumnanga. it was a long ride through unpopulated stretches of road and rock, where goats rule the street, and where even a snake was found slithering along a ditch. from the top of the jeep, we saw the uninhabited island of ivujos, fringed by sand that hewed closely to pink. or it could have been just my multi-laser red lenses.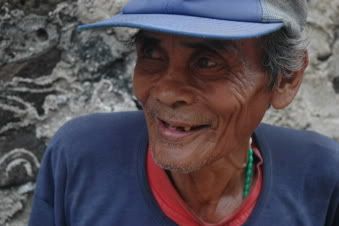 we explored little hong kong, which i wasn't able to do the previous time. people asked why it was called such, and kuya mar joked that it only resembled hong kong very little. it was a grid of narrow streets that cannot even fit our jeep. there were still old stone houses there and little development. flying fish had been filleted and left to dry in the sun along with clothes. earthern jars were fixed on the ground to store water and whatever else. there were very old people, and very young children. an old man proclaimed that he was still strong at the advanced age of 78. he was pulling along two trash bins with wheels. malvin quizzed him about his sex life, and he said, "yes, yes, chicks", wrapped his fingers on his index finger and twisted his hand. he had a funny, guttural laugh which seemed to have emanated from under the ground. when we left, he shouted: "come again another date."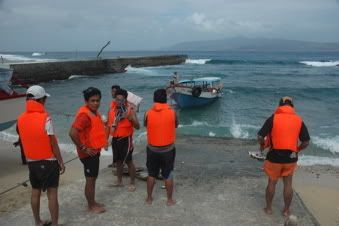 at the pier, we had lunch at ate beth's canteen beside the pier. the beef was sweet, and the food was good, and she prepared for a feast, but we finished it all. the price was also sweet, but we were very satisfied. the ferry ride back to san vicente was no less rocky this time. the boatman had his back turned against the origin of the waves, and 85% of the time, we were tilted, very precariously, to the left. we reached the port, nevertheless, without incident, and opted to take a boat ride back to basco onboard the M/B shanedel. we released rods onto the sea but caught nothing. and since we left our shoes with the jeep, malvin and i had to walk back to the inn from the pier barefoot.
that night, we were going to celebrate roy's 31st birthday (which malvin contested, in so far as the age was concerned). we picked up the cake, and it was not as red as we had hoped. the ivatan's baking skills are also not something worth talking about, and neither is their grilling skill, because the lechon that arrived that night was much too pale. and it wasn't torched, so it even had eyelashes. they tried to salvage the situation, and it turned out to be very good-tasting lechon. roy also had lobsters prepared, and only 1 coconut crab with the richest aligue. tita dely showed how the crab is remotely related to the spider by placing it on one of the columns. it was dinner that nearly got away.
that night was even wilder than the previous ones. i did a bottom's up and challenged masaki to do the same. he nearly drowned. sometime in the evening, when we had finished all of the hard liquor, i went out to look for a bottle of fundador. i came upon the landbank branch and found that it had an ATM machine. i wasn't short on money, but just out of curiosity, i tried it out. to my knowledge, there were still no landlines in batanes. the buttons on the machine had thai characters in them. never before have i been too surprised at the wonders of a machine coughing out money. i biked back to the inn with a few more bucks, and two bottles of emperador. sometime that night, i fell asleep on the rattan hammock, and masaki kept waking me up. he was obviously in a drunken stupor, and he kept saying "you're my best friend. you're very special." i took him to his room where i solved sodoku and read his japanese-filipino phrase book. when i stepped outside, kuya mar was walking on the ledge of the terrace, tempting fate. he would not go down, and we all worried because he was tipsy. he was holding on to a beer and to a piece of bamboo overhead. when malvin pulled his pants down, he couldn't put his pants back up. i was rolling on the floor, laughing. roy pulled his pants up. i don't know how we all got to sleep that morning, but we did find ourselves sleeping when manny knocked on doors to wake people up. half of us was scheduled to go back home.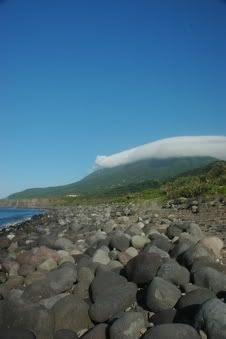 boulder beach at chadpidan. mt. iraya is in the background.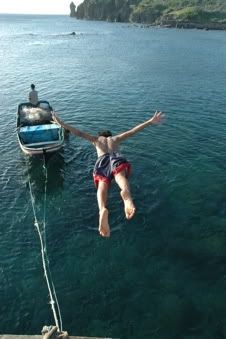 so while everyone rushed to the airport, i began making plans for a trip to itbayat for the six of us who remained. we were told to wait till after lunch, but it was not meant to be, since the 8-seater plane was undergoing repair. we should've just opted for the 4-hour ride from the basco pier, but it had already left at 8 in the morning. in a way, it was meant to be. i spent most of that morning sleeping, exhausted from the happenings of the 3 previous days and its endless nights. late in the afternoon, i took off with malvin's bike, which i used without permission, cycled past naidi hills and down to chadpidan. it was a steady uphill battle, and a quick, steep descent. the coast there is amazing. giant pebbles were scattered on the beach, ranging from the size of my head, to the size of my bike. several scenes in "hihintayin kita sa langit" were shot here. on the way back, i carried the bike up, and cycled down the rest of the way. at the pier, i watched kids showing off, executing somersaults into the water. behind them were jagged columns and walls of lime. it looks like something you'd find in sagada, except that there was a sea.
we had dinner at the batanes seaside resort, and turned in after playing pinoy henyo at doque's. the following day, i accompanied the girls to sabtang, found ourselves a small cove where i slept and they played cards and solved sodoku. we left for san vicente after lunch. i injured my pinky when my falowa smashed into the other falowa. we returned to basco with more than enough time to get ready for a radio interview. we spoke about how change might not necessarily be right for batanes, short of saying that we should check progress lest we give up what tourists come here for. after the radio interview, we returned to shanedel's and had our last dinner: pizzas from casa napoli. as we ate silently, the M/V tacloban was bleating, announcing its departure for manila. it had unloaded a month's supply of goods, and was returning to manila with empty bottles, cases, and forgotten dreams. i very steadily packed my bag, looked for masaki and gave him one of my shirts. and slept after a few beers with our hosts, even as the strong wind and the souring weather worried malvin and pedro.
an old house in sabtang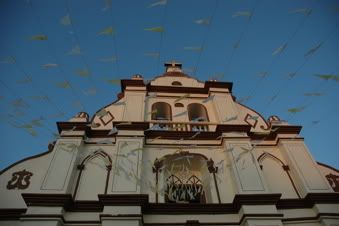 the church at basco. fiesta feeling in the air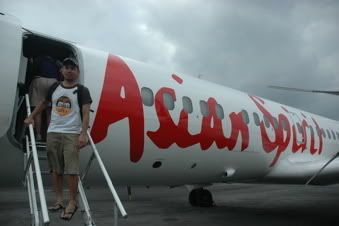 we almost did not make it to the airport on time. from afar, as the bi-prop was descending, i realized how this must be the smallest commercial airstrip in the philippines. we waited for our cue to board. by some luck, the ATP had resumed its flights to batanes, and all these offloaded baggage was lined up at the arrival area. i hopped on to the plane and it was a generally peaceful flight, except for an instance when the plane dropped down a few feet just as the stewardess was making an announcement. she was giggling through the part where she was supposed to say "we are making our final approach to the ninoy aquino international airport. please keep your seatbelts fastened until the captain has switched off the fasten-your-seatbelts sign."
we arrived in manila in one piece. i was severly burned, and some skin above my eyebrows was starting to flake off. my only obvious tan line is the mark left by my suunto observer. i was a little red in some places. someone said something disparaging about my color, and i balked: i got this color in batanes. how many people can claim that?
i once said, previously, that batanes is one of the best places in the country to tour on a pair of strong legs. i say that again, but with some modification. after all, you just don't use your legs for walking, but for cycling as well.