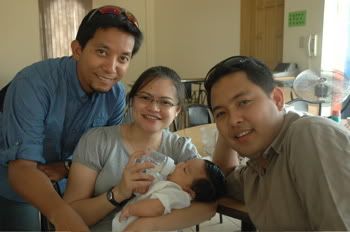 last saturday was the christening of basti, a future mountaineer. he is the latest addition to 2nd generation AMCI kids, or kids brought to the world by a couple who are both AMCI members. he is very handsome, like his father dindo. i hope he also has lyn's intelligence.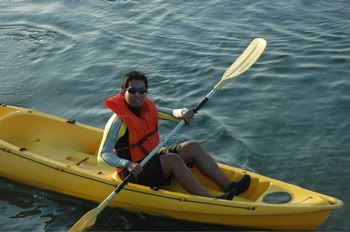 after the christening, i went to the AMCI summer kick-off in niel's resthouse in anilao. i arrived a bit too late for the day trek, so i just went out to sea on a kayak by myself. after that i busied myself with dinner, soaking the liempo in a concoction which i had little idea of, and designed a mango ensalada on a wooden plate. gourmet.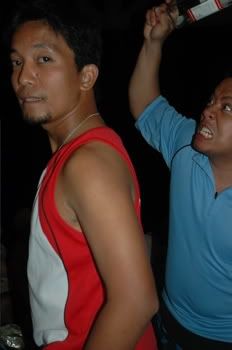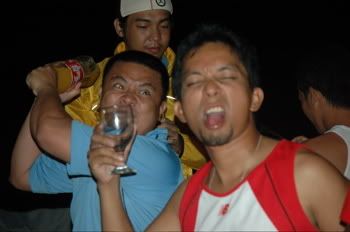 arlene is prime suspect in case i'm mysteriously murdered. in anilao, he established motive. not only did he make me gulp shots of more than 300mls of gilbeys and tequila at least 4 times, but he also, more than twice, attempted to smash a bottle on my head.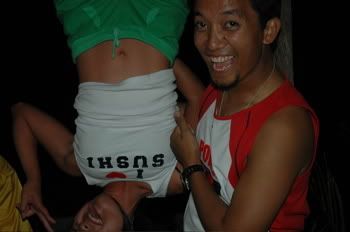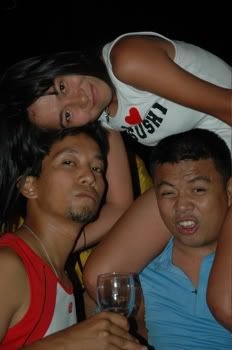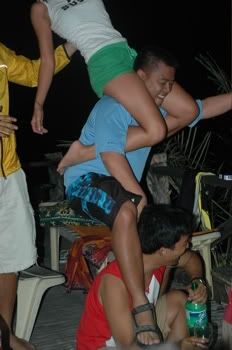 shake well before using. genie and gin don't mix well. she made us really nervous with her stunts. when she did this in sagada, i was just laughing. but it was my turn to become cecil, and worry about her falling down.
the following morning was a windsurfing regatta. arlene was supposed to compete, but didn't because of his hangover. he even backed out from scuba diving.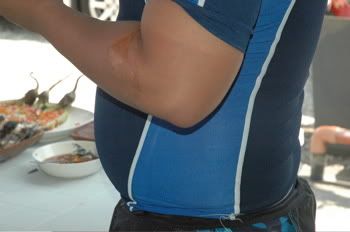 guess whose tummy. not mine, most definitely.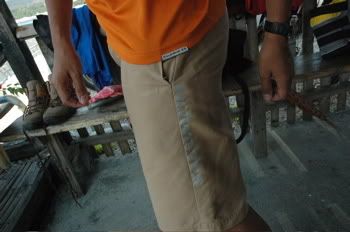 my salomons. whatever happened to this brand?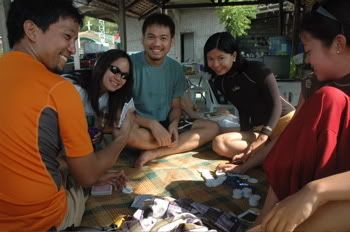 poker. i'm definitely better at tong-its and pusoy dos.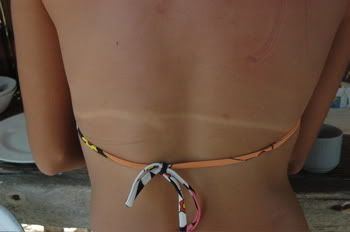 while the rest of us accompanied the divers to the bat cave, i opted to stay behind, orchestrate lunch, go out kayaking, and chill. everyone else got a good tan.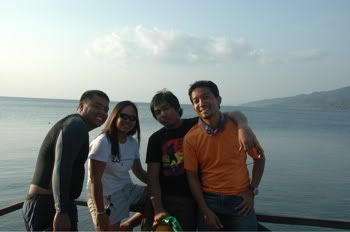 AMCI friends, the following day, more or less sober. it is always a blessing to get wasted in the company of friends, because you'll be well taken cared of. no one is going to take advantage of you, or disown you, or take an incriminating video of you while you're dead drunk. they'll look after you, laugh at you a little, and wash up after you've made a mess of yourself. i'd give the details here, but i was so severely wasted myself that night, that even when janice violently shook my shoulders, all i could mutter was "ayoko". so in effect, i didn't witness it for myself, which was too bad. i may have fallen asleep from all those glassfuls, but at least, i didn't
blow
like arlene did.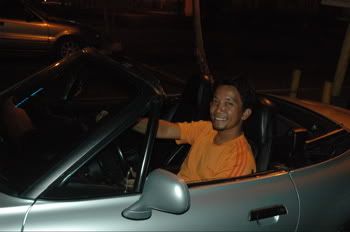 on the way back home, we met up with
mosscake
at gilligan's. he had just arrived from singapore after painting murals at the esplanade. jason's only 31 and already so accomplished. when we parted ways with janice and dyake, jason and i hitched a ride with vernon. on his BMW Z3. we cruised down EDSA top down on a low ride. we were going at speeds of more than 100kph, overtaking all these vehicles, although it felt too fast for comfort. i don't know why, but he drove it like he stole it. it felt like we were running away from someone. or something. i was torn between being terrified and amazed. when you feel the wind on your face, and when your car makes a steady vrooming sound, you feel you're nearing the speed of sound. it was one of the craziest rides i've ever had. along with that deranged
habal-habal driver in samal island
. we stopped momentarily at ankie's in greenhills before proceeding to QC.