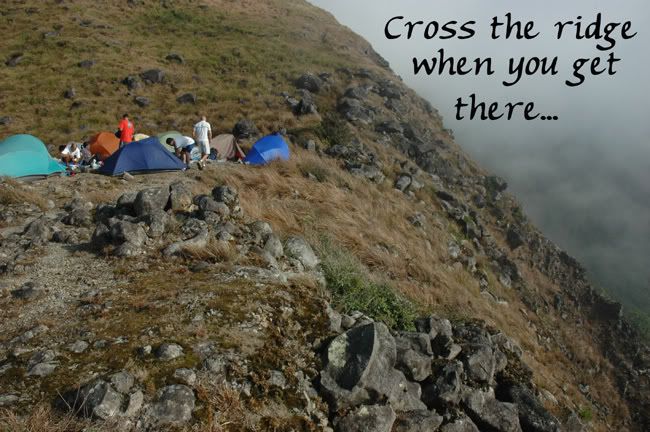 long have i wanted to retun to tarak ridge. it was one of the first peaks that i have ever climbed, and i remember with vivid detail how i assaulted the campsite with great difficulty. on my second return, via a different route, the ordeal was no less difficult. in fact, i still count it as among the most challenging treks i have ever done. so my desire has been fueled by a longing to actually enjoy a climb, and my plans have only come to fruition most recently. a lean team of friends plus an american guest decided to join me on this climb. a delay in the bus schedule failed to make a dent in our plans, and although we were at least an hour behind the IT that i created from memory, we managed to still arrive at papaya before lunch time.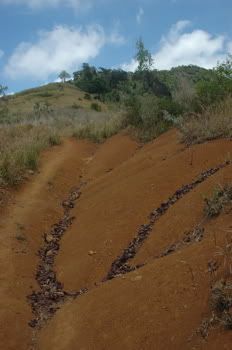 but the trail to papaya was fraught with many delightful changes. i flagged down an empty jeep to save us as much as an hour hiking under the unrelenting saturday sun. it was unusually hot that day, and i only hoped to reach the campsite ahead of the other groups, in order for us to get a campsite with a nice view. from the ranger area where i made small talk with the beneficiaries of a DENR initiative, we pushed on towards papaya river. daniel, our american guest and TB's friend, was trailing behind me closely. we walked past trails made narrow by expanding bushes. the sun poured its fury over us and bounced off the red earth. every now and then, i would ask daniel about the features of the mountain. he is a scientist with a background in geology. after a brief rest at "the gate", we proceeded towards the traditional trail on the right.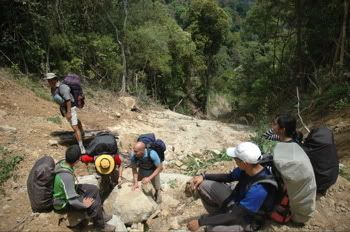 it was at this juncture that the climb turned interesting. protected from the sun by the shade of trees, we came upon scenes that would have been more unbelievable had they been fresh. of course i have long heard of the landslides along the trail leading to papaya river -- something which promised to make the trek a little more interesting than usual. but as to their actual scale, i was unaware -- whether they were of a magnitude to actually make the trail unpassable. i wanted to know the extent of the damage wrought by the typhoon milenyo, which took place during the third quarter last year. under the canopy of leaves, light falls in little spotlights on the forest floor, like sunbeams stretching from under the heads of trees, exposing floating particles in the air. then, a huge opening welcomed a whole lot of sunlight. there it was: a huge section of the mountain pushed down a steep slope to an unknown and unexplored place, as though a giant hand had scraped a lot of topsoil from the rising behemoth, sending trees, boulders, and loose soil thundering down across the trail. the first one wasn't at all challenging, and it disappointed me a little, in fact. i had read in another blog somewhere that they had to turn back because the trail was impassable. but many months after that, i have read other accounts of groups reaching the summit.
we passed another landslide. it seemed as though all the soil had been quarried, leaving behind big stones fixed on a rock face. it looked like a humongous rip-rap cast in cement. the third landslide was the winner. water must have found tunnels under the ground, causing a whole portion of the trail to cave into itself and tumble down the slope. a rope had been fixed from one edge to the next, as an aid to balancing. perhaps when this washout was newer, it was almost impossible to cross it without the help of ropes. but several passing boots have made footholds on the walls of earth which made the crossing possible.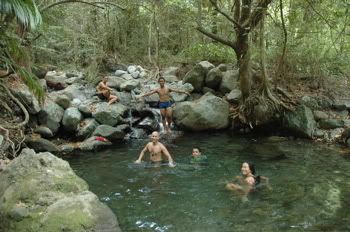 by the time we began hearing the faint call of papaya river, we had counted 7 landslides. there were probably already signs of these from many years ago, but it took two successive super typhoons to final allow the slopes to unleash their fury in the form of these landslides. daniel was telling me that it would have been awesome to see how the earth rumbled and tumbled down in a vertical river of mud. and just two hours after we started our trek, we reached papaya river. the other groups who had gone ahead of us were still there, extending lunch. i had planned on just getting some water, having a quick lunch, and proceeding with the assault, in a race for the ridge. but when i saw my companions stripping off their shirts and boots, soaking in papaya's cool waters, i could not resist the invitation. pretty soon, i found myself in the water as well, cooling off the sun that collected on my body. i had all but forgotten about the race and allowed all the other groups to get a head start. it felt so much better to be caressed by the river's cool, flowing waters, than to engage in a macho race to the campsite.
after a long, refreshing dip, i laced on my columbia skamania pass and started for the campsite. from papaya river, the ridge of tarak is about 2 hours away. initially, vince and daniel were trekking behind me. without looking back, i could feel daniel walking very very closely behind me, because each time i would pause, his bald head would bump into my handsome osprey atmos 65. and i wanted to take several pauses, because the trail was steep, and i was bogged down by over 5 liters of fluids and lots of gear. each time i'd try to catch my breath, daniel would be there, literally breathing down my neck, although i was taller than he was. he would repeat that spartan chant that vince and i began along the trail: "hawoo! hawoo!" and there was a point along the trail that i was the least interested in returning the chant. why were we hurrying when it wasn't even 3pm yet? i wanted to take longer breaks and pauses, but daniel was there just behind me, egging me on. hawoo! hawoo! in about an hour and 20 minutes, we walked out of the forest and caught a glimpse of the ridge that climbed all the way up to the summit. the steep drop-off on the right fell like a tumble of jagged rocks. i paused a little to look around and be amazed at the spectacular views: manila bay in the distance with its passing ships, and the green faces of the mariveles mountain ranges. i looked around for an acceptable campsite. but with the sun beating down on us with a fury never before known, i retreated to the comfort of the small patch of trees. about 30 minutes later, nette and her sweepers arrived, still in high spirits despite the heat. after a while, i shared a few shots with the other campers on tarak ridge, in the hope that i might attract some of them to join AMCI.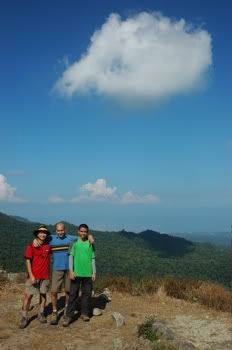 it was actually possible to set-up camp here, but we wanted to soak under the blanket of night and its fixed lights. so we scouted the highest flat on the ridge, carried our bags there a little after 4pm, and had 6 tents standing by 5pm. there was very little space available, and we were flanked by steep cliffs on both sides. because of the precious little real estate available, and since three tents had two vestibules each, our doors were nearly attached to each other. i wanted to see the summit, but i was possessed with another responsibility: to prepare dinner for our team of 11. so i sat down on a piece of tarp, had stoves and cooksets prepared, barked orders, and took care of dinner. we had black pepper chicken, tuna aglio et olio pasta, and some rice. it was a nice meal, and the weather was just right. a weak wind blew overhead, and although we were dining at over 1,000 masl, no one shivered from the cold. daniel was saying that the meal was really good, that we were the best chefs he's ever joined on the mountains, that we were among the fastest he's ever trekked with.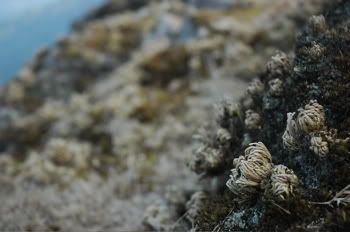 by 7pm, the mess kits had been put aside, the pots have been cleaned, and there still was the business of socials. i had a liter of fundador ready to be poured and shared. we were barely through half of my sigg bottle when a brief drizzle drove us into our tents. bing was in gerry's tent at the time, pestering kim. after vince and i drained the last thread of sanity from out of daniel, we snuck out and crept into gerry's hubba hubba. by this time, the wet cloud had passed and left the campsite in a hurry. we went out again, and nette and jay joined us as well. nette had one tent all to herself as she played back-up singer to the duet made by jimbo and bajay. i wanted to stay longer there, but after only a few shots, i was out of it. the previous night, i hadn't slept at all. i went home at around 11pm, started packing, and didn't even insert a wink until i left the house at past 4am. i was tired, deprived of sleep, boozed, and stoned. i don't know really how much time had passed between me passing out and kim assisting me back to my tent, but i was a lot drowsy at the time. daniel kept the door opened, and sometime in the morning, a cold draft came in and woke me up.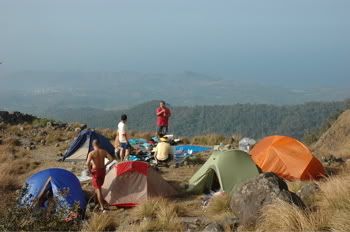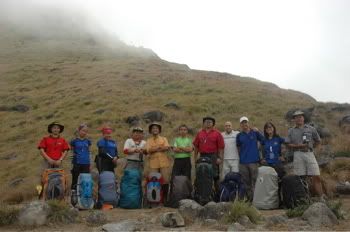 at around 6am, i got up, and found that gerry was already outside, looking out into the cloud that blotted out our view of the bay. breakfast was another matter, and i reheated my mom's famous adobo, cooked the palm corned beef, and toasted pita pockets. one of the packs had unfortunately been discovered by some critters. even tarak has its share of pests. but this did not get in the way of an otherwise glorious morning and a really good meal. although we had an itinerary to follow, we just played it by ear, but by 9am, we were ready to make our descent. after a mandatory group shot and a flags of our fathers pose, we made for papaya river. it was a quick descent, our feet shuffling down the trail, wanting to get to papaya very quickly. when we did get there, we undressed and jumped in. it was terribly hot and i was nearly out of water. it was a good thing though that jimbo was equipped with a water filter. at one point, we had to dissuade another climber from soaping himself on the river. i guess they were in dire need of a proper BMC.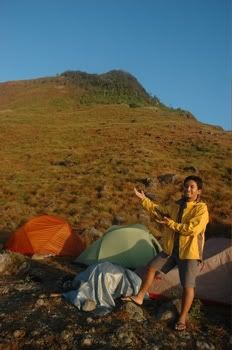 we planned to have lunch at the ranger station, so we sped off at 11am, retraced our steps back through the 7 landslides, and were welcomed by boiled cassava and buko juice. because of the AMCI connection, the buko was offered to us free, but we didn't take advantage. when everyone arrived, i cooked our lunch: beef strips in black bean sauce. and lots of rice.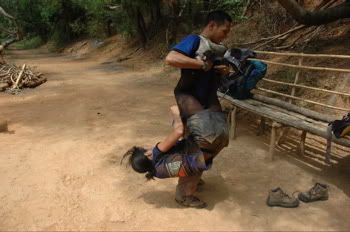 while i was cooking, an awful, turd-like smell wafted into the area, and it was supposedly from a tree nearby. while i was busy with the food, genie started chasing leo around and they wrestled on the red earth. the locals watched them with amusement. when leo placed genie down on the ground, exhausted, her blue shirt dirty from the hanky-panky, leo sat on the bench and said: "serves her right. she should know who's boss." apparently, the brawl began when leo kicked the cat genie was about to take a picture of. sigh. such flirts! after the third sumptuous meal for the climb, we proceeded to the resort at the trailhead. this promised to be the hottest part of the trek, since nearly the entire length of the rough road had no trees. i stopped at the first store and bought 3 liters of soda. then we walked to the resort to change. everyone seemed to know the routine. but daniel was the least concerned. he was wearing a light-colored shirt, which had blotches of earth on it, and bing asked: aren't you going to take a bath? no, daniel replied. i have no extra shirt. i'll just take care of that when i get home. bing offered to lend him an extra shirt, because we said no one would want to sit beside him on the bus. and well, he was very dirty. daniel obliged, proceeded to the toilet, took a shower, and later on discovered that he had an extra shirt. but his shorts were still very soiled. haha.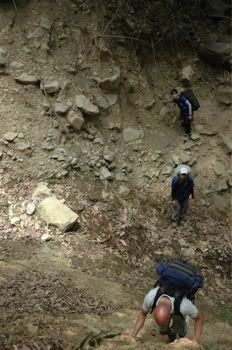 by 3pm, we had all loaded ourselves onto a passing bus and were on our way back home. my tarak ridge climb broke a dry spell that threatened to be longer than was bearable. i'm only too happy that several other people were just as eager to join me on this very personal trek. in a way, it helped that i had postponed this climb many many times. all that bottled excitement opened all at one time. orgasmic.