i probably had an average of 4 hours of sleep per day the entire week that i was attending MCLE because of the flurry of activities. quite surprisingly, although i was really really very sleepy during the lectures, i was wide awake, thanks in large part to the free wi-fi which allowed me to download about 400 songs in 4 days. and of course, to the people whom i shared my table with. there were 4 laptops there, it felt like an internet café, so much so that by friday, the other lawyers complained that we weren't listening and were just watching videos. true, i was just half-listening, but not true that we were watching videos. anyway, during that week, i attended the bridal shower for marris, took very incriminating photos which i won't be posting for fear of violent reprisal, and also lost my phone. although i have a back-up of my contacts in my computer, i lost around 20 or so numbers so there have been strangers sending me text messages and i am almost embarrassed to ask: who's this please? so now i have a sony ericsson K610i. quad-band, 3G, and it's red. i'll miss my SE K750i because it already has around 300 words in filipino and has a 1gb memory card. the one i have has a measly 64mb. too bad. anyway, everyone's welcome to send me their numbers to spare me the difficulty of having to ask that ignominious question: "who's this?"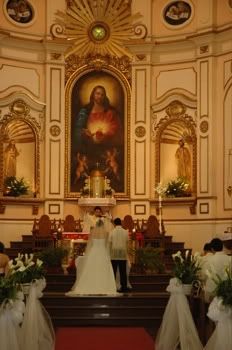 so fast forward to saturday. i attended the wedding of marris and ver at the national shrine of the sacred heart in makati. after the ceremony, i sped off to 6750 to speak to the professional host, vet. it was really windy there, and at least two vases toppled over. the tables were named after mountains -- clever, because marris and ver are both mountaineers, and they met in AMCI. the hosting job wasn't too bad, i suppose. vet started to make it feel like a beauty contest, shouting out, "and now, let's all welcome the junior bridesmaids!"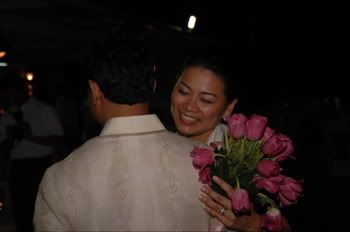 it was a nice evening spent with friends. i am a witness to the budding friendship and romance shared by marris and ver, and i am very excited and happy as well for their union. ver is my age, but he looked and acted like a kid all throughout, cringing and grimacing (in utter embarrassment, perhaps) in his seat as his dad was reading a prepared speech. why do parents put their kids on the spot during these instances? marris's mom told the story that we know all too well, and said that when she reported that she already had a boyfriend, the mom exclaimed: "salamat sa bundok!"
anyway, after the reception, dyake, janice and i proceeded to cubao to help
mosscake
paint the argo. i sprayed on some red acrylic on his closet, rolled a shade of brown on one of his walls, and waxed the floor. by the end of the evening, i had around 2 glasses of wine, 4 bottles of strong ice, and was quite wasted. i was harassing people! haha. it was fun. i'm excited for the new argo, and i can't wait to see it when jason has finally and completely moved in.