last wednesday, without reluctance, i had agreed on joining daniel on a sunday hike to mount batulao in nasugbu, batangas. i have never been there, and found the prospect rather exciting. i see the ominous outline of this mountain and its jagged, saw-toothed peaks whenever i am in the tagaytay or batangas area, and have, for some time, been intrigued by it. but i came home early sunday morning from the argo, wasted, my brain swimming in beer, clouded by fumes. i nevertheless managed to send him an SMS, instructing him where we would meet, and setting my phone to alarm at 7am. we were to meet at 9.30am in the corner of edsa and taft. but as a consequence, i woke up at 8.30am, and for some reason, was moving really gingerly. i arrived at the meeting place way past 11am. with a bad headache. daniel didn't seem to mind, and we took the bus to nasugbu. all i knew was that we were supposed to get off at evercrest -- and i've been there before, twice in fact, to attend a wedding at the caleruega chapel.
we got off the bus just a shade before 2pm, and we didn't even bother to check our bags or refill our water. we just walked into the compound, and hoped to find our way up at the jagged peaks. the sun was up and exploding with so much heat, the water in my bottles started to boil. as we walked, several tricycles with mountaineers on their way home passed us. we found ourselves following a dirt path that cut through communities populated by skinny dogs and children with dirty faces. we encountered several mountaineers. some of them overdressed, their heads covered in cloths, their eyes behind dark glasses, their arms concealed by long sleeves, and their hands inside gloves. and at 2pm? i was beginning to imagine that the mountain must be so far away for them to have taken this long to get down. or that the trail must have been so difficult and unforgiving for them to be dressed this way. i was in an orange adidas shirt, a columbia bush hat, TNF boots and shorts, and a TNF gulper which had a liter of water, 2 bars of snickers almonds, a swiss knife, a pack of power gel, a stick of spf45 sunblock, and a petzl myo xp. i didn't think that i needed anything else.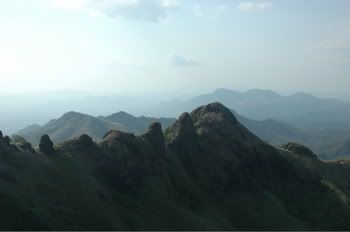 so we sped off for the general direction of the peaks we saw rising on our left. the trail was wide open, with only a few trees offering shade. the soil was a fine kind of powder, and very dark, often mixing with sweat and creating soot. after about an hour of walking on rolling terrain, we reached camp 1, a sprawling area with a huge tree that branched out like a parasol, and which had bamboo benches and even an outhouse. we registered there, paid P20 each, and proceeded for the summit. there are campsites scattered all over the trail, marked by rocks that resembled gravestones. camps 1 to 7 all have small flats that can accommodate between 3 to 6 tents each, and are all adorned by the umbrella tree. a sign hangs on the branches of these trees warning visitors not to hang anything too heavy on them, or reminding them to carry their trash. camp 8, which sits atop a steep climb of fine, black powder has no tree, and isn't even suitable for a tent. the same may be said of camp 9.
from there, the trail gets to be even much steeper, and scrambling on a rock face, with bits and pieces falling off, would be necessary. it helped that i was carrying only a small hydration pack, which didn't compromise my balance. at this point, i looked at daniel, and he was a lot dirty. his shirt was soiled, and he must have touched his nose at some point, because it was lined by dark mud. and after that ascent, the summit. camp 10. it is lengthwise, surrounded by steep drop-offs, and might fit only about 6 or 8 tents. the jagged peaks, like blunt fangs of half an alligator's mouth, is a little below it. my suunto observer approximated the altitude to be about 770masl. at just 4pm, the sun was still an omnipresent fixture in the sky, although the wind blew a cool breeze from the batangas bay in the distance. before us, fields rolled out, disappearing in a haze far away. tagaytay was visible, and so was a faint outline of taal volcano and mount maculot. the sun's power was reflected on the sea. we stayed there for a long time, looking for things to do or see in that small space, counting the swifts that soared and glided over the summit, calculating the distance that we'd traveled from the road, wondering if it were possible to take an altogether different route back down, perhaps passing through the rocks that made up the teeth.
we were supposed to wait for the sunset on the summit, but we were there too early, and that would've meant waiting for as much as 2 hours. so after 45 minutes just contemplating the view, reflecting on this little achievement, and soaking both sun and sights, we decided to go down. looking down at the trail, it looked extremely short. i could have chosen to take a shortcut and just tumble down the trail. kids were clambering on the rocks on their way up. they had left their shoes and sandals at camp 8 and were barefoot. with much caution, but resisting the temptation to sit on the ground, or even touch the powdery soil, we found ourselves past camp 1, and at the first store, while the sun was setting, staining the sky in a pale orange, like the color of salmon. daniel ordered halo-halo and savored the cold drink along with snotty kids and their parents.
we proceeded walking towards the hi-way. it was quickly getting dark, although the moon was so high and full, that the trail glowed in a pale kind of light, making it unnecessary for me to take my headlamp out. while i walked, i noticed that the trail, with its terrain, isn't just a hiking destination, but even looks like a promising bike trail as well. at this juncture, daniel was telling me that i was the fastest climber he's met. my reply was that i only walked that way because he was always so close behind me.
we reached the gate of evercrest long before 7pm, and decided to wash up at one of the stores. daniel forgot to bring spare clothing, and i told him that with how dirty his shirt and shorts looked, some public conveyances might actually refuse him. it would serve him well to take note of this journal, since after all, these are my notes on always bringing an extra shirt. nevertheless, we managed to get a bus ride home, and by 9.30pm, i was already on the train, to rendezvous with
mosscake
at shell mckinley. in my drunken stupor, i left behind my iPod at the argo, and he took it home to philam with him. he prepared a bowl of noodles. he's so sweet! i also purchased one of his limited edition t-shirts by team manila. the small size fit me rather well and i can't wait to wear it somewhere.
so that was my sunday.