my failure to report anything these past few days belies the fact that many significant things have taken place in my life in the span of just a few weeks. the flurry of events have taken on the character of a bushfire, wild, spreading in all directions, and changing the texture of everything that lay in its path.
i have primarily been preoccupied by the ongoing AMCI photo exhibit at the ayala malls, which had seen a fruitful nine days at the glorietta 4 cinema lobby and which, yesterday, was moved unceremoniously, to the greenbelt 1 lobby. much of my time off after work has been spent staffing the exhibit, and i have only been too blessed to have bing and kim to help me with taking care during the hours when most of us are hard at work. the other bums whom i had initially asked were less committed, and despite some left-and-right comments and criticisms, i think we've done a rather great job. my approach to recruitment has been totally different from previous years, and although i am open to all suggestions, i am very positive about how the BMC is going to turn out. my team is slowly taking shape, and this should be a good year for AMCI, a fantastic way to start the eve of its silver anniversary.
prior to the exhibit, however, i have had to give up the chance to see mount guiting-guiting in exchange for mynes's wedding. weddings are among the least of my priorities, so i wasn't exactly the most excited about attending, which is not to diminish, in any way, my happiness over the union of one of my closest friends with her boyfriend of almost 10 years. but regardless of how i wasn't jumping-out-of-my-seat during the wedding, i was nevertheless overjoyed by the realization of a few things, upon my renewal of my ties with some of my batchmates, is that, at least, among the men, i am the least likely to die from a heart disease. my male batchmates are enormous, to the point that i worry about their health. such is the price of being so absorbed in practice: a life so sedentary, that a 10 minute stroll might take a huge toll on one's well-being. i know very few lawyers who, like me, can still run 10kms in under an hour. take jufil, for example, who has put on almost 40lbs since that last trip to boracay when we were new lawyers in june 2003. 40lbs! that's a backstreet boy!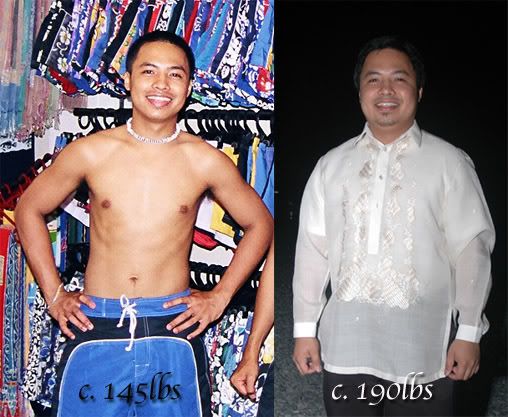 immediately after the wedding, i didn't quite know what to do. it was supposed to be a long weekend, and my itinerant friends have hied off to some distant place, in search of refuge or relaxation. i was doomed to a weekend in the house. that, for me, was almost devastating. without thinking, without a definite idea, i packed a pair of shorts, a few shirts, and a book inside my backpack, and later, found myself at the bus station, hoping to reach baguio. and i did, after losing my sigg bottle somewhere during the journey. i took another bus to sagada, and a shade after 5pm, i was walking towards greenhouse to secure myself accommodations for the next 2 days. although i was equipped with a camera, i had no other intention but to read a book, which in this case was gabriel garcía márquez's "love in the time of cholera". i purchased the book sometime in 2003, and had read it with much difficulty, a few pages every night. i don't recall when i stopped reading the book, although i recall i had but one chapter left to read. but it has been years since i last turned the pages, and may have well forgotten what took place between dr. juvenal urbino's discovery of the death of the photographer of children, and the time he delivered the first airmail when he took on a letter with fermina daza onboard a balloon. for the entire day of april 30, i re-read the novel, basking in the rich, colorful, and flamboyant language of garcía márquez.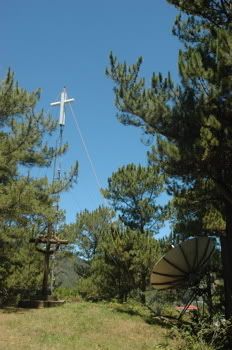 i first read under the trees at calvary hill. i was almost shocked by my trek past the cemetery, when i found that globe had moved its mobile cellsite to a place more permanent: just beside the cross of calvary hill. there was a steady hum on the way to up, and the cross was dwarfed by a huge antennae, which was adorned by an illuminated cross at the top, in an attempt perhaps to make its presence less intrusive. this disconcerted me not just a little. i felt it was out of place. even the nearly absent hum of the generator was an unwelcome presence. but near the echo point, i found a place in the shadow of a huge pine tree to read the first chapeter. i later had lunch, and continued reading at my room. in the evenings, i nursed a few beers at the persimoon café outside the greenhouse. on the second night, however, we moved to the sagada igorot inn where a combo was playing. they had frightful instruments that made awful, tinny sounds, and failed at the most inopportune moments, but the people of sagada didn't mind. sagada is at least 12 hours from manila, but there never was an instance -- this being my seventh time, i think -- that i did not meet someone i knew. at the yoghurt house, i saw some lawyers. of all people, it had to be brethren in the bar.
early the following day, i took the 7am trip back to baguio. there, i shopped like crazy until my hands tired from carrying too much. i was on my way back to manila at around 6pm, still trying to read a few more pages whenever i could. before midnight that same day, i was already in manila, much to my mom's delight because after several trips to baguio, for the first time i went home with a broom.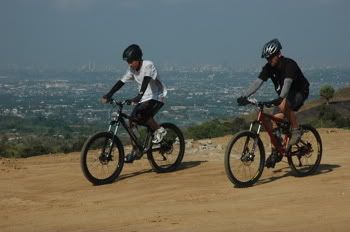 the other sunday, i unwillingly went to timberland heights in san matero, rizal despite sleep deprivation the previous day. i was registered for the men's health all-terrain race but when i arrived, i banished all imaginations that i would even finish half-way. it was hot, and i mean interminably hot, like i was walking on a bed of burning coals. but my friends did finish the punishing trail, their shoes browned by the unpaved dirt road. in the end, tatax won first place in her age category, and 3rd overall at the trail run. bien was also the only woman to finish the bike ride. not bad for AMCI! but i really feel awful since my last run was before the wedding i mentioned above. and if i don't run at least once a week, i might end up like my batchmates! what a scary prospect! where are my running shoes?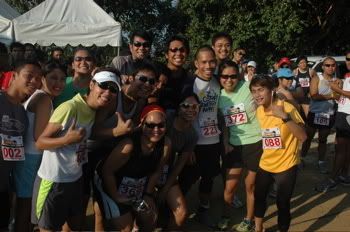 today, i am away from home, with my election lawyer's hat on -- something i will confess i am wearing with some hesitation. more updates on this when all of this is over.