about a month ago, i floated an innocuous invitation to my friends to bring them to binondo to hopefully do a walking tour, and in the process discover the many delectable secrets of chinatown. it was supposed to be a restaurant-hopping street photography session. i was rather surprised with the response, and there were a lot of people very interested in joining. initially, i was supposed to ask a friend of mine to guide us, and i was hoping he would be happy with a small token. but he was leaning towards charging a professional fee. and being the mountaineers that we are, we were more interested in getting around binondo the cheapest way possible. so i surfed the internet, read blogs, reviewed articles, and consulted a map to find out how we would go about exploring binondo on foot and find what we didn't know we were looking for.
meeting place was at 168 at around 11. marga was late and delayed us for about an hour. i had drawn a map of binondo on a piece of paper, and our first stop was a place called lucky emperor along soler st. we ordered black chicken soup and something similar to kaldereta. we also sampled the tsing tao beer which i regularly see at either big buddha or super bowl. the food was absolutely divine. at first, looking at the black chicken soup, i thought the feathers hadn't been removed since the chicken's meat looked exactly like what it was called: black. it was supposed to be some kind of an aphrodisiac. the next dish was excellent too, but i had to warn everyone not to eat too much because we had 5 restaurants in my hurried itinerary.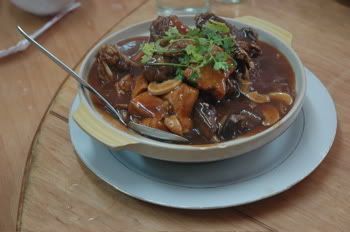 we stayed in lucky emperor for about an hour, and continued with our trek. the streets in binondo are narrow, filthy, lined by old, decrepit buildings. the paint on the edifices are chipping off, and it reminds you very much of the squalor of manila that insists on a storied past, but has a sorry present, and a bleak future. yet in binondo are some of the richest families in the philippines. and many of them aren't even second-generation chinese-filipinos. many of them are straight from the mainland, seeking fortune here, starting with small holes-in-the-walls. isn't this the story of many of the richest filipinos?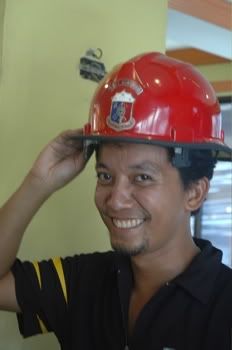 at the next resto, which was the café mezzanine, we had street food: kikiam, squid balls, crab sticks, etc. the café assists the binondo volunteer firefighters, and just below them is a store that sells eng bee tin hopia. again, good street food, but it was not particularly uniquely binondo. i checked my map and we were torn between chicken and dumplings. i asked them for a vote.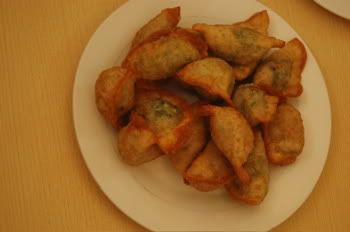 our next stop was dong pei dumplings, for what has been described as probably the best dumplings in the country. there was a small, barely noticeable sign along nuval, with some chinese characters. inside a small, square space with non-descript tables and monobloc chairs, a small TV was tuned to the chinese channel on cable. the 4 attendants all wore aprons and bandanas, and were apparently having a late lunch. on one table, some flour had been scattered. we fetched the menu, which didn't do much to pique our appetites, but nonetheless ordered for some steamed dumplings, fried dumplings, and even a pancake. the attendants are friendly and quite helpful. the owners can barely say a word of filipino or english, but knew numbers. the filipino attendants quickly went to work rolling out the dough and inserting a secret mixture inside. everything here is freshly-made. the dumplings are mostly made of chives, mixed with meat, and can also be garnished with shrimp. it was a secret recipe apparently because they revealed no more than that.
strangely, their steamed dumplings aren't actually steamed, but mere simply dipped in boiling water. we also ordered fried dumplings. both were fantastic, and i cannot recommend one over the other. there was a dip, and i thought it may have been made of something special, but the waitresses revealed it was just vinegar and soy sauce. we also ordered a kind of a pancake dish which was just as good. each of us had a softdrink and in the itinerary, we were still to go to 2 restaurants.
on our way to the next stop, we decided to drop by the binondo church. it was a huge church is a cramped space. much of the original structure had been replaced, although vestiges of the old, brick edifice may still be seen at the front of the building. there was a wedding inside. no surprise because it was a sunday. but complete strangers, kids in raggedy clothes, vendors, bums, and all sorts of riff-raff milled around the church, stealing much of the solemnity of the occasion. and there seemed to be too few guests for such a large church.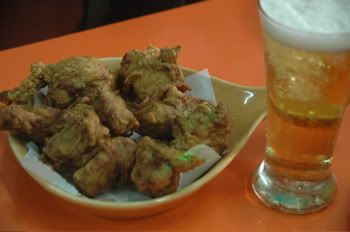 after a while we found ourselves at sincerity. this place is much ballyhooed as having the best chicken in town. i ordered one whole chicken, and 2 oyster cakes. by this time, after just 3 restaurants, and at way past 3 in the afternoon, it took much of an effort on our part to put something into our mouths. we were already very stuffed, and had no idea what else to do with the food. i burned my tongue with the dumplings, but it was good chicken that should be eaten while hot. i personally struggled through the oyster cake, but after a while nothing but a few small bones were left on the table. people were starting to complain that they'd eaten too much in the 3 previous places and were beginning to burp with delight. but i insisted that we still had one more place to drop by.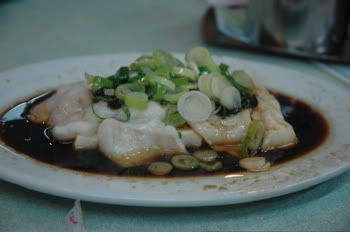 it is called the ang tunay beef center. the restaurant has an inconspicuous sign outside. the place is narrow and even resembles a hallway. i had read that the specialty of the resto, despite having the silhouette of a cow outside, is actually its steamed fish. i ordered the steamed fish and ox tongue. both were divine, i almost regretted we hadn't gone here first so we could have pigged out on steamed fish and the beefy treats. i also had a black jelly drink which was fantastic. i loved it so much, and the others had a sampling of it as well.
after that last visit, we were very definitely full, and i ruled out dinner. we each went our separate ways, some of us deciding to drop by 168. i myself hadn't been there before so i also went to see if i can buy a few things. all in all it was a great experience. and for people who had no previous knowledge of a place that was "too" manila that it seemed unfamiliar, it was a trip well worth the time and the effort. and each of us spent less than P300 for having sampled 5 places and their must-sample dishes. melay and tin insisted that i should rival ivan man dy and carlos celdran and conduct my own walking tour of something. it isn't too far-fetched an idea. i seem to have the eloquence (i.e., magaling mambola) and the erudition (i.e., feeling alam ang lahat) for it. but i should have a niche, and not just steal their original ideas.