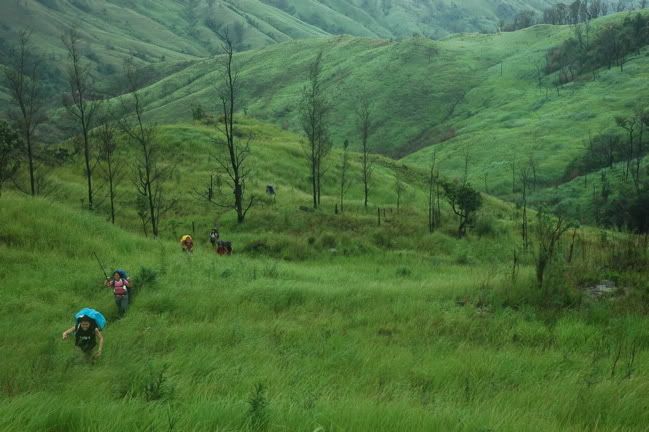 i was lulled to sleep by about 5 bottles of beer and the inflated orange and grey samsonite travel pillow that went around the back of my neck. i would awaken briefly every now and then and i would notice the slight wobble of the bus, the rain outside that dripped on my window, and the phone conversation that informed us of what happened to the first bus. i imagined a slight delay, shut my eyes, and chased after all those hours i lost.
since a few weeks before, my friends in AMCI have been asking when i will be celebrating the recent development in my career. i could not find the time, until the assembly for TC1 was moved from 12mn to 3am. a few of them went to giligan's in park square, where i dropped close to P5k. i didn't particularly mind the cost, and it was good to see old familiar friends who have not climbed in over a year raising bottles of beer in celebration of life. iton had come all the way from singapore just to take part in the climb, and dennis was resurrected from his sojourn in subic. AMCI's BMC had been ongoing since june 17, and while it hasn't been rough sailing since we started, the ride hasn't been perfectly smooth. between the ultra diagnostics till that evening before our departure for san marcelino in zambales, i had been so engrossed in the training that i have been hardly able to find the time to do other things, such as reporting on this blog.
after about an hour-long stop at double happiness, i decided to go down and take a leak. the aisle of the bus was lined by backpacks, and to maneuver from the door all the way to the back, you had to step on the hips of the seats. it was already almost 7am, and the jump-off in bgy. cawag was still over 2 hours away. when we arrived, i had a hard time peeling myself out of my seat. i got down very gingerly, erased my face, and overheard worries about the river being too high. the bus parked at the end of an unfinished road, which abruptly turned from hard asphalt into a cake of earth and mud. the clouds were fixed close to the peaks of the hills around us, like a low-lying ceiling. after a while, we decided to proceed with the trek. in 5 minutes, we crossed the first stream, which was just about below the hips. when i looked at the other climbers crossing the stream, faux smiles were fixed on their faces, an expression you wear when you're amazed by something, but scared nonetheless. at the schoolhouse, which wasn't being used for the purpose, because, as i was told later, the nun had decided not to teach due to the very small number of students, we deposited our book donations and a few school supplies. the rain poured in sheets and small streams formed on the dirt road; i was immediately reminded of that mcdonald's commercial where children ripped off pages from books and folded them into paper boats. i wonder whether our donations would meet the same fate.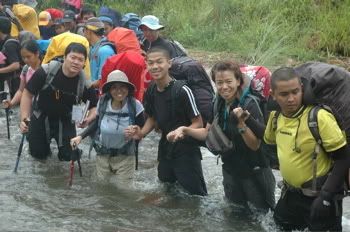 in this TC1, i decided to join jenny's group because she didn't have that many members to support her. nonetheless, we did end up with more than we had planned: 2k4 had teamed with us, and so did gerald from 88. i was unaware of the strengths of my trainees, which included xenon's current number 1 badong (and the first person to inquire about the training),
bajay
's sister mitay, ike's friend peachy, joseph whom i personally spoke to at the exhibit, and jenipay. i was assigned by my TL as part of the lead pack, in an effort to secure a good campsite for all 15 of us. so i sped to the next choke point. the river they feared would be too high had relaxed and subsided a little, although a rope still had to be fixed from one end to the other. the trainees are fortunate to have experienced something like this on their TC1 -- something not very scary, but fun, in fact. members and trainees crossed the 10-meter wide river in a straight line, holding on to the rope, while sweepers stood guard for anything that might be taken downstream.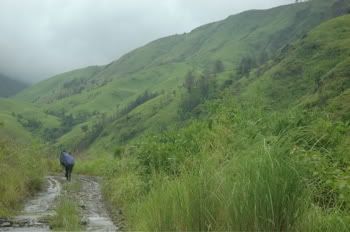 after the river, the dirt road continued. i would later learn that the area has been subjected to quarrying activities. a sign just after the river indicated that it was covered by an IFMA. it was a very cloudy day, with scattered showers every few minutes. and this was a blessing in more ways than one. had it been terribly sunny, it would have been a drab, painful and torturous hike. the 4 liters would not have been enough for me since there were hardly any trees to provide some shade. the road wasn't very wide -- just enough for a big truck, perhaps, and even narrowed at some points. chunks of rock were everywhere, and in some parts, the ground had softened to a point that our boots sunk really deep. it was going to be more or less the same for the next few hours, and the many peaks of cinco picos were still not in sight. i just kept walking, and i don't even recall resting until we saw this small bulldozer. the IT, which was written in filipino, had referred to the area as "lugar ng mga pison", or "place of steamrollers". not exactly the same as a bulldozer, but hey, poetic license.
it was already way close to 12, so we decided to have lunch below the bulldozer, where there was a small shack. i took out a burger and started munching. only a few people had gone ahead of us so i wasn't in a hurry. i would've taken a nap, actually, if everyone else had decided to stay behind. by this time, the weather was an unsteady pendulum, swinging from cloudy to pouring trickles on all of us. after a while, we decided to push on. i wasn't paying too much attention to the IT, to be honest, so i was extremely surprised to find that there was actually a part of the trail where we had to trek through a stream. it wasn't very deep, and i had encountered far more dangerous streams in the past, but suzette began asking me: "is this your idea of fun?" i didn't really give a direct answer, but yes, it actually is.
when we left the stream, we found the last nipa hut, which was also just beside the last water source. i rested for a while, joked with the members and the trainees, and left for the campsite. it was between 30 minutes to an hour away, so i figured: longer hours of rest. from the nipa hut, the beauty of cinco picos became evident. something that was unclear to me when we started since the unfriendly weather had covered most of the horizon in a dirty-looking gray curtain. from this vantage point, the hills of the zambales mountain range spread out in all directions. the hills were very green, scarred only by dirt roads. what was striking was the absence of trees. i would've said it was due to the extreme conditions on the slopes, but then it may have fallen in the hands of illegal logging activities. on one side were mountains, and on the other side was subic bay: a deep inlet carved into the coast of luzon. subic was behind a thick cloud in the distance, and heavy machinery from han jin was a landmark not far away. i sped to the trail, and i was almost surprised to find ourselves in higher altitude when i had barely felt an ascent. the rain helped a lot in a way, because i didn't pause as much as i would have had it been sunny.
when i started trekking, janice was behind me, and i kept talking to her. the next minute, i realized it was robert the norwegian who was pursuing me, asking questions, not letting me go ahead by more than 5 meters. i was under pressure. the norsk was pretty fast on the trail, and pretty strong too. probably stronger than me. but the trail was narrow and he couldn't overtake. besides, he didn't know the trail -- i didn't either, but i knew how to read trail signs. sometimes, as a ruse to catch my breath, i would pause and marvel at the view. "great view, look at that!" i would say, and i'd hear a grunt. it was just the two of us, with janice and the rest slinking back more than 15 minutes away. i picked up cris on the trail, and we continued, passing these small trees, charred rocks, tall grass. after a short while, we hit the campsite: a wide, sandy sloping expanse populated mostly by reeds. at first blush it didn't appear as if there was any suitable campsite. but after using the soles of our shoes, we cleared an area that would fit all 8 of our tents. we arrived amid fog and rain. it was impossible to pitch a tent without getting it soaking wet. and i had no one competent to assist me, so i just stood there waiting.
one by one, shapes appeared from out of the fog and from underneath the tall arching reeds. they filtered into the campsite, finding places large enough for their tents. when my groupmates arrived, the lonely space turned into a village. portable shelters of various colors sprouted from backpacks, and soon, the campsite was teeming with people, busy with dinner preparations, and alive with all the healthy banter that is usual to all AMCI climbs. the campsite spread out over hills and the few flat areas available. i had intentionally left the meal planning to the hands of the trainees so they would learn, although i was a bit concerned we might end up eating burnt rice or badly-prepared food. GL jenny was on top of everything and assigned everyone their individual roles, which they all warmed up to eventually despite my absence -- i holed up inside my tent to sneak in a nap since i haven't had any decent rest since the previous day.
before 6pm, while i was talking to elmer, getting very close to wringing his neck, i was called to dinner. the sun was still up, veiled in the thickest fog. while i was eating re-heated kaldereta and the rice that dindo and i prepared, the sky cleared momentarily and revealed the view. although the curtains were very quickly drawn after that. the food was actually quite good, although the kaldereta was a bit too spicy for my tongue. but everything was pre-cooked, and the trainees were robbed of the excitement of actually cooking at the campsite. i pre-cook meats in the lowlands, but i don't cook the meal itself -- the mixing, the chopping and slicing, the bringing to a boil -- they all take place in high altitude. no wonder we were all done with dinner even while other groups were still only beginning to fire up their stoves.
after a while, i decided to pay the next campsite a visit. melay's group had a feast: dennis had carried an entire lechon in his backpack. and i don't mean roasted pig all chopped up. but the whole thing, complete with the apple placed in its mouth. other than the lechon, mannie the trainee also prepared a salpicao, and there was sinigang na gulay, tinolang manok, laing, and lots of absolut vodka. it was also an advance of kuya mar's birthday, and tintin had prepared balloons and party hats. i had a few swigs of the vodka, and i don't even remember sampling the lechon.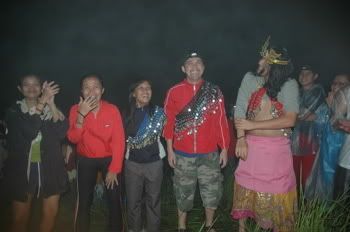 TL mercy had asked me to host the socials, whose theme was filipiniana. the night was deep, and the wind fresh when i called out each pangkat for their pagtatanghal. leo was a pain at the time -- he was more obnoxious than usual, and i felt bad for the trainees because his behaviour was way off. i honestly wanted to stuff a wet, dirty, smelly sock inside his mouth although none was within reach. anyway, the groups performed bits from florante at laura, ibong adarna, mi ultimo adios, etc. you can see very early which of the trainees are actually talented, or at least, thick-faced like me. in the end, my group won, beating out the others because they came in with costumes and a real script. the socials ended later into the night, and there were only a few minutes left till lights-out, so we tucked our babies good night, but made sure that none of them would have a good night's sleep because the members were at their rowdiest despite the on-and-off rain. i didn't have a lot to drink and i hopped from one campsite to the next, making sure no trainees were illegally up and sharing a shot with any of the members. i had a shot of vodka, tequila, all these cheap drinks, and doc dared me to fight, terrorizing me with his slipper. drunk people! haha.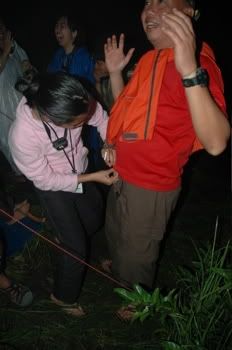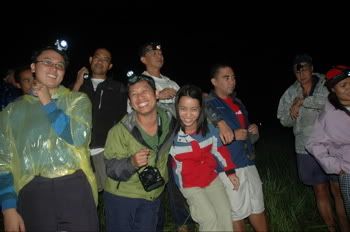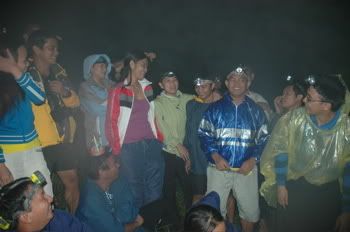 eventually, i ended up at marris' camp since it was just beside my tent. i told the story about the floating mole which originated in bulusan, and involved, of all things, a bottle of cossack vodka. it apparently made even sleeping people laugh. iton's trip from SG paid off after all as he had a field day poking fun at my expense. hey! i'm a sport, so no problem. and i don't really recall having imbibed that many shots of alcohol, but i dozed off right there in their kitchen area. it must have been sleep-deprivation more than anything else. the next thing i remember was waking up inside my tent, my head lamp left on at one corner, and trying to locate the source of that disturbing sound from beng's cellphone. i wanted to stab it with a knife. i would've gone back to sleep but i heard a trainee's voice looking for the tapa. i was finally obliged to rise and be of some assistance in the kitchen. but not after i relieved myself somewhere.
breakfast was a breeze despite the rain that would just not stop. i had a cup of milo, ate my tapa, and had to bring some to different tents because the rain had driven away some of my groupmates into the comforts of their tents. i just stood there, hoping my imitation jack wolfskin goretex would repel the rain (it did to a certain extent). other groups hadn't even begun on breakfast when we started taking our campsite apart. while we were frantic about collapsing tents, folding clothes, making sure nothing but footprints were left, alen of marris's group came to us and begged for rice. oh well, too bad.
by the time we had loaded our backpacks, some campsites had just finished eating, and had only started to pull pegs from the ground. i reckoned that without the sun, the trek down would be only a little over 2 hours. we didn't even bother preparing lunch as i knew we'd get to the jump-off long before noon. so i sped off towards the dirt road. in just a few minutes, i found myself at the stream, walking down the direction of the water, watching those who followed behind me: peachy, whose shoes had given up, and jenipay, who was wearing the shortest shorts i have ever seen on a climb. after a while, i noticed that there were no longer any trail signs. gerry and i backtracked a little until we found the way, only to later learn that we could have just walked on the stream without getting lost. later on, it really was rather apparent that not too many trail signs were placed since a few the more senior members failed to find their way.
when i hit the road, i was trekking with mercy. by this time, none of my companions were visible. so i decided to stay awhile at the bulldozer, where for a brief moment, the sun came out, and i actually applied sunblock. when everyone else was in attendance, we continued the drudgery of the rough road. when the trail becomes featureless like this, and there are hardly any challenges other than the distance, you tend to get really bored really quick. i really wanted to get to the river as quickly as possible, as i feared the rains from the previous night might have made it deeper.
when we did get there, what we found was a much tamer, much quieter river, which i managed to cross without any rope. since TL mercy was there, we decided to stay behind, playing on the water, allowing ourselves to be carried by the current, until it became unbearably cold. we were waiting for other members and trainees who were probably still halfway, so i asked mercy if we could go ahead, and she agreed. when we reached mang lando's shack, we stayed there and waited for the arrival of the jeepney. the arrangements were rather incomplete, as only two jeepneys were hired to ferry over 120 people to the resort about 30 minutes away. but nonetheless, after about an hour's wait, we were taken to the orchid farm to take turns at the toilet and slip into fresh clothes. by the time the next jeepney arrived, we had already bathed, and were already very clean. dinner was served very late, which delayed us by half an hour. but in between that and after getting ready, i noticed that many of the trainees wouldn't even consider taking a bath outside, or took too long inside the toilet. also, i was torn between letting the TL call the shots, and making announcements as training director. honestly, i would have preferred to assault everyone's ears with my singing. a note on this batch though: they're not very shy, as they cornered the microphone every chance they had. i'm glad they're pretty well bonded and are adjusting to the culture that is uniquely AMCI.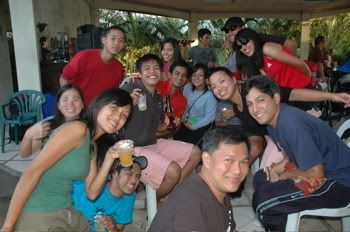 on the way home, beth sat beside me and after about an hour, she began looking for a toilet. i guess she couldn't hold it any longer because she started asking me if we'd found one. when we passed a gas station, we stopped, and i alighted just to make sure she crossed the road safely. it turned out that she couldn't even use the toilet because she was terrified of cockroaches. girls! i don't get it! i got dropped off at quezon avenue and forgot my shoes on the bus! janice saved me another 9,000 pesos by keeping them. thank goodness i remembered!
i haven't had a real chance to reflect on how i've handled the BMC since i decided not to appoint a director. i've had my fair share of criticism, which i sometimes felt were largely undeserved since i wasn't, after all, getting paid. in fact, i was spending A LOT of my own money on many things. i hadn't reached the point that i wanted to tear myself apart, or plug a faucet on the next person offering some unsolicited advice, or finally calling it quits, but it has been very frustrating. the turnout was not as i had expected. but the immense support and kind words that i have been receiving from a lot of members, who have sent me messages to tell me that i'm doing a good job -- these count for a lot, and they fatten a down-trodden heart. but there is no greater encouragement than how the trainees are turning out to be. they are enjoying every single thing about AMCI and the BMC, sir manny's guerilla-type physical exercises notwithstanding. they've done very very well, and were given an immense blessing with their first training climb. in the flurry of developments in my life, i haven't had much time to process these things. i'm just very excited about this batch. i hope they don't disappoint, and match the passion and the love that each one of us in the training team has invested into the training.