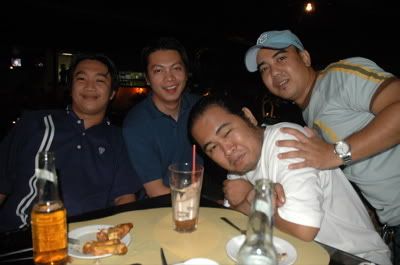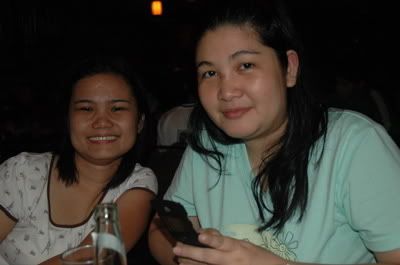 i had a whole lot of fun last night when i belatedly agreed on meeting with old classmates from the quirino elementary school, where i finished my primary studies. there were only 7 of us, but two of them i have not seen since 1989 and i would probably not recognize if they stopped me on the street. the other one i hadn't seen since 1993, because we also went to the same high school. other than myself and erwin, everyone had morphed into a person different from what i remember them to be.

erwin, who works as a nurse in riyadh, is here for a 3 week holiday. he surprisingly looks the same since i last saw him in tricol, and thankfully does not have a beer belly. allan looked nothing like the way he did back in the old days. allan's family had a small vulcanizing shop when we were studying, and he pitched in some of his free time carrying tires. it was a good workout i would suppose, because he was already cut even when some of us weren't even circumcised. but i would have sworn he was a different person, since he seemed to have shrunk, grown a lot of hair, lost the V shape of his torso, and was nurturing a small belly. but still, he had the longest eyelashes, and was still able to wiggle his ears like me. annaliza i can barely remember, but when i saw her, i instantly recalled that we had been classmates. she actually looked almost the same. august was also nowhere near the heartthrob status he enjoyed when we were in high school, but his hair did suit him unlike the awful skinhead he wore when we last met late last year. his wife april lyn had unfortunately lost some of her beauty, and had ballooned to twice the girl that she was, owing perhaps to motherhood and a host of other things. and well, alexis is still getting bigger, horizontally. he still can't drink beer.

although i only had 3 beers, i was so pissed drunk, due perhaps to the fact that i had barely any sleep, and had been drinking since the previous day. at the end of our small gathering, erwin and i halved the bill, and allan took me on his scooter, the rest crammed themselves into erwin's honda civic, and we sped to baang in timog for hot chocolate. i got home at around 3am with a swirling headache, and woke up at 7am to find 3 very concerned messages asking if i had gotten home safely. haha. i've reached an age where nostalgia is to be expected. i thought about my days in quirino and thought of the people i'd like to see. a few names came up: butch, eric, merrick, rasmussen, teresa, virginia, and john. i wonder where in the world these guys are.